One piece wanted posters
Wanted posters of one piece characters every weeb should have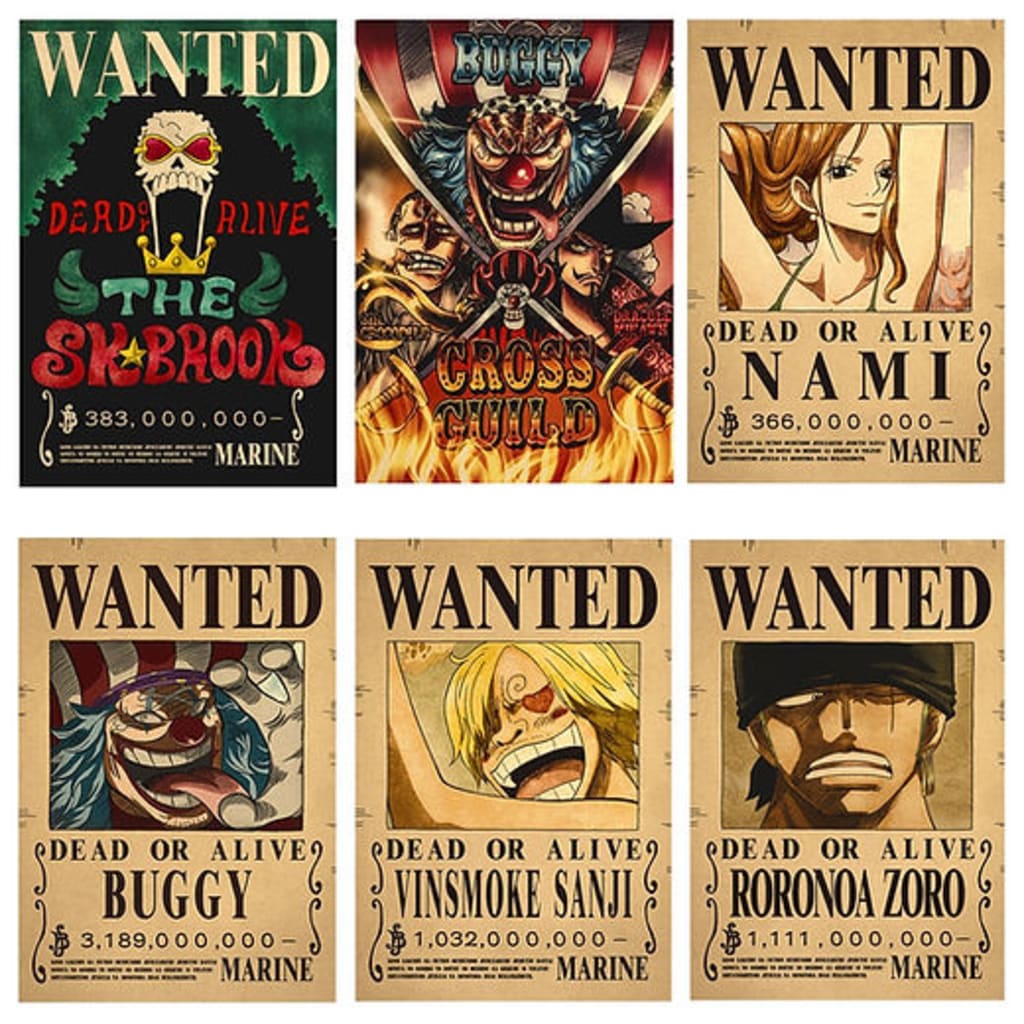 Introducing our One Piece Characters Wanted Poster, featuring all your favorite characters in high-quality print on a 42x28.5 cm poster. This poster showcases the Straw Hats, Yonkos (Emperors), famous Warlords, Bartholomew, Katakuti, Sabo, Ace, Pirate King, and Rayleigh. Perfect for any fan of the One Piece series, this poster is an excellent addition to any collection or decor. Hang it on your wall or frame it for display, and let your love for the characters of One Piece shine. Get yours today and show off your fandom!
1. Straw Hat - MONKEY D LUFFY
Luffy is the captain and founder of the Straw Hat Pirates. He has the ability to stretch his body like rubber due to eating the Gomu Gomu no Mi Devil Fruit. He is determined to become the Pirate King and values his crew and their dreams above all else. He also has a childlike and carefree personality.
2. King of the hell - pirate hunter - RORONOA ZORO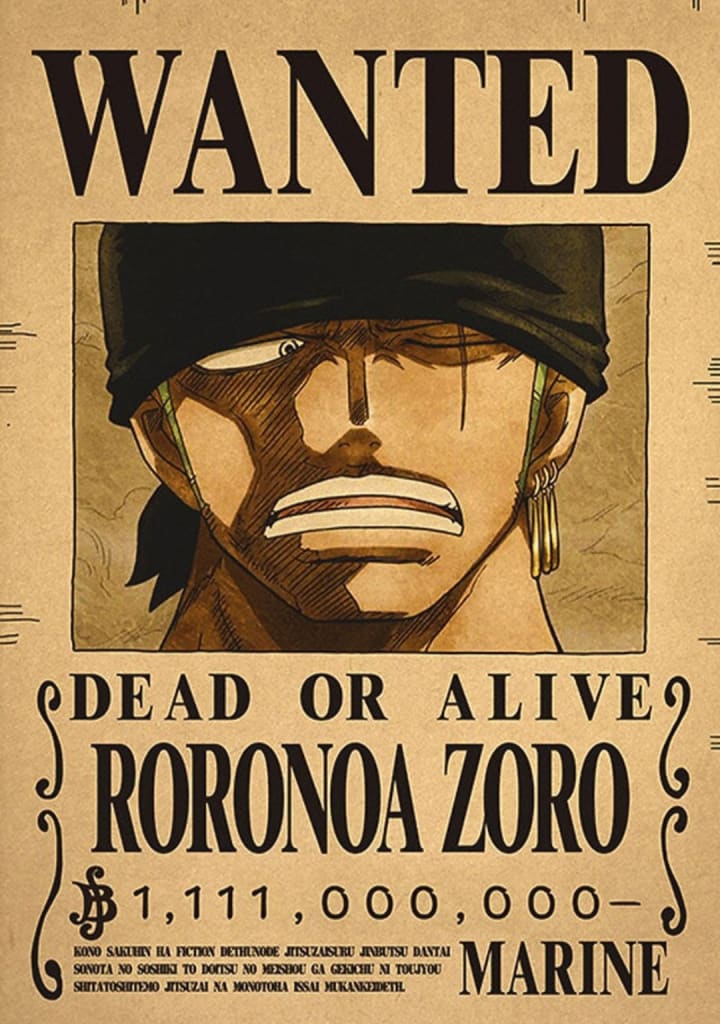 Bounty - 1.111 billion berries
Roronoa Zoro is the first mate of the Straw Hat Pirates and a skilled swordsman. He wields three swords and has incredible strength and endurance. His dream is to become the world's greatest swordsman. He is serious and stoic, but fiercely loyal to his captain and crewmates.
3. Cat burglar - NAMI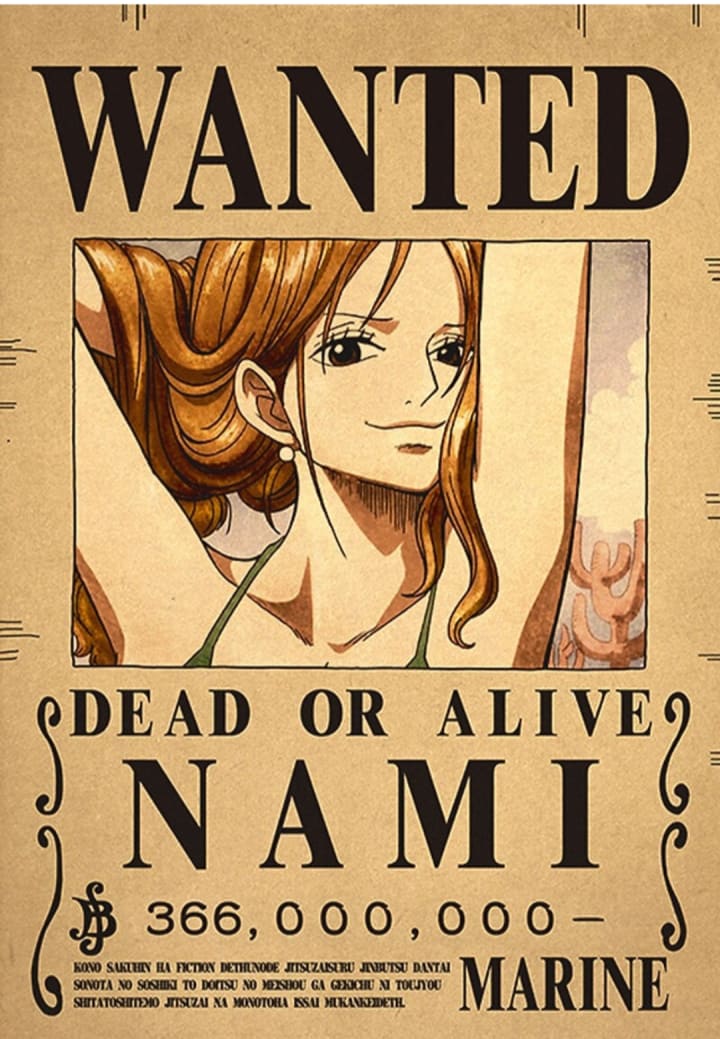 Bounty - 366 million berries
Nami is the navigator of the Straw Hat Pirates and a skilled thief. She has a love for money and dreams of creating a map of the world. She has the ability to control weather using the Clima-Tact weapon. Nami is clever and resourceful, and cares deeply for her crewmates despite her tendency to act selfishly.
4. Sogeking - king of snipers - GOD USOPP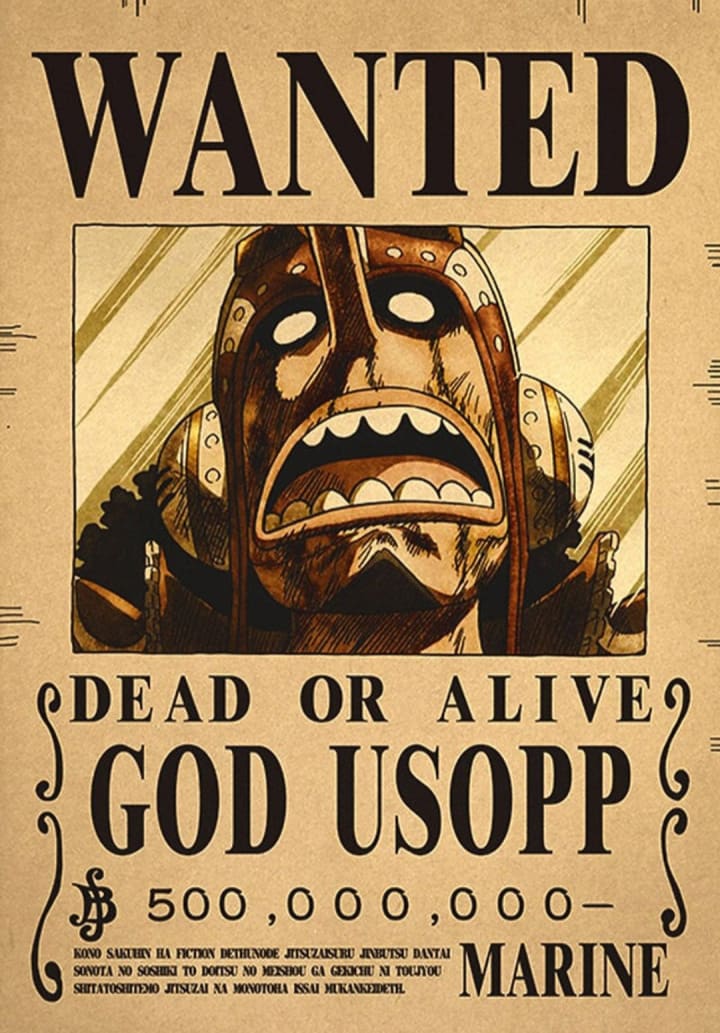 Bounty - 500 million berries
Usopp, also known as "God" Usopp, is the sniper of the Straw Hat Pirates. He is known for his tall tales and cowardly behavior, but possesses remarkable marksmanship skills and inventiveness. His dream is to become a brave warrior of the sea like his father. Usopp deeply cares for his crewmates and will do anything to protect them, often overcoming his fears to do so.
5. Black Foot - Mr. Prince - VINSMOKE SANJI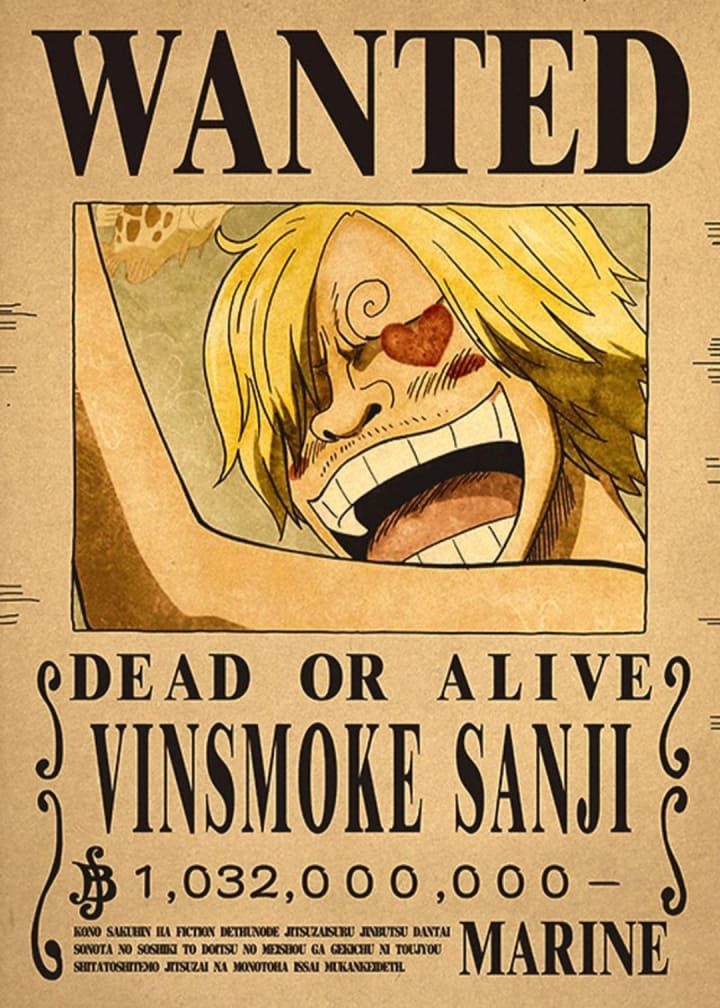 Bounty - 1.032 billion berries
Sanji, also known as "Black Leg" Sanji, is the chef of the Straw Hat Pirates. He is known for his chivalrous behavior towards women and incredible cooking skills. His dream is to find the All Blue, a legendary ocean where all types of fish can be found. Sanji is also a skilled fighter and has powerful kicking abilities.
6. Cotton candy lover - TONY TONY CHOPPER
Bounty - 1000 berries
Tony Tony Chopper is the doctor of the Straw Hat Pirates and a reindeer with the ability to speak human language. He has eaten the Human-Human Fruit, allowing him to take on a human-like form. Chopper is skilled in medicine and has a childlike personality. His dream is to become a great doctor and cure any disease.
7. Devil's child - NICO ROBIN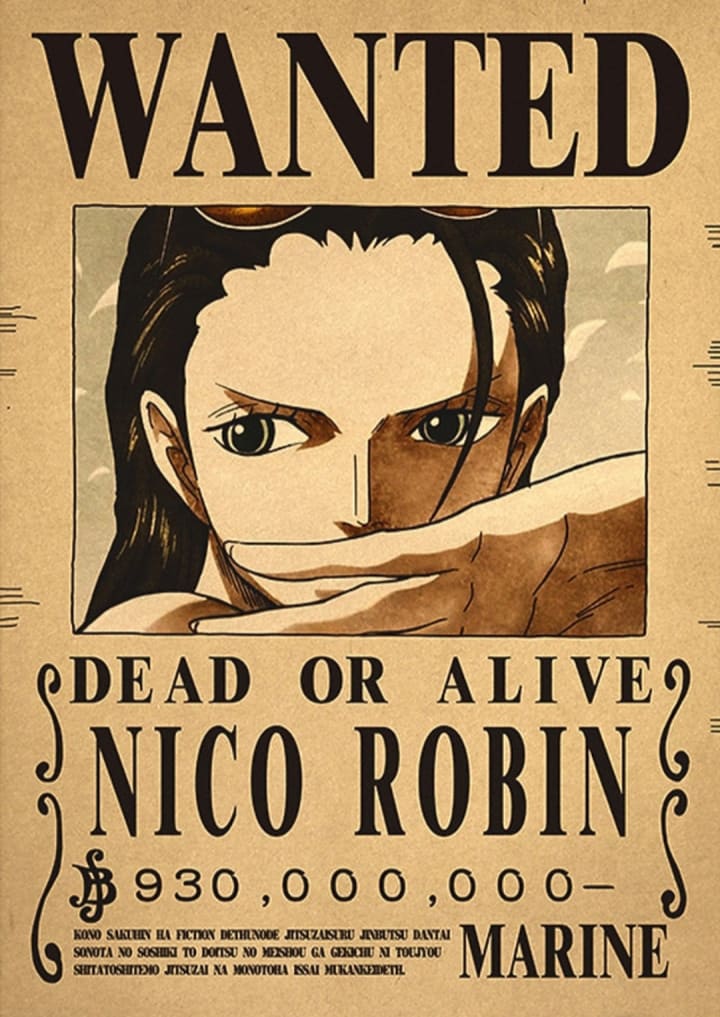 Bounty - 930 million berries
Nico Robin, also known as "Devil Child" Robin, is the archaeologist of the Straw Hat Pirates. She has the ability to sprout multiple limbs from any surface using her Hana Hana no Mi Devil Fruit. Robin is intelligent, calm, and collected, with a mysterious past. Her dream is to uncover the secrets of the Void Century.
8. Soul king - BROOK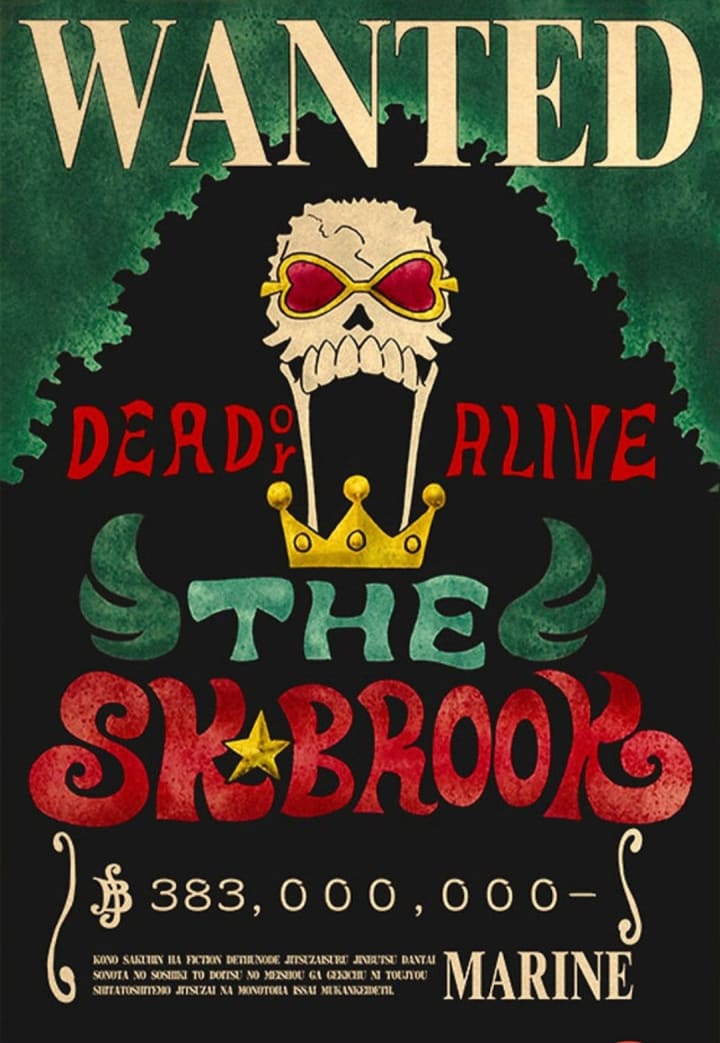 Bounty- 383 million berries
Brook is the musician of the Straw Hat Pirates and a skeleton with the ability to live and move due to the power of the Yomi Yomi no Mi Devil Fruit. He has a love for music and his dream is to reunite with his former crew and play music for them again. Brook is also a skilled swordsman and has a humorous personality.
9. First son of the sea - JINBE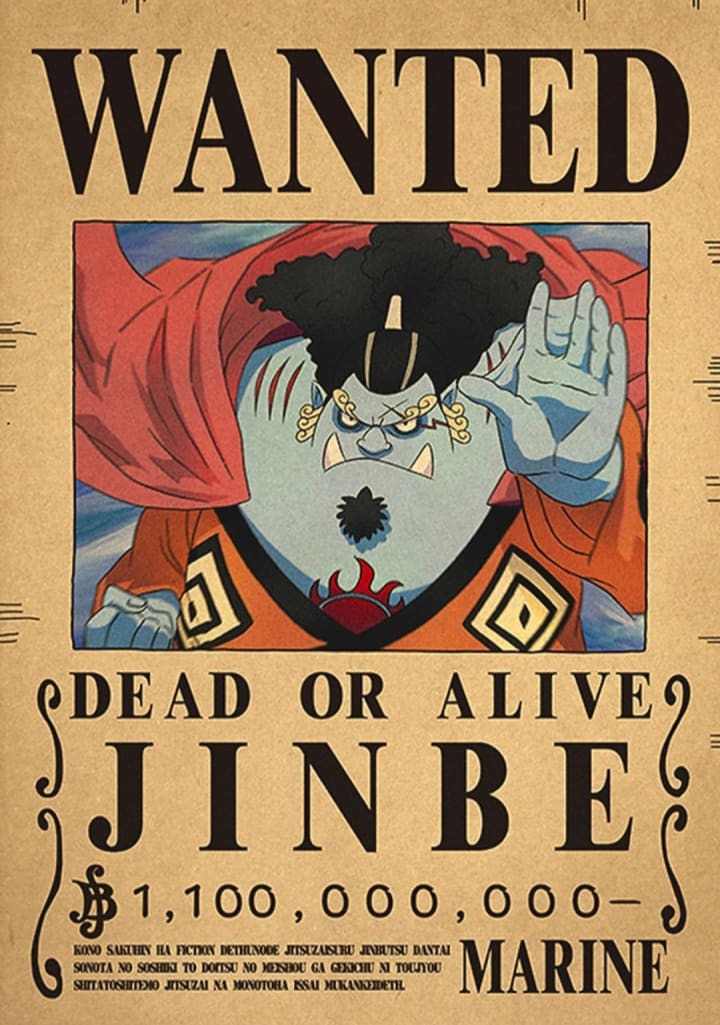 Bounty - 1.1 billion berries
Jinbe, also known as "Knight of the Sea" Jinbe, is a fish-man and former Warlord. He is a skilled martial artist and has the ability to manipulate water due to his Fish-Man Karate skills. Jinbe is calm and wise, often acting as a mediator within the Straw Hat Pirates. His dream is to achieve peace between humans and fish-men.
Reader insights
Be the first to share your insights about this piece.
Add your insights