One Fine Day, My Love
He was the nectar that sustained her, the soft place to land when she was starting life over anew, and a golden Roman flower a young Brit stumbled upon one fine day when she lost her way.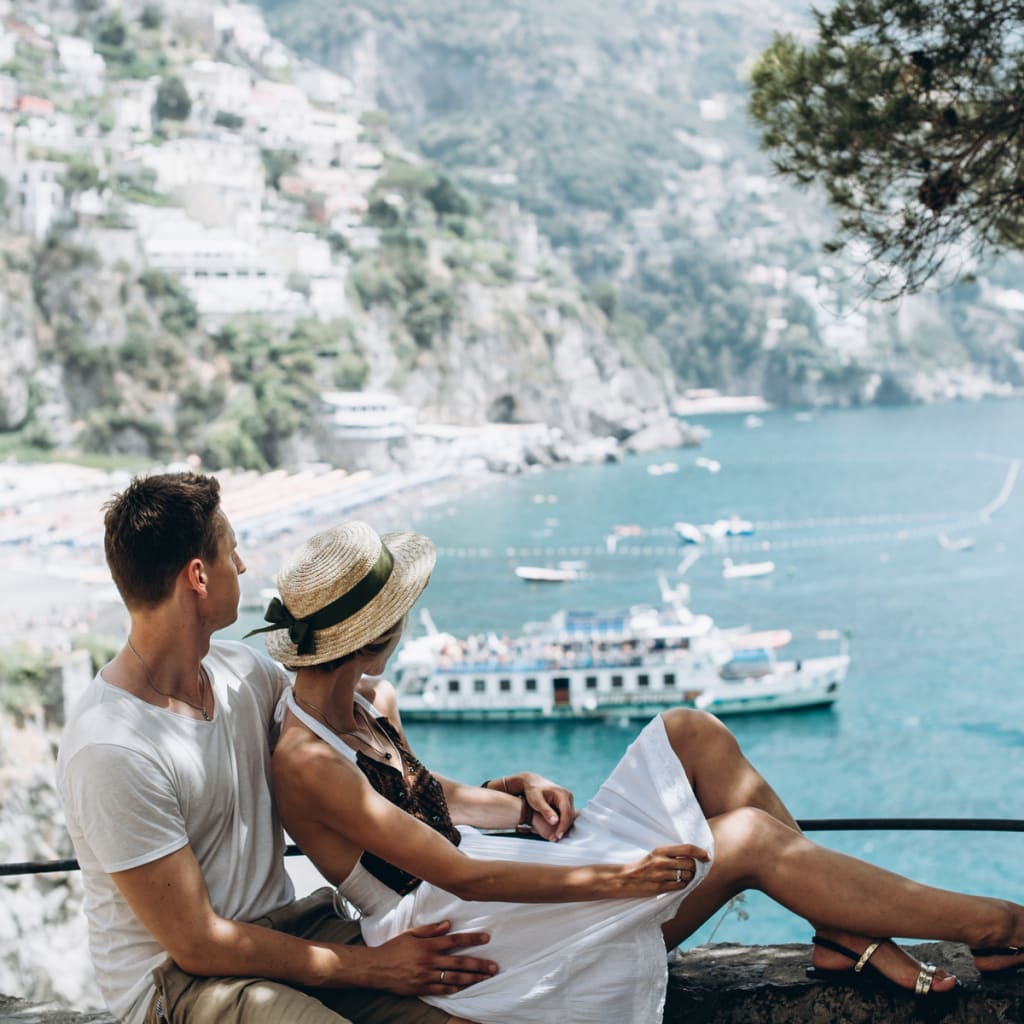 Un bel giorno, amore mio. Image licensed from Shutterstock.
"All that is gold does not glitter, Not all those who wander are lost;
The old that is strong does not wither, Deep roots are not reached by the frost. . ."
—J.R.R. Tolkien, The Fellowship of the Rings.
*
Margo plucked the marigold from her garden. It went into the basket along with a dozen of its kin. She had always loved that verse from her favourite book, but it had been so long since it had crossed her mind. Yet, that morning, when she turned the page on her quote-of-the-day calendar, there it was. And so, while she gathered the golden calendula flowers in the warm summer heat, she paused for a moment to reflect upon the uncannily fitting choice of words placed upon today's date.
She had learned the hard way that material things are no guarantee of happiness. The shiny new husband she had acquired as a young woman had brought her nothing but heartache and debt. While dreaming of her future, Margo had asked her father for advice. "Marry a doctor," he replied.
As bluntly as that.
No "Aim for the stars," or "Try out STEM." It was 1985 and being the good, Catholic eighteen-year old she was, she'd obeyed. She had married young, tried and failed to have children, and when her husband had graduated med-school, he had left her for another woman.
Just as well, she had thought. Her next partner John had made her much happier than Phillip ever could have. John was also the reason she had pursued and succeeded in her business selling organic beauty products; thereby freeing herself from the unfair burden of debt left to a divorcée without the degree it paid for.
Admiring the foreign flower bud in the light, Margo recalled the day she had learned that calendulas are not native to her drizzly, grey-skied home in Oxford, England. Like so many of the best things and people in life, it had immigrated from elsewhere; the conquering Romans had brought the flower with them centuries ago.
She had fond memories of wandering Rome. Touring the markets post-breakup and without a map had led her to discover both John and the unique properties of marigolds. Ultimately, losing her way had led her to find her way. Until she stopped at John's flower stall to ask for directions, she had always thought marigolds were simply something pretty to look at in a flower pot instead of a mediaeval staple in diets, cosmetics and healing.
Margo glanced down at her hands. The loose skin and age spots were much different to how they had looked when she had met her husband-to-be at the age of thirty. Long afternoons spent laying on the beach making love while tanning caramel-brown wasn't without its long-term cost.
She sighed.
Nothing for it. When the party's over you have to pay the piper, and Margo would never exchange those hot summer days for the unwithered skin of a twenty-something. Not that her skin looked terrible; that was a perk of her trade. She hated to think how much more withered it would have appeared now that she was fifty-five had she not started brewing and product testing her cosmetics line decades earlier.
As for that last line of Tolkien's poem, well, those words hit close to home. She had certainly made deep roots in her community with her husband over the past couple of decades: together they had fostered dozens of children. But, while deep roots may not freeze, they don't stop the frost from arriving.
For the most part, frost creeps in slowly. Every gardener understands the annual spring struggle of deciding when to plant and when to wait. And no true plant-lover isn't at least somewhat sad when the late autumn temperatures arrive and cull their flowers. That's how it was with her menopause, too.
Margo chuckled as she remembered the words her older friend Betty had consoled her with the day she had found a grey hair where she didn't know they could turn grey.
"Honey, by the time you're ready to face the reality that those overheated moments aren't just because you had too much salt for lunch, your hormones have already waved goodbye. Think of estrogen as that hot fling you left behind on your latest vacation: sure, it put some pep in your step for a while, but it also gave you headaches, sore tits, and the constant worry of becoming pregnant when you didn't want to be. Good riddance!"
Betty was right. There was something to be said about not worrying about becoming pregnant—or stressing over the failure to conceive. Sex without birth control was freeing, as was the end of people asking her when she and John were planning to have children.
The rest of the symptoms didn't have quite the same upside, but, like her changing body, her business plan was metamorphosing to accommodate the transition, too. She'd been slowly evolving from selling skin care to promoting mind and body care the past few years. Like everything else Margo had ever pursued, John had been right at her side every step of the way, encouraging her to spread her wings and fly in a new direction.
Becoming a saleswoman had been an easy transition for her. Margo was the type who volunteered for every cause that came her way and generally flitted about town chatting up anyone whose path crossed hers. Since rejecting the strict ideals of her childhood, she had lived her life authentically, every bit the extrovert she was born to be. John, the stereotypical Italian opera buff, had nicknamed her for one of his favourite characters, Madame Butterfly. It suited her easy charm and effervescent personality.
In many ways, John was the opposite. Grounded, earthy and handsome— like a marigold. Her marigold. He was the nectar that sustained her, the soft place to land when she was starting life over anew, and a golden Roman flower a young Brit stumbled upon one fine day when she lost her way.
But that damn frost.
Margo wiped a tear from her eyes, smudging dirt across her nose. She was always doing that. It was comical, really: a botanist who was allergic to the petals she peddled. John always knew when she'd been weeding because of the smudges on her face. She wished he was around to tease her now.
Gently, she plucked the last of the cheerful, yellow marigolds—a full two dozen—one for every year she had been married to the love of her life. Betty put her hand on Margo's shoulder and Margo placed her palm over Betty's hand. Without looking over at her friend, Margo posed the question that had been haunting her for months.
"Why did he have to die first?"
Betty sighed deeply and replied,
"It's a blessing he did. Flowers can't migrate when the frost comes. He'd never have survived without his Madame Butterfly."
No truer words had been spoken, and Margo was grateful she had her friend at her side. With a little more courage than before, together Betty and Margo headed for the cemetery to mark the 1st anniversary of John's passing. When she laid the flowers on her late husband's grave, Margo whispered,
"Un bel giorno, amore mio."
Delete
One fine day they will be together again. Photo by Soubhagya Maharana from Pexels
Delete
One Fine Day by Opera Babes
About the Creator
She/her | Cat enthusiast | "Word-Nerd" | Fueled by buttertarts
~&~
Reader insights
Nice work
Very well written. Keep up the good work!
Top insights
Compelling and original writing

Creative use of language & vocab

Easy to read and follow

Well-structured & engaging content

Excellent storytelling

Original narrative & well developed characters
Heartfelt and relatable

The story invoked strong personal emotions
Add your insights