My Version of Friends: Joey's Love Story at the Laundromat"
My version of F.R.I.E.N.D.S tv show - Season 11 Episode 1 -Version 1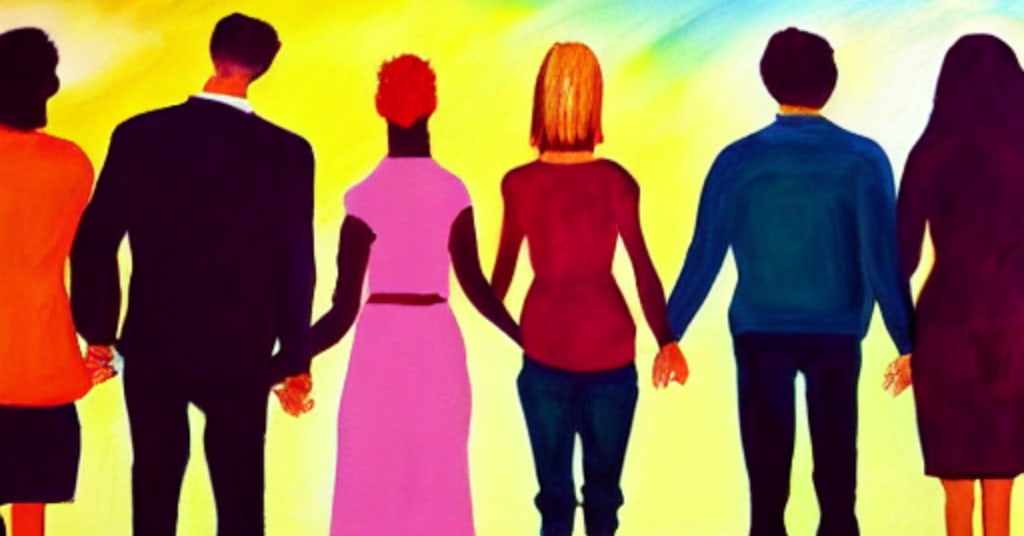 This story is simply about Joey, a character from the television show F.R.I.E.N.D.S and how things might progress after Season 10. We can see how a simple task like changing his password could affect his dating life. This is just my imaginary version of Season 11 Episode 1.
In Central Perk, our F.R.I.E.N.D.S Ross, Rachel, Phoebe, Chandler, Monica and Joey were gathered together, as they always were, to discuss their latest adventures and mishaps. As they sipped on their coffee, Joey started to complain about how he couldn't access his online dating profile.
Looking at how Chandler and Monica fell in love, married, and had children; Ross and Rachel had a baby together first and then remarried; and Pheobe fell in love and married Mike; he desperately wanted to fall in love, marry, and have children.
"Ugh, I keep trying to log in but it says my password is incorrect. I don't know what's going on. " Joey grumbled. "Why God why? why me? we had a deal " he added.
Chandler, being the joker of the group, offered to help. "Let me see, Joey. Maybe you just need to reset your password. And just to make sure you don't forget it this time, I'll make it 'Joeylovessandwiches'."
Joey, being the hopeless romantic that he is, was eager for help. "Yes! Yes, please do that, Chandler!"
Rachel, being the protective one, warned Joey not to trust Chandler with his online dating profile. "You know he will change your password to something embarrassing or just misuse it!"
Phoebe, being the free spirit, had a different approach. "I don't understand why you all are so obsessed with this online dating thing. You should just let fate take its course."
Monica, being the organizer, suggested they all go out and meet new people instead of relying on dating apps. "Why don't we all go out together and have a group date? That way we can all find love together and see who wins."
Ross, being the nerd, added "I don't know about group dates. I've heard group dates are not always effective and some people can end up alone, I think online dating is a good way of meeting new people"
Feeling a little bit lost, Joey decided to take Phoebe's advice, and let fate decide his future. He decided not to reset his password and just deleted his dating profile. He spent the next few days going out with friends, trying new things and meeting new people.
After a few months of doing the same, and when he was about to give up. On one fine day, he was at the laundromat, trying to do his laundry when a woman of his dreams walked in, carrying a basket full of clothes. Joey couldn't take his eyes off her, he was mesmerized by her beauty. He knew he had to talk to her, but Joey an expert in dating, was too nervous to start a conversation. So, he decided to use his signature move, he picked up a random shirt from his laundry basket, and pretended to look for the match. He then walked over to her and asked her if she had seen the missing sock of the shirt he was holding.
She smiled and said she hadn't, but they ended up talking and exchanging numbers before they left the laundromat.
Joey was so excited when he told his friends about how he met his girl, and they were all happy for him. But, things didn't go as smoothly as Joey had hoped on their first date, he got so nervous that he ended up spilling coffee all over her, and making a fool of himself.
The girl, who was extremely understanding and forgiving, went to wash her clothes without making a fuss. When she returned, he had eaten up all of her food. This shocked her once more. She reached out to take food from Joey's plate because she was hungry. But, as we all know, Joey never shares his food. So he refused to share his food somehow. She was stunned for a moment, but then realized he was a child at heart, ordered another dish, and ate it. So, Joey thought for sure that she would never want to see him again.
But to his surprise, she called him the next day, and asked him out on another date. Joey couldn't believe it, he thought he had blown it, but fate had other plans. He thought of avoiding her but, he couldn't stop thinking about her and he couldn't ignore the signs that fate was bringing them together. He went on the second date and this time, things went a lot better, and they had a great time.
They continued to go out on more dates, and Joey soon found himself falling for her more and more. He realized that even though he had initially thought of avoiding her after their first date, he couldn't ignore the signs that fate was bringing them together. He knew that she was the one for him and he settled for her, and they decided to get engaged.
Joey was so happy and in love, and when he finally came back to Central Perk to share the news with his friends, they were all happy for him. They hugged him and clapped for him, and Phoebe said with a smile "You see Joey, it was worth to let fate decide, isn't it?"
Joey nodded with a big grin on his face and they all continued to enjoy their coffee together, with Joey's happiness as the main topic of their conversation.
As they all sat there, sipping their coffee and chatting, Joey couldn't help but think about how different his life would be if he had just reset his password that day. He was grateful for the advice of his friends and for letting fate take its course. He knew that if he had just stuck with his dating app, he would have never met the love of his life at the laundromat.
From that day on, Joey was a firm believer in the power of fate, and he couldn't wait to see what the future held for him and his love. And with that, the friends laughed and continued to enjoy their coffee together, knowing that anything can happen if you let fate decide.
Moral of the story: Sometimes all it takes is a simple reset of your password to get back to what you love, but sometimes it's better to rely on friends, fate and trust the signs that are bringing you to your true love.
Reader insights
Be the first to share your insights about this piece.
Add your insights