My Aunt Jackie Part VIII
"Of course, but only one with arrows tattooed all the way around her waist indicating, 'this is the way to the pearly gates."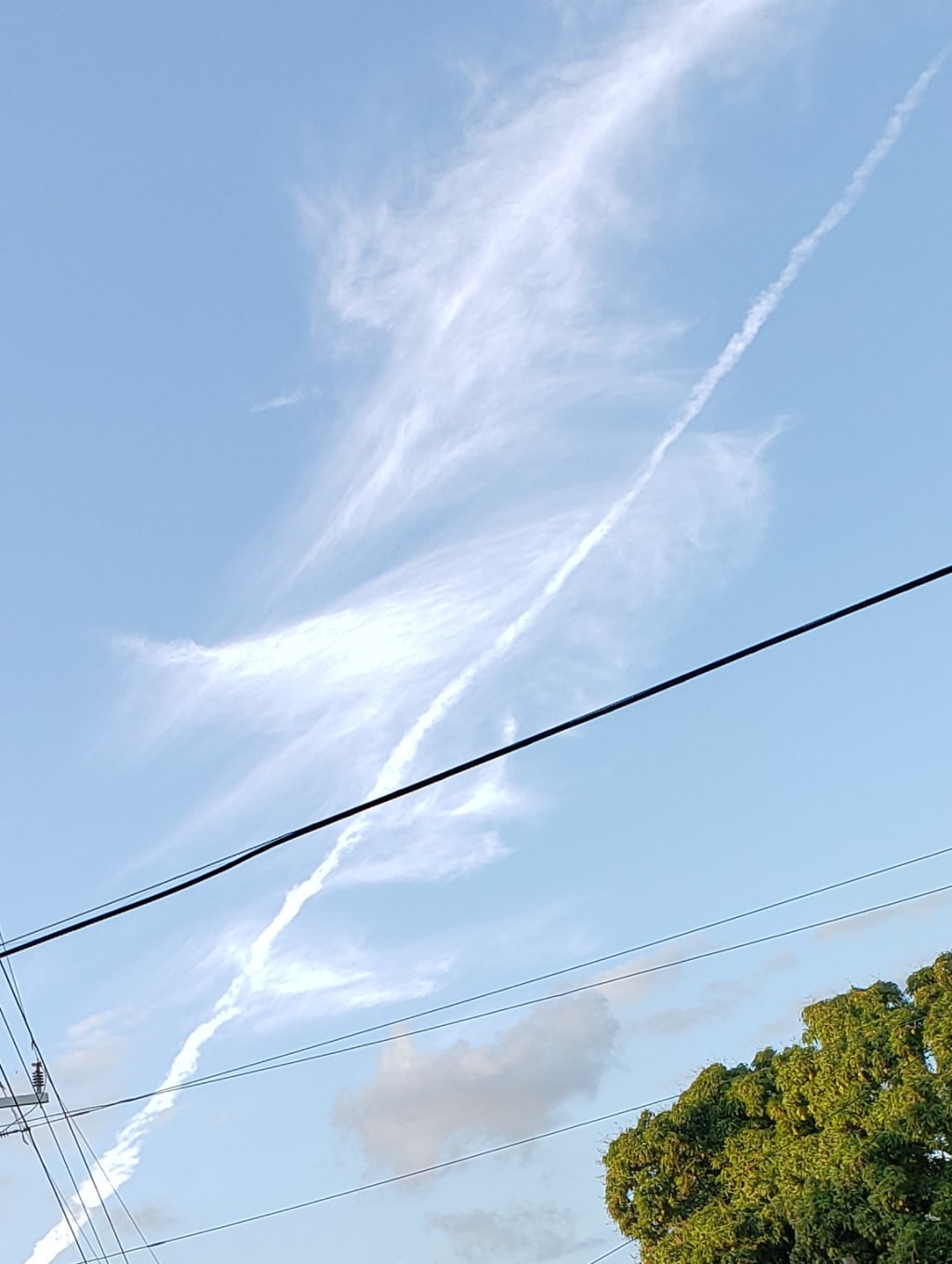 Image by Annelise Lords
Minutes later, it was all over, and we were out of the closet. Everyone stared at Suzie. She sat on the sofa close to the door in case she had to make another daring escape with a sheet wrapped around her.
"Who taught you to dress like that?" Mom screamed at her, "and where did you get those clothes?"
All eyes turned to Aunt Jackie.
"Hey, I taught her to develop multiple personalities," Aunt Jackie defended herself.
The eyes swayed to Aunt Sandy.
"I.. . . I, Ok, it's been hot these past ten years," Aunt Sandy blurred out, using her hands as a fan.
"Sandy, we have three months of winter, and you have been dressing like that since you can talk," Mom cried.
"See, I was an advance child, and I like to dress like that," Aunt Sandy defended herself.
"Mom, I am soooooo sorry," Suzie apologized,
There was smoke coming from my Mom's ears.
Aunt Jackie sat beside Suzie, "So what's jail like?" she asked quickly.
"It's not so bad, the girls were friendly, but it's not the kind of place you would want to visit twice. By the way, Aunt Sandy, Rob said hi."
"He is in jail again?" Aunt Sandy questions, moving closer to Suzie.
"Yeah, and he has your name tattooed on his rear."
"You saw it?" Aunt Sandy inquired excitedly.
"No, Marlene told me," Suzie answered.
"The girl you gave your Mom's coat to?" Aunt Sandy questioned.
"I had to Aunt Sandy no one was answering the phone and she was release earlier. Rob painted a picture of you with lip stick and make-up on the wall in the cell next-door with that tattoo you have around your. . . . . ."
"There are probably hundreds of Sandra Malloy," Aunt Sandy said, cutting Suzie off quickly, slowly walking away.
"Of course, but only one with arrows tattooed all the way around her waist indicating, 'this is the way to the pearly gates," my Mom revealed.
"Not only am I advanced, I am famous. Rob said that tattoo is an original and I am the only human with it," Aunt Sandy boasts.
Mom reached out and hugged Suzie tightly.
Her eyes asked why?'
"This way when you are dead you can remember my last touch, are you damn crazy!"
Suzie got up, holding on to the sheet wrapped around her, and questioned, "Mom, didn't you ever sneak out?"
"Yeah, and if you didn't get caught, my mother wouldn't know, and I wouldn't be grounded!" Mom cried.
"Grandma grounded you?" Suzie asked, laughing, sitting in the armchair facing Mom.
"It's not funny, we were worried about you, and you could have hurt yourself going down on a sheet ladder. Come to think of it, Jackie once made a ladder of fishing line," Mom revealed.
"So that's what happened to your father's fishing lines," Grandma said.
"And you made a ladder out of phone cords," Aunt Jackie said to Aunt Sandy. "But your mother out did us all, she made a ladder out of shoe laces."
"I thought they were used for your science project?" Grandma asked in shock.
"And you dare to cast stones?" Suzie quizzed.
"That's because we were smart enough not to get caught, and we were only two stories high. Did you know there are people out there crazier than your Aunt Jackie? No, I doubt, but it's still more dangerous than here because we only have one of your Aunt Jackie. Imagine a world with hundreds, thousands maybe. . . . . . !
"It's nice to know I am not alone," Aunt Jackie cut in.
"Mom, I swear after spending one night in jail, seeing a picture of my Aunt's rear painted on the cell wall. Having the judge laughing and asking me to repeat my story, especially the part where I was entertaining dogs to get. . . . . . . ."
"You were doing what?" Mom asked in surprise.
"It's one of those seen it to believe it thing. Anyway, I will never disobey you again, in fact I am thinking of joining the convent."
"That's my Granddaughter," Grandpa praised for the first time.
"So can I have my punishment now?"
"I think jail is enough punishment for now. The captain said the judge grounded you for the next ten years and forbade you to wear anything above your ankle and wrist. That should be enough for now," Mom informs her, reaching out to hug her again.
"Thanks, Mom, for a moment I was getting ready to order my casket," Suzie said.
"Don't cancel the order," Mom demands as Suzie walks to her room.
My Aunts followed her. They have never been in jail before. I had a feeling this was going to be a long day.
"Mom," my mother said to Grandma. "Do you think they will find a cure for raging hormones?"
"I doubt it, but I have a feeling after today, your daughter will be Mother Theresa's double."
"You think so?"
"Oh, she'll be alright. She has an Aunt teaching her to dress like a hooker. Another is having her develop multiple personalities, and you treat her like a child. Grandparents spoil her rotten, and a father who treats her how she would like to be treated, but he doesn't count. She will be perfect!
Thank you for reading this piece. I hope you enjoy it.
Thank you for reading this piece.
About the Creator
Annelise Lords writes short inspiring, motivating, thought provoking stories that target and heal the heart. She has added fashion designer to her name. Check out https://www.pinterest.com/anneliselords/pins/ for my designs.
Reader insights
Be the first to share your insights about this piece.
Add your insights