Marching Through Time
The times have changed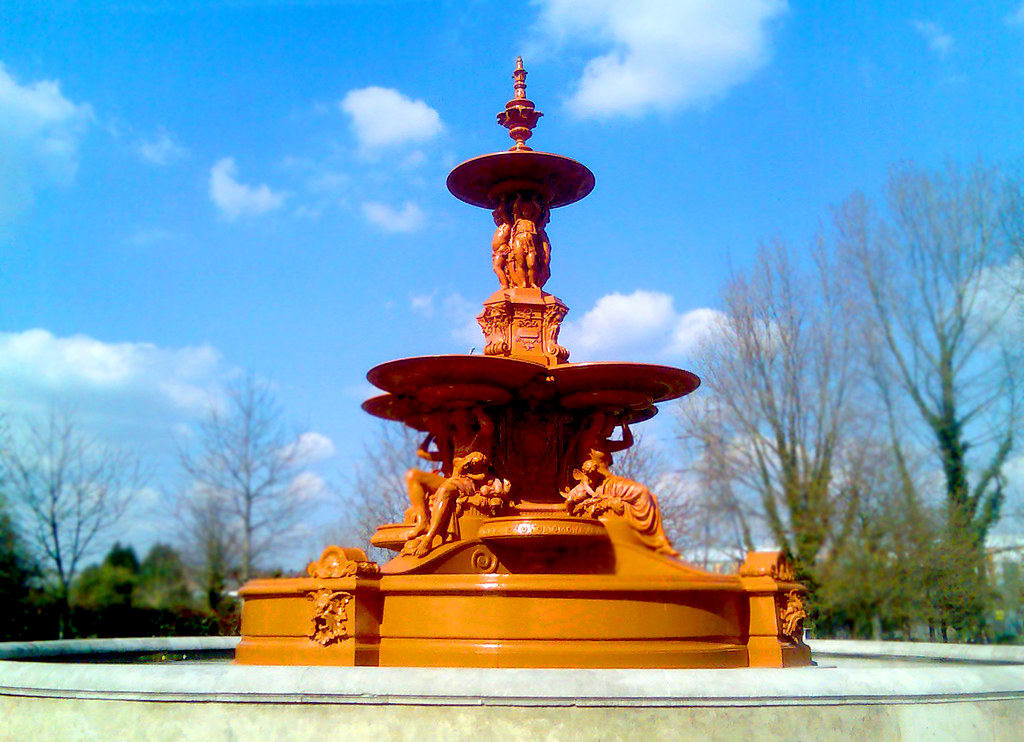 Victoria Park Fountain - Five minutes from my house
My story starts before the metal carriages roamed our streets.
The world was much quieter then.
I sit in the corner of the park.
When they first put me here, families used to come and sit beside me. Children respect their parents. They all used to talk to each other, which I rarely see now.
People have only been interested in the little glowing boxes in their hands for the last ten years.
One year after I was put in the park, I remember seeing many men marching toward the docks. As far as the eye could see, there were great processions of men. They carried their belongings on their back and metal rods over their shoulders.
Their faces looked so full of promise and hope. Others from the town would come and watch them walk past me. As they walked past, there was cheering for this crocodile of men.
It was quieter for a while after that. Women would still bring their children to see me. There was an anxiety about them, a preoccupation in their eyes.
The parade never happened when they came back. Instead, the few men who returned to walk past me had a lost, haunted look in their eyes.
Women who visited me after that spent time staring at me with tears in their eyes, lost in a different time.
I don't remember much about the next 20 years. Many buildings around me were torn down; new, smaller houses were built.
I remember seeing excited families moving into their new homes.
Then the procession of men started again towards the docks. This time the men appeared lighter on their feet. The metal sticks they carried seemed bigger.
Even fewer people visited me after these processions.
Then the rocks fell from the sky. I remember listening to them fall and feeling the ground shake as they hit. The thing that will always live with me will be the sounds of the screams. These came from all ages as their houses fell around them.
People would rush to help and try to pull them from their wrecked homes. The bodies were always laid out near me, wrapped in sheets. Sometimes it would be one of two. Sometimes when the rocks had come quick and fast, the bodies stretched around me in rows of two or three.
Again, fewer men returned than went. This time though, some who returned were walking with sticks or being carried by others.
The time settled over the next ten years; no more rocks rained from the sky.
I watched the men marching off in one's or two's towards more significant buildings that sprayed black smoke across the sky. The women sometimes came to me with their children.
By mid-afternoon, they were all scurrying home dragging their children behind them. The black streams in the sky then started from the houses. Sometimes it was hard to see the blue sky through the black streams.
Soon the black streams became mini-streams of clear smoke that everyone seemed to hold. Some smelt of burnt wood; others smelt sweeter.
The faces and clothes all around me appeared brighter; there was happiness in the air. The noise from the houses changed from shouting to a beautiful, lively melody.
Some of the people even brought music with them. The noise flowed as they twirled each other in front of me. These were good years where many of the faces could be seen smiling. The things people had on changed as well. For the first time, I noticed that women had legs like men.
The following years were also filled with bright colours. But unfortunately, this was when the women stopped visiting me so much.
Some even went marching off to buildings of their own during the day.
The noise started coming from tiny boxes placed near me when they sat around me. There also seemed to be fewer young children around.
There was also more marching. This time rather than heading to the docks, the men went to the big buildings. They then seemed to stand outside waving bits of card at each other. At the end of the day, they would return home with their cards.
The men seemed to stop marching to the factory; many headed in the other direction in their Sunday best.
The marching was back, but they carried their cards towards the city this time. Not just men, but all family members seemed to be shouting and waving the boards around.
The rest of my life seems to have gone too quick. I remember one night when everyone came to me, drinking and singing. Then, they let bright lights off into the sky when it was dark. They made a noise like the rocks but were full of bright lights; no houses fell.
I now see fewer people than I have ever seen. Most go into their houses and stay there. No young ones come and kick a sack around near me.
When they do turn up, they are too busy looking at the tiny light boxes in their hands. They never seem to notice me or each other anymore.
Last month, the man was looking at his lightbox and fell straight into me. He moved about for a bit before someone put their lightbox down and pulled him out.
Now, many men around me have loud things in their hands.
They are taking me away, part by part. I don't know why. I get all my words from listening to people around me; these men have taught me a few new words, Health and Safety.

If you enjoyed this article, please subscribe to my writing, share it and give it a heart. As a writer tips and pledges mean a great deal to me, so a massive thank you if you send one.
About the Creator
I know where the bodies are buried and I'm not afraid to tell you - author of True Crime, History and Fiction. Find me on Twitter [email protected]
Or find my crime magazine here - https://www.murdermayhem.uk
Reader insights
Be the first to share your insights about this piece.
Add your insights