Longhorn Lover
Adios Alcohol, Hello Heart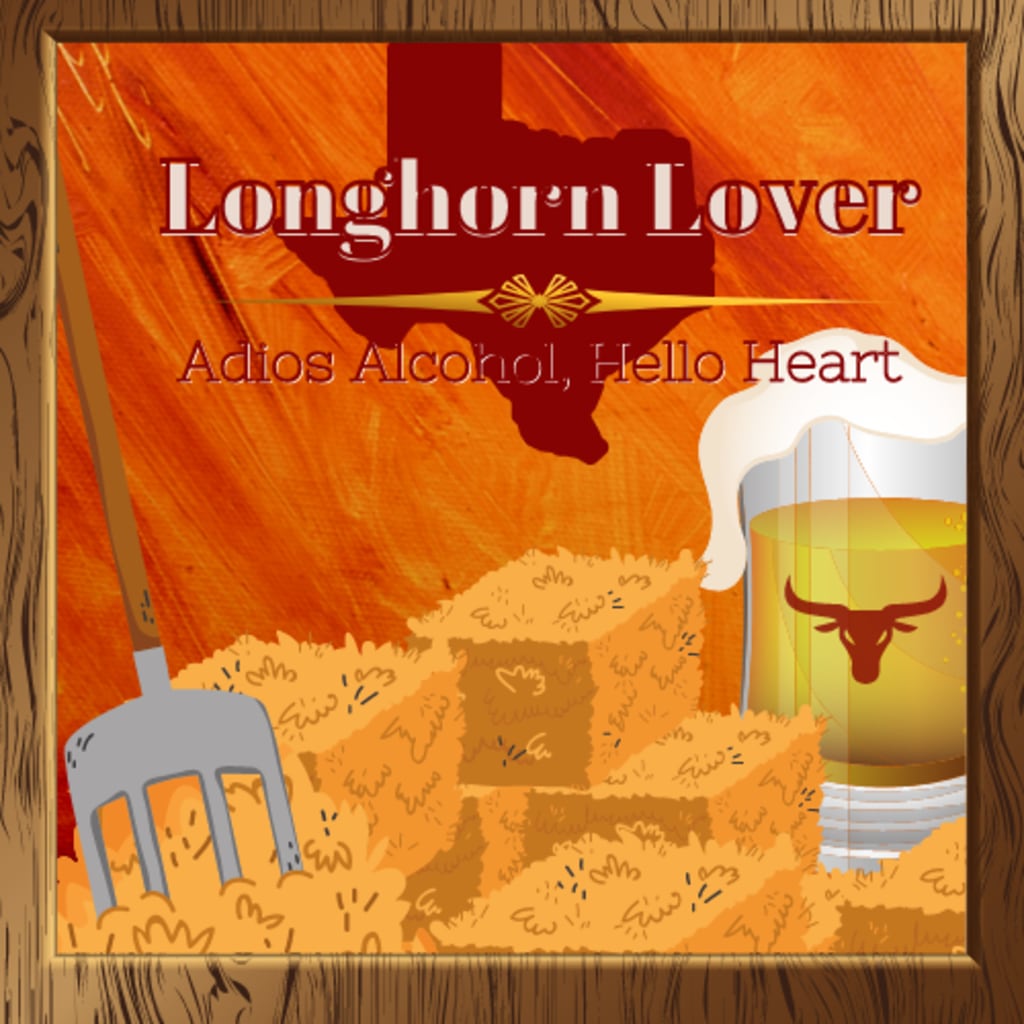 Content Created by: Austin Marketing Moguls
Being a Bull is hard, but being Matthew Beevoe McConhay was an absolute shit show. In this case, it was a bull shit show in love. This handsome, and friendly Longhorn lives in Texas. His dark brown color shines orange as they see him grazing on the pasture. The best part about Beevoe is how he goes to sports events to play catch with his owner. He has a southern accent and charming ways with the female cattle.
Beevoe was particularly fond of his cow friend, Selina Quinta. The feeling is mutual. She is the most popular female cattle on the ranch. Selina is black and white, with purple highlights. Selina is magical because she sings. Some say she even shines a little glitter when the owner takes her for a drive through Corpus Christi. This is why a decision was made to put both cattle on the same ranch.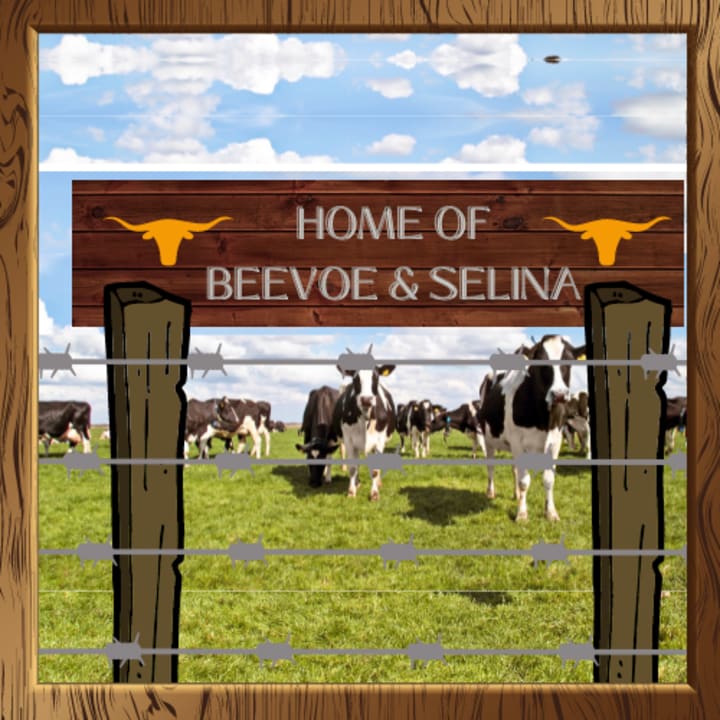 "Why Hello there Beevoe," said Selina to her handsome crush. "I have been meaning to tell you that I truly do want to go to the hill with you today."
Beevoe got a big smile on his face, but he tried to act calm, and keep his cool. He turned around and said, "Alrighty alrighty alrighty, but it has to be tonight. My owner says we have a season opener to go to. I mean.... we could always just spend the night. You know I'm intact. Plus, I might be interested in finding me a wifey to settle down with.
Selina laughed and replied, "Oh please, you are the biggest player in this entire state. I heard about your trips to Austin. Rumor is that heifers really like you. It actually inspired me for a new song. I should sing it to the other cattle when you leave. It is all about how you have something called a Sancha. Humans tease and use this name when a man has a side girlfriend. I found it quite fitting for your personality. As I said, you are the biggest player there is!"
Beevoe could not help laughing, and he even blushed a little bit. "Ha! You are one to talk shit. Heard that you were singing for that dumb ox, Chris."
Selina had the biggest smile. She replied, "Well Someone sounds jealous. Looks like I win today. I will see ya tonight, but only tonight. Tomorrow I might decide on something else. Bye-bye Beevoe!" She looked at him, winked, and then walked away.
Beevoe yelled across the other cows, "I will be there! Tell that joker Chris that you are taken!" He was always mesmerized by her tail side when she walked away. He had even bragged to the other bulls about her big behind. He said to them in the past, "Wow, she got that booty for days! Y'all watch, I will be the one to marry that heifer."
Selina went to the hill to meet Beevoe. She waited nervously thinking this was her last day of being a Springer. She was ready to go all the way. Unfortunately for her, Beevoe never showed up. He decided to start drinking beer with his buddies and got a little wasted. His owner picked him up off the ground outside. Beevoe was dazed and confused. He forgot that he was set to attend an event.
As soon as he got to that event, the crowd was cheering and Beevoe continued with his drinking. Beevoe had a secret that he had not told the other cows. His drinking was out of control. His owner was enabling him, he was drinking with his buddies, and he even had a secret bucket full of "water." Beevoe was drinking more than he cared to admit and the crowd would soon see it. He started coming into the events stumbling, and almost fell over a small fan who was cheering on the sidelines. He was addicted. He had become a full-blown alcoholic. Selina had heard the rumors, but now she knew they were true. Selina was angry and greeted him as he got back from the event.
She yelled loud enough for every animal to hear, "BEEVOE! YOU LYING DUMB JERK!". You told me that you were gonna make it this time. I am tired of this. You spend more time drinking than you do with me. It is either me, or you choose that nasty stuff you drink. You cannot have us both. I am a grade-A piece of meat at this ranch, and I can have any bull that I choose. I will not enable your bad habits. Especially when it comes to desperate heifers and your drinking. They can have you!"
Beevoe looked at her with his sunken eyes and said, "Selina wait, please!... I know...I agree. I almost ran over a child today. I need help. I decided at that moment, I could not drink the beer anymore. I saw what I was doing to myself and I could see the disappointment in the crowd. Please, Selina, Don't leave me. I need you. I want to build a life with you because I know you are the one for me. I like you a lot. As a matter of fact, I Love you. I know I do. I want to spend my life with you. If you decide to be with me, I would never leave you lonely, or upset, ever again. I would let you sing me songs every day. I would probably sing along. Shoot, we could even have lots of calves and become a family act. Please.... just don't leave me. I will get the help I need. I hear there is a horse on the other side that does counseling. Plus, I promise, I will surround myself with a positive crowd that will steer me with good intentions.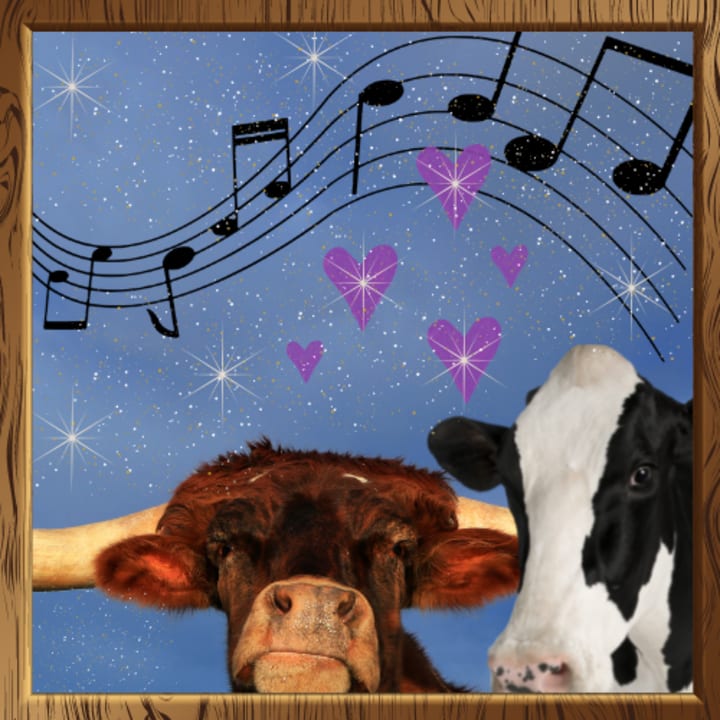 Selina was hesitant, but she saw the sincerity in his eyes. She knew that Beevoe was telling the truth. She knew that he was serious. Plus, she had seen another bull recover and do well. She truly believed everything was going to be okay, but she also knew this was going to be a lifelong recovery process. They both knew going down this path was going to be hard work. They knew that choosing to become sober was a battle worth fighting. Beevoe and Selina started walking together as he was cracking jokes.
Beevoe said, "I don't know who wrote this one: My owner was addicted to Thanksgiving dinner. He went on a diet had to quit cold turkey."
Selina looked at him with a half-smile and said, "Keep working on your act honey."
Beevoe said, "Okay, but I have to warn you. I might go to law school. If I decide to do it, I can't take the bar."
Selina laughed and said, "Beevoe, no more jokes. Take me out to that special hill. You know the one...with the empty red barn next to it.
He smiled, and they walked up the hill and went off into the sunset. It was not happily ever after, but at least it was a happy night for both of them.
Short Story
My Disability Does Not Define My Capability. I have CFS and bipolar disorder therefore I write mostly mental illness stories for encouragement. Please show support to anyone with a mental illness. Leave me a Tip if you can. Thank You!!!