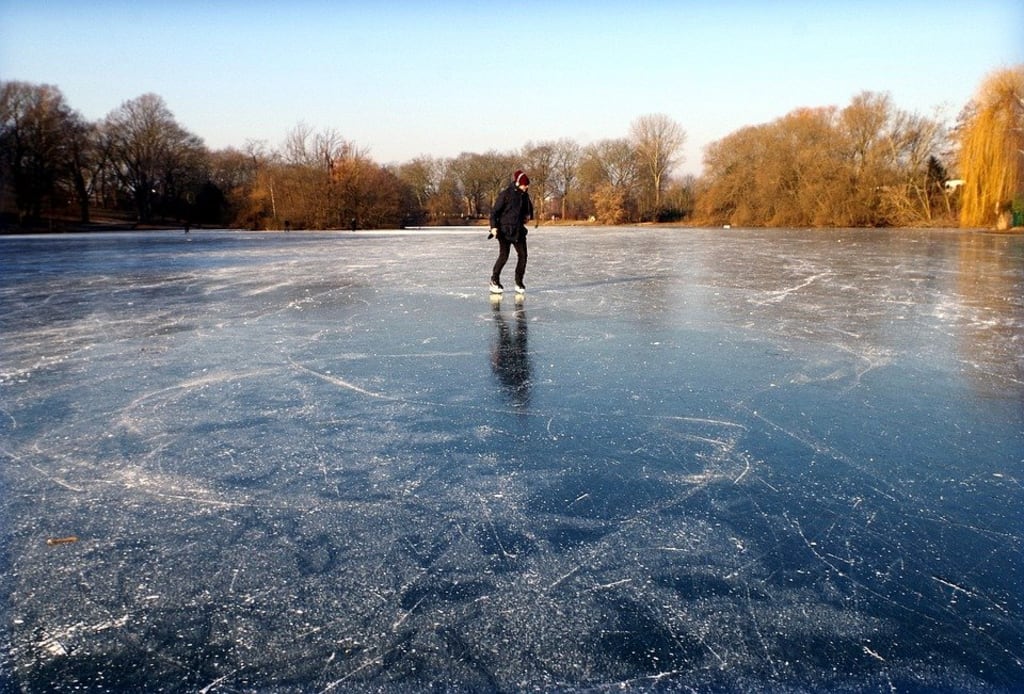 Pixabay
It was already late, the day was at the end, Grace and I went to the frozen pond to skate a little, she moved away a little to photograph me so I turned to look good in the picture and I met her hot look, in that cold weather, it was already getting dark we hurried home, she always knew I can't resist her look and we loved each other all night like there was no tomorrow, but in the morning when I wake up I don't see her in bed anymore, I get up and go looking for her and I find a note on the table saying: ''Meet me on the frozen pond'' I couldn't contain my smile because we were so connected and it was only a year since we got married, that pond was very special for us, when I see her I skate on the ice to meet her because she had already prepared everything, the picnic on the snow, the very warm lunch boxes, the speaker playing our favourite song, then I hug her and we start dancing on the song and reciting the lyrics ''That's why, darling, it's incredible, that someone so unforgettable, thinks that I am unforgettable too''
So we danced, we smiled, we ate and she started to feel sick, I quickly took her to the hospital, many hours passed and I wasn't getting any news, Doctor... please say something, we still need to do some more tests to understand what made her feel bad to the point of fainting said Fred, when finally the news came, I couldn't stand up, when they allowed me to see her only one thing came to my mind The frozen pond because we had lived great moments in winter on that pond, even in summer but winter was different, I needed to take care of her, she needed me more than she ever needed, I could only hear her singing ''That's why, darling, it's incredible, that someone so unforgettable, thinks that I am unforgettable too''.
I never thought I would live this, but I took care of her I almost didn't leave the hospital it became my new home, the whole process was painful, watching her lose her beautiful hair, her turn pale, until she started to lose the joy of living, telling her to be strong for us, but deep in my heart I had no hope anymore either, it flashed in my mind our moments, the frozen pond, the moments we skated on the ice together.
Her appearance changed drastically and she was no longer the same, I mean inside, she threw me out, told me to move on to another and that I should be happy, but how could I abandon someone who had provided me with many moments of extreme happiness? until one day...
We have good news, said Fred, "she can come out of this, all the medication is working".
I thought immediately to make her a surprise, I went to the flower shop, I bought the most beautiful flowers, when I arrived at her room I didn't find her, I felt that for some instants my heart stopped beating, I went immediately to look for her, when I found her she was with the nurses, she asked for help to leave and she wanted to make a surprise for me, right there I started to sing to her, and her eyes shone again as before, I realized that she had already received the news that the chemotherapy was taking effect, sooner or later we would be back home.
About the Creator
I'm a young dreamer who seeks to make many dreams come true, one of them is to make a living from writing, I love to write about everything, including the things I love the most, so stay here, maybe you'll identify with me.
Reader insights
Be the first to share your insights about this piece.
Add your insights