Invasion of Peace
Another Milita Story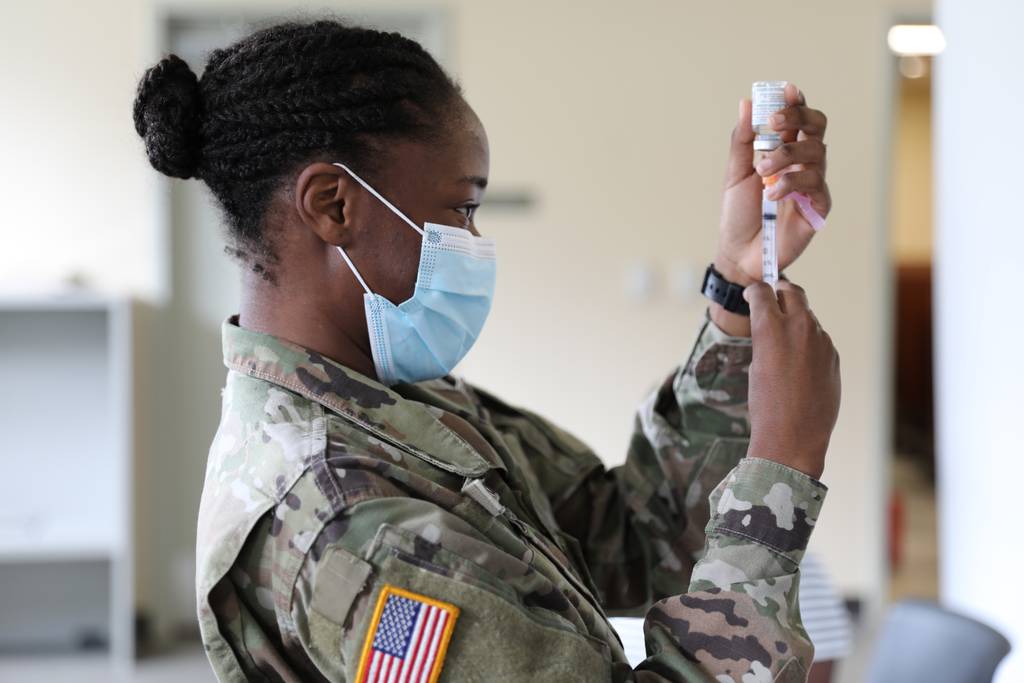 EXT. AL ULA CITY, MADRAIN SALEM- DAY
Army Public Affairs Unit is talking to an elderly citizen of the nearby Al Ula City, walking with materials in hand to recount the interview. A group of Infantry standby in the background with two soldiers near the two PA Sgts. Shanique speaks to the elderly citizen in Arabic.
SHANIQUE
(gestures to the monuments around them)
Can you share your thoughts with us on what opening these historic sites could mean for you and your city?
MAIRA
(older arabic woman, a native to the surrounding land of the tourist site the Army is set to report)
Noise. Noise. And more noise if those who are adventurous dare to come here. We're a quiet people here in Al Ula and I like it that way and I like to think so do my neighbors. Many believe we are not here, but indeed we are here. I can see the Americans flocking here already to catch a glimpse at our whereabouts, no?
Maira laughs at her joke, as does Shanique and Naila understanding the elderly woman's stereotypical truth of Americans. Al Ula is an old city that has been abandoned since the start of the 20th century and as of recent has become a tourist siting. It's twin city where Maira hails from was built for the inhabitants in efforts of modernization.
NAILA
(Saudi accent spills into her words)
Americans are known to be wonders to a place they have yet to see, no?
MAIRA
"Yes, yes!"
The three of them now sat near the Madain Selah, a monument that could easily pass for a rock, but had in fact been tombs to historic prophets.
NAILA
How often do you come down this way? Are you one to walk or...
MAIRA
No, no! My old legs couldn't handle the trek, I take the hafila when I can. I like to come down here to the Ikham.
SHANIQUE
You mean the library of Lihyan? I assume you can read then good woman?
Maira looks at the videographer of the group with hesitant eyes before answering. Her eyes seem to consider the worst case scenario, but something in the woman changes and it's as if she's made peace with her age and what she's obtained in life and answers them.
MAIRA
(With confidence)
Yes, about as well as any child I suppose. I like coming here to recount the politics my father once held so high and learning more about this religion so many have lost their lives to.
SHANIQUE
Do you not consider yourself religious woman?
MAIRA
Of course, but I believe there is always more to learn beyond what one has been taught, no?
Naila smiled at her. Her confidence had reminded her of her late grandmother a Saudi woman with affectionate eyes and a silver tongue who had been full of knowledge and wit.
NAILA
(out of curiousity)
Did you attend the all girls school reform back in the 50's?
MAIRA
(a bit shocked)
Why do you ask? Do I look that old?
NAILA
(through a laugh)
You look to have surpassed my late grandmother. Jida was one of the first girls to attend the all girls school. Who, after being well of age and having no husband-
MAIRA
Was she not a decent woman?
NAILA
(taking no offense)
Most men wouldn't look her way but when they did she had her papa's protection to thank. In her early adulthood she managed to flee to American.
MAIRA
Mmm...
Waits for Naila to continue, wanting to hear more.
NAILA
The journey was long and hard, she'd spoken very little English, but upon arriving to the Immigrant Nation she befriended a lady who spoke little Arabic. Jida's friend only knew what she heard the merchants speak on the street and amongst themselves in her workplace. Still she had helped her and Jida was forever grateful for her friend's kindess.
MAIRA
This friend? Had she tutored her in the ways of being an American and further education?
NAILA
Yes, a Haitian woman who had gone through a similar process to become a legalized citizen was just her friend Jida needed to seal her right of passage in thew new country.
MAIRA
Ya! I see.
SHANIQUE
Have you ever thought about leaving good woman? Going to the states?
MAIRA
(with pride)
No, no. My home is here and I have no reason to leave.
Naila picked back up the conversation with the woman, meanwhile Shanquie had kept an ear to the conversation and another to the doing of BENNETT and his brigade. To whom he gave a signal to two of his men who left her line of sight to go around the Madain Selah. BENNETT gives her one of his small smiles telling her not to worry.
NAILA
(says so with thought in her voice)
That would be great! We'd love to have you as a tour guide. Especially seeing as you were one of the inhabitants.
SHANIQUE
(picks upon where the conversation had been and was heading in her short absence)
You are a kind woman Ms. Maira. It would be an honor.
EXT. HERITAGE VILLAGE- EVENING
They had gone through a small road, passed the square, and were now taking an ally way to a certain house.
SHANIQUE
What was your most cherished memory here aimra'at tayiba?
Shanique wanted to show her advancement in Arabic by calling the elder, "good woman" in her native tongue. Lingering not to far behind were the only infantry they had guarding them from earlier; BLAKE and CRUZ.
MAIRA
Ya! As a child, I'd scale the walls with my brothers. I was the youngest of four.
SHANIQUE
Do your brothers still live in the new city?
MAIRA
They have long sense left and fled for Saudi.
They had begun their ascend up a small flight of stairs, and out of the corner of her eye Naila swears to herself at unknown movement up ahead. She signaled to the men who followed closely behind them to be on guard.
SHANIQUE
Have your people ever feared of trouble reaching your walls? I understand you've been able to hold off, but what are your thoughts aimra'at tayiba?
MAIRA
(Quietly considers her words before answering flatly)
There have been rumors but it hasn't come in all these years and I don't think it will so long as we...natives have anything to say about it.
Naila looks at Shanique who only smiles at the elder making nice with her words, but she knows Shay has picked up on it too.
CRUZ falls behind and goes to patrol. Meanwhile the remaining party enter a house.
INT. HERITAGE VILLAGE HOME
NAILA
This was your home?
MAIRA
Indeed it was.
Wonders to the center of the exchange.
MAIRA
Many council gatherings and meetings were held here. I remember my Papa and Uncle, and his friend hosting many men here.
NAILA
Was your father a higher up?
MAIRA
Eumda.
Shay and Naila look at one another as they watch her move to go up another set of stairs. For an elderly woman she was agile.
SHANIQUE
You never mentioned your papa being a mayor. Does that mean-
BENNETT
(through the receivers)
I think it's time we leave. Hostiles are present. No bloodshed. Wrap it up.
SHANIQUE
(directs her question to Naila, changing the subject)
Damn it. Diya what's the time?
Looks up throught he roofless mud brick box and takes in account the twilight sky.
SHANIQUE
The sun is setting faster than we anticipated.
NAILA
19:00 hours Fatin. Umi Maira, I'm afraid this is all the time we can spare today.
Using real names in reporting work wasn't advised seeing as it posed as too much a risk. Diya is Naila's code name, Fatin was Shanique's.
MAIRA
(in a sadden, surprised voice)
Surely, we have time to view my old living quarters. I'd love nothing more than to view my old room with some company. Please it'll only be a moment duwwar alshams.
She'd called her sunflower, a term her grandmother had called her as a child. How could this woman know that though? It was mere consequence.
SHANIQUE
Another time aimra'at tayiba. Let us escort you back to the village.
MAIRA
But we have come so far, it will only be a moment.
The two women exchange a glance before turning back to ERIC, their only means of protection standing guard at the door nearby. They've long since put away their pad and pen in moving towards the house. Naila leaves the decision to Shay.
MAIRA
(has begun moving up the stairs quickly)
I only wish to glance at my old room.
SHANIQUE
Shit!
Shanique and Naila follow the woman up the stairs, leaving a bystander in a hostile enviroment was not their m.o.
SHANIQUE
(into receiver so all personale can hear)
Interviewee disobeying orders, in route to retrieve her.
BENNETT
All non military personal considered to be hostile. Move out.
INT. UPPER ROOM HALLWAY- EVENING
Maira stood in the entry way to a room. At the sound of their footsteps she looked up at them, Shanique was the first to see it.
MAIRA
Alhumqaa.
There was two bangs right before Maira fell to the ground with the bomb still in her hand. Red spilled from the surrounding are of her head. Shay looked at Naila whose gun still floated in mid air. Naila's eyes trained on the lifeless body not even a full kilometer away.
NAILA
(no remorse)
A shame really. She reminded me of my grandmother.
SHANIQUE
Naila....
Naila looked at Shay, then removed the camera that had been hanging from her neck. She moved closer to the lifeless shell, inspecting the body before snapping a picture.
SHANIQUE
(staring at the body)
Bennett said no bloodshed.
NAILA
It was us or her, what the fuck would he have done?
Naila stands from where she crouched over the body. Shanique opens her mouth to reply but hears footsteps from behind her.
SHANIQUE
(pulls gun out and aims at the sound of footsteps)
Fuck CRUZ, next time give a little warning, would you?
Shanique lowers her gun.
CRUZ
I heard gun shots, did you two not-
Cruz looks at the body of the lifeless elder confused then exchanges a face between the women.
CRUZ
(into receiver)
Blake we have hostile down, I repeat-
Cruz drops. There's a blood splatter on the wall where he once stood. Both women duck fearing the next round of bullets. The war has begun.
SHANIQUE
Cruz!
Aligns her sites where the shot came from and unleashes fire with her rifle while Naila pulls Cruz into a nearby room.
NAILA
(into receiver)
We have a man down, gun shot wound to the chest.
Cruz eyes are wide, gasping for breath as Naila struggles to remove his gear. A native ascends the stairs. He's close enough for Shay to use close combat.
SHANIQUE
Son of a bitch.
She disarms the man nearly half her height, knees him in the stomach knocking the air out of him, delivers a jab to the throat causing him to heave over enough for her to grab him RKO style, travel up a wall just to drop him face first.
A shot is fired near her feet causing her to retreat downstairs into the nearest room.
NAILA
Williams!
SHANIQUE
I'm in a tight spot right now. We got a sniper.
Takes a nearby old bottle and tosses it out into the foyer. The bottle explodes. She's follows the trajectory of the bullet, finds a black scarf just barley bellowing in the wind. She finds a nearby blanket, tosses it into the air, giving away what her position before making a run for it.
SHANIQUE
(into receiver)
I have eyes on the sniper.
BENNETT (V.O.)
Proceed as normal.
NAILA
Looks like someone had a change of mind about bloodshed.
INT. HERITAGE VILLAGE HOME
Naila has removed his mount of gear. Cruz lays flat along a wall. Her gauze are soaked red through and through. Cruz is taking shallow breaths.
NAILA
Deep breaths, Javi.
CRUZ
(grunts)
A lot easier said than done. Where's the bullet?
NAILA
(talks through the unopen pack of unopened combat gauze between her teeth)
It went straight threw, but it nicked your-
CRUZ
Can you not tell me how I could bleed out and just fix me bella?
Naila looks at his sweat stained brow, feels him shake beneath her. Takes in account his blood lose and considers how long she has before his body sends him into shock.
NAILA
Sure.
EXT. AL ULA CITY- LATE TWILIGHT
Shanique is in hot pursuit of the sniper at play. Zig zagging between alleys and openings, dodging the occasional hostile lurking around. The sniper as taken only two shots in her pursuit after him. He landed a hit on her shoulder, it felt worse than it looked having scrapped her enough to leave a scar.
She climbs to the second story of a building where an old sheet bellows in the wind. She sets herself up in the prone position and begins to survey the area using her scoop to locate the sniper.
BENNETT
Enemy suppressed. I need a location ladies.
Shay takes out the radio out her ear to focus, leaving Naila to reply.
Shay scouts the area once more through her sights, passes a black scarf once before coming back to it. Sets her sights on it before realizing she's still a little far off.
SHANIQUE
Damn it.
INT. HERITAGE VILLAGE HOME
CRUZ
Amir, my damn head hurts.
Naila looks at him and then remembers taking in account how he hit his head going down.
NAILA
You getting a concussion will be the least of our goddamn worries if we don't stop this bleeding first.
CRUZ
(dazed)
What?
Naila cuts her eyes at him before returning her attention to his wound, the bleeding left the gauze soaked in red, but she was sure the clot had been made. Still she could only presume he'd lost a lot of blood.
NAILA
What battalion are you in? Who's your squad leader?
CRUZ
82nd AirBorne, Thomas Bennett, we're in the Al Ula City, my name is Sgt Javier Cruzzero. Please stop-
Cruz takes a gulp of air before he speaks again.
CRUZ
Asking questions. Just work your magic and shit...my fucking head hurts mi amor.
Naila frowns. Shrugs her pack off and finds a syringe and the ketamine.
CRUZ
(Tilts his head back)
Aw shit not a needle...
NAILA
You want the pain to stop right?
CRUZ
Can we count to three?
Naila doesn't bother and pokes him in the deltoid. Cruz squirms.
CRUZ
(Panting)
Damn it bella, I said count to three!
A smile crosses her lips at his lightened rowdiness. Foot steps can be heard making an ascend up the stairs again, her remark is cut short. Trading in her wit for her rifle.
EXT. AL ULA CITY- LATE TWILIGHT
There isn't a sheet here, only a thin mud brick wall and a hole fit enough for a child's small fingers. Shay is just above her target on another roof top. Shying of three kilometers. Shadowing her opponents sights she can see she's still aiming at Maira's adobe.
BLAKE
(Surprise)
Fuck Shay. I almost didn't spot your ass.
Shay is masked to the wall, the only givings that it's her is her pinned up dread locks standings in black contrast to the lighter tones of brown.
SHANIQUE
(Smiles)
Is that a black joke?
BLAKE
I'm dunno, I'm darker than you so you tell me.
SHANIQUE
(Laughs)
Shut up and make this read for me so I can kill her ass.
BLAKE
That's a woman?
Looks through his binoculars.
BLAKE
How can you tell?
SHANIQUE
Her hair is pint up and it's something about her posture that gives it away.
BLAKE
You've got better eyes than me. You ready?
SHANIQUE
Ready as ready can get.
Shanique cocks the gun.
INT. HERITAGE VILLAGE HOME
Naila's new found pursuers speak in their native tongue so carelessly.
MAN NUMBER ONE
They killed Grandma Maira. Amad won't be happy about this.
MAN NUMBER TWO
Find the fuckers that killed her we'll bring them home as a reward, they'll make good compensation for our elder.
The foot steps of both men are closing in on her location. Cruz looks up at her through heavy eye lids and shattering teeth and it's as if he whispers.
CRUZ
I don't want to die here.
Naila swallows and preps herself for the man set to round the counter. She has her knife in her hand now. The moment his head peaks around the corner she slits his throat. She's quick to hold him by his collar and use him as a shield as his buddy unleashes fire. He retreats down a hall, Naila steps out to pursue him but a bullet comes close to her head and she ducks back around the corner. The sniper either isn't a good shot or he can't see given her position. She looks up to see that there are beans lined above them and thank God they're thinned out beneath one.
BENNETT
I just heard gun shots, was that from your area Amir?
NAILA
Yes, bring an extra medic, Cruz is going to need it stat.
Man Number One fires at the area and she switches sides.
MAN ONE
Come out you bitch! A life for a life it's only fair!
EXT. ADOBE ROOFTOP - NIGHT
BLAKE
You found a good spot to do this shot.
SHANIQUE
It took me a couple tries but I finally found an ideal location.
BLAKE
You're good to fire whenever you're ready so long as she doesn't move. The wind isn't as high as I feared it would be at the start of nightfall. Your trajectory will be spot on so long as everything remains the same.
There's rapid fire at a distance that feels too similar to her previous location.
SHANIQUE
(through receiver)
Naila are you ok over there?
NAILA (V.O.)
Yeah, I got a tango in another room. The sniper is still up to, but I'm covered. Do you have him in your sights yet?
Shay changes her directory toward the adobe, she can't get a sight on the enemy.
SHANIQUE
Think you can take care of him?
Shanique switchs back to her original target and locks on the back of her head. She isn't wearing any head gear just a turban. This will be a clean shot.
NAILA
Yeah, you know me. You handle your business I'll handle mine.
Simultaneously, Shanique shoots her target just as Naila cuts loose a flash bang before moving in for her kill.
INT. HERITAGE VILLAGE HOME
Man Number One screamed.
INT. ADOBE KITCHEN
We see the kitchen is covered with dust, severely outdated, and dark.
Naila turns around and Man Number One launches at her blindly from behind a cupboard. They both tumble down and the man stabs her in the calf muscle. Naila screams out in pain. Her rifle has slid beneath the kitchen table.
MAN NUMBER ONE
You bitch. You'll pay for what you did to Mama Maira.
He moves to hit her with his buttstock, but Naila struggles with him before she's able to wrestle the gun away.
NAILA
You'll burn in hell first.
The two wrestle until Naila gains the upper hands and gets him in a triangle choke hold but she doesn't have the strength to maintain it with a split calf. So her oppenent breaks free.
MAN NUMBER ONE
(laughs weakly)
Just like a woman to be as weak as you are.
Naila says nothing as she reaches for his gun which he kicks to the side.
He pins her and proceeds to choke her out as she claws at him.
MAN NUMBER ONE
You like that huh? Let me hear you scream a little more.
Naila is red in the face and has let out a cry of frustration. She calms herself as she reaches up for his face, stratches him a few time then locks her fingers into the fleshy meat of his eyes and digs in. Her oppressor is quick to let go after some seconds.
Naila gasps, allowing new air to flood her lungs as she reaches for her rifle.
Her finger tips just barely graze it when the bastard comes down on her with a knife. Seeing the helt she realizes it's her own.
NAILA
Clever fucker.
She rolls out of the way just in time and in the right direction. She's able to snag her rifle and fire just as he moves in for another strike. The adversary drops.
SHANIQUE (V.O)
Naila you good out there.
NAILA
( coughs )
Yeah...
Naila takes in a breathe. And attempts to stand. Moans at the pain shooting up her left leg. Little pressure can be applied there.
NAILA
Bastard got a pretty good cut on me, I'll live though.
Naila begins to make her way back to Cruz.
The sounds of a stamped heard downstairs.
NAILA
(Rolls eyes)
Fuck.
Naila braces herself against the wall and ready's her firearm. Rounding the corner she sees a familiar face.
BENNETT
Well don't you look like shit.
They both lower their guns.
BENNETT
Are there any more of them?
NAILA
No, Cruz is in that room. Gun shot wound to the right shoulder. He lost some blood, but he's been stabilized. He's probably passed out from the ketamine I gave him.
A team of medics enter the room Naila pointed to them, while the remainder flock to her aid.
Bennett walks over to the lifeless Maira.
BENNETT
I never liked her to begin with when we met her in the marketplace.
NAILA
Why? Because she made fun of your shitty ass hair cut and your american charm?
BENNETT
There's nothing wrong with my hair cut.
Bennett touched his shaved buzz cut head.
NAILA
(grunts)
Keep telling yourself that.
Naila looks at the lifeless shell of an old woman. She had been the village's head person, she had also been someone's grandmother. She wondered if Amad had been that someone to her and just how much he'd come back for repayment of what happened today.
Naila looks up at the Lieutenant.
NAILA
Lt, there is something I need to share with you.
EXT. AL ULA CITY- NIGHT
Shay and Blake had begun their journey to regroup with the squad.
BLAKE
Hard to imagine something so beautiful could be so deadly.
SHANIQUE
Aw, why thank you, but I'm afraid you're not my type, need I remind you that again, brother?
BLAKE
No, damn it, I wasn't talking about you.
SHANIQUE
( in realization)
Oooh, you mean the her?
Before deserting the location they had climbed their way to confirm the kill. Turns out the opposing sniper had rivaled Shay's beauty making her envious. Where Shay had dimples and mocha creamed skin. This woman had been coffee creme coloured with hazel eyes and a beauty mark adoring her right jawbone. She was something to be admired.
SHANIQUE (O.S.)
If only she'd been as good of a shot as she was beautiful.
BLAKE
Don't sell her short, maybe she hadn't-
Blake took the time to scout from where they stood. He found that the woman's position had given her a clear shot of their teammates position no matter where they stood.
BLAKE
Maybe she just needed a scouter.
SHANIQUE
A good sniper doesn't need one.
BLAKE
You needed one. So what does that make you?
SHANIQUE
A great one. I just wanted someone to confirm what I already knew.
BLAKE
( mutters )
Yeah, right.
The two had been partners since they graduated from the academy, having been the only two black people to graduate from their class at Fort Benning's Sniper Academy.
EXT. AL ULA CITY ALLYWAY- NIGHT
SHANIQUE
If you're going to act like that then maybe you should have assisted her instead then. I'm sure she could have used your help.
BLAKE
(mockingly)
Is that jealousy I detect in the tone of the great Shanique?
SHANIQUE
(through a blush)
Don't be a fool Blakely, I wouldn't dare gush over a boy like you.
Blakely was Blake's full last name.
BLAKE
Oh so I'm a boy now? Try telling that to-
They'd arrived at the Adobe they started out at, soldiers had carried out Cruz into ambulance, Bennett had been following behind Naila who was assisted by another medic.
SHANIQUE
Never thought I'd see the day this medic would need medic-ing.
NAILA
(laughs lightly)
Yeah, well neither did I.
Shay observes her partner's wrapped leg, dangling leg.
NAILA
I'm going to be fine. I'll be even better once we get out of her.
Naila turns motioning for everyone to follow.
BENNETT
Was it confirmed Douglas?
SHANIQUE
Yes, sir. Female a-
BENNETT
(surprise)
Female?
SHANIQUE
(nods)
Yes sir, about twenty-five, no dog tags were found. But there was this.
Shanique hands over a photograph of the Arabic woman to Maira right side and some man on her left, on the back was date and a caption that read. "We still live."
Bennett sighs at who the young man could be. The man bore the same dark hair and dark eyes as Maira had, even shared the same warm smile.
BENNETT
Let's get hell out of here.
Bennett tucks the picture in his breast pocket and pulls out a pack of smoke, turning to follow Naila.
Shay and Blake trade looks, Blake makes the notion to not inquire but Shay is persistent.
Naila knowing her partner's curiosity shouts over her shoulder.
NAILA
Save the questions for the ride home Shay.
About the Creator
"There is no greater agony than bearing an untold story inside you." - Maya Angelou
Instagram: badkawaiikitty
Reader insights
Be the first to share your insights about this piece.
Add your insights