If It Isn't Love
By Bettina Kittrell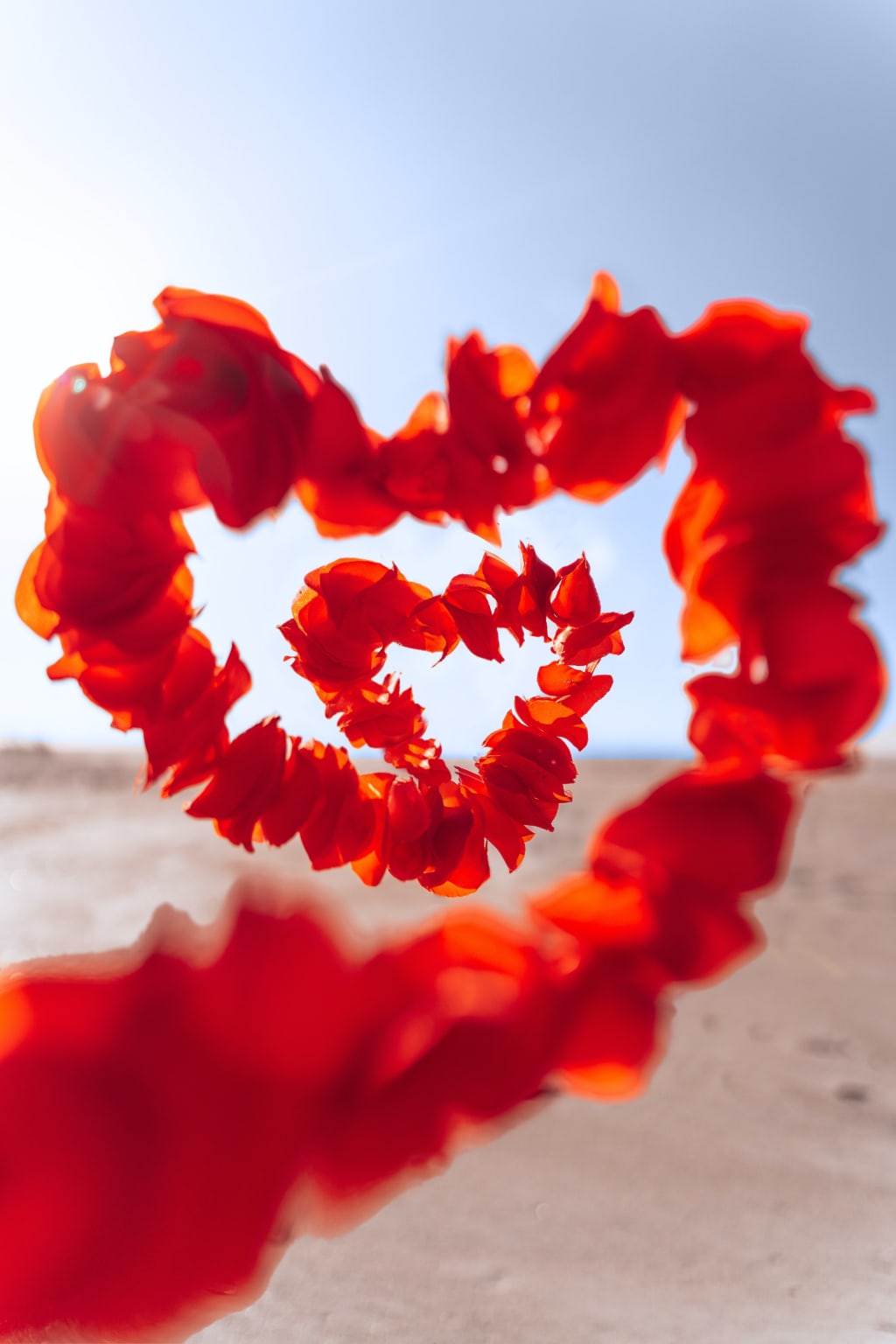 Chapter 1
{Phone rings}
"Hello?" Cheyenne answers the call while lowering the volume on her stereo.
"Hey Chey…..are we still on for the couples' retreat for the week of Valentine's Day ?" Charmaine asked her twin sister.
"Uhh...yeah….well, I'm going but I can't answer for anybody else." Cheyenne nervously responds.
"GIRL! Don't play with me! I'm finalizing the reservations today, so I'll need the final head count." Charmaine snapped.
"Head count, 1, at the Rogers residence…..anything else Char?" Cheyenne snapped back..
Cheyenne had been irritated all morning & restless. Her husband, Broderick didn't return home after their loud arguing the night before. Cheyenne had been pacing the floor with anxiety, now standing still rocking back and forth. Silently, wiping her tear-stained eyes, she continues the call half listening to her twin sister Charmaine.
"Cheyenne?......Chey! What's wrong?" Char asks to get her attention.
"Huh?" Cheyenne, unable to focus, had remembered letting her music play to calm her after Broderick walked out. Music had always been her coping method for everything, while writing was Char's. Thinking of some of the songs that were playing on her stereo the night before to the present. Tears escape her eyes, realizing she no longer wants to talk to her sister and Broderick still is not home, it's 9:00 AM.
(Kehlani - Nunya ft. Dom Kennedy)
(Marsha Ambrosius - The Break Up Song
"Cheyenne Marie! I said do I need to come over? You're not even responding at this point, Twin.. This isn't you. See ya' boo, I'm on my way." Char yelled then softened her tone.
"Alright." was all the strength Chey could muster for a reply.
Char disconnects the call. No longer in the mood for confirming the head count verbally, Char decides to send a group text to the remaining members of the couples retreat. Don, her ex-husband who co -owns a construction company with Broderick, his cousin called; "D & B Construction. " The twins had met the cousins while visiting different properties they were interested in purchasing under their real estate investment company, Cheyenne & Charmaine LLC.
Char also sent the same text to include longtime friends Myra, Devin & Sarai. A second text followed & was different from the group text that she sent to her brother -in- law Broderick.
"B, where are you? Call me, I'm concerned."
Char felt no need to contemplate a lengthy message, she was indeed concerned. Char was the direct one. Whereas, Chey is more lenient. Char began receiving responses to the group text as she decided to stop by the shared office.
Myra: "You know it……"
Don: "Confirmed & call me when you can Char."
Myra: "My response is for Devin & I, both."
Sarai: "Yes ma'am, I can't wait for this journey."
"Hmm…nothing from B." Char thought to herself. "…and Don's message didn't seem urgent." Thinking aloud.
Chapter 2
Don, Char's ex husband, shocked when his cousin arrived around 3:30 AM. He had little rest since he showed up unannounced. He knew why Broderick showed up. But didn't understand why B didn't go home.
They each received a phone call the night before about Broderick's father being in ICU from a heart attack. Broderick & his father have always been close. They were practically joined at the hip from B's birth until he & Don left Missouri relocating to New York to expand their construction business.
"B, I know what Unc means to you but you have to be in your right frame of mind to travel without warning." Don persuaded Broderick.
"You have a wife, whom I'm sure will gladly go with you for support. But you haven't been home,….. haven't called her,…..B, you know Auntie Jess will question where she is if you go home without her." Don continued as Broderick sat on the sofa quietly rubbing his temples.
"Don…. I'm just tired of the arguing lately. Do you realize I got that call in the midst of her accusing me of cheating?…..Man, c'mon! You know I would never do that to her. She found the number that you gave me to the therapist. …. and she just lost it……." Broderick paused with a blank stare.
"I got that call, my heart fell to the pit of my stomach, man & I just walked out. I drove around for a little while, then came here……just confused." Broderick finished with watery eyes.
Don knew he would need help convincing B to go home & talk to Chey. She doesn't know what's going on. That's when he secretly went into another room & responded to Char's group text the way he did. But he wondered why Char hadn't called, he felt he really needed to talk to her but he couldn't leave his cousin at his home in the state that he's in.
Chapter 3
Myra & Devin had gotten married less than two months ago with close to 150 of their friends & family, at the beautiful Bottino in New York. The venue's decor was royal blue & white. Calla Lillies could be seen throughout the venue, as the chosen flower. From the 5ft. ice sculptors to Myra's brooch bouquet, the cake to the simply lit dance floor in white with hints of royal blue that spelled the bride & groom's first name. It was all beautiful.
Myra had become a bit of a "bridezilla", the moment Devin proposed a year earlier. They had dated for 3 years until that point.
"Babe, ever since the honeymoon I haven't gotten to spend a lot of time with you." Myra stated in the saddest tone she could muster on the phone talking to Devin.
"Sweetheart, you know I had to get back to D's Shack." Devin replied.
D's BBQ Shack has been in Devin's family ever since he was a teenager. His grandparents started the business from their home. Devin inherited D's BBQ Shack since he was the oldest grandchild & named after his grandfather. Several family members are already working there. It's also the same place he met Myra, the club promoter. Myra always visited the shack once a week, ordering the same meal on the menu each time. Only after dating, Devin convinced her to try other items.
"Listen baby bridezilla, with all the wedding plans, then the wedding, then honeymoon in Dubai for two weeks….." Devin started his pep talk.
"….I have to make sure everything is intact sweetheart. I'm running a business."
"Baaaaaabe"….Myra attempted to get Devin home earlier than usual.
"Sweetheart, do you realize you haven't let go of the bridezilla behavior yet?" Devin questioned.
"Babe, I'll be home soon. I promise. I gotta get back to work. I love you." Devin rushed.
"When?….. well fine….I love you." Myra states in defeat and decides to binge watch Lifetime movies until her husband comes home.
Chapter 4
Sarai allowed K. Michelle's Rebellious Soul album to play softly while she prepared for her workout routine. She attempts to reach her friend Chey. Sarai had placed three unanswered calls. It puzzled her, both twins rarely let calls go unanswered, if they did they always returned your call.
"Hmph…...ok she said something came up yesterday….. today she just stands me up for our workout? ….Not like Chey at all." Sarai thought to herself aloud.
(K. Michelle - V.S.O.P)
She turned the volume up on her stereo as she began her workout after lighting her Jo Malone's Sea Salt & Sage candle. A kids clothing boutique owner, Sarai had recently ended a seven year relationship with Erik, whom she was engaged for two of those years. Since the breakup, Erik hadn't taken it well. Erik left fresh flowers of a different color three times a week, with the cashier of Sarai's boutique. Erik had always been romantic & thoughtful, however so much had been done over seven years. When Sarai miscarried 8 months ago, Erik wasn't supportive. Sarai didn't understand if he didn't know how to be supportive during that time or he just didn't care. It was their first pregnancy & she felt she went through the heartache alone. It caused a rift, she really needed him then.
"I AM BEAUTIFUL.
I AM HONEST.
I AM LOYAL.
I AM LOVABLE.
I AM HEALED.
I AM FORGIVING…."
Sarai says her positive mantras while walking on the treadmill. She glanced at the yellow roses on the counter left by Erik & continued.
"MY PAST DOESN'T DEFINE ME.
"I LOVE ME."
Chapter 5
Over the next month a lot transpired. Broderick traveled from New York to Missouri to visit his father in a rehabilitation facility since the heart attack. Not a lot of time spent with his wife Chey, he was focused on his father & his own mental stability. Broderick had begun seeing the therapist recommended by Don. Two sessions down so far, he knew there would be more sessions needed to deal with his relationship with his wife, also issues he harbored of his mother. Everyone they knew was always under the impression she was the perfect, fun loving mother. In actuality, his father has always been there. Every football game, injuries, the needed talks, he was always close to his father. His mother, Jessica, worked, shopped & always had a trip planned with her friends. She wasn't affectionate. Which caused issues in his marriage. Broderick realized that during arguments with Chey he was loving & gentle, but if it escalates he becomes detached because he hates confrontation.
"Girl, why is Don being all weird lately? Could it be because the couples retreat is next month? ….Like, we're exes, who are actually real friends." Char paused talking to Sarai, Chey & Myra at brunch while waiting for their food.
"But lately he's texting me ….."How is your day?" "If you need anything fixed, let me know." Just randomness…. For what?" Char continued.
"One, he wants his wife back. He's realized what he's lost…..or two, he is dating & trying to make sure you two remain good friends." Myra stated her opinion to the group.
"Welllllll I love love & when two people genuinely put forth their efforts to work out their differences, who am I to judge? Heal, forgive and let go of anything that's preventing you from allowing love to find you orrrrrrr whatever is preventing you from just finding out what Don's intentions are."…..Sarai continued as the rest of the women listened & made facial expressions.
Chey added in…" Y'all, fully grown in your 30's, nobody has time to be wondering what someone wants. Ask him Char..., my husband & I haven't resolved much since finding the number in his pocket. Now he's traveling to see family without me. That hurts, basically you don't know what tomorrow brings." Chey chose to not say much else regarding her marriage. She continued. "Myra & Sarai, what's the update in your lives?"
Sarai half heartedly smiled, "Nothing's up with me but work, exercising & learning to forgive, accept & love myself more." She shrugged, not telling the women anything about Erik dropping off roses and gifts a few times a week. Sarai had always been the most private one of the group.
Myra, the perfectionist "Baby Bridezilla", as Devin playfully calls her chimes in. "Devin & I are married now, I thought all the time spent at the shack would now go on to me and our plans of starting our family. But he is very much still busy any given day. I'm home cooking, cleaning, watching movies & club promoting, that's it." She stated awaiting the women's responses.
"What's the rush? Let everything happen naturally Myra, my goodness." Replied Sarai.
"Listen, I'm not about to entertain this whole desperate housewife situation you have going on. I agree with Sarai. " Char stated.
"I got nothing, we're basically in the same boat. I'm working on my own marriage & have no time to advise anyone about theirs. What are y'all expecting me to say?…. Love, peace and hair grease? " All the women laughed in unison as they finished their food and wine, before exiting the restaurant.
Chapter 6
The beautiful cottage rented for the couples retreat in the Florida Keys was big enough for 8-10 people, with an Oceanside view. Its 4 - bedrooms, 2 ½ bath, also a beautiful detached guest house a few feet away from the main cottage. Palm trees aligned the walkway of the circular driveway. The shiny brown hardwood flooring was throughout the entire cottage. A 60 in. television mounted on a wall right above the fireplace. The host of the AirBNB had left prior, purposely before everyone began to arrive. Leaving the television playing soft music by Adele -Easy On Me, followed up with a mix of various artists. The mini bar was fully stocked in the corner of the spacious living room. As well as the refrigerator, the group carefully selected Chef Nina and Todd who would prepare the meals during the vacation. They all opted for relaxation, not a lot of going out for meals, everyone has been so busy with life.
Another song started playing as Sarai was the first to arrive at the cottage…
(Adele- Cry Your Heart Out)
"This will be fun and interesting." Sarai sighed as she toured the cottage glancing in each bedroom speaking to Erik. "Let's choose our room." She smiled.
"Alright, I'm fine with whatever's chosen. I need a nap after that flight. Just let me know when & where to put the luggage baby." Erik replied.
Sarai chose the bedroom that she would be sharing with her ex fiance', Erik. She gave him a quick kiss and left him in the room to nap as she awaited the arrival of her friends. She hoped they arrived together vs separately, so she could just let them all know she brought Erik. She poured a small glass of wine while waiting & saying a few mantras:
WE ARE ALL FORGIVING
WE ARE KIND
WE ARE ALL RELAXED
WE ARE HERE FOR FUN
"Whew! I'm so glad we landed…..FINALLY! Those crying kids on that flight….I felt sorry for the mama, but I couldn't take it." Char complained.
"Right now, I'm hoping Don & B c' mon with the car rentals." Char continued.
"Have you heard from Sarai or Myra?" She asked Chey.
"Sarai took an earlier flight….. and I believe Myra & Devin's flight will have a layover….I think, I was walking out the door when they called within five minutes of one another…so I just told them both "ok". Chey smirked.
"Oh…ok." Char replied.
"Did you ask Don about his intentions?" Chey asked Char as they waited on the guys to drive around to pick them up in the rentals.
"I did…." Char started to tell.
Horns sounding interrupting their conversation. They knew automatically they would revisit the topic later.
Chapter 7
Devin hoped to utilize the time in flight to spend time with Myra but he felt he needed to talk to her about how busy he's been. He wanted to apologize. A different apology than just rushing out the door and calling her during breaks apologizing. He watched Myra as she slept with her head on his shoulder, mouth slightly open. Myra was exhausted, it was the only time she slept with her mouth slightly open. Devin pulled her hair from her face and rubbed her cheek. He whispered, "Awwww my Baby bridezilla is exhausted." He laid his head back & thought about their future & should he open another location of the shack.
Two cars pulled in the circular driveway as Sarai walked the property taking in the scenic views.. She automatically knew it was Chey, B, Don & Char. She approached to hug and greet her friends.
"Hello, hello how was the flight?" Sarai asked.
"Chile, we made it." Char joked ecstatic to catch up with the crew.
Chey replied, "I am so happy to be hereeee." Channeling Eddie Murphy's character in Coming to America. Sarai enjoyed the twins' sense of humor ever since meeting them. They always seized the moment to make someone laugh.
While Broderick & Don unloaded the cars, Don announced that Chef Nina & Todd would be arriving soon.
"So what's the play for tonight? I know everyone may just wanna chill & eat some good food. I did come with the games." He continued naming what games were brought for entertainment.
"We have good ole' Monopoly, we have some cards if anybody wanna test the waters & play me in Spades, we have Drunk Uno, Culture Tags & that's about it." Don finished announcing to everyone as the couples toured the cottage and had small chatter amongst themselves while choosing their rooms.
Chapter 8 (Several hrs. later)
Chef Nina & Todd had finished preparing the meal for the evening. Devin & Myra had arrived safely. Myra kept mentioning how exhausted she was, although Devin replied that she had slept through both flights, "…. mouth open, babe I have the lipstck & saliva stain on my shoulder …look." Devin teased Myra.
Some of the group decided to stay in for the night to play Drunk Uno, with the exception of Myra & Devin who wanted to sit Oceanside, enjoy the sunset & just spend some time together. They chose to sit & talk.
"Everyone's got their shot glasses & choice of drink?" Sarai asked.
Don added a disclaimer at the beginning stating "We're all adults, however to avoid accidents, drama, arguments etc…. If the collective feels one person has reached their limit. Then, that's it…no Drunk Uno, no draw four, no reverse, no nothing…. You're out the game." All agreed.
Sarai had already been drinking wine prior to the rest's arrival, she sort of forgot that Erik was asleep. She didn't want to bother him; she got wrapped up in the fun when everyone else arrived. However, midway through the game Chey had excused herself to use the restroom…. When she returned she casually sipped her drink and gave a side eye to Sarai twice while rejoining in the fun of Drunk Uno.
Char caught wind of the side eye but Sarai barely noticed. While Don & B started arguing over a Draw 4 card.
"B, it's part of the game… somebody is gonna have to draw 4, draw 2, get skipped. You always get upset when you have to draw 4. Always been competitive & a sore loser….Don continued, …man if you don't draw these 4 cards I'm adding them to that stack in ya hands. "Don laughed, along with the other players.
Almost in unison Broderick felt attacked as Char, Chey & Sarai started in on him due to holding up the game. B, drew the four cards. A few more rounds of the never ending game & a few more drinks. Broderick ended up with two more Draw 4 cards in his face. Eager to win & refusing to allow the collective to kick him out the game, he kept attempting to play fair.
"I'm about to check on Devin & Myra, B…. You're too much." Sarai stated jokingly.
Clears throat.." Speaking of checking on someone, did you bring a plus one?" Char whispered as if she knew the answer.
Chey & Char had also walked away from the game, more interested in girl talk. "Sarai….really? We hold secrets from each other now? Who are you?" Chey questioned in a loving & curious manner.
"Yesssss, I did. I was going to advise everyone together, but I honestly forgot Erik was sleeping…I got caught up in the fun so there's that. Sarai shrugs shoulders & smiled.
"After I went to the restroom, walking past your bedroom I heard a sound like someone snoring…at first I'm like…what the…then I put my ear to the door for confirmation." Chey teased Sarai.
Char joked, "Well I knew the host is not on the property, the chefs are gone for the night. Why the secrecy?"
Sarai took the opportunity to fill the twins in on what's happening between her & Erik. They're not officially back together, but she's following her heart, they still live separate lives but they're dating & allowing things to happen naturally. Just when Sarai concluded with her life update, Erik appeared smiling and greeted everyone. Broderick & Don were shocked as to where he came from but welcomed him. Don, Broderick and Devin knew the couple had broken up, but the reason Sarai had kept between her, Myra, Chey and Char. Erik made himself a drink, while Sarai made his plate of food. Choosing to be the deejay Erik sat down to catch up with the men.
"What's your update with Don?" Sarai asked Char as the group went to check on Devin & Myra.
"His intentions are for us to be good. If I need him he's a call away. I believe the conversation stemmed from losing his uncle. Life is too short, don't take people for granted regardless of who they are to you. If you care, let the person know. If you love them, let them know. Don told me he's still in love with me although we went through with the divorce. He didn't want it but because I did he sucked up his feelings & just didn't want things to be difficult for me by contesting it. " Char continued. "I really wish he would have communicated & fought for the marriage." She stated.
"Wow, lack of communication…so is there a chance for you guys?" Chey asked.
"I don't know, I'll let things happen naturally. How are you & B?"
"He hasn't told me about this phone number yet. I've been giving him space with his family, although I hate that I'm not as supportive as I could be. I feel he's pushing me away." Chey said sadly, Char & Sarai saw her pain.
"Given all B is going through, I suggest you be the bigger person and initiate the conversation. Don't allow your marriage to get worse by holding grudges. He isn't thinking about a phone number, he lost his father. He probably feels empty that he may lose his wife. You can still offer support. " Sarai suggested to Chey and gave her a hug.
The women saw Myra & Devin in a heated discussion & chose not to interfere.
"What do you mean you thought about opening another location?…. Why?" Myra questioned Devin. He explained he wanted to secure their future long term although they're fine financially. D's BBQ Shack had always been a favorite amongst the city since his grandparents' opening. Devin never changed anything: the menu, recipes or the decor. Customers felt welcomed and at home.
Myra was visibly upset. She knew the reason she slept more & was suddenly tired. She found out she was pregnant a week prior and was thrilled. She planned to surprise Devin but kept missing the opportunities. She was asleep by the time he came home. She planned to surprise him on the plane but apparently slept through both flights. On the back deck, viewing the gorgeous sun as it sets would have been the moment. She felt her moment was stolen by her husband. She wanted to surprise him first and get his reaction before telling the rest of the group.
The group concluded the first night with a dance contest between everyone. Even more fun the challenge was to do old dances from childhood. Myra joined in although no one noticed she was the one not drinking. Seeing all the love that filled the room, the laughter, the old dance moves were hilarious. Chey was being more loving towards Broderick. She pulled him into the kitchen to tell him how she felt. Broderick informed her he had been seeing a therapist on his own, which was the number she found in his pocket. Emotionally speaking Broderick told her it may take time but he definitely needs Chey's support. He missed his wife, his best friend.
"TRUE LOVE ISN'T FOUND. IT IS BUILT."
Love
About the author
Reader insights
Be the first to share your insights about this piece.
Add your insights