I Like Rainbows and I Like Unicorns
Three Brothers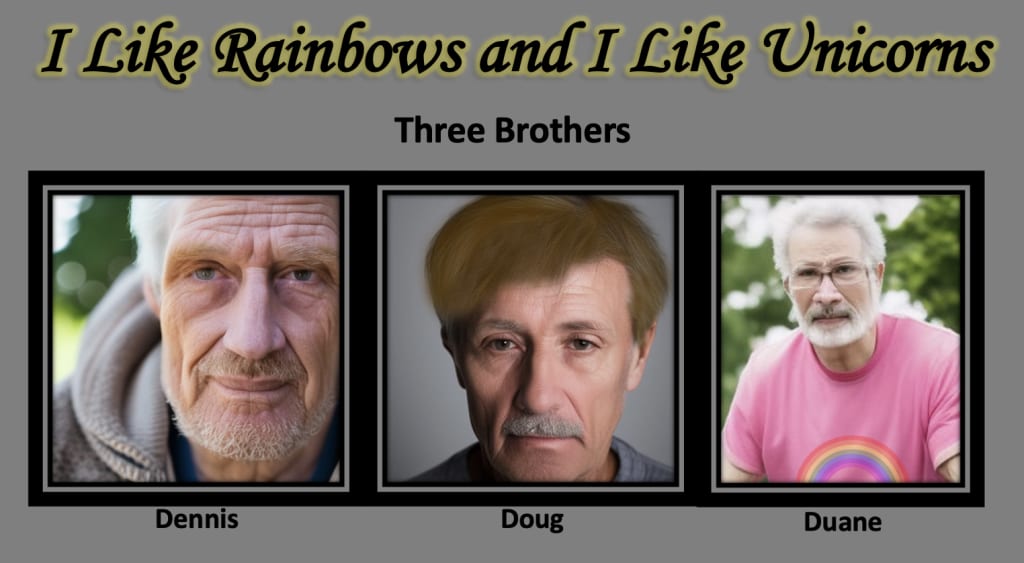 Douglas Dugan held the door open for his 73-year-old brother Dennis as they entered the restaurant. Dennis refused to walk in, "You walk in," Dennis commanded to Doug, "People are going to think we're a couple of old fairies."
"Who cares what people think," Doug responded, " You get all homophobic each year when we have our brother's reunion with Duane.
"I'm not homophobic," Dennis snarked sarcastically.
"Well then why won't you walk through the door I'm holding?" Doug asked. "You need to own it," Doug said, "You need to face it."
Dennis responded, "I don't need to face anything."
With that statement Doug walked into the restaurant quickly, pulling the door shut behind him, leaving Dennis outside.
The greeter spoke in a sweet little girl voice, "Welcome to The Lazy Dog how many in your party?"
Dennis snuck in behind Doug and quickly answered, "Three"
Doug inserted, "Yes, we're waiting for our third party. Put us down for Dugan party of three."
Dennis and Doug continued their argument as they sat in the lobby waiting for Duane and to be seated.
"That was rude of you," Dennis said as he gestured at the door.
"Well one of us had to walk in," Doug responded.
"But you let the door shut in my face," Dennis said angrily.
"Well, I thought you didn't want me holding the door for you," Doug growled.
Dennis just looked at Doug shaking his head 'no.' "Well, all I have to say is Duane better not bring that guy, that he calls his husband, with him. I had never been so embarrassed the way they kept touching each other and giggling."
At that moment Duane walked in wearing a pink t-shirt with a rainbow icon on the front and on the back, it said, 'I'm Gay.'
Dennis looked over at Doug, "That's our 69-year-old brother dressing like a teenager."
Doug stood up right away and walked over to Duane and gave him a hug, "How was the drive?" He asked.
"A fair amount of traffic leaving West Hollywood but thinned down as I made it here to Orange County," Duane answered.
They both looked at Dennis who remained seated. Duane looked at Doug, "Yep," Doug responded.
The greeter called their name and ushered the awkward looking trio to their table. Dennis with a severely hunched back, Doug, the middle brother, wearing an obvious toupee, and Duane wearing his rainbow T-shirt.
Doug and Duane sat on the same side of the booth while Dennis had the other side to himself.
"Why do your kind feel you have to flaunt it?" Dennis asked in an accusatory manner pointing at Duane's T-shirt.
"Dennis," Duane responded, "I am not going to acknowledge that question because for once I would like to have a non-confrontational get together with my brothers."
"I wasn't being confrontational," Dennis batted back at Duane.
"You know Dennis," Duane spoke in a calm manner, "You're right. I am in the wrong. Can we make peace." Duane held his hand out.
Dennis made a dirty look at Duane's hand, "Don't go trying that psychology on me. It won't work. I'm smarter than that."
"Come on Dennis," Doug jumped in but was cut off when the waitress approached the table, "Can, I bring you anything to drink," she asked.
All three ordered water but were not ready to order their food.
After the waitress departed Doug resumed his statement, "Dennis, do you remember what mom said there toward the end?"
"Yes, yes, you remind me of this every year."
"Well, what did she say?" Doug questioned Dennis.
"You know what she said Doug."
"I want to hear it from your mouth Dennis."
"Harrumph," Dennis squirmed in his seat," He said in an old lady's voice, "After I'm gone I want you boys to stay together and treat each other with dignity and respect."
Dennis sat there with a reluctant look on his face. He thought about it for a minute.
"Okay, Duane," Dennis commented, "I like your T-shirt. I like rainbows and I like unicorns. But…"
Doug cut in quickly, "No buts Dennis. No buts."
"Okay," Dennis said as he backed down, "Okay, the truth of the matter is Duane, I have been jealous of you for a long time."
Both Duane and Doug were shocked by this admission.
"Yes," Dennis continued, "I'm jealous of you. You were always mom's favorite. She always had you next to her on the sofa on TV nights cuddling you and sharing bons bons. And when we grew up it was you, she hugged first. She always wanted you to sit next to her when we went to a restaurant or the movies."
The waitress came back to the table with their glasses of water. "Are you ready to order?" She asked.
The three picked up their menus to look.
The waitress said, "I can come back if you need more time."
Doug spoke up, "No, we're ready. We'll have our regular." He looked at Dennis and Duane. They both nodded in agreement, "Three cheeseburgers, two cooked medium well and one well done. No lettuce on all three. And French fries all around."
"And you Doug," Dennis continued speaking after the waitress left, "Even though I was the oldest, Mom put you in charge of everything after dad passed away. She made you her Power of Attorney"
"Come on Dennis," Doug gushed back, " Let's be fair about this. Mom put me in charge because you were running around with Monte drinking vodka and chasing after loose women."
"Well, okay," Dennis scoffed back at Doug's comment, "All I ever wanted was to be loved by mom as much as she loved you two."
Doug and Duane listened as Dennis spoke, "Instead all she ever did was punish me. I wanted her to kiss me on the cheek. I just wanted her to love me." A hint of tears began to roll from his eyes.
"Mom, loved you," Doug said as he took hold of Dennis' hand.
Duane compassionately chimed in, "Remember how mom used to say, 'My heart is divided into three even sections,' and she'd go on and say each of our names: One part for Denny, one for Dougie, and one for Duanie."
The tears came pouring out of Dennis' eyes as he struggled to talk, "I loved her so much. It just killed me to see her deteriorate the way she did before she died. She deserved so much better than that. I feel so guilty because I wasn't there for her. I just couldn't bear to see her like that."
Doug cut in, "You were there. You did the grocery shopping and you chipped in the biggest share of money to ensure we had all the supplies, medications, and caregivers we needed to care for her properly"
"Yes, but you guys were there holding her hands and kissing her forehead," Dennis said softly between his tears.
"You were cutting the grass and trimming her plants because you knew how important it was to her that the yard looked nice," Duane added.
"Yeah Dennis," Doug said, "Mom would have a 103-degree fever and she would still ask if someone was keeping the yard."
The three brothers sat there in silence looking at each other with their hands in the middle of the table, one on top of the other.
At that moment the waitress came back with their burgers. As she went to set the food on the table she noticed that the three men were holding each other's hands.
She started asking, "Are you…" then stopped.
Doug said in a friendly tone, "Were you going to ask us something?"
"Oh no," she responded, "It's none of my business."
Duane said in a sassy voice, "Come on you've piqued our interest."
"Okay," she asked, "Are the three of you in a three-way love affair?"
When they heard this the brothers burst out in laughter. Dennis was laughing so hard he had even more tears coming from his eyes.
"Oh Sweetie," Duane spoke in his best girlfriend voice and limp wrist, "I guess you could say we are Sugar. But we're bro bros, not lovers."
Dennis added with a smile on his face, "Yes, we love each other in the brotherly way.
About the Creator
Writing is a distraction for me. It takes me to places unknown that fulfill my need for intellectual stimulus, emotional release, and a soothing of the breaks and bruises of the day.
https://www.facebook.com/groups/vocalplusassist
Reader insights
Outstanding
Excellent work. Looking forward to reading more!
Top insights
Excellent storytelling

Original narrative & well developed characters

Heartfelt and relatable

The story invoked strong personal emotions

Easy to read and follow

Well-structured & engaging content
On-point and relevant

Writing reflected the title & theme

Eye opening

Niche topic & fresh perspectives

Compelling and original writing

Creative use of language & vocab

Masterful proofreading

Zero grammar & spelling mistakes

Expert insights and opinions

Arguments were carefully researched and presented
Add your insights