"I Broke My Hip"
A young student broadcaster realizes the truth about his job and this sends him spiraling into a downward turn. This is a part of a multiple-part series called "Sportscasting and PKGing"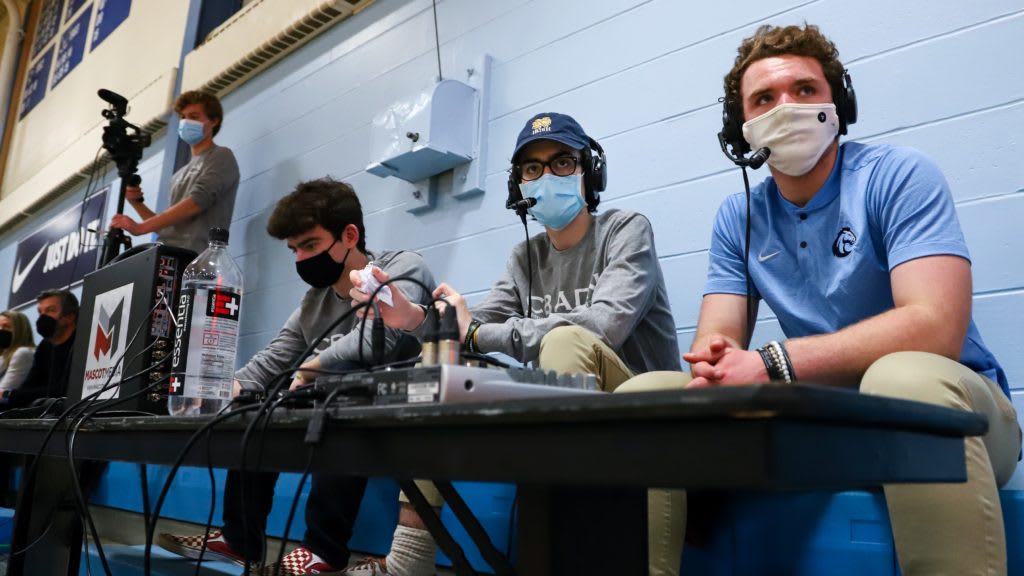 I have to tell you a story because when I was a senior in college, I quickly discovered myself. I had woken up late, really late in fact, and arose from my queen size mattress in the hotel room reserved for me and my radio broadcasting partners, who slept in the other room. Outside of the Assembly Hall in Bloomington, Indiana where I and four other members of our tiny college radio station in South Dakota, were to broadcast the NCAA Division V Women's Basketball National Championship Tournament. The men's team sucks, but I'll talk about that throughout this book. To an alarm clock that has been characterized as a buzzing noise similar to watching "The Shining." Eerily loud for sure. I woke up from a late slumber and arose to the sounds of springtime bird chirping and a burst of radiant sunshine outside but there was also a heavy bit of melting snow on the ground. After fluffing my hair, decking my dark blue suit and blondish slash reddish crimson tie on my neck festive for the Hoosiers occasion. Rolling out of bed like a 68-year-old man, sleepy from a long hangout the boys and I enjoyed at a little devilish hole in the wall called "Kilroy's Bar & Grill," where we slurped on $1 mini shots and watched another NCAA Tournament in a packer bar as IU won in the First Four against Washington State. We partied and swallowed a fish. Cussing like a sailor until night's end. It goes to show you why I was waking up late. Since the tournament was starting at the earliest start time of nine a.m., I had taken a shower and vested into my clothing faster than the Energizer bunny would in those commercials. "Whopper, whopper, whopper, whopper, junior, double, triple whopper, flamed grilled taste with perfect toppers I ruled this day," I hummed to myself in the bathroom while I was dressing into my work clothes because that song stuck in my head for three whole weeks, and I was scrolling through emails on my old school Blackberry. "At B-K, Have it your way! You Rule!" Dawning our typical company sweater vests and high-top yellow and red company beanies, plus a black coat. Before you know it the sheets, boards, and player information that have helped me throughout my time as a young broadcaster, fully printed from the school library and fully colorful like a Jim Carey act in the TV show, In Living Color, were shelved into cream folders into my black computer case that folds like a suitcase. Snow that once pelted on the ground the night before, crunched at my feet like chewing on Kona Ice. My feet as I stepped out of the hotel lobby, felt like a "tap-tap-tap on the glass… waving through a window (sorry I listen to Broadway classics before I go walk down past the hotel lobby, especially during a road game). Then on my way out of the door, I slipped on the pavement, and later a neurologist could call me and say the dreaded words I dreaded. I broke my hip. Headphones flew out of my ears, and even hotel specialists didn't seem surprised, but my body contorted in the air as Kerrie Shrug flew through the air at the '96 Olympics in Atlanta. I mean, it was a hard fall. It felt as if I toppled down six flights of stairs to the delight of my horrors, "Here's Johnny" from The Shining. I fell hip first and it shattered leaving my papers flying through the air. My boards were ruined, my stuff was ruined, and nothing was sealed so my papers were wet. Even the rays of sunshine and winter-like air couldn't save me from slipping on black ice, but it did prevent me from my back breaking or something worse happening to me. My day defines a lot of my chaotic life in this toxic radio job at the time. That I didn't know was toxic, it was a mess.
My life can be like watching an episode of the Rugrats. It can be hectic but also fun. Drunk as shit but my life can also be funny as hell. My life can be a playpen about to explode into college anxiety unlike any other. As a broadcaster, I must go to this game today, and not to have to lay on a hotel floor, with my leg snapped in half by the icy glaciers. I hate to say it but if the ambulance did not come, I would miss the most important game that I cannot bear to miss. As mentioned before, my life even with a broken hip is a mess. One minute I have feelings of regret for not going to the game and breaking my goddamn hip. I took myself, with all of my might, to hop in my rental car and go to the nearest hospital. Dodging traffic, running scared like Steve Smith for the Carolina Panthers, I then begin the slow and painful process of waiting for hours in the not-too-ruckus emergency department this morning, to find out about a potential surgery day. Which is a true pain in the appendix. I got call after call of braiding by my boss, Michael Handkerchief, my boss for four long years of college broadcast excellence who always carpooled me and my co-anchors past Happy Valley to see our school get trampled on a Saturday afternoon by a Penn State Nittany Lion hockey team in a 12-0 victory. He calls me. Okay. He calls me in this Vin Scully fake-ass voice that he always coins up two notches. He tries to lift my spirits since he knows I might be waking up and going out to the stadium later in the day. "Wake up, smiley taffy! It's time to start working on the NCAA Division Four Women's Basketball Tournament. We played Sullivan Central College early, at 8 am today. So, whatcha doing, get your lazy ass up and walk to the stadium. I just left The Indiana Memorial Union, and if you and Charlie need a ride, let me know I will be happy to give you one. Thanks, bruh, hope you can cover it today. I'm not replacing you so..."
In my hospital bed, I lie there and try to tell my co-anchor, Charlie Van Hoten, who we like to nickname "Kevin Harlan" because of his demeanor, and I lie in a hospital bed in the emergency room at the IU Bloomington Hospital, where I waited in the ER for what felt like two hours lying in a straight folding chair of a hospital bed. The pain screamed through my body, as I watched helplessly as there was no radio or TV in sight. I did not bring my Walkman with me to hear the broadcast for even the NCAA Tournament. I was doomed lying in this overcrowded but somewhat unsettling ER bay. I had so many red-coated nurses draw my blood and run IVs, then some Indian doctor comes running into my bay and immediately puts me into surgery because, in a strong Indian accent, he said, "He needs emergency surgery and we finally have a bed! Let's get him in there or he will die!" Now I'm facing the consequences of near death. Blood clots, which I didn't notice because I was cancer free for about five years, grew back and I was rushed to surgery. When I had cancer, my mom told me to relax before surgeries by following a breathing pattern of "coast-to-coast" since I loved basketball, and I whispered it in my head as the frantic red coat nurses rushed me into an emergency bay and I was put to surgery. I didn't even tell my coworkers that I would be gone, nor do they care, as they even left me a voice message. "You dumb fuck! We're at the stadium! Where the hell are you?!" Crying like a teenage girl who has not grown boobs yet, I called Mike and said, "... can you and Mike please cover this game? I can try to do it from the hosp… I'm rushed into surgery in a few minutes and I don't know what to do." My co-anchor, and thank God he did this, went to my hotel at the IMU and grabbed my equipment to cover the game just in the knick of time for tipoff. Mike is pissed and is about ready to cook up a crock pot with me and explode into a ball of fury. This is because, after four years of working with him, he expects all of his coworkers to respond to his messages. But he never even cared when I did call him if I were sick. Right before a doctor put me under for what would be a routine 2-hour surgery, he was told by the doctor and sent me another message while I lay on a gurney with a mask over my mouth. "You've got to be shitting me taffy?!" He said, "Why do you have to be so fucking stupid?!" He sighs in a fit of rage. I can already overhear Michael wanting to grab a gun and shoot my brains out. He's that pissed. Our men's basketball team did not make their tournament, gymnastics sucks, field hockey sucks, hell, everything but our soccer team and maybe the rowing team. Yes, the damn rowing team is better than women's basketball. This was the only game that we were broadcasting for our radio station, KMCB 100.5 FM, that day, morning, evening, and night. It is THAT IMPORTANT I MAKE IT TO THE GAME I TELL YA! AH! AH! SHIT! I twisted my leg again, and the doc told me not to move an inch or it could rupture something! Come to work, I'm waitin' on you, you dumb fuck!" He continued, ranting like a covert narcissist for 30 straight minutes. I didn't even pick up the phone after surgery. "Fuck you, you whiny little bitch! Boo fucking hoo! I needed to know about this 24 - 48 hours beforehand, and since you can't make it to this damn game this morning, or even this tourney, you are forfeited covering any tournament! This is because your actions are despicable. All the monkeys ran out of the hospital for a reason, and you will get a blood clot and die, you little bitch!" My eyes are welding up. I'm scared, tough as nails, but I also want to kill him." The shouting continued, "You motherfuckers get so sick and ill, just imagine staying in the hospital for four days with blood clots on your legs! You are the biggest piece of dog shit I ever worked with as The Rock would say, you little bitch! You're done! I'm done with you! I FUCKING HATE YOUR WHITE ASS BITCH! We were brothers, but now we're not!" And on and on and on. I lunged that motherfucking phone towards the cinder-coated white walls of the hospital room. I want to scream, but I can't, I'm just used to this from Micheal because I work for him, and I have already bent down to my master and sucked his nice, hard dick. I'm already his Mia Khalifa and his Alexis Texas. I am just dog shit. The next day, my surgery was complete. Forty stitches were symmetrically strapped down to my calf, and I was wearing a cast as if I was an NFL player who tore his ACL, and the news cameras show him laced out and in a full cast that went down his leg. It was almost shattered in three places. Through all of this mayhem, I found out two things while I was in the hospital. I watched the McBeth women's game on the DAWN Conference Network (thank you very much to the Bloomington, Indiana hospital for letting me use my Google Apps account) where we lost our opening game 100-98 in double overtime. Days later, I thought Charlie did an incredible job given the circumstances. At 9 pm that night as I left the hospital, this girl that I met two days ago, drove 11 hours and 31 minutes from our school's campus in Hailey, South Dakota to come to visit me in the hospital. I then realized that she was there for me, and gave me a warm bath with baby wipes while I waited in observation for two days (I also had a bad case of the flu and doctors were monitoring the symptoms, I didn't tell you all that), and she hugged me while my parents did not even know any of this was happening until the next day when I, on March 18, got discharged from the hospital. But I will admit, Christina DeLoir, with her glaucous Marcia Brady locks, and squeaky girl next door type of voice, is not only the hottest sideline reporter I ever met, not only is the hottest girl I ever met, but she was like a second mom to me while no one else was there to help, mentor, or guide me through this victorious process. We were able to find my stuff in the room, and word got out that I might be covering the last hockey game of the season next week. She gave me a push and told me to "break a leg." She is the leg I needed to connect with through this trying period. She was the apple of my eye. I already know what my creative writing professor would say, "That is a chicken shit ending to a story there Tommy."
After the surgery my leg and left side of my body was cast in a white taped brace that stretches from the heel of the foot to the top of the knee, I fucked up an entire broadcast and my broadcasting career. I got no calls back from Michael or Charlie. I am so fucking scared that they will be pissed at me when they both head back to the frats. Yes, Michael is in a fraternity. While I was waiting in observation due to my flu symptoms, as I mentioned above, Christina walks into my room for the third and final time to see me sign my paperwork for discharge and head back home. This while I was watching the first round of THAT other NCAA Tournament. March Madness. Well… more of the men's games first then women's second. Now, the three games that aired on CBS with Ian Eagle on the call with Bill Raftery and Grant Hill (God I miss the God himself, the return to glory, hopefully at The Masters) of a pivotal, but also very boring first-round matchup in San Jose, California where the crowd of about 700 people in a 1,200 seat gym looked dead asleep for an early morning tip, (that is according to @nocontextcollegebasketball on Twitter) between the bluebells of the Commonwealth of Kentucky, aka The Kentucky Wildcats. Playing nonother than their opponents… drum roll please… Eastern Michigan. Now why the fuck are they covering that game while they are well-known for their big events? Why couldn't they call Duke and Kentucky and why this? Well, it's because of Isiah Richards, my old high school teammate at the Junior Varsity level for our high school team in Indiana, Evansville Benjamin Bosse. He was the highest-rated recruit in our school's history since JaQuan Lyle got recruited to Ohio State in 2015. Hell, I knew, played, and ate lunch in the cafeteria with him when he was seven foot two as a 17-year-old, then Eagle said on the broadcast hovering over the TV, "... he grew over five inches over his time as an Eagle, and has a vertical jumper, unlike anyone except for Chet Holmgren." Now to compare somebody to Chet Holmgren is remarkable. Even our nurse, Susan, was amazed. "Wow!" she said. "That kid is tall." Instantly, I sunk through my covers while I signed the last dotted line on the paper. Ashamed to even get out of this bed, I signed my name and the date with adequate care. March 18, as mentioned above. I watched Richards drop 36 points and seven rebounds, and he had two assists to later lead Eastern Michigan to a double overtime thriller against Kentucky, as yet again, number 16 took down number 1. Now I see that the UMass days got to Coach Calipari. Now when I got to the car out in the front entrance of the hospital parking lot, the sun shined atop Christina's Toyota Camry, Powerpuff clouds with a Kentucky blue skyline were still overhead of the sounds of flying semi trucks racing to the next gas station and the city music of loud noises created sensory overload after being trapped in a bed for two days. With the assistance of a wheelchair and two male nurses pulling me up from the seat, I whined on my way to the car, "AAH! AH! AH!" I shot in pain. My mind was fixated on the pain, and then I finally get in with all of my might. Then I panicked again. "What about my car?!" I said as I sat down in the plush gray seating of the Camry, I looked down at my phone as the door shut and looked at the messages on my phone. A police officer with a Minnesota phone number tried calling me on my phone and he said, "Son, your car has been impounded." HOLY… FUCKING… SHIT! I was soon to learn that Charlie and, yes, Michael my boss, got so drunk they took my car on a police chase across Kirkwood Avenue and through the town of Bloomington. The stuff that they were working with during the damn game flew upside down and tangled its way to the passenger side door. That Rodecaster I mentioned that cost our station over $1,200 to buy was almost destroyed. My car was ransacked, and to cover up the newly bought radio thing was a white and green Bill Russell, number six Boston Celtics jersey that looked like it had semen smeared on the number six of no less. I thought, what a fucking legacy. My mind was a cat race. I was pissed off, bullied, and teased by my crew of four years of college broadcasting experience, and now I see why I should not trust any young hotshot kamikow to take over my car and take it for a joy ride. At 4:30 pm, two hours after I was released from the hospital, a steaming devil of mine visited my crew at a crowded Monroe County Jail lobby. I heard inmates from across the room yelling and screaming as a young male officer with a shit ton of tattoos of Rick and Morty had oral sex with Wendy of Gravity Falls, I then proceeded to a large silver dining area where the inmates sleep and eat every day. This place does look like a jail. Nothing but two rows of cinder block walls and doors whose once blue-coated paint has been picked on so many times that I felt worse for paint than the inmates. Suddenly, out of the corner of my left eye, Michael and Charlie were wearing orange jumpsuits and had shackles clicking off of their hands to their feet. I hope they didn't drop the soap when they first got here because they marched into the room like they were fucking penguins, and as they sat down I smacked Michael in the face, where I then asked them. "Why the fuck am I here Michael, and Colin I thought you were my friend! Colleague and basketball color! Now you're wearing a basketball, not announcing it." Michael looked high on cannabis. Stoned from the night before.
"You wanna know what happened bruh?" He laughed. "You piece of shit, we were playing with you." How the fuck were they playing with me? "You see, we went to Kilroy's, the best fuckin bar in the world bruh, and we go so fucking stoned, fucked that fat ugly black Precious bitch. I mean she was in my car toasting our buns and frying my french fries. After she slobbered on my hotdog and as my aspiring broadcast partner, 21-year-old Charlie Van Hoten, lost his virginity to a blonde, white chick from Kelley School of Business…" Charlie replied, "She was the hottest bitch in the world." Michael slapped his arm like he was a desperate father looking for his children to give him love. Michael laughed, "Son, you made me so proud." Then he said. "Charles saw this gorgeous skinny blonde OnlyFans model who looked like she was 30, but she was 18." "Shit! I thought. "... so we fucked and fucked and fucked some more, and we went to a frat house on the IU campus, to bang her some more, and… oh yeah… we drank out of them whiskey glasses at her friend's house, yet another blonde chick gave me a glimpse of white on black crime, and we took a joyride through Bloomington and about crashed your car near this Potbelly place. High as a motherfucker. We puked out in the parking lot and I punched the shit of a Purdue fan, who then took your car and drove it through the entrance of the Franklin Hall, and that's why your front bumper is off." I sat back in the stone-faced room. I was numb. These men acted like fucking pornstars in a Camster commercial. From this story, they showed us the true definition of who watches porn by themselves.
But, they acted like that Dakota Joe guy off Beyond Scared Straight, they loved the thrill and the rush of destroying my 2019 Honda Accord. The one my dad bought me for my birthday/high school graduation gift. It was my pride and joy before these two guys took it away. I had no more to say, especially for Michael who was 24 years old and had a job offer with CBS Sports Network to be their next play-by-play guy for college basketball games. I watched my colleagues turn into a shell of themselves in front of my own eyes, and I waited to tell them this for a long time because this incident brought up other problems I had at this company. I said, "I am not only going to press charges on you guys, I hope you all take some time to reflect on your mistakes. Hope you guys just made a stupid judgment or error of some sort, but if I hear of any more bullshit thrown at me again as you have done for all four years of my college experience, I pray you guys stay here for a little bit." I still asked the question of why, and they did not give me a response. So… I quit my first job ever on the McBeth University campus, and I was feeling like the trust of people flew out the window. It was a big learning experience, and something then gravitated me to find another broadcast partner, and fortunately for me, she was sitting right beside me in her Camry. Waiting for me outside of the jail to pay for the car as I called my dad after meeting with the two lunatics, to pick it up. As I will mention, even looking back on this fun adventure I had in Bloomington we drove back to Hailey, South Dakota more with a swagger to do than not to try something new. Something I never tried to do before, and that is to find victory through a narcissistic defeat.
At least, I recognized it because a lot of my partners don't. I never realized how beautiful she even was until I realize that our trip back to Hailey, South Dakota started in a more modest sports arena. At a state, in the same school but in different locations, and through writing for different beats and school organizations. Our love started like this. A simple car ride home, but our road has also been a car ride that features sports and writing. Journalism is a trip that will take you to many places, and you see many faces, but nothing replaces the true heart of a journalist more than finding and keeping one's true love by their side. In a lot of ways, I didn't know that yet until I realized a moment in time when I was vulnerable. More than I am now, I discovered how the beginning of my journey of meeting this girl in a busy side of Chicago. To pick me up after I was supposed to cover one of the biggest tournaments of my young broadcasting career. I realized a piece of me that I would never find before, and I didn't know it yet. When we got back to Hailey, and with crutches, I was able to walk back to my dorm and rest with the one by my side for a little bit. Until she had to commit to other broadcast opportunities. You know why, because that is who we are. No matter what, injury or death, I learned that later in life you need a wife that you can lean on, and stay busy with in this ruckus industry. Christina and I talked about an assignment we had to do for a class that was due in the middle of April. Write our final six packages for our professor, a hardass in Randy Peach. More on him later, but first here's how a trip to Bloomington, landed me in hot waters in the first place.
About the Creator
Journalism major, junior year college student at Indiana University Bloomington, freelance writer, reporter, and columnist, staff writer for The Hoosiers Network, Class of 2024.
Reader insights
Be the first to share your insights about this piece.
Add your insights