House of ill repute
A gentleman seeks the services of a lady of the night but has a need that even she finds... unusual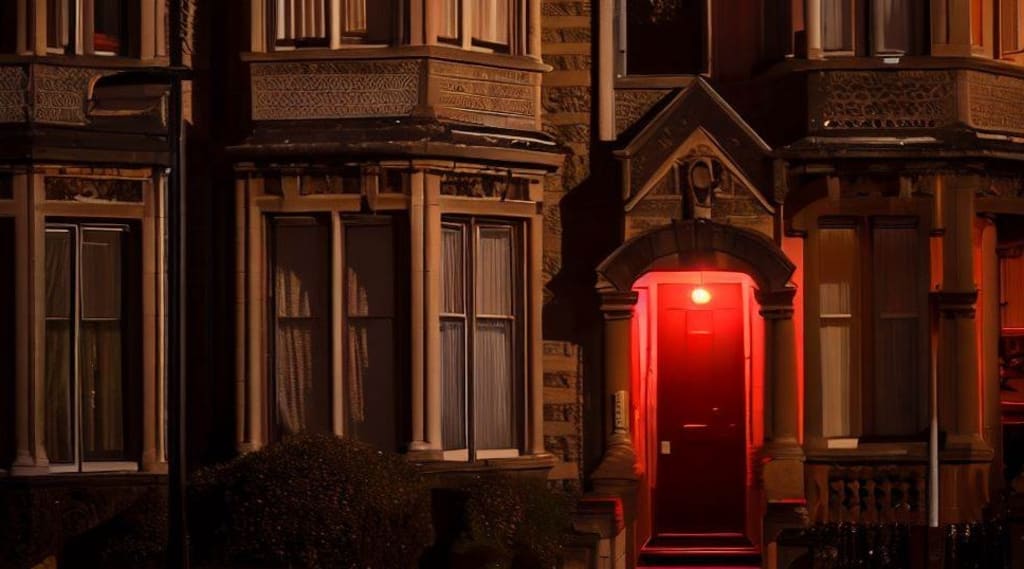 Image generated by DALL-E via Bing
I had never visited a prostitute before but, I thought, 'why not?' The more I considered it, the more I convinced myself it was the perfect solution to my little predicament.
My wife had stopped listening to me a long time ago. We barely spoke to each other unless there was a domestic need. Right now, my need for something else was overwhelming and I knew I could not ask my wife. We had become so distant that we had even retired to our own separate bedrooms these three years past.
Stepping tentatively into the house, having assured myself I was entirely unobserved, I was faced with an elderly lady sitting upon a stool behind a high counter. She wore an expansive dress, a simple bonnet and a sight more makeup than I would think dignified her advanced years.
"Yes, dearie," she said, in an inquisitive but somewhat bored tone. "What can I do for you?" She eyed the briefcase I held in my left hand with something like suspicion.
"Well," I temporized, "I wondered if you had .... if I might ... well, erm, er..."
"Is the companion you seek to be blonde or brunette? Tall, short, svelte or... generously proportioned?"
She laid great stress on the word 'generously', as if expressing a measure of luxury. For what I had in mind, generosity of proportion, or otherwise, was hardly a consideration.
"I care not how well proportioned the lady may be, nor how tall. Neither am I concerned with the color of her hair."
"What exactly are you concerned with then?" she asked suspiciously.
"Well I have only one need..."
"Yeeers..."
"A most particular need."
"A particular need?"
"Yes, a most particular need."
"And what, pray, my good sir, might that particular need be?"
She placed the same emphasis on the word 'particular' that she had on the word 'generously.' I began to wonder if the generosity of the proportion of the lady, and the particular nature of the need, might have a bearing on the price I should be expected to pay. On this point I held my counsel.
"I must insist upon finding a companion for the evening who is a good listener."
"Ah! A good listener," she replied. "That!" She said it almost with relief. "Well I should say that all my girls are good listeners, of course they are, sir."
"Well, that's splendid, madam, but I must insist on a companion who is particularly good at listening."
"And I know just the person," she said and, before I could protest, she leant back, opening a little door set into the far panel and, with her head inclined as if she were aiming to project her voice to the top of a stairway beyond, called out. "Chrysanthemuuuuum! A gentleman wishes to make your acquaintance."
The lady known as Chrysanthemum turned out to be of medium proportion, moderately greying hair, and with a benign countenance I felt to be rather appealing for what I had in mind. She greeted me politely, and offered her hand which I, ever the gallant, took and pressed gently to my lips, bowing my head ever so slightly. I felt I had overdone it a little. I was not, after all, being presented to Her Majesty, God bless her imperial soul.
Notwithstanding, the lady led me to an upper room, wherein there was a bed, a dressing table, and a curtained off area whose function I dared not guess. My hostess bade me sit upon the bed, which offer I declined, instead inviting her to take her own ease upon the elaborately quilted cover. I insisted on standing.
Still gripping the briefcase in my left hand, I rested it upon the bed and released the clasp, giving access to the contents therein.
"Are you sitting comfortably...." I asked, reaching into the leather satchel.
She nodded an affirmative, looking somewhat warily in the direction of my right hand which was now groping within the briefcase.
At last, I was able to grasp the item I sought. Drawing it from the case, I weighed it in my hand with satisfaction.
".... Then I'll begin." I continued, unravelling the rolled-up manuscript.
"Chapter One.... It was the best of times, it was the worst of times."
O ~ 0 ~ o ~
About the Creator
Author based in Kent, England. A writer of fictional short stories in a wide range of genres, he has been a non-fiction writer since the 1980s. Non-fiction subjects include art, history, technology, business, law, and the human condition.
Reader insights
Outstanding
Excellent work. Looking forward to reading more!
Top insights
Excellent storytelling

Original narrative & well developed characters

Easy to read and follow

Well-structured & engaging content
Add your insights