Gnomes - book review
The Authority on Gnomes for Almost 50 Years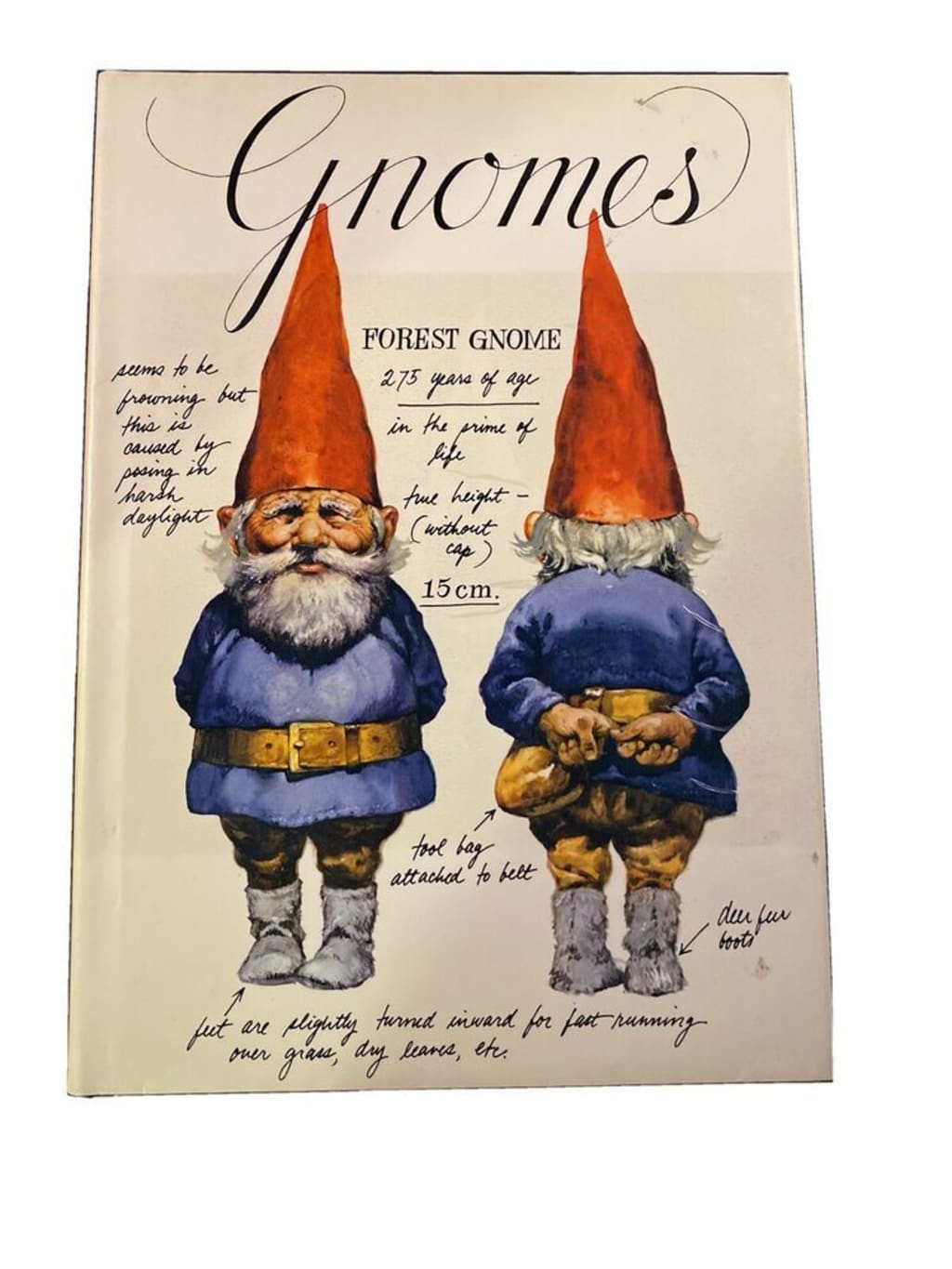 Gnomes
By Wil Huygen, Rien Poortvliet (illustrator)
Book review- no spoilers
1976 - Holland, 1977 – USA
212 Pages
From the limited contact I have had with folks from previous generations, it is clear this book has made the rounds. I understand it adorned many a tabletop since its inception in the 1970s. How different my life would have been had I discovered this book at a young age. Then again, perhaps I did, and this experience is a reopening of past chapters... I digress.
Originally published in Dutch, this enchanting volume will burrow its way into your heart and have you flipping the pages to delight in its artistry. The sheer magnitude of things you will learn in this book is astounding. I won't betray the contract lain there in, but I will tempt you with a few traits of these indelible beings.
Once you give into the world of this book, you will enjoy it that much more. Be sure to begin with the introduction and first few pages, but after that it is good fun to skip about. With no specific narrative arc, this book is more of a compendium of collected facts on gnomes and gnome culture, than adventure of any kind. Be warned: there are limited depictions of gnomes in undress, but these are by no means the mainstay of the artifact.
The book details gnomes in a variety of nifty ways. Lovely handwritten lettering, much in cursive, tells of these genial creatures' talents and traits. There is also plenty of prose, notebook style fact finding, and various other diagram heavy illustrations. Oh, my gosh, the illustrations! And the lettering! In all honesty, this is in many ways a gentle graphic novel, or rather a graphic encyclopedia. With inserts and details of smithing, building, and the like, readers get a gnome's eye view of earth.
Speaking of eyes, gnome sensory aptitude is impressive to say the least. Keen sight helps them steer clear of danger, and quick sprints help them evade would be predators. Powerful noses perform olfactory excellence at about 100,000 times that of humans. They can smell footprints left through leather soles for two days! Overall, their knack for camouflage keeps them out of danger and they have special ways to alert their friends in nature.
Cone-shaped hats play several crucial roles in a gnome's life. In the wild, the bright red hats are a signal to friendly fowl not to attack them. The hat is solid felt throughout. That's right, it is NOT hollow, thus keeping the wearer insulated against various climes. Which reminds me, did you know gnomes live in most places on earth? I was shocked to learn of the very different habits of gnomes that require whole systems of life. Desert gnomes, forest gnomes, house gnomes, barn gnomes, etc. have all developed varied lifestyles to match their habitat.
If you are looking for a bit of storytelling about gnomes, this book has it covered as well. The last third of the book details a numerous legends that are superbly written and illustrated to delight the mind and the eye. You'll be swept away on epic tales of long-ago gnome heroes and even be treated to songs about their interaction with goblins and trolls.
These are but a few of the gnome tidbits you will learn when you find this volume. Be prepared for additional details on gnome customs, married life, age, wisdom, tools and so much more. In fact, there was so much gnome lore accumulated the researchers were unable to fit all of it into a single volume. An equally impressive sequel was made called, Secrets of the Gnomes. The compendium title shares the same scintillating artistry and easy prose that made the first one such a treat.
Gnomebody can escape the charm of gnomes. Request this title from your local library and find out why these books are so loved through the decades.
READ NEXT: The Winter Solstice-The Sacred Traditions of Christmas, book review
About the Creator
I write Historical and Speculative Flash Fiction. Nature and society's underbelly are the focus of my work. My writing can be found at FoxHollowStories.com and The Spectre Review Literary Magazine. Check out jordanjhall.com for more.
Reader insights
Be the first to share your insights about this piece.
Add your insights