Glimmer
He'd never tell a soul. Nobody would believe him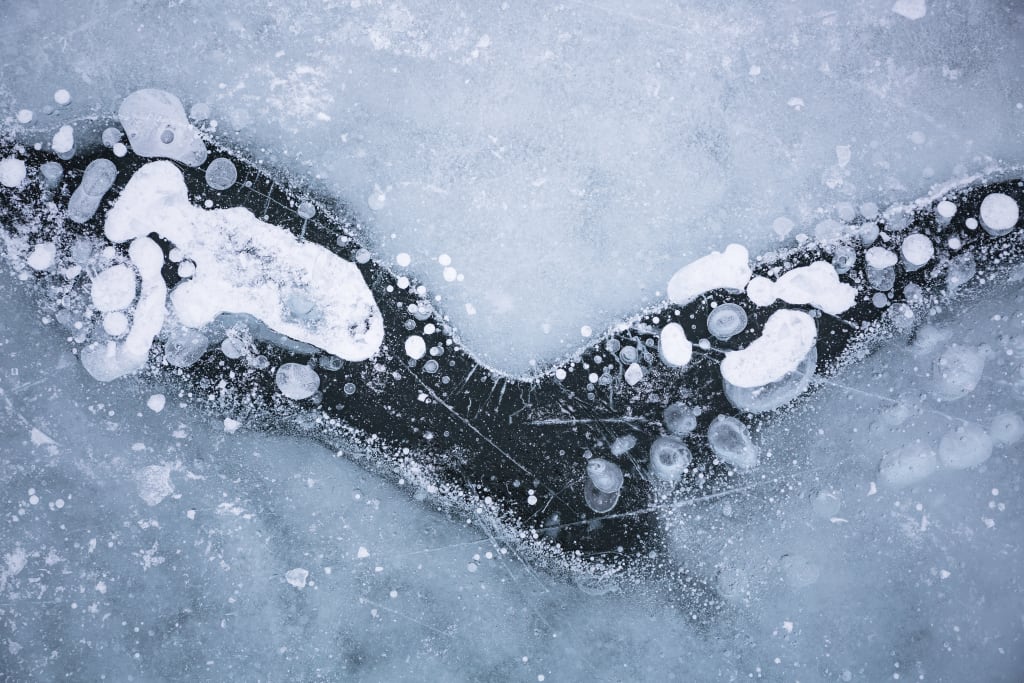 When it showed up, Erling blamed his broken heart. Too much time brooding in the December gloom, he thought. Seeing things. But there was really no mistaking it. In this dark, deserted, Arctic landscape: a shimmering light. Not the ghostly glow of snow under an inky sky, or the silky bloom of an Aurora. This was different. It was luminous, rippling, amorphous – and close. It was below him, in the pond. It was under the ice.
Erling pulled his line and hunkered down on his reindeer hide. A trout flapped in his bucket, then quietened. He scraped a layer of snow from the ice with his gloved hand. Nothing surer: a blue-white light, moving like liquid, the size of an oil drum. Long tendrils swayed like kelp around it, glowing.
He peered into the fishing hole he'd carved from the ice. He killed his headlamp, and watched the fluorescent shape slide past the opening. It was smooth, with a translucent, mottled sheath. When it glided to a stop, a dark, varnished eyeball the size of an orange peered back at him. The shock tipped him backwards. Just as abruptly, the light disappeared, and the pond was plunged into darkness.
His first thought: Marcella. She needed to see this. This – surely – would convince her of the marvels close to home, the wonder of quiet places. The reasons to stay with him.
His second thought: There's something lurking in the pond, and I'm out here alone with just a fishing rod and a gutting knife.
It was 2pm, and fully dark. He'd next see the sun scrape the horizon at around 11am tomorrow. The nearest neighbor was 10 minutes by snowmobile, and they were probably back on the mainland baking julekake and preparing for Christmas; he hadn't bothered to swing by. When Marcella announced her intention to leave him – I'm forever restless. I'll only make you unhappy – he'd retreated to the only place that ever restored him, the place Marcella never understood. Thirty minutes by boat from the Hammerfest wharf, and he was at the remote island. The family's old hut was deep in snow, but the fish would be biting. He'd stay here until he felt the peace stitching his tattered heart back together.
Suddenly he felt small. On his feet again in the dark, he snapped his headlamp back on and swiveled about. Nothing but snow and ice, and the jaunty red roof of the hut. He breathed deep, then swallowed hard; under the pond, the light was back. He turned his headlamp off. The fluid shape hovered and glowed, then went dark. Headlamp on, the blue light returned. Headlamp off, darkness. Headlamp on, back it came.
He traipsed back to the hut and retrieved his biggest paraffin lamp. He sat it on the ice, its warm glow spilling over the pond. Curiosity had him now; bigger than fear, more urgent than heartache. A foot of ice lay between him and the enigma in the pond. This comforted and thrilled him. Life was small; mystery was deep.
Right on cue, the pond lit up. A tapered shape glowed beneath the lamp's pool of light. One by one, fat lengths of strip-lighting splayed out around it – eight of them – writhing and curling before cleaving fast to the underside of the ice. Their luminous spots pulsed to an inaudible beat. It was otherworldly, incomprehensible. It was stupendously beautiful.
* * * *
The cephalopod pouted. She knew the risks, but still her parents nagged. The Deep, they cautioned, was a long way from anywhere. It would take days for her to ascend, and the pressure-change must be handled carefully. She'd need to acclimatize: new temperature, different light, foreign food. Predators were unlikely to trouble her – she was fast and wily, with that lethal Kraken family beak – but who knew what dangers lurked fathoms above? None had left The Deep before and returned to tell the tale.
The young Kraken ached to see the world, find her tribe, meet a soul mate. But in truth, she planned only to do a little snow bathing on Seiland before returning to The Deep with her wanderlust sated. She knew all the legends of the Arctic Circle. She wanted to see for herself those rippling green gossamer skies, the snow glowing silver on navy blue horizons, the mythical reindeer with the jagged claws on their heads. She rebuffed the warnings, and slipped out in the Autumn without a goodbye.
She arrived on the island off Norway's north through the mouth of a fjord. The daytime skies were already dim, which emboldened her. She felt playful. She marveled at the puffs of steam floating off her limbs as she glided along in the gloaming. When she could no longer contain her curiosity about the white ridges above her, she scaled a cliff and felt the soft tickle on her suckers as she made giant snow angels in fresh-fallen powder. Her limbs tingled as she made patterns that would confound local fisherfolk for years to come. This was living.
When hunger nagged at her, she hauled herself across the snow like a plough. A vast, flat pond gleamed deep alpine green. She slipped into it with a practised stealth – barely a splash – relishing weightlessness again. Snacking languorously on bream and crustaceans, she plotted her next moves. She'd make the pond her base. The fish – no patch on deep sea clam, granted – were plentiful. She'd nip out in the darkest dark to scan the skies for the Aurora. She'd fossick in the early mornings for reindeer antler to take home as a souvenir. She'd frolic some more in snow. Then she'd leave.
Winter on Seiland came early, and with gusto. Lashing rain gave way to heavy snowfall, and the plummeting temperature froze the tree tops. Pillowy snowdrifts dulled the sound of the ground creaking. The pond turned a splintered black within hours. The thick cap of ice caught the young cephalopod unawares.
With ancient, amphibious wiles, she was nothing if not adaptable. But the pond's fresh water sapped her strength. It robbed her of limbs of vigor and her body of lustre. Trapped there among foreign ions, she lost color. She became listless and doughy.
Days turned to weeks. Despondence set in. She mistook her salt-deficient lethargy for loneliness. Nobody had warned her about that; she was locked in and the yearning was real. Sprawled on the bottom, she lit up, and waited.
No response came. No fellow pond-dweller flashed their solidarity, or glowed their intention to breed. No potential soulmate beamed their existence, no tribe clambered towards her light. Not even the dimmest of beacons showed up to fuel her hope.
Until now.
* * * *
The starburst shape throbbing cool blue under the ice looked majestic. There was a calm to it. Erling felt no fear. It seemed to him that a profound truth was revealing itself, right here in the pond he'd been coming to since he was a boy. Stay your course, it was telling him. A simple life has its own rewards.
Stars glinted above him. He dropped to his knees and traced his glove along a luminescent limb clinging to the ice from beneath. The creature showed no menace; it made no sudden moves. It seemed to find solace in the glow of his paraffin lamp, basking there as if it was a life force.
Erling picked up the lamp and walked toward his fishing hole. The creature dislodged itself, and followed. The hole was the size of a small dinner plate. He set the lamp beside it. The strange, billowing light eddied below. He heard only his breath, and the gentle lapping of water. Sitting cross-legged on his hide, he watched wide-eyed as a long, smooth, pale tentacle, neat rows of luminous discs glowing on its underside, emerged from the ice.
Oh Marcella, whispered Erling. If you could just see this.
The smell of fish and old seaweed rent the air. The appendage cast around like a periscope, then settled its tip lightly on Erling's headlamp. He didn't move. There were soft suckling sounds, as a hundred suction cups tasted the salt on Erling's face – on-off, on-off, on-off – and caressed his body through goose down. He'd felt nothing like it: firm but gentle. Visceral. Meaningful. The glow lit his face. His skin tingled.
Erling felt a calm overtake him, a kind of transcendence. He knew everything: where she'd come from, how she got here, what she wanted. In that one tactile encounter, she'd shown him what he needed to know: she craved more than what this place offered; she yearned to experience the world; she wanted out.
I know someone a lot like you, he thought.
And she knew him, of course; her light had grabbed it all. She knew his heart, what he'd lost, what he needed. He would be the one to help her, and she would show him hope. She felt her strength coursing back through her. Drawing her arm back through the hole, she blinked one eye softly at him from below.
With his hand auger, Erling started on the ice. He made a series of small holes, blunting his blades as he punched out the membranes between. He soon had a rough opening three feet across; enough to get her clear. She was bright now, her beaked head glowing like an orb above the ice line, her limbs swirling gently around her.
The sight was rhapsodic. Erling felt full. He imagined how this would go. He'd get her free of the pond, finally, and the two of them would share a moment on the ice, him panting his awe and wonder, her dropping her doe-eyes in appreciation. Then she'd slither off across the snow, silent and graceful, a blue-white aura glowing around her as she ploughed a luminescent trail to the horizon. He'd never tell a soul. Nobody would ever believe him.
He blinked back an emotion he couldn't name as he reached out a hand, and she wrapped one arm snugly around his like twine. He braced his feet, and pulled. She didn't budge. He tipped his headlamp toward her. Was she fading? Her eyes glinted in the light. When her arm tightened around his, he breathed relief. She reached another arm from the water, then another, until four glowing limbs coddled him, urging him on. Erling himself was aglow, briefly. He leaned his weight away from the opening, and heaved.
Her counter-pull was almost imperceptible. Erling's feet slipped. He braced again, but she lifted him up off the ice so fast he barely flailed. He dangled there, in slow motion. With one deft move, she plunged the pair of them back down below the ice. Erling didn't call out. When his head hit the icy water, he went still.
He stayed wrapped in her glowing arms until they reached the pond's silty bottom. She cradled him, pulsing a tender song. His headlamp flickered, and went out.
Above them on the ice, the paraffin lamp spluttered and died. Seconds later, her light went out, too.
The pond went dark. The sky glimmered green.
Reader insights
Outstanding
Excellent work. Looking forward to reading more!
Top insights
Compelling and original writing

Creative use of language & vocab

Excellent storytelling

Original narrative & well developed characters

Easy to read and follow

Well-structured & engaging content
Heartfelt and relatable

The story invoked strong personal emotions

Eye opening

Niche topic & fresh perspectives

Masterful proofreading

Zero grammar & spelling mistakes
Add your insights