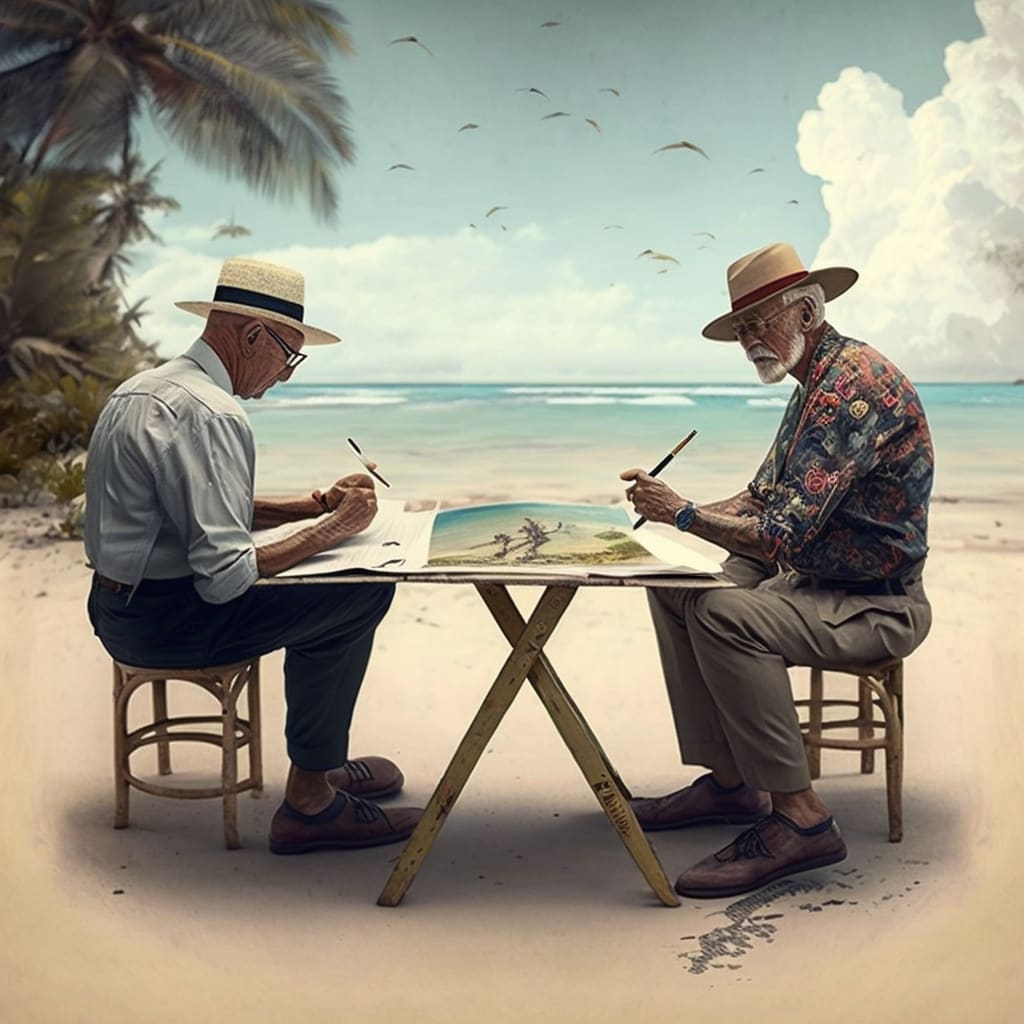 Once upon a time, on a serene tropical island, there lived two individuals from completely different walks of life. The first was a wealthy businessman named Jack, who was always on the lookout for new opportunities to expand his wealth and empire. The second was a free-spirited artist named Lily, who had taken a sabbatical from her busy city life to find inspiration and rediscover her passion for painting.
One day, Jack was on a walk on the beach when he stumbled upon Lily's art studio, which was nestled amidst the lush vegetation and overlooking the crystal-clear waters of the ocean. Jack was immediately intrigued by Lily's work and decided to introduce himself.
Lily was taken aback by Jack's appearance, as she was used to the laid-back, bohemian lifestyle of the island and wasn't used to dealing with high-powered businessmen. However, she was immediately struck by Jack's charming demeanor and his genuine interest in her art.
Over the next few days, Jack and Lily started talking more and more, bonding over their love of art, travel, and adventure. Jack was intrigued by Lily's free-spirited personality and her passion for life, while Lily was drawn to Jack's ambition, determination, and success.
Despite their vastly different backgrounds, Jack and Lily quickly became close friends and started exploring the island together. They swam in the crystal-clear waters, hiked through the lush jungle, and went on long walks on the beach, always with a sketchbook or canvas in hand, capturing the beauty of the island.
As their friendship grew, Jack and Lily began to realize that they both had something to learn from each other. Jack, who had always been driven by his work and ambition, started to see the value in slowing down and enjoying the simple things in life. Lily, who had always lived life on her own terms, began to understand the importance of setting goals and working hard to achieve them.
One day, as they sat by the beach, watching the sunset and sipping on tropical drinks, Jack confided in Lily about his struggles in finding a work-life balance. Lily listened intently and shared her own experiences of feeling lost and uninspired in her city life. Together, they came up with a plan to merge their passions and start a business that combined art and travel.
They spent the next few months putting their plan into action and soon opened an art and travel company that specialized in creating unique and immersive travel experiences for artists and creatives. The business was a huge success and soon became one of the most sought-after travel experiences in the world.
Years went by, and Jack and Lily's friendship only grew stronger. They continued to travel the world, exploring new destinations and cultures, always with a canvas or sketchbook in hand. They had finally found the work-life balance that they had been searching for and were grateful for the unlikely friendship that had brought them together on that tropical island so many years ago.
As they sat in their studio, surrounded by the beauty of the island and their art, they looked back on their journey with wonder and gratitude. They were two completely different individuals, but they had found a common ground in their love of art and life, and their friendship had opened up a world of possibilities.
In the end, Jack and Lily's story was a testament to the power of unlikely friendships and the amazing things that can happen when two people come together, embrace their differences, and support each other's passions.
Reader insights
Be the first to share your insights about this piece.
Add your insights