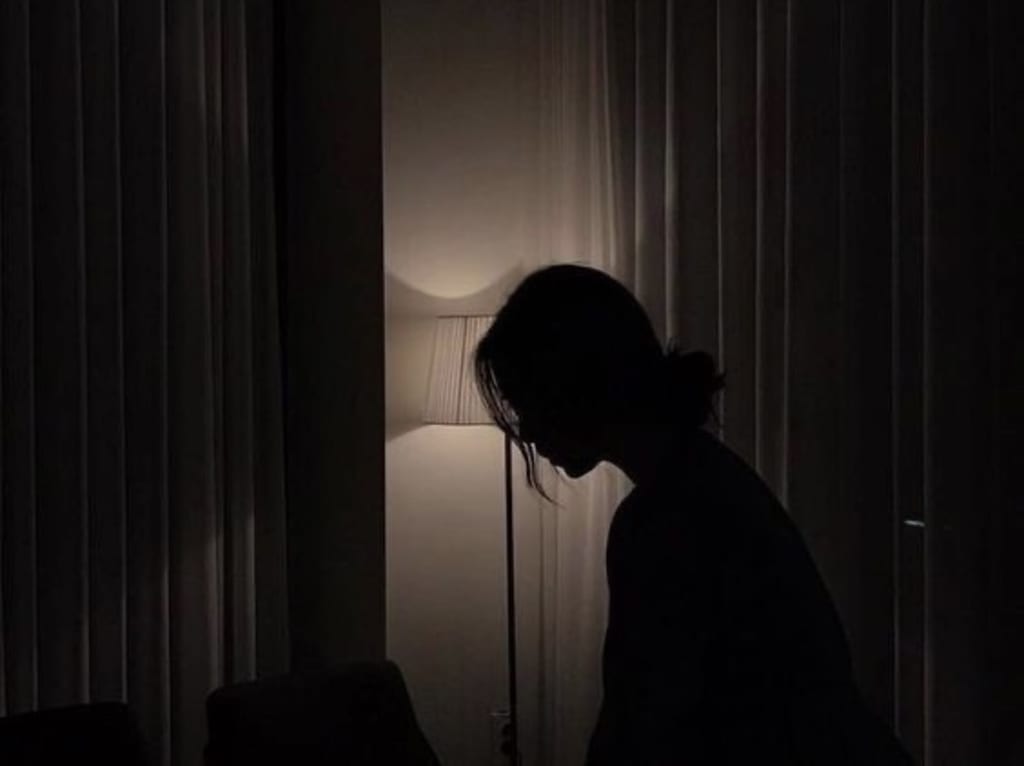 Pinterest
If walls could talk, I'd confess my devotion to you. So pay attention, it's a bit of a shock.
*Tick... tock... tick... tock*
The clock nailed against my shell fills the familiar silence of the vacant space. I've memorized the ticks. It's a quarter 'til seven, meaning the person dwelling within my cavity will soon be returning.
I've housed many residents. Some old, some young. Some families and some furry companions. But this one has been by far the most alluring.
She's not the youngest occupant I've had, but she's not my oldest either. She's an age that's perfectly in between. Active, yet serene, which I consider most compatible with me.
She's quiet, though, in a noticeable way. She's lonely, though, in a resigned way. Honestly, she's a mystery to me, and while with others I used to escape their overwhelming presence by shifting to my opposite side, I seem to be drawn to her and want... no, need to have her in my sights at all times.
My obsession with her makes no sense to me. All she usually does is clean, read, or do other mundane things to keep herself busy. I realize it's to distract herself from noticing her solitude. But she's not alone. Not really.
The identifiable sound of keys being shoved into a lock draws my attention, and if I had a heart, it'd be pounding against my interior framing, similar to the way a visitor announces themselves when knocking.
The door pushes open, and the woman hurriedly enters through it to escape the harsh elements. I'm not a fan of rain either. It decays my crevices, stains my complexion, and molds my vaulting. I never used to care about my appearance before. There's no reason for vanity when people are constantly remodeling me to suit their own liking. But ever since she became my occupant, I've wanted to impress her with my proud adornments that she took time gracing me in and be the reason she's happy. Sadly, I've never had such luck. Then again, neither has anything else, which comforts me, knowing it's not my lack of being charming.
With extreme care, she removes her wet boots and coat, thoughtfully avoiding leaving a trail of puddles as she wordlessly lumbers further into my cozy dwelling.
I don't know why she's always been so quiet. Maybe she thinks by not speaking aloud means I can't hear her, but I do. I hear everything from her drawn-out sighs to her out-of-tune humming, and everything in between. They tell me all I need to know about her mood, so I listen keenly.
I watch her as she discards the rest of her belongings on the counter, noticing her spirits seem to be lower than usual. She then silently begins to cry and leans against me for support as she crumples to the floor. I quickly send all the warmth I possess over to her, offering the only comfort I'm capable of, wishing I could do more.
I have no idea what ails her, and I can't ask or be the outlet to whom she vents. I'm cursed to forever be a mute observer, with my only purpose being a form of confinement. A coffin. But one that shelters living souls rather than departed ones. Though hers seems to be in limbo.
Her shoulders tremble with her soundless sobs as she hugs herself, clutching at her chest, and squeezes her eyes shut before propping her forehead against me.
I'm deeply pleased that she came to me for consoling. She could've sat at the table, or on the couch, anywhere, really. But instead, she rests on me. She trusts me to be the safe place where she can unburden herself, and I wish so deeply I could tell her that I'll always be here, whenever she may need me.
She sucks down a lungful of air, and keens so loudly, a heart-wrenching blare. I respond with a heavy groan of my own, letting her know that I share her despair, and wonder if she knows I'm consciously aware. A sentient structure with emotions. It's so unfair, to be forced to endure this desperation I cannot bare.
I helplessly stare as she continues to wail. My innards feel like sawdust as she struggles to inhale, and I try to provide her with the relief she urgently needs, but fail miserably. Panic grips my beams, and I mourn by her side, staying with her until her tears finally dry.
The soft rise and fall of her sternum signal to me that she's fallen asleep, and I release a muted sigh of relief. My knowledge of the world might be limiting, but I understand its woes, and how important it is to have a safe space worth inhibiting. So as all returns to as it should be, I go about my normal nightly duty of providing her with warmth and stability. A promise that never needs to be said, but one that I cherish, for it's my only reason for being.
About the Creator
I never believed the sky is the limit, therefore my passions are expansive. My interest in writing stemmed from poetry but my heart lead me to Sci-Fi Fantasy. Consequently, my stories are plot-driven with splashes of evocative elements.
Reader insights
Outstanding
Excellent work. Looking forward to reading more!
Top insights
Heartfelt and relatable

The story invoked strong personal emotions

Easy to read and follow

Well-structured & engaging content

Compelling and original writing

Creative use of language & vocab
On-point and relevant

Writing reflected the title & theme

Eye opening

Niche topic & fresh perspectives

Excellent storytelling

Original narrative & well developed characters

Masterful proofreading

Zero grammar & spelling mistakes
Add your insights