Cabin Pressure
heroism with a small h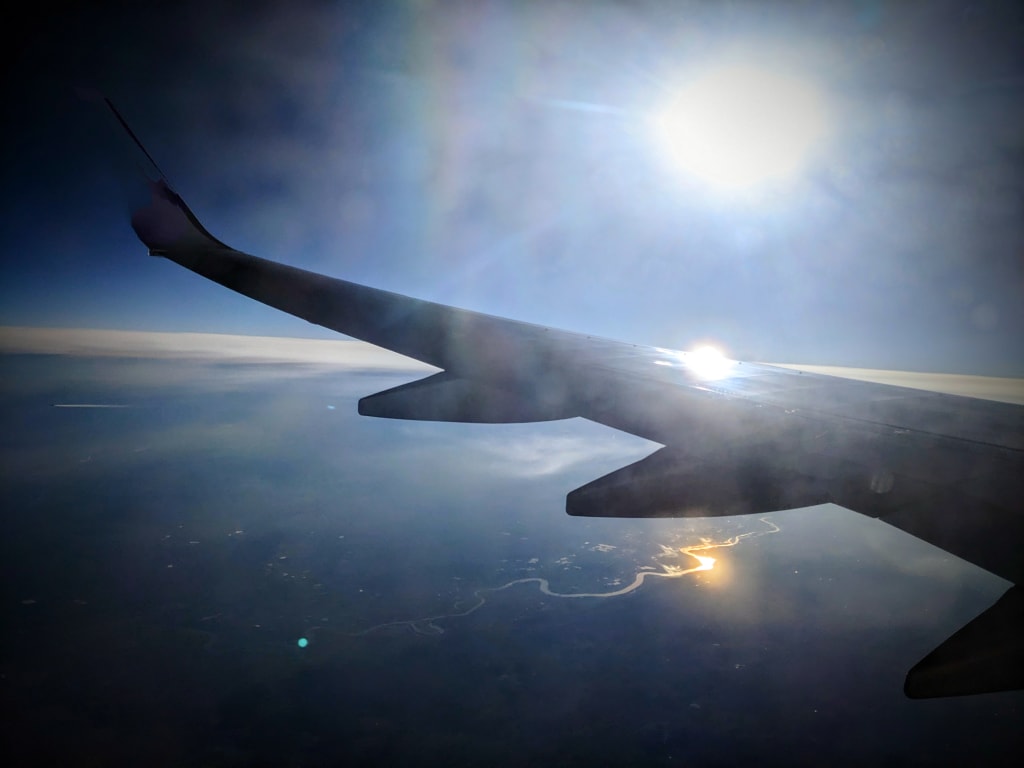 I could be a hero every day. Save the day, every day. Or most days. Many days. No one knows. Can you imagine?
I am single. I have had relationships. Short relationships, which are initially fun and, later, leave me feeling worthless. I live alone. And I rarely see people, these days. But I have a mother, and a brother and cousin who was raised in my back yard. And even though my mother thinks I don't try hard enough, and my brother thinks I'm lazy, and my cousin would rather watch TV alone that sit at the table and eat a family dinner, I love them, and they love me, and so four times a year, I fly across the country to see them. So here I am. Seat 17A, allocated at check in, hand luggage only.
The man sat next to me has checked out my thighs and thought about what it would be like to fuck me, but he felt nothing, and worries he never will again. In 18A, there is a kid kicking the back of my seat. He loves the resistance as the chair back pushes against his feet, the feel of the momentum as his knees bend, then swing open again, until his shoes hit the strip of fabric below the tray table. Ahead of me, in 16A, the woman is counting down the minutes, promising herself to listen to the end of the next song before checking the time again, each three minutes of sparkly pop bringing her one song closer to the ground.
I hate flying. For someone like me, if anyone else IS like me, two and a half hours on a plane is a full two and a half hours more than is tolerable. I have tried everything – music, audiobooks, movies, writing, reading, video games, meditation, medication, sleep. Sleep is my best bet, but right now, my bladder is full and we have another two hours in the air.
I tilt my knees to my neighbour, sit up tall, and with an apologetic smile, I indicate that I need to get to the aisle. He moves his knees over a little but doesn't get up. He checks out my arse on the way past, which feels intimate while I am straddling his lap, but still he feels nothing. The woman next to him stands in the aisle to let me out, and wonders whether she should go while she is up but worries about germs in the tight, handsy toilet. Finding my feet in the aisle, I stand for a moment, bracing myself. Here goes.
"…sandwiches for dinner and then we can get…"
Happy faces shining out of the crowd
"…not going to die, not going to die, not going…"
"…if I tried harder. I should probably be…"
Hips held and pulled towards hips, groins touching
"…looking unwell? Is he ok?"
A plane plummets nose first towards snowy mountains
A man behind a desk looks pained, disappointed
"….can't tolerate this, how can I…."
"…with cheese. Or maybe bread…."
"….56494 which would be a little over…"
"…..hate her. Does she know?"
Green curtains against a pink wall. No blue. No green. No blue
"…cant keep going. I'm so tired…"
"…first, and then we can walk to…"
A man's face, so close
"…the lift to our room and then…"
A group closes ranks, a sea of backs and shoulders and no opening
"….to pay for a taxi but it…."
A man drops to the floor clutching his chest
"…use up my holiday to go to his…"
"…shit shit shit no fucking tampon…."
Hold up. I slow my pace. It's not hard, there is another woman wanting to pass me, anxious that she will never be enough, and I lean into row 26 to let her pass.
"….sanitary pad in the back of the…fuck, gone…."
I press on to the toilets, just a few more rows. Crowds of any sort are torturous for a telepath, but planes, with their heady mix of tedium and rank anxiety, are a hell hovering above the earth, and passing down the aisle is truly running the gauntlet. Generally, if I can avoid leaving my seat, I do. There is a proximity element, and if I can get a window seat, I have three, at most six, streams in my head, depending on how loud they are. I can handle that, especially if sleep can dull them to blunted dreams. But the aisle! Next time you are on a plane, look around you. I can tell you know, if you can see fifty people, perhaps seven or eight of them are thinking happy thoughts. That's on the outbound flight. Four or five on the way home. If you're lucky, most of them are recycling banality as if the air conditioning is gassing them with it. Some are terrified, and often you wouldn't even know. They sit there looking ready to calmly facilitate an evacuation while they imagine themselves dying and sweat into their underpants. A lot are just sad. Sad and angry. Most of us, it turns out, think most of the rest of us do not love us like we hoped. Occasionally this can get a little out of hand. I've warned more than one person to leave their lover as soon as they safely can, and I have left enough anonymous tips with the police that they probably have my number in their directory. It's exhausting though, that kind of responsibility. Do you know how often the average person thinks about killing themselves or someone else? Ok, neither do I, but I have learnt, over many years, that it's pretty common to imagine all sorts of things that it's pretty uncommon to actually DO. That doesn't make it easy to know when to act and when to keep moving. The angst was tying me in knots. This is why I changed my lifestyle. I can go days now without entertaining a single thought I didn't have myself. I'm much happier.
I close the toilet door and the cacophony dulls to just a couple of whispered pages of books. Someone else's thoughts, filtered through words and reconstituted in hungry new brains. Alongside, the faint image of a dog, panting lightly and staring longingly. I get pictures, and words, but not feelings, but I reckon in the back row, there is someone keen to get home.
I do my business, and as much as I would like to linger, I am quick. I don't want to miss her. From my purse I take a tampon, a folded sanitary napkin and a marker. I come equipped. "Please take if needed." I write, and prop the products beside the sink. Then I reach out the open ended tendrils of my mind, straining back down the aisle. It's always more powerful when I try. I can go further and louder when I try. I seldom try. Perhaps I am out of practice, I can't reach her, not quite. I can't hear her over the man who doesn't think it's fair to leave his wife and her cancer diagnosis, though he had been about to leave just her. Over the child who is so brim full of anger that no one hears him, that no one thinks what he feels is real. Over the woman who hopes, truly hopes, that this weekend, he will propose, who pictures herself on the lake edge, slimmer than she is, in a blue dress she doesn't own, while beside her, he thinks about fishing. I can't hear her, but I wait. And here it comes. A picture now of red stained jeans, eye height as she passes down the aisle, "shit shit shit shit".
I step out of the toilet and hold open the door for her with a smile. She returns the smile, though only with her lips, and we squeeze past one another. No blood, I note, on the back of her jeans. I am relieved for her.
I could be a hero every day. Save the day, every day. Or most days. Many days. I could take a moment to listen, to advise, to validate. I could warn the loved ones of the suicidal, the addicted, the liars. I could find the wife beaters, the murderers, the paedophiles. I could find the plotters, the terrorists, the despots, if I was in the right place, at the right time. And there are people who could put me in the right place at the right time. But no one knows. Can you imagine?
Reader insights
Outstanding
Excellent work. Looking forward to reading more!
Top insights
Compelling and original writing

Creative use of language & vocab

Easy to read and follow

Well-structured & engaging content

Excellent storytelling

Original narrative & well developed characters
Eye opening

Niche topic & fresh perspectives

Heartfelt and relatable

The story invoked strong personal emotions
Add your insights