Bull vs Bear
The wild, wild west!
My name is Buck, I was born in Kirtland Ohio on January 11, 1834. I have had anything but an ordinary life. My mother was raped and killed by Indians in 1848 while our family was crossing the plains headed for California. Gordon, my father, is all I got. He's a hard working, intelligent, talkative man that just seems unable to catch a break. Our current dwelling, San Francisco, is the fifth place I have lived in during my short life. My father's ancestry is a European melting pot. Perhaps that is why he never seems satisfied settling in one place. I hope we stay in San Francisco. I love it here. I'm never cold here like the other places we've lived. Even though the snow of Ohio is both beautiful and magical and autumn in Missouri will take your breath away, they don't compare to the ocean. Never have I felt more alive!
My father and I are Gold diggers. I remember the day my father heard about Gold being discovered in California. I thought his pants had caught on fire or something. His excitement turned to facial expressions and body language of uncertainty after discovering the cost of the supplies to successfully mine Gold, or so we were told. Trying to find and mine it is difficult! Especially when everyone and their uncle is doing the same! That is my father's favorite topic of discussion, his uncle Lenny. Not a day goes by that I don't hear a story about Lenny. My only uncle, my mom's brother Joseph, lives in upstate New York. I don't even know where! Apparently, my father didn't have a very good relationship with his father, but an exceptional one with Lenny.
Lenny makes my dad look like a ghost town preacher! Talk about someone that gets around! My father loves to tell the story of when Lenny rented a small boat in Cleveland for the two of them to explore Lake Erie. It had to be big enough to house all the whiskey Lenny had brought from George Washington's Distillery in Mount Vernon. Despite being drunk most of the time, poor visibility and scurvy, their first stop was Erie Pennsylvania. Lenny seemed to have girlfriends in every city. Erie was no different. My father won't share details and I don't ask. I guess he wants me to develop an imagination or figure things out for myself or something.
His favorite part of the story is what happened after they left Erie. They headed northeast towards Buffalo. As lake flowed into river, whiskey flowed into Lenny. He was pretty inebriated and my father was unfamiliar with this particular river. The river seemed to run faster and faster as the mist got thicker and thicker. Suddenly, my father noticed what looked like no more river in the distance through the mist! He immediately started guiding the boat towards the left shore. Call it instinct or guardian angel, my father swears that they would not have made it had he directed the boat to the right shore. The boat hit shore five feet from the top of what is known as Niagara Falls! I've never been there, but my father describes it as the greatest force of nature he has ever seen! The boats impact with the shore woke Lenny up and when he saw what would have been their fate, he started to weep. My father is a hero, in my eyes, and in Lenny's.
It was October 19, 1850. Father and I were digging for Gold not far from the main settlement of San Francisco when another Gold digger comes running by screaming "California is a state"! "California is a state"! We stopped what we were doing and headed into town. From what I remember, a man named John had just arrived from Washington DC with the news. He said that congress had approved California's admission to the union as a free state on September 9th. The streets immediately erupted into a carnival like atmosphere with dancing and fireworks!
We were enjoying the festivities when a tall handsome man came up to my father from behind and tapped him on the shoulder. My father turned around and they both smiled, embraced and exchanged pleasantries. It was Lenny! I wasn't surprised based on what my father had told me of him. He was always the life of the party and this was his type of party! He didn't know that California had been admitted to the union. He was there for bull baiting. I was intrigued as he regaled us of how when he was in Mexico he came across a man that owned a bull exclusively bred for fighting. It had been imported from Spain and was going to be pitted against a bear just south of San Francisco next Saturday!!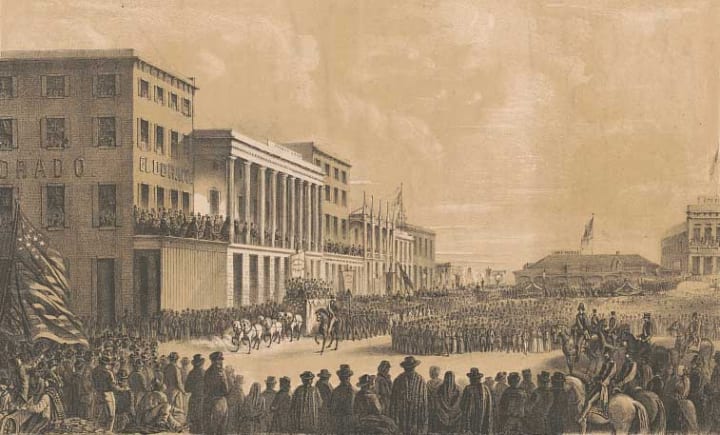 The day of the fight finally arrived! I could not concentrate on anything else in anticipation. I had never seen a bull or a bear! When we arrived at the small arena where the fight was to take place the first thing I noticed was the smell. Bull and bear waste have a distinct aroma. Lenny decided to bet $20 on the bull. My father was content just to watch. When the two animals were introduced into "The Pit" as they called it, I was astonished at their size, but detected a mismatch right away. The bull had horns that looked liked they had been specifically designed to kill. The bear's size and claws were impressive, but I couldn't stop thinking, "how is this bear going to survive?"
When the animals were released from their shackles, the blood sport began. The bear's instinct was to claw the bull in the nose and tongue as it charged. This just pissed the bull off more as it repeatedly gored the bear. Their strength and agility was amazing, as was their perseverance despite the loss of blood. Finally, the bull with a swift charge, gored the bear in the ribcage and tossed him into the air! I'll never forget the roar the bear made before meeting his demise. It was over. Lenny was $20 richer and I had found a new passion!
Short Story
About the author
You will find a piece of my life in everything I write. I am not a lover of words, but actions. If you're looking for TRUTH, you've come to the right place. I just want to share my story, in hope that it will enhance yours.
Reader insights
Be the first to share your insights about this piece.
Add your insights