All My Friends
Flash Fiction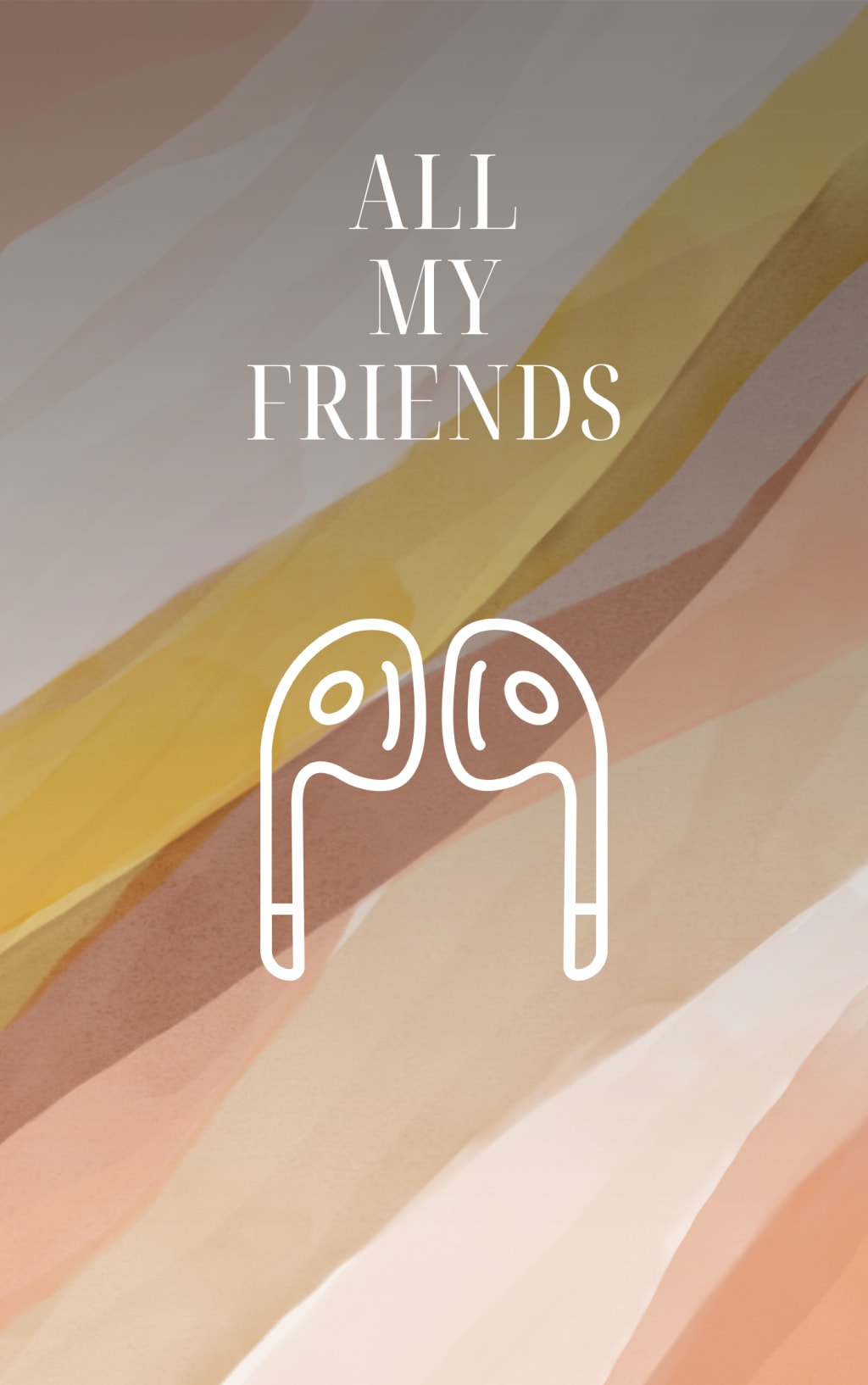 Janelle once learned that we lose fat from our breath, more specifically our exhales. She thinks of that every time her side cramps while she's jogging or when it's -20 degrees Celsius in the winter months. She listens to podcasts through wireless Soundpeats, a knockoff brand, but they work just the same. Karen Kilgariff, Georgia Hardstak, Lester Holt, Josh Mankiewicz, reluctantly Ashley Flowers, Delia D'Ambra, Shankar Vedantam, Whitt Missildine – they all keep her company while she runs.
Janelle lives in an apartment in Edmonton, on the eleventh floor. She tells her mother in North Battleford on the phone, no one is allowed to enter the elevator together anymore unless they are part of the same household. Masks mandatory. Preferably N-95's. But they are out of stock right now. She rides the elevator down alone, the same alone she is in her 540 square foot suite. Janelle hasn't seen a human in three days. She wonders if this is what it's like to be a widowed senior. Or a victim of kodokushi, the lonely death.
Why don't you come home? Her mother offers. But her new boyfriend Gary is there. Janelle doesn't know Gary well. He is a smoker and doesn't shave as often as he should. He drinks Pilsner and goes to the Golden Eagle Casino every day from 11 to 2 in the afternoon. Her childhood house is no longer hers to go back to. Her mother is just being polite.
It's been four months since the 'Great Quar' began in response to covid. The sun thawed the ice off the roads and the street cleaners had since washed away the brown silt of salt and gravel. Grass turned green once again, but the life of summer stayed in hibernation, like a bear that didn't make it through the winter.
Janelle continues to run, to breathe, to exhale and pant, but she can't bring herself to put her black running shoes and sports bra on unless the Soundpeats are fully charged. They're her anchor. Sometimes they produce the only voice she hears other than her own for days.
Coming back from a morning run, Janelle strips her sweaty garments off, leaving the earbuds in. Looking at herself naked, she is in front of the cheap Wal-Mart body length mirror that rests against her bedroom wall. She grabs a hunk of fat on her stomach, feeling less disappointed than before — before when she first started examining herself in the mirror all those months ago.
Karen's voice speaks directly into her ears, "Friendship leads to human connection, which feeds your soul. More than kale or spinning or fifteen-minute naps under your desk, conscious communication with your clutch friends is the best form of self-care."
She sets the earbuds back in their case to charge, in her room, careful not to drop one as she plucks them from each tragus. Then she walks naked to the bathroom to the left, outside her bedroom, and turns on the shower to a lukewarm. I should text Samantha, she thinks as she rinses her hair, her mind mulling on Karen's words.
Hey, how's it going? She hits send. What a lame way to reach out, she thinks, but she's out of practice, the conversations or words uttered from her own mouth have shrunk like dicks in a cold lake.
It's going good, how about you? What kind of response did she really expect? It was set up to be disingenuous and vague. Safe. Lifeless. Avoidant.
Well for starters, I'm lonely, bored, sad — happy that I lost weight though — wondering if the apocalypse is here, tired— no exhausted, angry — no, furious, scared, but really, I'm terrified. But Janelle sends, Yeah… I'm good too. No response warranted.
Humming florescent lights in the kitchen of her cheap flat ring in the silence like tinnitus. Janelle leans over from the kitchen counter, pointing the remote at the T.V. "And one of the most significant areas of risk continues to be social gatherings and I am very concerned from reports of people not following social distancing and-" She quickly leans back over, switching it off.
Momentarily abandoning the boiling pot on the stove, Janelle goes back into her room, retrieving the earbuds from their Soundpeats charging cradle. Each bud plugs her ears like a child hiding under a pillow, their parents screaming below. She grabs her phone, opens Stitcher, and puts on Dateline, desperate for the soothing sound of a friend's voice.
Like, share, and subscribe!
Short Story
family
About the author
Campervan living Canadian with a penchant for psychological thrills and cats.
B.A. Communication & Philosophy
Reader insights
Be the first to share your insights about this piece.
Add your insights