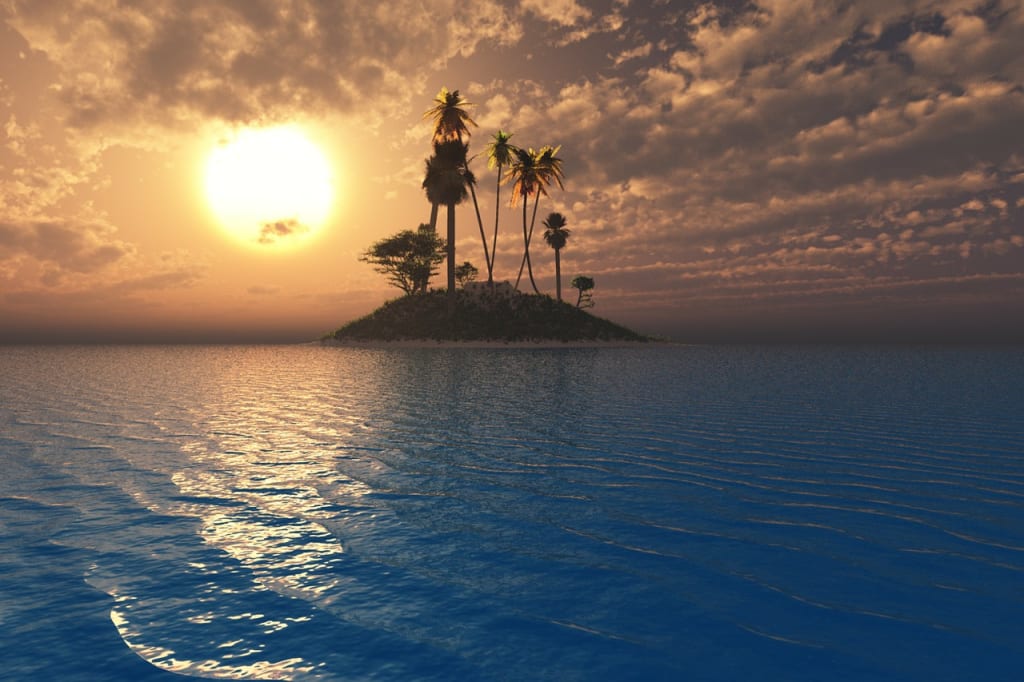 Raymond's eyelids lifted. He coughed, exhaling salt water that burned his nostrils. He lay strewn across a sailboat, its tattered sails sagged from the rusted poles. Cracked, cabin windows framed the door that hung off its hinges. Chipped, discolored paint blanketed its hull. Debris and seaweed dotted its splintered deck. Its mast bent at a sharp angle, ropes frayed and tangled, some dangling from their cleats.
He spotted something a few yards off with a slender frame, around six feet long. He stood, stumbled, then steadied himself. The setting sun cast a warm orange glow over the clear waters, and a soothing lullaby of waves echoed in the warm air infused with salt and coconut.
The object's metallic blue skin shimmered in waning tropical light. A crest of spines ran down the back of the elongated side. The object moved. His heart fluttered.
Citrus hues decorated what he sensed were female eyes, large and almond-shaped. Her elongated ears pointed up, and a row of small bumps ran along the top of her head. Sharp clawed fingers finished her long, lean limbs. Two small nostrils located on either side of her face rested just above her mouth, just a thin line with a slight upward curve.
Her eyelids lifted as if struggling to focus. Her eyes locked onto his in a curious glance. Her movements were slow. Disorientation grew on her features as she inspected her surroundings. Soon she stood without stumbling and strode towards him.
As she approached, his knees wobbled. "Who are you?"
"I am Zethra."
He considered asking more but settled on, "My name's Raymond. I was on an expedition. My boat's navigation readings were all over the place when the storm hit. I must've drifted ashore with the tide. Do you know our location?"
Her eyes scanned his body.
"I cannot say for certain. My ship malfunctioned as well. I'll have to investigate to find the cause." She paused, then added, "Where is your armor?"
"I'm a sailor, not a soldier. I don't really need any, but it looks like we're going to need something to get off this island."
Waves lapped at their feet. Raymond rotated, perusing the landscape.
"We need to find shelter, then we can find food and water in the morning. That is unless you have some. Maybe we can use your ship if it's big enough. Is it nearby?"
She remained quiet, observing him.
"Do you have advanced technology? Maybe you can fix your ship," he added.
Her eyes fell as she shook her head. "I am afraid it may be beyond repair. Over the waning light, they grew more familiar. She opened up about herself to his satisfaction, and once the night made him weary, he fell asleep.
At first light, Raymon suggested they explore the island to see if there was any way to survive and possibly escape. Zethra agreed, and they set off into the jungle.
As they journeyed, Raymond couldn't help but stare. Her feminine alien form strode with grace and agility. He described the lush vegetation and colorful birds to Zethra, who was fascinated by the new world.
She used her technology to scan the area and detect sources of food and water. They found a grove near a stream and gathered a bounty of zesty yellow tropical fruit and small fish.
As the sun set, they roasted fish around a small campfire and nibbled on the fruit they'd gathered. They discussed their lives and worlds, and despite their vastly different backgrounds, they found many commonalities.
Weeks passed. They spent many days exploring the island, attempting repairs, gathering resources, and fortifying their makeshift shelter. Raymond taught Zethra how to fish and make traps just in case her tech malfunctioned, and she showed him how to use her ship's communication device should it ever be restored.
One evening, Zethra was explaining how to send a distress signal when the ship suddenly awoke. Without hesitation, they boarded, squeezing through its partially cleared hull.
Zethra's large eyes widened. "Maybe I can take you home now."
He exhaled deeply and placed his hand on hers. "I don't want to go home. I want to stay with you."
She smiled, and tapped in a few commands, directing the ship to fly somewhere towards the stars.
Earth's tiny reflection faded as they disappeared into the vastness of space, setting off for a different kind of adventure, one they would enjoy for the remainder of their days.
Reader insights
Outstanding
Excellent work. Looking forward to reading more!
Top insights
Compelling and original writing

Creative use of language & vocab

Easy to read and follow

Well-structured & engaging content

Excellent storytelling

Original narrative & well developed characters
Eye opening

Niche topic & fresh perspectives

Masterful proofreading

Zero grammar & spelling mistakes

On-point and relevant

Writing reflected the title & theme
Add your insights