Where the Magic Happens
All About My Safe Space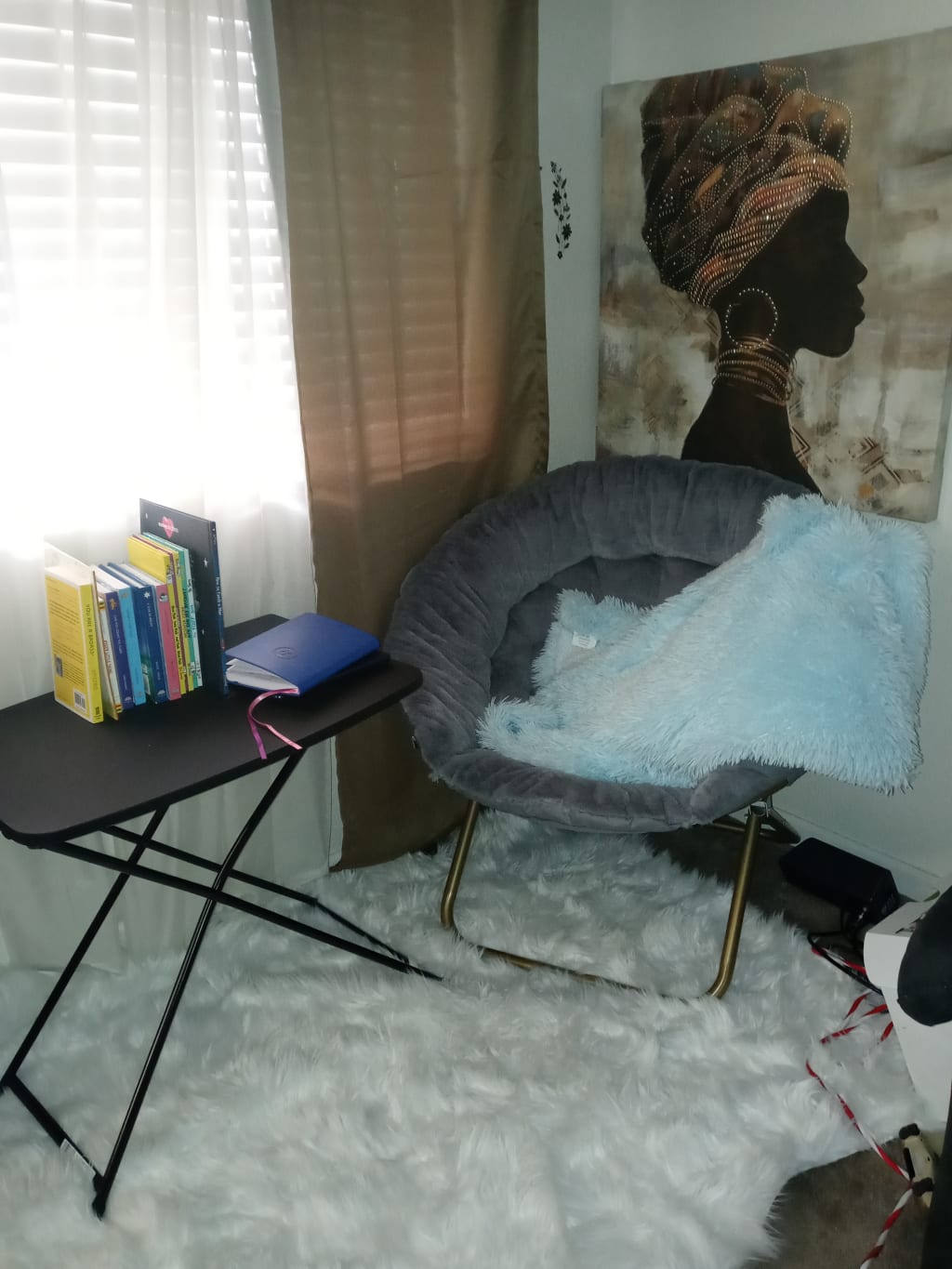 My Cozy Corner aka The Pillow Spot
As an Anxious Introvert, that prefers to keep to myself over having lots of friends, my home is unconventional in its set up. Im a single mother of 2 boys ages 4 and 6. Early on I decided that I wasn't going to stress myself to keep up with what the world determined to be "normal". I currently stay in a 1 bedroom apartment. In order to make sure my kids got the experience of having their own space, and being able to decorate it how they'd like, I gave them the bedroom. With that being said I had to make due with the ultra small living room myself. So instead of couches and tables I have a futon for when guests come over (and to sleep on), a tv, and finally in the corner I have what my kids like to call the Pillow spot. In the pillow spot is where most of all of our best memories are created.
The place that reminds us to dream bring
Since before birth I've made It a big deal to read to my boys every night. Yes, I was that parent that was sitting reading Dr. Seuss to my belly in excitement. As they get older and their book preferences change the location doesn't. Every night at the same time we all cuddle on the pillow chair and I read them a book of their choosing.
No matter how our days go or how exhausted I am at the end of it I can always look forward to our pillow chair sessions.
On rainy days when the skies are gray and the sounds of pattering rain drops are hitting my window I love to open the curtains and enjoy a good book with some hot cocoa and warm cookies.
Now that my oldest is in grade school and reading on his own its become his favorite spot during the day to curl up and enjoy some reading as well. I make sure to buy books that encourage him to dream big and reach for the stars. Books that show him that he can become a superhero, or an astronaut, or a doctor; whatever his heart desires its their for the taking.
Where I go to create
Its my normal routine, after reading my kids their bed time book and tucking them in, to come back to the same spot and transform it into my writing hub. Away goes the books and small teddy bears and out comes the adjustable desk and laptop. In my chair I work on my articles, novels, and handle our financials. Its the spot I go to to make sure that everything is in order and taken care of. It's the place where I go to come up with ideas for future endeavors and to work on things that will solidify our future. In short its my place of hope, for things to come.
Where memories were born
Most of my memories concerning my kids were spent right there In our favorite chair. The first night home from the hospital when I didn't want to put them down. The all-nighters I spent curled up there with my son laying on my shoulder with a cold. The days sitting there teaching my kids how to read or spell their name. Its all tied into our favorite chair.
The main thing I love about our little corner with our pillow chair is that no matter where we move to we can bring it along. When we move into a house, or a new state, or if my kids grow up and want it for them selves it can be packed up and placed in their own little corner of love. I believe that no matter where I go in life, even if I upgrade to a huge house with an office, I will always make room for our pillow chair in its own cozy space.
Everything in the picture describes me perfectly. From the black art, to the childrens books, all the way to the colors. Im a very simple person and im happy with simple things. As long as I have a cozy blanket, my boys, and a book then I'm the most content person on earth.
Authors Note:
Thanks for taking the time out to read about our cozy little corner. If you liked what you've read hit the heart below and/or leave a tip. Thanks in advance!