Where Are the Wild Things?
In My Kitchen, Of Course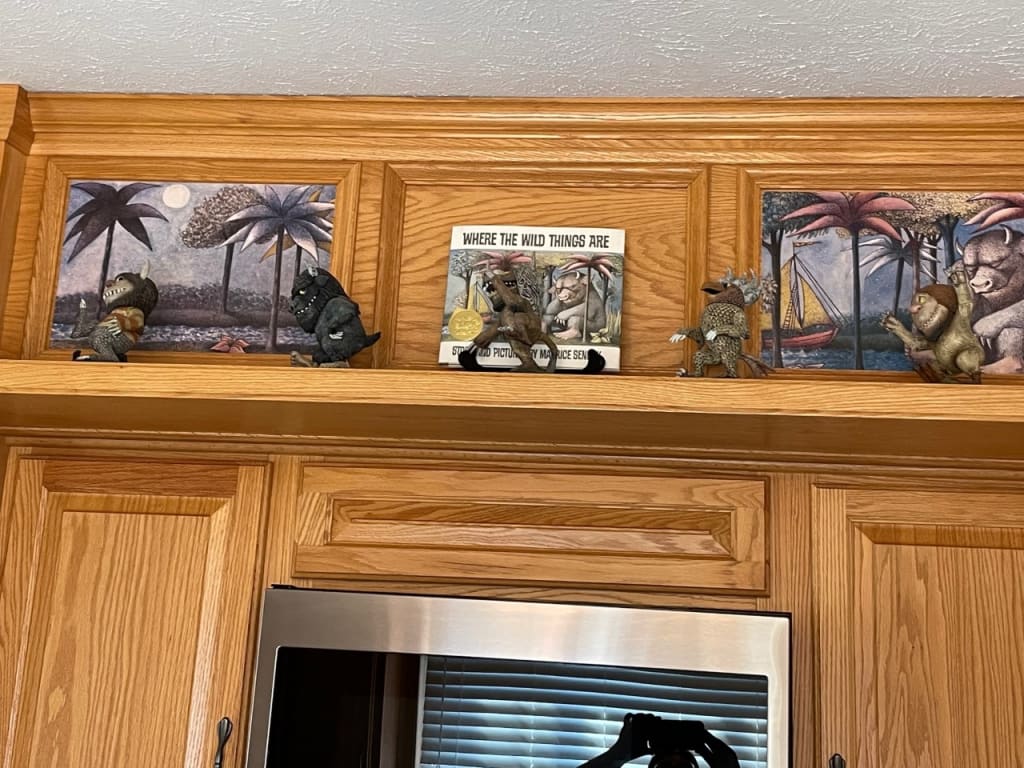 Where the Wild Things Are displayed over my microwave.
Sometimes it takes years to recognize the impact that a book had on your life and sometimes, you decide to honor it decades later. For me, that book was Maurice Sendak's Where the Wild Things Are.
I don't precisely remember how often I made my mother read me this book, but I remember when they made a live action movie of it and I hated it. I had all these fond memories of the book and the movie just couldn't hold up.
So with friends and family members starting to have children of their own, it fell to me make sure that they knew the real story as Sendak told it and illustrated it.
I've always been the aunt that gives books, from board books for infants to chapter books or even comic books to encourage reading as they grow, I've taken that role. To be honest, I suspect it was my Aunt Alice who bought my first copy of Where the Wild Things. For my entire life, she was my book-giving aunt and I wanted to make sure I passed that same love on to my nieces and nephews.
Max, the main character in the story, always appealed to me because, like me, he had a temper and like me, he sometimes didn't follow the rules. I wasn't sent to bed without supper, unless it was because I wouldn't eat my supper, but Max and I bonded.
And I always loved the idea that I might be able to escape to some far away place where there were no rules and I could do what I wanted. But I also liked that the book reinforced that rules are often a way our parents show their love and that the wild rumpus can get old.
Recently, when it came time to redecorate our kitchen, my husband suggested that my collection of Wild Things figures would be perfect for the high shelf over the microwave. Then, he used of Sendak's base images and a little Photoshop magic to adapt the colors to fit our space better. Finally, he ordered vinyl wall clings with the art to form the backdrop for the figures, framing my copy of the book.
Much like Sendak reminded Max that his parents loved him, my husband created this display that I see every day to remind me how much he loves me.
Only my youngest niece and a nephew are still young enough to enjoy Sendak's work, but as they grow, I'll be there to make sure that they are exposed to all the classics like Judy Blume's Fudge. I'm pretty sure my youngest nephew, Willem will love having his big sister read those stories to him. And his sister, she's more likely to end up with Goosebump stories. I might have to tell her she can't read those to him until he's older.
My youngest niece is already showing signs that she'll be a horse girl like her mom and I can't wait to introduce her to Misty of Chincoteague by the lovely Marguerite Henry. Of course , she's only two so that might have to wait a couple years.
The best part of buying books for my nieces and nephews is reliving the memories of the bedtime stories and how much they meant to me. Whether it's Fudge's lessons in how to be an absolute brat or dreaming of catching a wild pony and bringing it home, books and stories breath life into our dreams and teach us things we can't imagine.
Until they're all just a little bit bigger and ready for Blume and Henry, we'll stick with starting a wild rumpus and hiding it from their parents.
Let the wild rumpus begin!
children
About the author
Lucinda Gunnin is a commercial property manager and author in suburban Philadelphia. She is an avid gamer, sushi addict, and animal advocate. She writes about storage and moving, gaming, gluten-free eating and more. Twitter: @LucindaGunnin
Reader insights
Be the first to share your insights about this piece.
Add your insights