What is Ao Nang known For?
A Haven of Tropical Bliss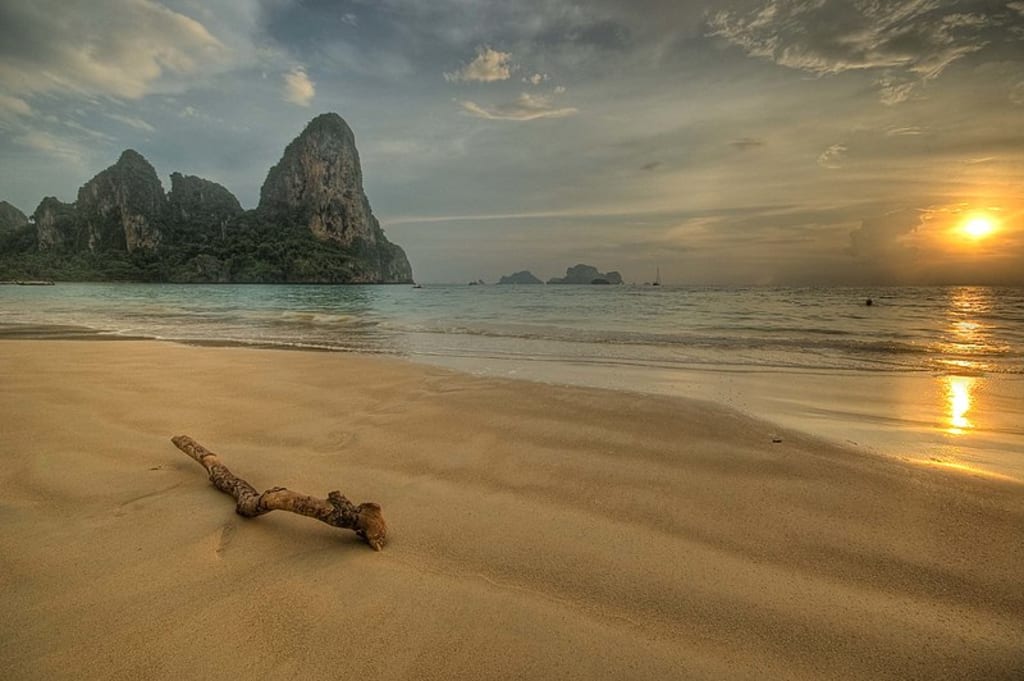 René Ehrhardt, Sea shore, CC BY 2.0
Ao Nang is a gem for a bit of chill-out time, especially after a long journey around Bangkok. And where better to have a wind-down than the beach? Some of Krabi's top beaches are right here. Ao Nang Beach is considered the best by most sun worshippers. It can get a tad busy during the peak season. But even so, it's the best place to gaze at the Andaman Sea, have a paddle, and just enjoy the beachy atmosphere.
Railay Beach
You'd be mad not to visit the stunning beaches of Railay Bay when you're in Krabi. Railay is only a quick 10-minute longtail boat journey from Ao Nang, so getting there is no challenge – especially considering it's only 30 minutes from Avani Ao Nang Cliff Krabi Resort. It's spot on for a day trip from Ao Nang, but if you can, it's well worth sticking around a bit longer.
Railay might be a chilled-out spot, but if you're up for a bit of an adventure, there's so much to get into. Fancy a bit of kayaking, rock climbing, or a hike to a hidden viewpoint? Maybe even a swim in a secret lagoon? You're sure to find what you're looking for.
Not your cup of tea? Don't worry. Railay offers some more laid-back stuff too. You have the Princess Cave, the lush sandy beaches, and a dip in the balmy Andaman Sea. What's more, those looking for hotels near Krabi Airport will be pleased to know that the journey to Railay isn't a long haul, making it an ideal spot for both short getaways and longer stays.
Island Tours
Hong Island is a place you can't afford to miss if you're in Ao Nang. Nestled in Than Bok Khorani National Park, Koh Hong is surrounded by a bunch of smaller islets and a stunning turquoise lagoon. The main island is an absolute treat with its sandy beaches, coconut trees, epic limestone cliffs, and crystal-clear waters teeming with colourful fish.
You'll find a lot of tours to Koh Hong. If you fancy a more solo trip to Hong Island, hire a private long-tail boat from Ao Nang Beach.
The Emerald Pool
Want to see a different side of Krabi? Heading over to the Emerald Pool for the day gives you a proper look at Krabi's lush green and tropical rainforests. Nestled in the Thung Teao Forest Natural Park, the Emerald Pool is a top spot for walkers, explorers, those looking for a hot spring bath, and anyone keen on a bit of wildlife spotting. What sets this freshwater pool apart is its lush turquoise waters. It's safe for a dip, and with the water being a tad warm, you could easily waste away hours here just chilling.
Lots of tours head over to the Emerald Pool, throwing in a few other places of interest to boot. You'll find all sorts on offer, but make sure you choose one that takes in the stunning Tiger Cave Temple. Perched atop a gorgeous limestone mountain, you have a bit of a trek to the top – about 1200 steps, give or take, but the views at the top are absolutely worth it. Inside the temple, you've got all sorts to look at – Buddha statues, shrines, and ornaments, all set in the peaceful vibes of this holy site.
The Night Market
For a top-notch and affordable feast of Thai grub, you can't beat the Ao Nang night market. It's not massive, but it's buzzing and packed with brilliant street food choices.
You'll find loads of stalls knocking out Thai favourites like mango sticky rice, pad Thai, and delicious coconut smoothies. So, if you're after a tasty bite, a cold pint, and a lively vibe, make sure you add the night market to your Ao Nang hit list.
Reader insights
Be the first to share your insights about this piece.
Add your insights