Under the Mulberry Tree
A Narrative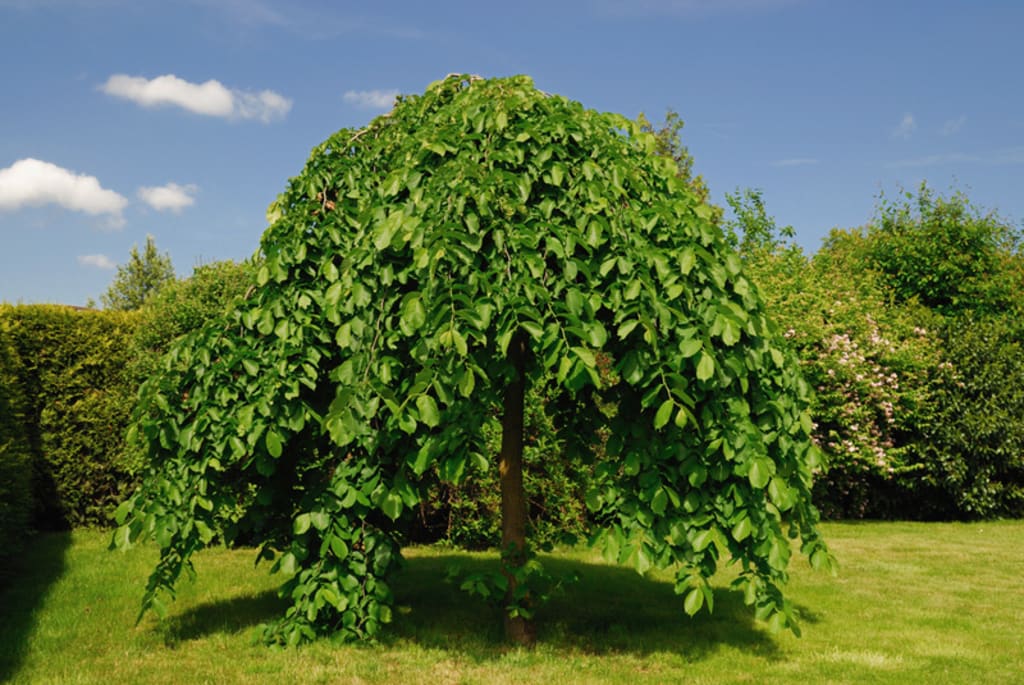 Photo credit: http://www.thetutuguru.com.au/wp-content/uploads/2013/07/Moris-alba-pendula.jpg
The sun shone in golden streaks through the dense branches. My lips, fingers, and feet were dyed a deep red. A little berry-stained hand grasped each of mine as we danced beneath the shade of the mulberry tree. Our bare feet stomping the ripe berries under them, we giggled."Ashes, ashes, we all fall down" and we did, our bottoms hitting the grass under us.
I was 17, and old enough to know how dire Grandma Sue's condition was, but my brother and sister weren't. They were young, innocent, and didn't yet know death personally. We played in our favorite place in her backyard while she lay in the hospital bed in her room, heavily medicated and slowly drifting from us.
I knew when I saw mom and daddy walking toward us. I knew when I saw mom collapse in daddy's arms, unable to make the walk to the mulberry tree. Under the mulberry tree was a very special place. It was there that I'd met her for the first time, and it was there that I'd learned her life had ended.
I met Grandma Sue on a humid summer day in 1993. I don't remember the exact date, but I suppose it doesn't matter much. I was six years old. She was an Irish Catholic woman with a big personality and an even bigger heart. That day she was picking mulberries for "Grumpa" Cliff. I heard that he made the best pies, and I was excited to try one.
I saw her smile as I made my way timidly across the whole acre and a half to the mulberry tree. She had the most genuine smile, the kind that made her whole face light up. As her arms opened wide to greet me, all my reservations melted away and I gave in to her arms wrapping me in the most loving hug I'd ever had in my life. We had only just met, but I could feel the love radiating from her and it was the most comforting feeling I had ever felt. From that day forward, we began creating the memories of my childhood that I hold most dear.
It was during that summer, that our sleepovers started. The routine was always the same. We'd pick mulberries, apples, or cherries and I'd help with gardening in the evenings. Before bed, we'd have mulberry pie that Grumpa Cliff made, with vanilla ice cream melting over the top. We'd play Candy Land, and as I got older, Candy Land turned into Cribbage. She would read "The Giving Tree" from her special chair in the living room while I'd follow along on the floor. That never changed, even into my teens. Then, we'd crawl into her nice warm waterbed and I'd drift away, lulled by the sound of her singing "Turn Around" and the faint scent of Happy that always clung to her skin.
As the years passed, my summers were spent working with her in her book store. After all my chores were complete and the books were put away, I'd find a corner and tuck into it with my favorite Goosebumps, or thriller novel. She never paid me for my time there, but it never mattered, because time with her was payment enough.
I was sixteen when she got sick. It was an aneurism in her aorta, mom said. Although I didn't really understand what exactly that was, I knew it meant her heart was failing. It wasn't very long before she was at the Mayo Clinic having surgery to fix her heart. The drives to see her were long, and the nights on the waiting room couches even longer, but she pulled through. Grandma Sue was the strongest woman I knew, and even though she no longer had the strength to work, she had the strength to continue our sleepovers. I remember thinking she was invincible and that I'd have forever with her.
It was one year after her heart surgery, on a cold January morning, that we found out about the cancer. Mom was the one who broke the news. "Alicia, I need you to come sit down with me and your dad. There's something we need to talk about." I think I knew something was wrong with Grandma Sue, because it was a rare occurrence that I would be in trouble serious enough to warrant "a talk." "Mom, what's going on? Is grandma okay?" Her eyes told me the truth. Once I sat down, she said "No, she's not okay. She went in for her one-year checkup after the surgery and they found cancer." My heart sank, but I had hope. "It's going to be okay, mom, she's a fighter. She'll get through this just like everything else." But it wasn't going to be okay. Mom said, "She has decided not to do chemo. She's tired, and the quality of life it would give her just wouldn't be worth the sickness."
So, from then on, we played under the mulberry tree without her. We'd visit her in her bedroom, and hold her hand and she'd still try to sing "Turn Around" but it no longer made sense. It was no longer the scent of Happy that clung to her skin, but the sterile smell of the soap they used to bathe her.
On a beautiful March afternoon, while we played under the mulberry tree, she sang "Turn Around" for one last time. This time, it was she, who drifted away. Uncle Kevin sang at the funeral. It was a beautiful rendition of "Turn Around." After all, it was her favorite song.
The finality of watching her casket being lowered into the ground was the most painful feeling I have ever felt. She was buried in the cemetery of St. Tomas, her favorite church. She was even part of an organization to repair St. Thomas. It was where she and Grumpa were married, as well as mom and daddy. It's fitting that it would be her resting place.
She has a bench on her gravestone, that overlooks a field with a weeping willow. It was only a couple months later that I joined the Army. I've only been back home once in the twelve years I've been gone. I took my oldest daughter to dance under the mulberry tree when she was a baby. She didn't understand the significance then, but someday, I'll take both my girls back to dance, and they will know what an important place it is.
Two little hands grasp mine, as we dance beneath the shade of the mulberry tree. We never could have anticipated the importance of this special place, where we had so many memories with her. Our feet, lips, and fingers will always be tinted a shade of red, and we will always dance when we're under the mulberry tree. Maybe, one day, we will all dance together again under the shade of the mulberry tree, to the tune of "Turn Around."
literature
Veteran. Mother. Criminal Justice Student. Writing My Emotions.
Receive stories by Alicia Durfee in

your feed