Two Granddaughters Came Visiting This Week
Will I be ready to pull my hair out by the end of the visit?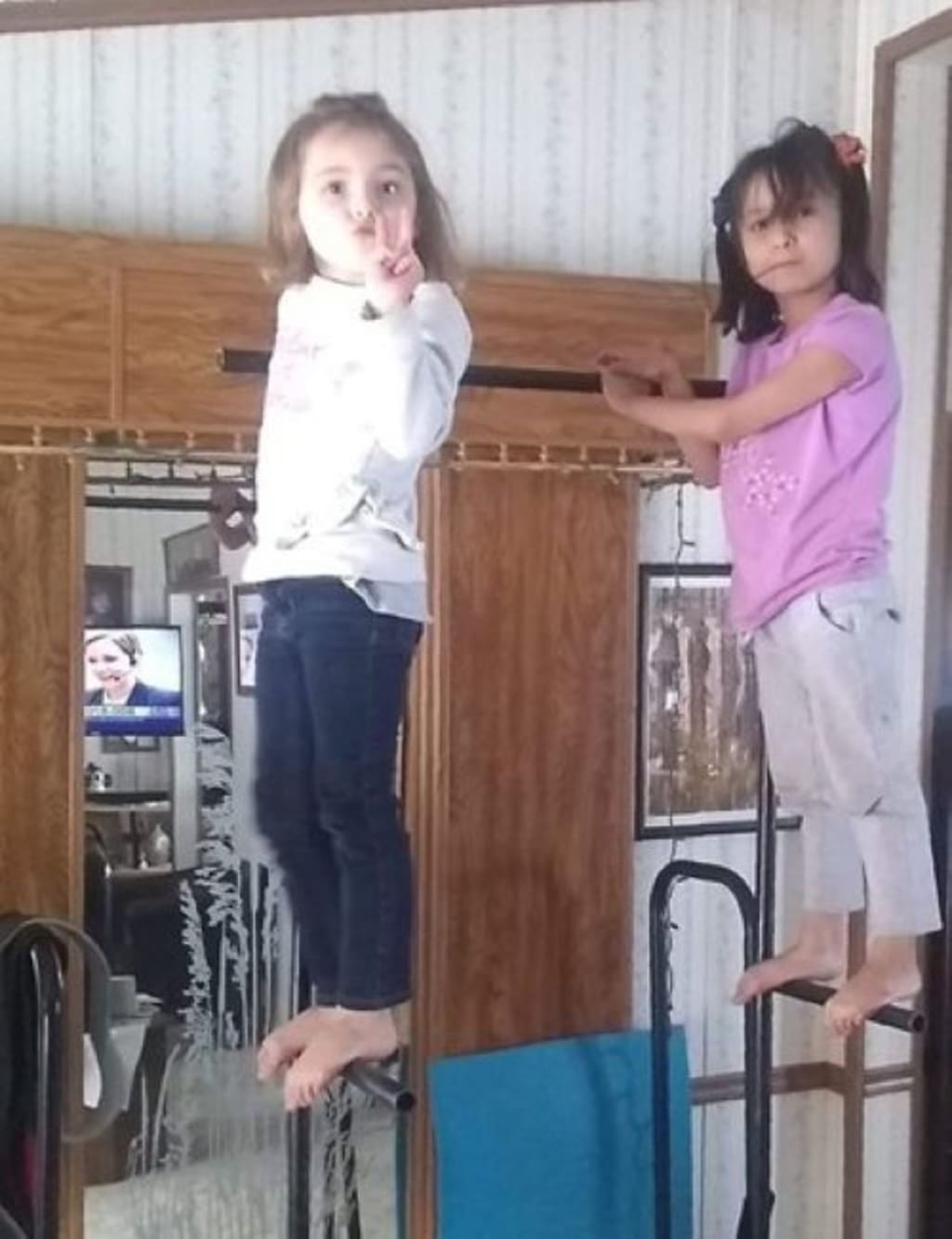 The grandgirls on the pull-up bar a few years ago. Authors photo.
The granddaughters love the pullup bar and spend time there every time they are here. They are both into gymnastics. Individually they can be a handful, together hold on! What were we thinking?
I took a pill that I take daily that causes me to get the burps. So I burped and the granddaughter said, "Grandma, stop farting!" I knew right where she got that from. Her Grandpa. I told him if she says that in school, she will be in trouble and so will he!
He is always teasing them. And they love it, but pick up some not-so-nice things to say!
A grandson when he went to kindergarten started to pee on the playground one day, as his grandpa told him it is okay to pee anywhere outside. The teacher told his mother that her son had a crowd forming around him as he continued to pee on the playground.
That grandson is now 23. We live in the country and we have no close neighbors. Grandpa forgot to add something very important.
Another day, 19 years ago or so, I came into the house just as Grandpa was going to give the grandson a haircut like his. He had the clippers to shave the grandson's head bald. The grandson was all for it, just sitting in the chair with a towel around his shoulders.
I told them they better not because his mom will have a fit. So they didn't and she did, just hearing about it.
Since then it isn't such a big deal as she let the youngest boy of her 8 children cut his hair just like grandpa. It was her oldest that she had trouble with letting him cut his hair. We always seem to get less strict with the younger ones. I guess it is because we are older and have already fought those battles.
And if they wish to look like their grandpa, so be it! Don't come crying to me when you get teased!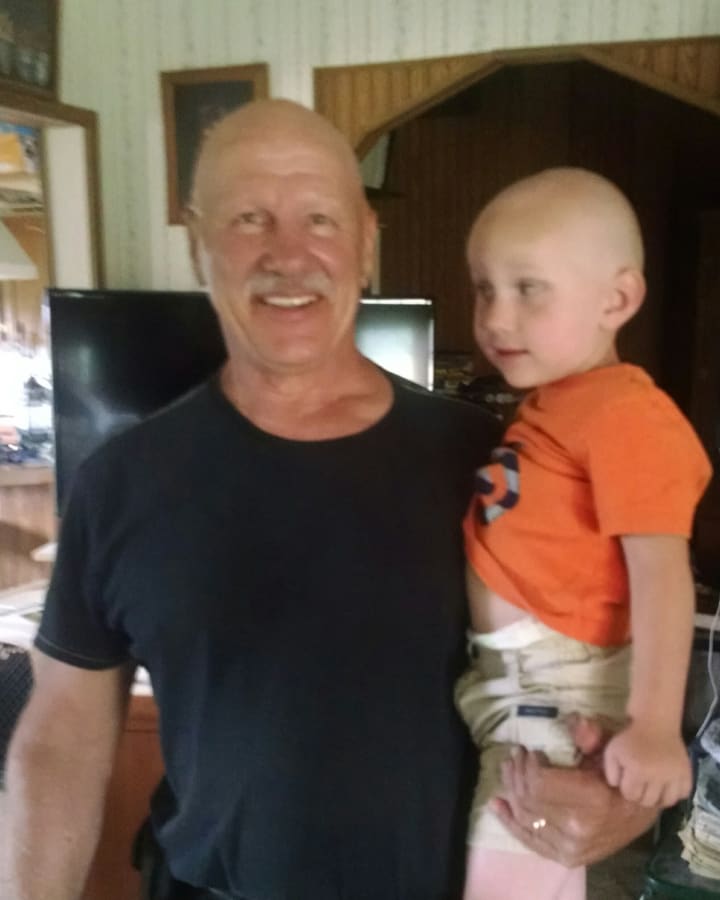 Grandpa is not always the best influence for the grandchildren, and they think he is the greatest so of course, they listen to his nonsense and spread it wherever they can! His favorite is when you say 'what', he says, "You are a nut!" Their parents hate that when the grandkids then bring that home!
Another is when he talks to them with his foot. Ventriloquist, he is not, but he tries. Over the years two of the 26 grandchildren have talked back to his foot. A couple have fought his foot and most others try to ignore it, including me.
The girls get along most of the time until they don't. Someone fibs. Not sure which one or both. Grandpa or I will say please pick that up, and one or the other says, "It is not mine," or "I didn't do that," or "It is hers!"
Oh boy, very seldom do they just pick it up, without a few words, unless it is really obvious who it belongs to. Like when we took the other granddaughter home so they can have a break!
They both love popcorn and eat it every day when here. There is always popcorn all over the place. Oh well, it could be worse.
In the latest conversation, when they are tattling on one another, and it comes back to me through the mom, I will talk to one about what she said that may be a problem. I am told by the one I talked with, "She said that to me, I didn't say that to her!"
So I took the opportunity to explain that behavior in school and how it isn't appropriate and then said, I will have the same talk with your cousin, also known as her best friend. That is when her best friend is not here.
They do learn a few good things while they are here too.
The girls got a refresher course on telling the time. Grandpa has a board with a clock face, with hands on the clock for them to be tested. The older one said, "I learned to tell the time in first grade" and she did. She was at our house during that year of the pandemic. So Grandpa taught her to tell time.
She is going into the third grade and she wanted to make sure she had something over on her cousin, and said, "she is only seven and I am eight". She did just turn 8 in July, but I didn't say that.
Because she had PCA hours and Grandma was her PCA, she spent much of her school hours with us in the first grade. She excelled in reading that year. Reading is Grandma's favorite. She learned to enjoy math too. Math is Grandpa's favorite subject.
Grandpa quizzes all of the older grandchildren on their multiplication tables when they are here. And all ages have to do 20 pushups and 20 situps, first thing in the morning. They all do as many as they can. Most can do that and are champs at it by the end of the week. He doesn't even have to tell them.
So, I guess I won't be pulling my hair out by the end of the visit and we will look forward to their next visit. I can guarantee we will and we will even forget about all the squabbling.
****
First published in Penny Press on Medium
About the Creator
I am married and we have 7 children, 25 grands and 9 greatgrandchildren. I work part-time as a culture consultant. I started writing A Poem a Day in February 5 years ago. I've written 4 - 50,000 words in NaNoWriMo. Now Vocal and Medium.
Reader insights
Be the first to share your insights about this piece.
Add your insights