Top 5 Ways to Raise Thinkers
Teach your children to think.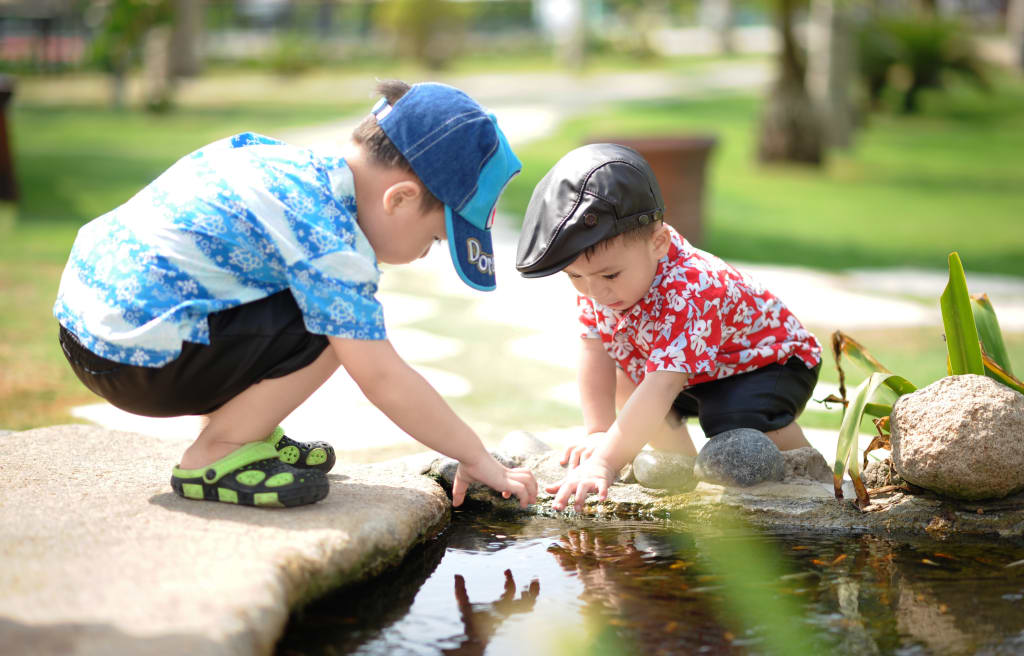 pixabay.com
One of the most important things to me as a parent is raising critical thinkers. I want them to say the layers beneath and the reasons why things are the way they are. It isn't just a rainbow to us, it is sunlight refracting from the moisture in the air.
With that in mind, here are my top 5 ways to encourage your children to be thinkers.
1. Speak to them using complex words.
Don't use baby talk. I think it is adorable when my child would call his legs "legos" and I never had it in me to correct his baby speech. But when I spoke to him I always use the correct words. My four and six year old boys can accurately use words like "collaborate" because these are the words we use when speaking to them. Sometimes they ask for clarification on words they don't understand, but that is what I want them to do. Kids will absorb anything at this age, and language is an excellent way to expand the way your children think.
2. Answer all the questions.
I know young children spend 80% of their time asking "why?" It can be aggravating at best, but I encourage you to answer as many of their questions as possible and feed their growing mind. If they ask why the grass is green, don't cop-out with a "just because." Tell them grass and other plants have chlorophyll in them that helps with photosynthesis. Explain to them how plants convert the sun's energy to food. Go outside and look at plants and talk about them.
3. As a second part of the last one really, if you don't know the answer to question--tell them.
They need to see that even parents don't know everything, and it is okay to not have every answer. Show them how to research information they'd like to know. Maybe you don't know why the grass is green, so together you Google it. Now you can learn together.
4. Science experiments!
There are so many great science experiments for kids out there, and I may post my own list soon of our family favorites. Some are fairly simple, just adding food color to water and watching as you mix two colors together to make a new one. Others can be fairly involved like make a home made battery out of an ice tray. Either way, kids will truly love spending the time with you and it is so fun to watch their excitement. Hands-on learning is a great way for children to explore their world. Be sure to always ask them what they think will happen. Ask them to tell you their hypothesis. Once the experiment is over, ask them to tell you if their guess was right, what really happened, and why they think it happened. Then you can explain the science behind it.
5. Ask them questions.
They are filled with why's, but the most important part is having them challenge themselves to see if they can find an answer. Ask them why they think there are clouds or why their toy stopped working. Let them struggle for a bit before you help them. Sometimes their reasoning may be way off, but tell them you are impressed with their thought process. Try their methods even when you know it's wrong. We might know the toy just needs batteries, but if they think the toy stopped working because it got too cold, put a blanket around it and see if warming it up helps.
I believe that doing these things have helped my children in so many ways. Not only are they strong readers, imaginative story writers, but I can see them working through problems they face instead of crumbling beneath them. They are very independent and I know the biggest reason why is because by doing these things, we've shown them they are capable.
children
I have an infatuation with books. I spend most of my time adventuring with my two sons. I enjoy dipping my fries into my frosty.
Father's Day is the perfect time to get your dad the gift that shows him how much you love and appreciate him. With the holiday quickly approaching, finding the time to select the gift that perfectly suits your dad can feel like a daunting challenge. If you want your gift to perfectly express your feelings and gratitude, consider these perfect presents for any amazing father.

I never thought in a million years I would be writing this. No women imaginable wants to grow up and here that they are unable to conceive due to some fertility problems. Let's paint a little picture..............

This is my son when he was 3 years old. This is very first time my son and I have seen the ocean. My husband has seen it many times on account that he has traveled the world. Anyway, back to our summer in Maine. My kids thought it would be cute to be buried in the sand. My husband and son dug a hole and buried my daughter up to her neck. My son wanted to do the same thing so my husband and daughter dug and hole and started to bury my son but he wasn't having it anymore, and I have the picture of his face saying yuck. I was laughing so hard, I wasn't sure if I was able to take the picture.

Every parent has gone through the emotional rollercoaster that is called Pregnancy whether it be the mom or the dad. I mean, you've read all the books...twice, you've gone to every doctors appointment, you have the nursery all set up, names picked out, you're ready for the little one, right? What if I told you that some parents have to get on another emotional rollercoaster called the Neonatal Intensive Care Unit (NICU) before they can bring their baby home? The NICU is the place where babies who are born before 37 weeks live until they are strong enough to go home. Some parents are only on the NICU rollercoaster for a couple days, some a couple months, some others even for a year or longer.

There are those days where your child is going to listen to every word you say and amaze you with a perfect day. And then there are those days where you are literally talking to a brick wall! As I navigate through single motherhood I have learned so much about the way my child communicates, or so I think. We all have our routines or our day to day activities with our children, that may mean a detailed schedule or that may mean spending the day relaxing at home with no agenda. Whatever way you choose to parent the minute you unknowingly throw a wrench into your child's life all hell breaks loose. Now for me, this happens once in a blue moon so when it does I am sometimes at a complete loss. My daughter is a fairly well behaved five year old who most of the time will follow direction without complaint. Now lets go over when this is not the case.

From the moment I found out I was pregnant, I dreamed of how our delivery would go. I pictured what I considered at the time a "normal" "natural" delivery (maybe with an epidural). I could just picture helping pull my daughter out, seeing her right away, hearing her cry, and being immediately placed on my chest as my husband and I both weep with joy and bask in the beautiful moment we just experienced! I mean, these are the kinds of things you hear about more often than not.