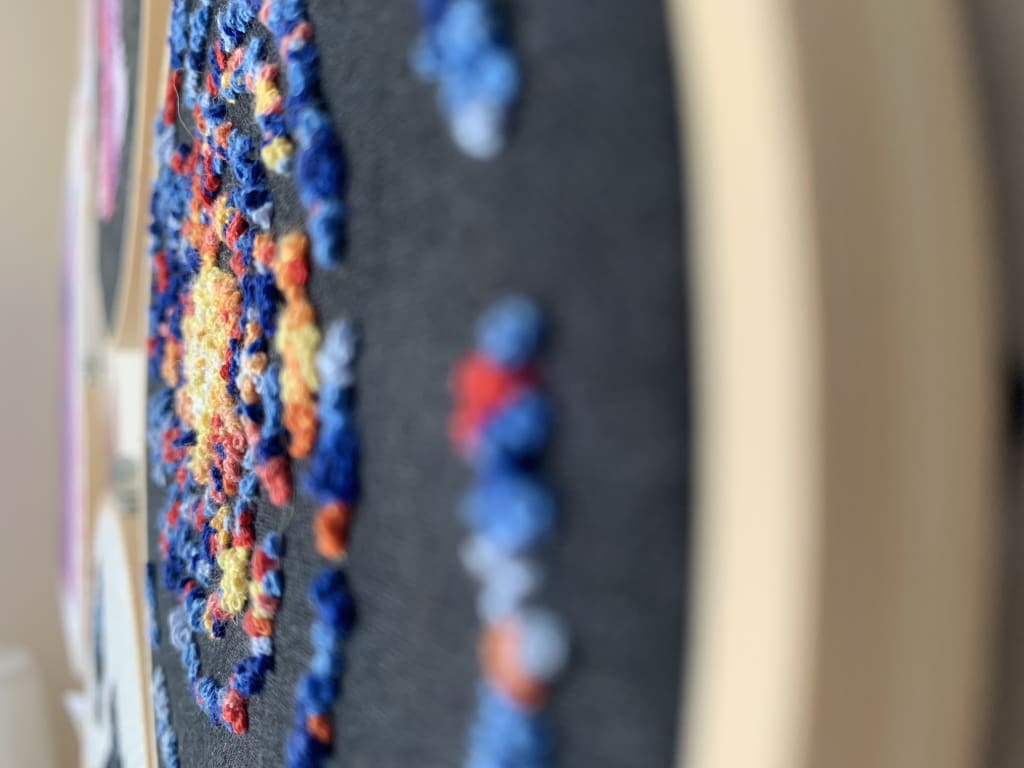 Galaxy of French Knots
There is a wall in my daughter's bedroom that is dedicated to the alphabet, but there are no letters.
Instead, over the last two years embroidery hoops ranging in size from 4" to 12" have been added one by one to the wall. For the letter 'A', my daughter wanted an astronaut embroidered in pinks and blues. The letter 'B' were blue butterflies on a field of newsprint.
We have only gotten as far as 'I' and Impala, and my daughter is rather indifferent to the 1967 black Chevrolet now hanging on her wall, but she's started to do some embroidery of her own these days.
At five, the only scissors she is allowed are paper ones that barely cut that, so each time she wants threads clipped, she comes to me and holds out her small pink hoop, currently a mess of tangled rainbow-varigated thread, and imperiously demands "cut."
So I cut the thread and, before giving back the hoop, see what I can untangle, what I can tie off and trim. She had me draw a rose in full bloom on the pink embroidery cloth before she began, and while her first... let's say two and a half stitches, more or less followed the pattern, what we have on our hands now is something like what a Jackson Pollock would look like if you translated action painting into action embroidery.
She has a large plastic needle, also pink, and when she pokes herself with it, she says "ow" but there is no blood, and there are no tears.
She simply tries again, and it might take a few attempts, but soon enough, there are more rainbow stitches criss-crossing our rose in bloom.
--
When I call my grandmother she confuses me with my cousin. Sometimes with my mother. But sometimes she remembers me, and when she does, we talk about the 'good old days' when she lived on her own and I visited her twice a month to spend Friday nights at her house.
Each Friday would start with playing outside for as long as the fading sunlight would allow. Then it was dinner time. Always a steak, canned peas, a baked potato, and a small salad with blue cheese dressing. I don't remember a time when this wasn't the Friday dinner at her house, not until the last year or so that she lived there, and her meals turned into mostly yogurt and Ensure.
While we ate, we watched a recorded episode of The Young and the Restless - I was, after all, named for one of the characters.
Bathtime, and then she settled into her armchair and I sprawled on the couch and it was time to do needlework.
My grandmother dabbled in needlepoint, but almost entirely worked in cross-stitch. Her house, my father's house and my uncle's houses were all decorated with a lifetime of samplers and designs.
The very last cross-stitch pattern I attempted at my grandmother's side was a pair of ballet slippers, a design she let me pick out, in lavender and violet floss, again my own choice, because even at eleven I was obsessed with all variants of the color purple.
As with all of my other cross-stitch and needlepoint attempts, the ballet slippers were never finished. Between poking my finger with the needle and bleeding on the fabric, knotting my floss, growing bored, growing frustrated, and above all, envious of the easy way my grandmother could sit for hours without making a single mistake - it was easier to give up than even consider finishing the piece.
I'm not sure when, but at some point I ended up cutting and pulling out all of the half-finished works my grandmother saved for me. Nothing remains of my early, failed attempts.
-o-
When my grandmother moved to an assisted living home a few years ago, there were dozens and dozens of framed samplers that needed a new home. There are samplers from decades before I was born - there is a sampler dedicated to my day of birth - there is a legacy in framed stitches.
I was the last of the family - the last grandchild - to make the journey to her nearly empty house and claim what I could. There were a few pieces of furniture I took - the bedroom suite my grandmother wanted my own daughter to have - but really, I knew all along what I wanted to take with me.
Dozens and dozens of framed samplers.
I live in a small apartment, and what walls aren't bare are covered in the artwork of my daughter. All of it feels impermanent - after all, my daughter is just as likely to tear down a drawing from yesterday as to add one from today.
The dozens and dozens of framed samplers sit in the closet in my sewing room. They aren't hidden, and they aren't ignored, but my relationship with them is complicated.
I love them, I admire them. I remember all of the Fridays spent watching my grandmother's needle move so effortlessly, color blooming in tiny squares across her hoop.
And sometimes, my grandmother remembers my name when I call. And we talk about those Fridays. The good old days.
-o-
My daughter thinks her pink rose is a failure. After all, it doesn't follow the design, and it's not what she wants it to look like.
She wants to take out the tangled thread and start all over, erase her mistakes and try again.
She doesn't see the beauty in what her awkward, inexperienced fingers managed to create.
She doesn't know about the lost Fridays.
But I do.