The Year of El Diablo
Cowboy Poker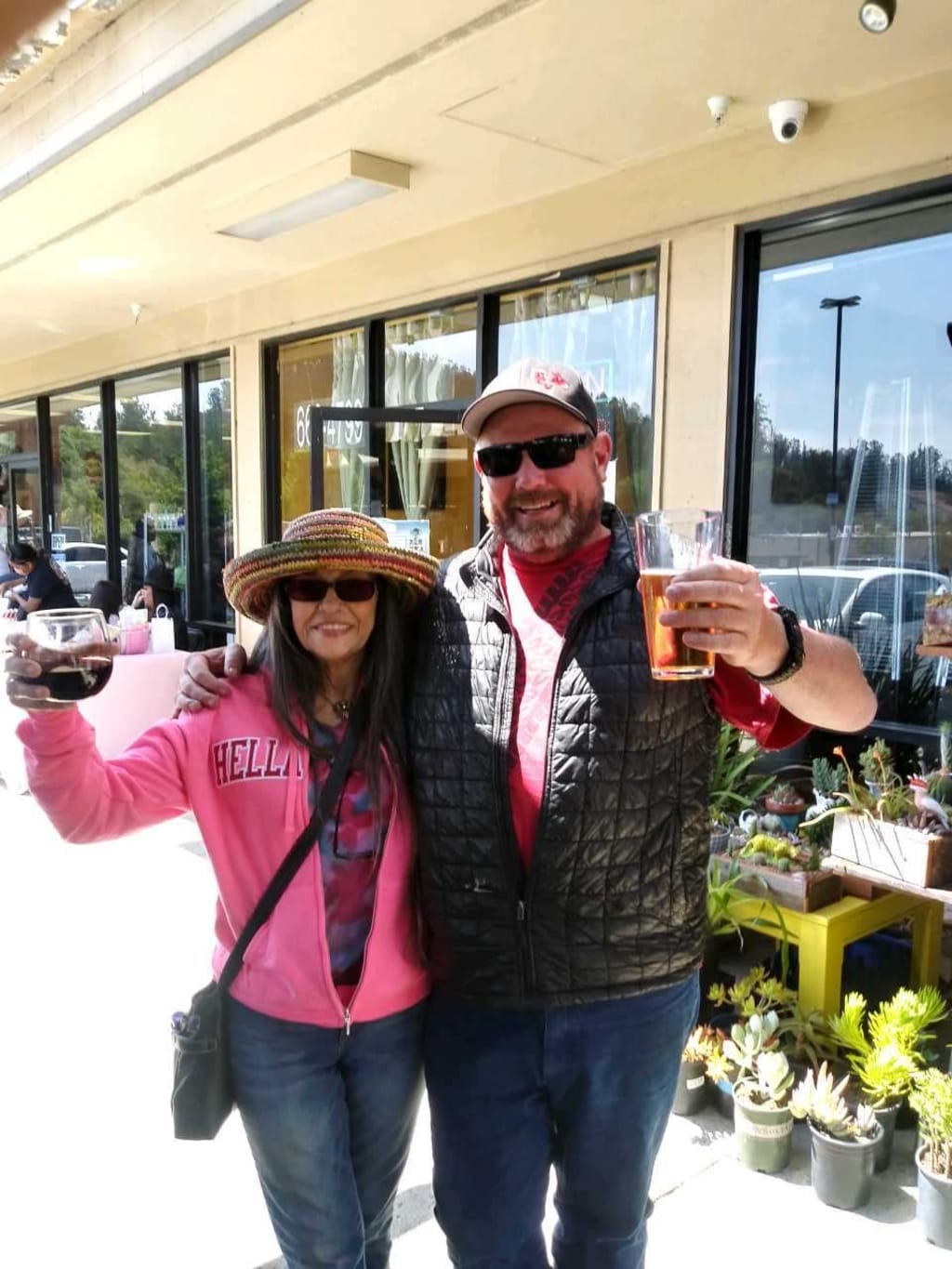 My son Monroe AKA "Mule '" and me.
Some stories need to be told. They become legendary and passed from generation to generation. It's how we learn about our ancestors, our family before us, and we pass those stories to our children and grandchildren, and these stories get told to the generations after them. Growing up, I had uncles with nicknames like Killer Quintero and Big Al from Alisal. Even I was blessed with a handle, Paula Mae, for my Ellie Mae Clampett ways.
My son Monroe had a nickname. I didn't realize it until 1997 during the Salinas Valley Fair in King City. I worked for South County Newspapers, and my boys had pigs at the fair. The boys would be hanging out by their pigs or walking around the fairgrounds with their friends, and I would be taking photos for the newspaper. We had a check-in time and a meeting spot, and you better be there. I'm not very good at waiting.
As I approached our meeting spot, one of their friends came running up with complete fright on her face, "Oh my GOD, I found you!" she said. She talked so fast that I couldn't comprehend what she was saying. "Ok, speed talker slow down, take a breath, take a couple of breaths," I told her. All I could understand of what she was rambling off was Monroe, cards, and a bull as she dragged me towards the arena.
I found my youngest son, Mikey, standing out by the arena. He quickly tells me, "I told him no," as if that would save him from being liable for whatever his brother was about to do. By the time I got there, the poker table was already out in the center of the arena: rules, the last cowboy sitting wins.
The announcer pumped up the crowd, "this bull is hotter than a habanero chili pepper, meaner than a junkyard dog, 2,000 pounds of pure adrenalin" then it had a name, "El Diablo." Now I'm thinking, who let my 17-year-old kid get in an arena with "El Diablo" to play cowboy poker without his momma's consent. I was too late to stop him. Four cowboys enter the arena; one of them is my son, and I'm about to watch him get stomped, dragged, and gored by El Diablo. The announcer tells them, "take a seat, cowboys; it's about to get interesting folks." They sat there with cards in hand, and that's when I heard the crowd in the grandstands start yelling "Mule" with a few yells of 'Hoskins." I looked over at the grandstands, and it was packed. I think the entire King City high student body was in those stands that night. Then the foot stomp started. The crowd rocked of "Mule," then that horn, "ta-daa-da dat-daa-daaaa" then it happened, "El Diablo." That bull came jumping out of that chute, bucking and spinning and tossing his big horned bullhead and snot flying everywhere. El Diablo went straight for that poker table and threw that thing across the arena. Three of the cowboys took off running with El Diablo right behind them. Last one sitting with cards in his hand, that kid of mine. Now the crowd was cheering louder. I'm yelling for him to get out of there; El Diablo turns his attention to Monroe, who's taking in his newfound fame by waving his hat to the crowd while still holding on to his cards. As the crowd continued to roar, "Mule," I was still screaming to get the hell out of there and "stop waving that hat!". Those long legs ran for the open gate waiting for him, and El Diablo was snorting and bucking right behind him.
That kid won, and as he came running up to me, he was grinning from ear to ear as everyone poured out of the stands and congratulated "Mule" on winning Cowboy Poker. Then my daughter and her friends walked up, and I asked her where she was. "Who do you think started the foot stomp?" she tells me. Oldest son Joey is just shaking his head and shrugging his shoulders, "you can't get mad," he tells me. "he won." Monroe made a quick run-up to the fair office to claim the $300 prize money that inspired him to enter. I was still in shock. I still had one more photo to take for the newspaper and told both those boys where to meet me at, and they had better not get in any more arenas with bulls or anything else that would cause bodily harm or give me a heart attack.
Monroe did buy me my favorite oil from one of the vendors inside the auditorium, and he took his brother and me out for steak dinner at Millers Lodge that following evening. That's when I asked him how "Mule" became his nickname. "From football," he told me."They said I hit like a mule."
I guess even El Diablo doesn't mess with the Mule.
satire
About the author
I am a former news editor and currently a freelance writer/blogger. I live on a small farm along the coast of the Monterey Bay area. As the single mom of four they made great subjects to write about.
Reader insights
Be the first to share your insights about this piece.
Add your insights