The Woman Who Inspired Me
My Quiet Hero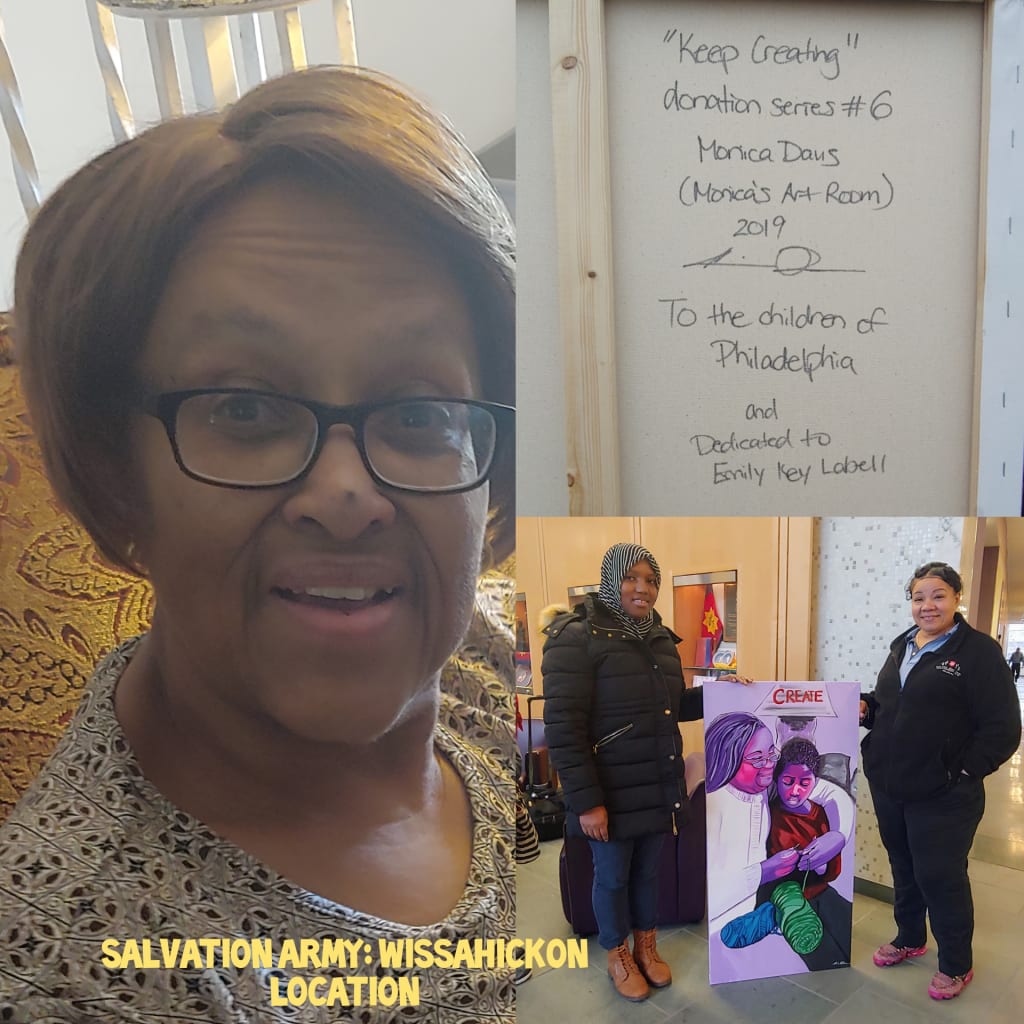 There were many times in my life when I came across the question of who my hero was. The question would shift and change but it always meant the same. Who Inspired me? Who was molding and shaping me into the woman I would become? I would ponder and yet I always saw the answer. The sweet eyes and quiet strength of my grandmother was an image that would appear in my mind. As I grew up, I understood womanhood and what it means to have passion from what I consider, my other mother. I know that the question of who my inspiration was had only been my conscience not wanting to feel guilty. I was raised by my father and my mother was still present in my life. I chose to ask myself the question even though I always knew.
My grandmother was born Emily Key on March 19, 1949 in Philadelphia PA. She was the youngest child of five children. Emily was always shy, even when she met my grandfather. At the age of nineteen, she became pregnant by my grandfather who would soon abandon her. My grandmother would raise and be there for my father with the help of her father for the next twenty-five years. She transitioned from her father's home, to section 8, while holding small jobs. After hard work and dedication, she moved on to a government job and owning her own home. It was after two decades, when my father was twenty-five, that my grandfather would return and become part of their life, marrying Emily.
At the age of nine, I became more involved with my grandmother's routines when my sister and I moved with our father. My mother had a hard life and was on her own since she was twelve. She married my father at sixteen with permission from an aunt, and their short marriage ended in turmoil. My mother's life was too complicated for us and they both made the decision on the arrangement. My father was a divorced, single father who did everything he could to give my sister and I a decent life. My grandmother had always been in our lives but after we moved with our father, she became our mother figure. She was in constant contact with us and we would visit and spend a lot of time with her and my grandfather. My grandmother would console me when there were dark times with my mother and she would teach me what my mother had not. I learned femininity, respect, and poise. My grandmother also instilled something in me that have become the staple of who I am. She shared, nurtured and encouraged my love of art.
I found my love of art at the age of four. I connected with art like breathing. While my parents were proud, my grandmother shared more time and energy into my passion. My grandmother was the first to introduce me to art classes at Fleischer. I would attend watercolor classes over the summer. She would spend money on me at art stores buying supplies. When I was in my mid teens, she took me to my first art Expo at the Liacouras Center. As a creative child, it was the greatest experience for me and the atmosphere created a fire that I didn't want to ever lose. I found poetry books in my mother's home when I was a small child, but my grandmother had fed me her own written poetry. My grandmother is still is a writer today and it is refreshing to know that I am not alone in my other passion, which is poetry. She would read to me the small poems she secretly wrote and it was velvet to my ears
When I was in the midst of finding myself, I had two children, endless jobs, and many dark days, but I had a strong woman who was there with me. I knew I could always get sound advice, a listening ear, and a deep understanding for my decisions. I continue to be connected to a woman who has a patience about her that is beautiful. She has a quiet strength that years and hard times has not taken from her. My grandmother pushes me even in adulthood to flood reality with my dreams. When I decided to quit college, she was there. When I made the choice to work as a cook but start my art business with my own money, she was there. She is one of my biggest supporters and there are times where all we talk about are my ambitions and goals.
I am the creative today because of a wonderful woman who continued to believe in me. Through my mistakes, my fears of the unknown and the many days of failure, my grandmother stood unwavering in her love, compassion, and the vision she sees in me. I am not completely where I hope to be but I am on a path to my true destiny. I have started an art business in early 2018, where I mainly work online but also display at events. In the early summer of 2019, I began to reflect on my life and my goals because I was turning thirty that October. I didn't have my brick and mortar like I had planned, but my grandmother reminded me that she knew I would have it one day and that I needed to continue looking for more opportunities. Even though she was in college working on another degree while also taking care of my grandfather who was diagnosed with lung cancer, she continued to pour into me. We would talk amidst the chaos and it was a new turning point for me. I knew that I had to try new avenues. I had a husband, three children, a job and a business, but my business was apart of who I was. My art was who I was. I took the time to think and that's when I came up with the idea of starting a donation series.
My donation series is called 'Keep Creating'. My project involves 4 feet tall abstract- realistic paintings on canvas to display in schools and community centers to honor young artists. The ten part series depicts children as artists using abstract qualities. Each painting involves a child engaging in a different art form, such as painting, music, fashion, etc. My goal is to not only inspire but to encourage our youth to pursue art through visual representations. I want children, especially artistic children to see themselves represented in their dreams come alive, and as a reminder to keep at it. I took my chances to apply to every grant I could in order to fund this project, but I was rejected by every one. Fortunately, I didn't give up because I had to believe in me like my grandmother always instilled. So I decided to push myself to fund my own project. Many young artists like I used to be don't have people or opportunities in their life that help shape their creative side. I am blessed to have a person who still believes in me wholeheartedly.
As a society, we see common heroes in history books or in the news, but some of us have the best heroes of all. These heroes may not have the best lives but they give all they have to support the people in their lives. They pour an abundance of hope and love into those starving of it. I am fortunate for my hero. I was given a special woman who wants the world for me and who opened my eyes to the possibility of pursuing a career many don't see as profitable. I continue to push for my way on this path of creativity because I have someone who continued to replace the light bulb that at times, went out. Now my bulb is bright and my vision is clear. My twenties have been soul searching for me but my soul is content with my vision; a vision that one woman continued to nurture even when I stopped seeing it. I am a different person today because of my other mother; my grandmother.