The Surprise of Her Life (Pt. 2)
Part II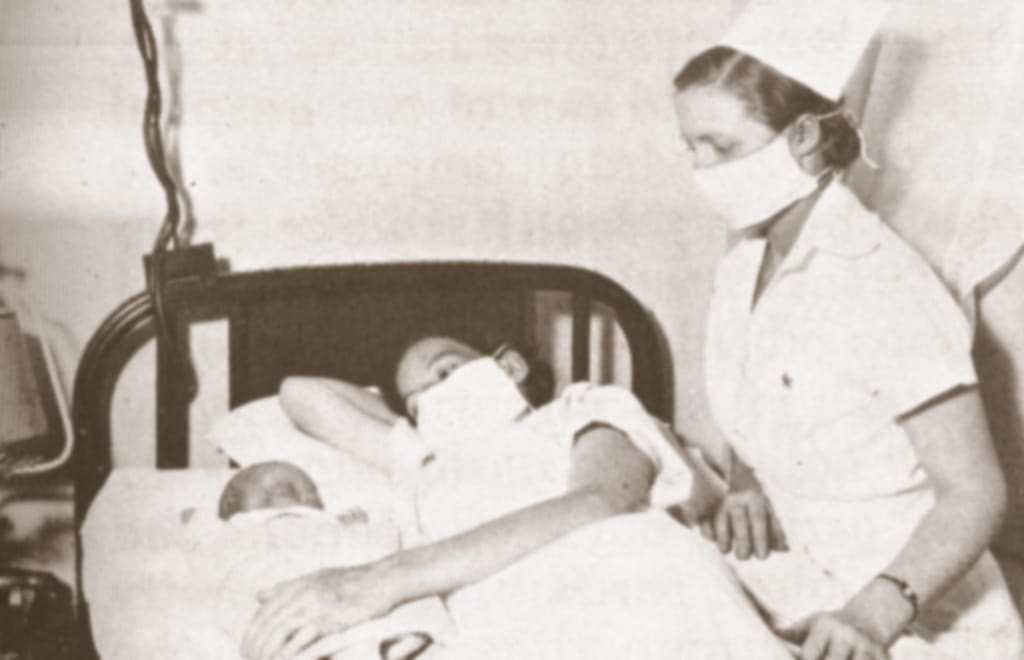 Photograph Credit: Baylor Hospital and Wieck
It had been a long night. At least for D. Of course, O. would go into labor during a terrible storm. A tornado watch had been issued for the Small Town area about six o'clock the previous evening. Rain was falling in sheets and one could barely see their hand in front of their face. A green tint fell over the sky and it was a good thing they lived so close to the salon; just about three blocks. If the weather was good and they weren't dog tired, they could walk home. Since O. had been pregnant, though, they had been riding home. It felt a little extravagant to be driving a mere three blocks and the exercise would have been great for her, but who was he to tell her she would benefit from the walk? Besides, standing on her feet all day, booked solid with appointments, he knew her body must hurt. At the very least, he knew her feet were tired. Good thing they rode home because she went into labor just about the second they crossed the threshold. D.'s mother lived with them and took care of M. and B. while they were at the salon. D. ran into the kitchen, where Mama was preparing chicken and dumplings for dinner, telling her it was time to go to the hospital. He grabbed her suitcase which was parked at the front door and they left. The trip downtown would take a good 20 minutes and that was only if there wasn't much traffic. Good job Central Expressway was completed in Small Town last year. It sure helped make the trip downtown seem shorter. They made it in record time and the nurse guided her to a room while he stayed at the desk completing paper work. The contractions were extraordinarily painful and only two minutes apart already. O. wondered how long it would be before this baby made its way into the world. She hoped the stormy weather would not be indicative of this baby's life.
Secretly, she hadn't wanted this baby. This pregnancy wasn't planned and she had been having challenges with M., the six year old. M. had just begun first grade. She came home every day crying that she couldn't do the work. And she had begun having seizures. So many seizures a day they couldn't count them all. The thing was, the seizures were petit mal; just minute periods of time when she was "out of it." She had been in the hospital a couple of times, but no treatment was working. So, this was not really a great time to have a baby. But, being a good Christian woman, she reasoned if the good Lord chose this time to bring a new life into the world, there was not much she could do about it. Maybe this baby would bring back the joy she had been missing in her life lately. At any rate, this baby would be here soon, so she would try to look on the bright side.
The doctor came in to examine her and when he took her blood pressure, he ordered medicine "stat." Her blood pressure was through the roof and they were going to have to knock her out to get it under control. They went out in the lobby to tell D. they were having to sedate her and there should be no cause for concern. D. took out a cigarette from his new pack of Camels-no filter and after lighting it, drew the Turkish smoke deep into his lungs, blowing it out slowly, as if he were in deep thought. He returned to his uncomfortable chair in the waiting room and waited some more.
At three o'clock in the morning, the curly haired, blonde baby girl was born to the couple during the one of the worst storms in Small Town. Was this a sign of things to come?
Later on in the day, D. was able to go see his wife. He'd been so worried about her and her blood pressure and the baby, so it would be so good to make sure they were okay. He crept into the room, looking first at his wife, then at the institution-colored walls, only a clock adorning the middle of the wall. He pulled up a metal chair next to O.'s bed. She slowly opened her eyes to a smile from her husband.
"Well, we had another girl," he said happily.
"Oh, we've not done it! I haven't had any baby yet, " she barked at him.
The blood pressure medicine had rendered her unconscious and she'd had this baby without knowing it!