The Pandemic Jacket
How Stress Crafting Brought Happiness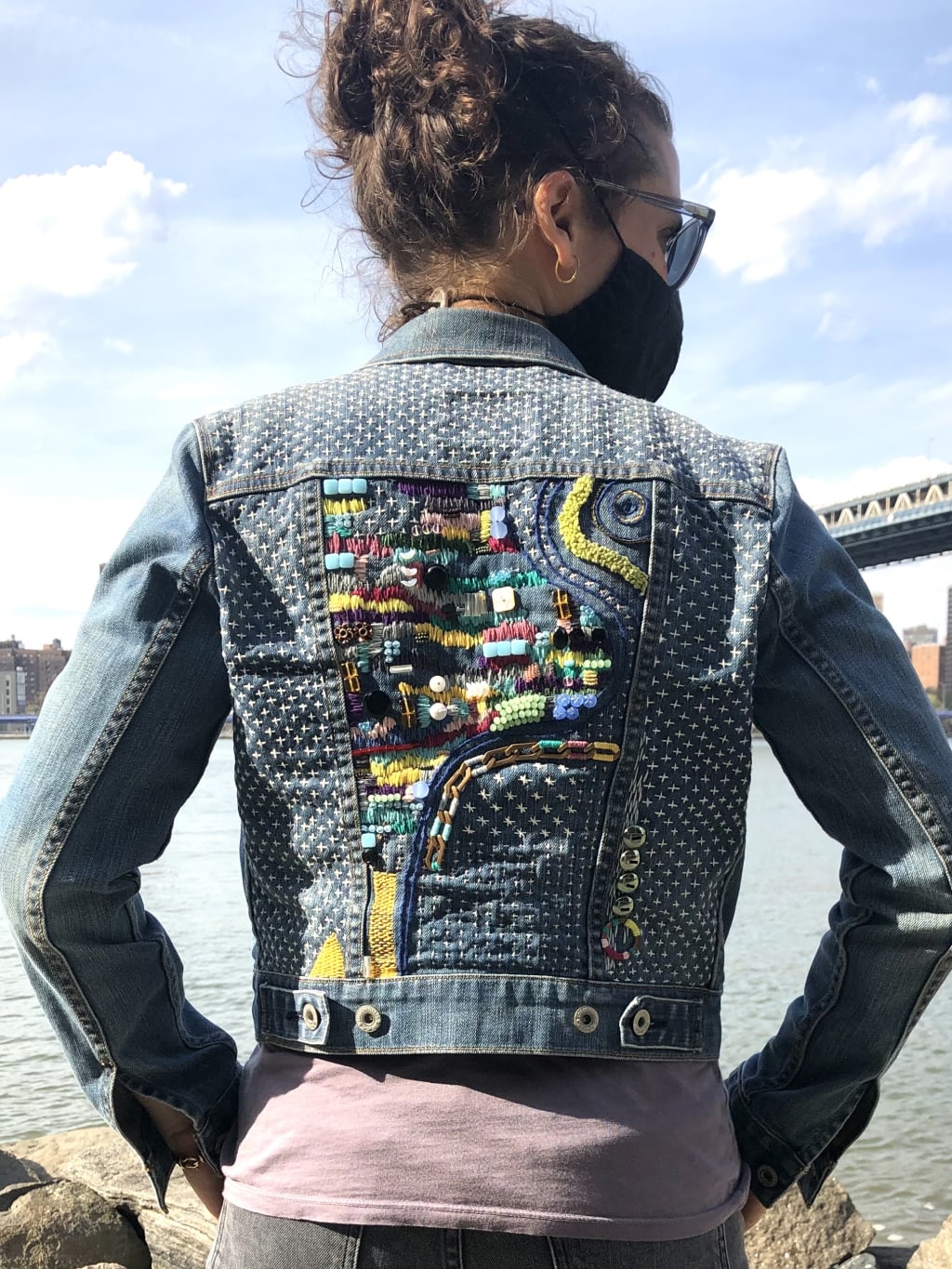 A handful of underwear, three t-shirts, a hoodie, pajama pants, and some socks.  I glanced at myself in the mirror: a denim jacket on my body, soft pants on my legs, and shoes on my feet.  "This is enough for three days in upstate New York" I said to myself. I was proud of my minimal packing skills.
But then, as if by instinct, I shoved a handful of embroidery thread, my favorite tiny scissors, and a couple sewing needles into a zippered pouch. I tucked my belongings into my carryon bag.
It was March, 2020. We were all unaware that the world was about to pivot. I was unaware my few possessions and I would become stranded at my parents' house… for four months.
When I arrived, my mother, whose hands spent so much time rhythmically knitting, was sitting still on the couch. She was staring at the TV. She had lost weight. Cancer was not only taking over my mom's body, but also taking her crafting.
I sat next to her, took her hand, and kissed her forehead. I removed my jacket and unpacked my tiny art kit. Her eyes sparkled as we spread my colorful treasures out on the coffee table in front of her. She instructed me to gather some of her beads and yarn. Together, we arranged and rearranged objects. We talked about color and pattern. We scrolled through influencers, critiqued luxury brands, and drew design inspiration from out the living room window.
We jotted down a fashion plan on a scrap of paper. My denim outerwear was getting an upgrade. I snipped off a strand of thread. I threaded a needle. I made my first knot. I started embroidering what would be known as my pandemic jacket.
While watching news reports, ordering take out, and making frequent calls to my mother's physicians, thread went in and out of the thick blue cotton fabric. I assumed the project only needed to keep my mom and me entertained for a long weekend. Clearly, due to COVID-19, the plan dissolved.
We started experimenting with stitches. Sometimes tension ran through my veins. My mother's yarn made big messy blobs, free formed, angry, and bold. There were times I was in control. I carefully, tediously, placed my mother's tiny seed beads in delicate rows.
Weeks in, I challenged myself to stay the course. This was not a sprint; we were part of a worldwide marathon. Slow and steady through the ups and the downs, I sewed straight, precise, tiny lines. Dash, space, dash, space. And then, I rotated the garment and placed perpendicular lines, centered over the thread dashes.
My mother was the one who saw it. She gasped, "you're stitching hundreds of tiny pluses." We laughed, running our fingers over the raised surface. The jacket was speaking to us. We were reminded to look for the positive.
Even with my mother's illness, systemic inequalities, and the virus (to name a few devastating and complex issues), we were artists, together.
And then it was time to return to Brooklyn. I folded my underwear, t-shirts, hoodie, pajama pants, and socks. I tucked my scissors and needles (the thread was long gone) safely inside my pouch. Soon, I would be reunited with my wardrobe full of clothing and my craft supplies.
I tried to hold my mother's hand. She was sturdier, and she was busy. Due to a new prescription drug regimen, my mother's health was on an upswing and so were her creative spirits. I dumped my carryon bag into the trunk of the car. Despite the steamy July weather, I slipped my arms into the completed denim jacket. On the ride to the airport, my mother knitted.
About the Creator
I'm a co-founder of The Fourth Floor. Previously, I was Etsy and Vroom's first lawyer. I'm also a playwright, a NYU Law School fellow, a board member, an investor, a writer, a jeweler, a speaker, a candy lover, and a mom.
sarahfeingold.com
Reader insights
Be the first to share your insights about this piece.
Add your insights