The Love Of Parents Continues To Shine For Dan Levy
'Schitt's Creek' Co-Creator Hosted Sketch Comedy Classic With Support From Mom, Surprise Appearance From Dad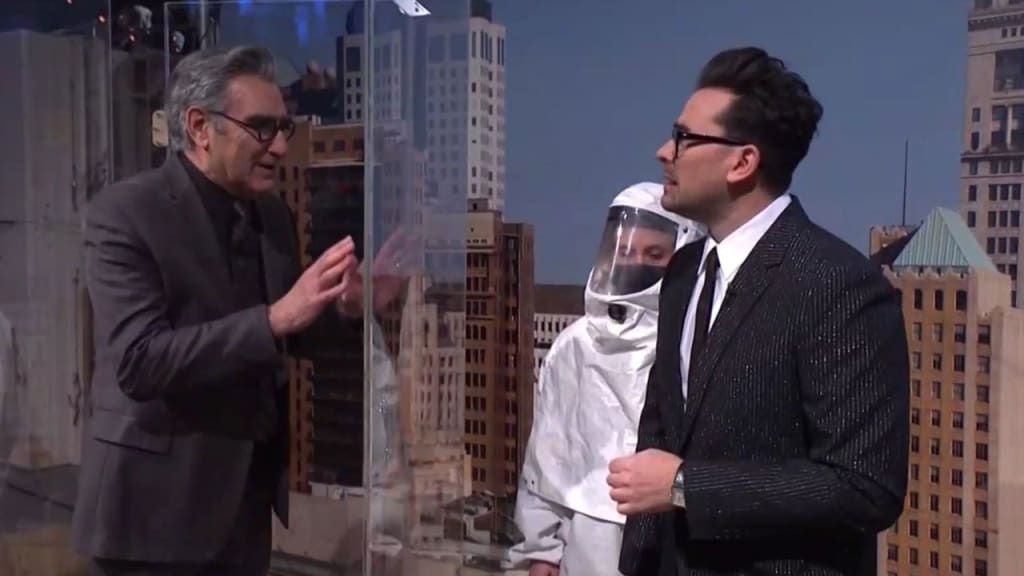 https://www.etonline.com/sites/default/files/images/2021-02/dan_levy_snl_1280.jpg
I'm not quite sure whose star is becoming brighter lately - #DanLevy or that of his parents, Schitt's Creek co-creator #EugeneLevy and his wife #DeborahDivine. Don't get me wrong; it's clear that all the accolades that Dan Levy has received and continues to receive are very much deserved, and they don't give the coveted #SNL hosting spot to just anyone. However, his parents are gaining quite a bit of traction online thanks to their unabashed love of their son.
The irony of Dan Levy hosting SNL didn't appear to have been forgotten by the showrunners, either, as they tweeted an SNL promo from years ago with the senior Levy and late comedy legend #JohnCandy, both of whom were starring on comedy classic #SCTV in Canada at the time. As it turns out, Eugene Levy had been slated to host SNL 35 years ago, but due to the writers' strike at the time, his appearance had been scrubbed.
Eugene Levy tweeted his pride about his son being tapped for the hosting gig on Jan. 22, garnering over 4,500 retweets and over 165,000 likes.
"That's my boy!!" the actor tweeted, and if you're like me, you could almost picture him beaming with pride and clapping Dan Levy on the back enthusiastically. "Hosting SNL Feb 6!!!"
The senior Levy made an appearance during his son's hosting gig, showing up in a plexiglass "isolation box," which was claimed to be a result of Eugene Levy having flown in from out of state to support his son during the appearance as Dan Levy took audience members on a tour of the SNL set to see what COVID-19 protocols had been put in place.
It's Divine, though, that has been garnering particular notice online as she reflects how far her boy has come since the days when she'd worry endlessly about him. Her April 7, 2020 tweet about her worries about how the world would treat her "brilliant little boy who loved to twirl" continues to resonate even today, with comments being garnered as recently as Feb. 7, 2021.
Even hours before her son hit the soundstage for his hosting duties, Divine took to Twitter again with probably the seven most powerful words she had to take down her son's former bullies.
"This goes out to the bully punks at Camp WTF who made life miserable for a certain cabin-mate back in the the summer of '96 - just because he was different," she tweeted. "Well, after all these years I have just 7 words to say to you: "Live from New York, it's Saturday Night!""
Certainly, we as parents want the world to be safe for our children, and as parents of a queer child, I'm sure both Eugene Levy and Divine worried endlessly about how their son was being treated over the years. To witness his growth and maturity as he worked tirelessly to build his career on his terms and to have such huge success with Schitt's Creek has got to make them insanely proud of their boy. It's been interesting to witness a new side of Eugene Levy, though, as he's made the move from iconic comedic actor to a father some individuals may wish they had for his acceptance and grace.
For those who are unfamiliar with Divine - no surprise, as she's known more for her work in television production than in front of the camera's lens - it's been remarkable to see a mom who's so fiercely proud and protective of her kids that she even goes so far as to thumb her nose at the children who bullied her boy some 24 years ago. I know as a mother myself, I get a little into "mama bear" mode when I catch wind that my children are experiencing hardship from other kids, so Divine's words have had far-reaching affects for many moms on Twitter.
"Maybe you'll never see this but know that, as a parent of 2 incredibly artistic and talented transgender kids, your words encourage me to be strong when I worry every day about the way my kids are treated. I worry for their safety, for thier (sic) acceptance... you give me hope," Twitter user @DawnInterrupted said in response to Divine's "live from New York" tweet.
I've no idea if Eugene Levy, Deborah Divine or Dan Levy will ever see this post when it's published, but Eugene Levy's and Divine's proud parenting is something that gives me hope.
celebrities
About the author
I'm a high school English and French teacher who trains in the martial arts and works towards continuous self-improvement.
Reader insights
Be the first to share your insights about this piece.
Add your insights