The Little Black Notebook
By Dguima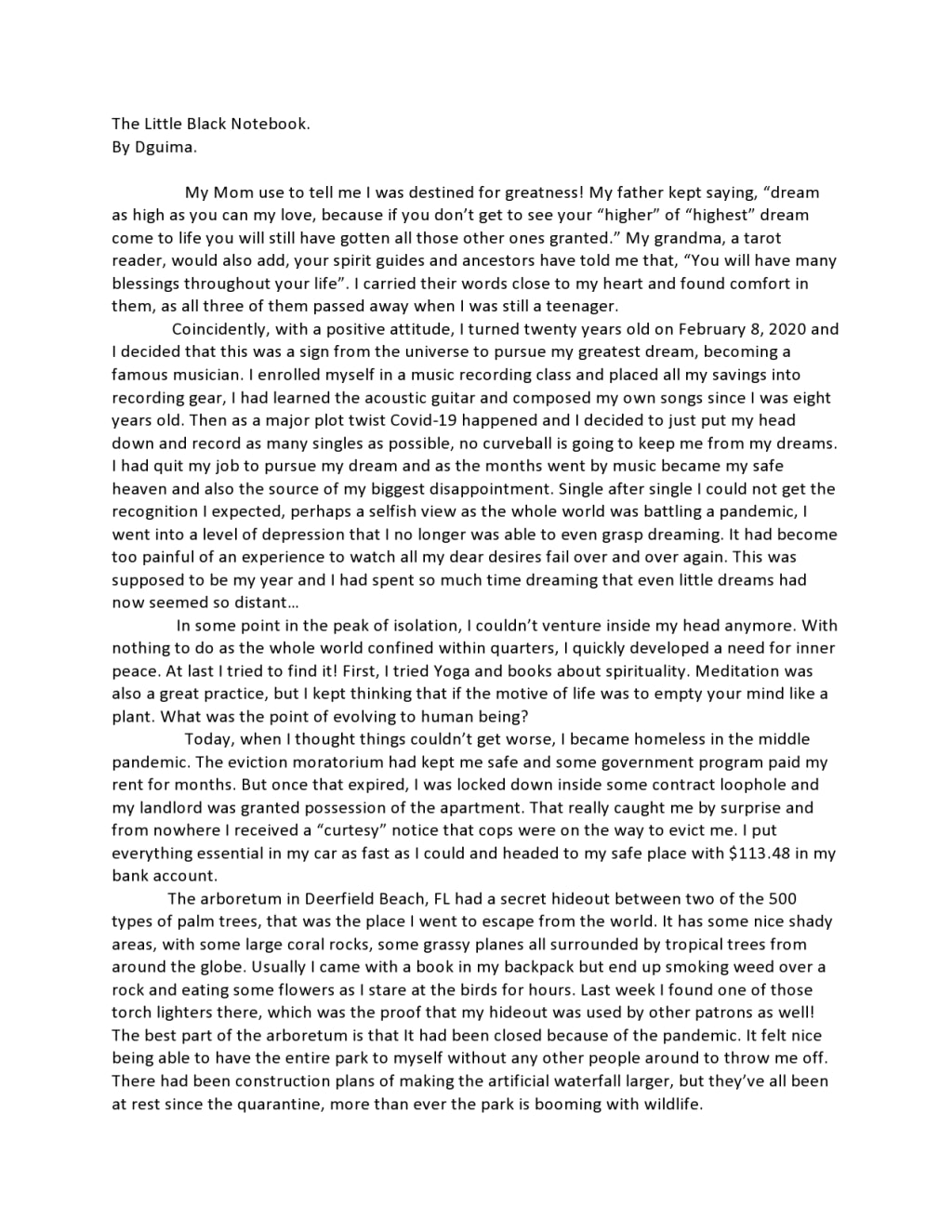 The Little Black Notebook.
By Dguima.
My Mom use to tell me I was destined for greatness! My father kept saying, "dream as high as you can my love, because if you don't get to see your "higher" of "highest" dream come to life you will still have gotten all those other ones granted." My grandma, a tarot reader, would also add, your spirit guides and ancestors have told me that, "You will have many blessings throughout your life". I carried their words close to my heart and found comfort in them, as all three of them passed away when I was still a teenager.
Coincidently, with a positive attitude, I turned twenty years old on February 8, 2020 and I decided that this was a sign from the universe to pursue my greatest dream, becoming a famous musician. I enrolled myself in a music recording class and placed all my savings into recording gear, I had learned the acoustic guitar and composed my own songs since I was eight years old. Then as a major plot twist Covid-19 happened and I decided to just put my head down and record as many singles as possible, no curveball is going to keep me from my dreams. I had quit my job to pursue my dream and as the months went by music became my safe heaven and also the source of my biggest disappointment. Single after single I could not get the recognition I expected, perhaps a selfish view as the whole world was battling a pandemic, I went into a level of depression that I no longer was able to even grasp dreaming. It had become too painful of an experience to watch all my dear desires fail over and over again. This was supposed to be my year and I had spent so much time dreaming that even little dreams had now seemed so distant…
In some point in the peak of isolation, I couldn't venture inside my head anymore. With nothing to do as the whole world confined within quarters, I quickly developed a need for inner peace. At last I tried to find it! First, I tried Yoga and books about spirituality. Meditation was also a great practice, but I kept thinking that if the motive of life was to empty your mind like a plant. What was the point of evolving to human being?
Today, when I thought things couldn't get worse, I became homeless in the middle pandemic. The eviction moratorium had kept me safe and some government program paid my rent for months. But once that expired, I was locked down inside some contract loophole and my landlord was granted possession of the apartment. That really caught me by surprise and from nowhere I received a "curtesy" notice that cops were on the way to evict me. I put everything essential in my car as fast as I could and headed to my safe place with $113.48 in my bank account.
The arboretum in Deerfield Beach, FL had a secret hideout between two of the 500 types of palm trees, that was the place I went to escape from the world. It has some nice shady areas, with some large coral rocks, some grassy planes all surrounded by tropical trees from around the globe. Usually I came with a book in my backpack but end up smoking weed over a rock and eating some flowers as I stare at the birds for hours. Last week I found one of those torch lighters there, which was the proof that my hideout was used by other patrons as well! The best part of the arboretum is that It had been closed because of the pandemic. It felt nice being able to have the entire park to myself without any other people around to throw me off. There had been construction plans of making the artificial waterfall larger, but they've all been at rest since the quarantine, more than ever the park is booming with wildlife.
I jumped the fence and made my way to my light cave, I collapsed on the floor. I cried, I sobbed while screaming at the gods, saying that I did not deserve this faith since I had been a good person! I had not brought anyone harm and if I was guilty was to have hidden so much pain and frustration inside, perhaps I shouldn't have isolated myself and asked for help, I thought to myself.
The chirp of a bird made me open my eyes and, on the floor, surrounded by dirt I noticed a little mushroom close to me. I got up to view a little patch of mushrooms growing all around and decided to go around and see if there were more. As I kept walking, I thought to myself this must be my luck day because not very far from the hideout there was a big pathway of mushrooms, they were everywhere and then all the sudden I noticed a rainbow jacket laying under a tree. I looked around and there was no one even close to the area. I picked the jacket, put it on to see what it felt like it and as I put my hands in the pockets in an attempt to look cool, I found a spiraling little black notebook on the left pocket. It was thin as if the pages had been pulled out of it, as a matter of fact there were only 3 pages left. I opened the book and looked inside. Behind the cover there was something written on, it said: Write a wish and eat the page. My initial reaction was, what is this? Is this for real? I didn't make much of it, so I put it back in my new rainbow jacket pocket and made my way back to my hideout. I sat there for hours, trying to make sense of everything that was going on. I thought to myself that I was sick of life in urban centers and perhaps I should go off grid. I remembered that my friend had told me that with $20,000 you could join a sustainable off grid community a little far from the city, but how would I get $20,000? Without thinking much of it, I pulled the black notebook and wrote "I wish for $20.000" and I crumbled the paper into a small ball and ate it. As the night continued, I placed my camping hammock on, I crashed and woke up in the morning with a squirrel playing on the chain I used to secure the hammock on a palm tree. I was hungry, so I decided to go to a supermarket close nearby. As I painfully reached to my wallet on the register, I saw by the customer service a scratch off stand. I notice that the label of one of the scratch offs had a mushroom on it as well as a rainbow right above. It was called "Magic Rainbow" and it said, "Win up to $20.000" With a smirk on my face I asked the clerk how much it costed… I thought "You know what, I really don't have much to lose at this point." So, I bought it and put it inside the Little Black Notebook and made my way to the hideout. It was a pretty sunny day in South Florida with not many clouds in the sky. I ate my sandwich throwing pieces of bread on the floor to my new friend squirrel. As I digested, I pulled the Little Black Notebook with my Rainbow scratch off and asked the squirrel to wish me luck. Using the Little Black Notebook as a stand I started to scratch at the scratch off, the rules were simple. Find 3 mushrooms on the slots and win the highest prize. So, I scratched off all the brackets without looking at the highest prize. I found one mushroom, then I found a second mushroom and to my surprise a third one. My heart started to race; I couldn't not believe what was happening! I looked at the squirrel for confirmation that it was real and then I scratch off the prize area and it said $20.000. I got up and screamed so loud that the squirrel ran away terrified. I did it!!! I did it, I kept saying as I cried of joy. On my knees, with a sobbing face and the sun right above me, I looked at the little black notebook and thought," what should I write next?" I noticed a rainbow in the sky.
To Marina, Mila and Ian.
Reader insights
Be the first to share your insights about this piece.
Add your insights