The House My Grandma Built
Meet The Rocketts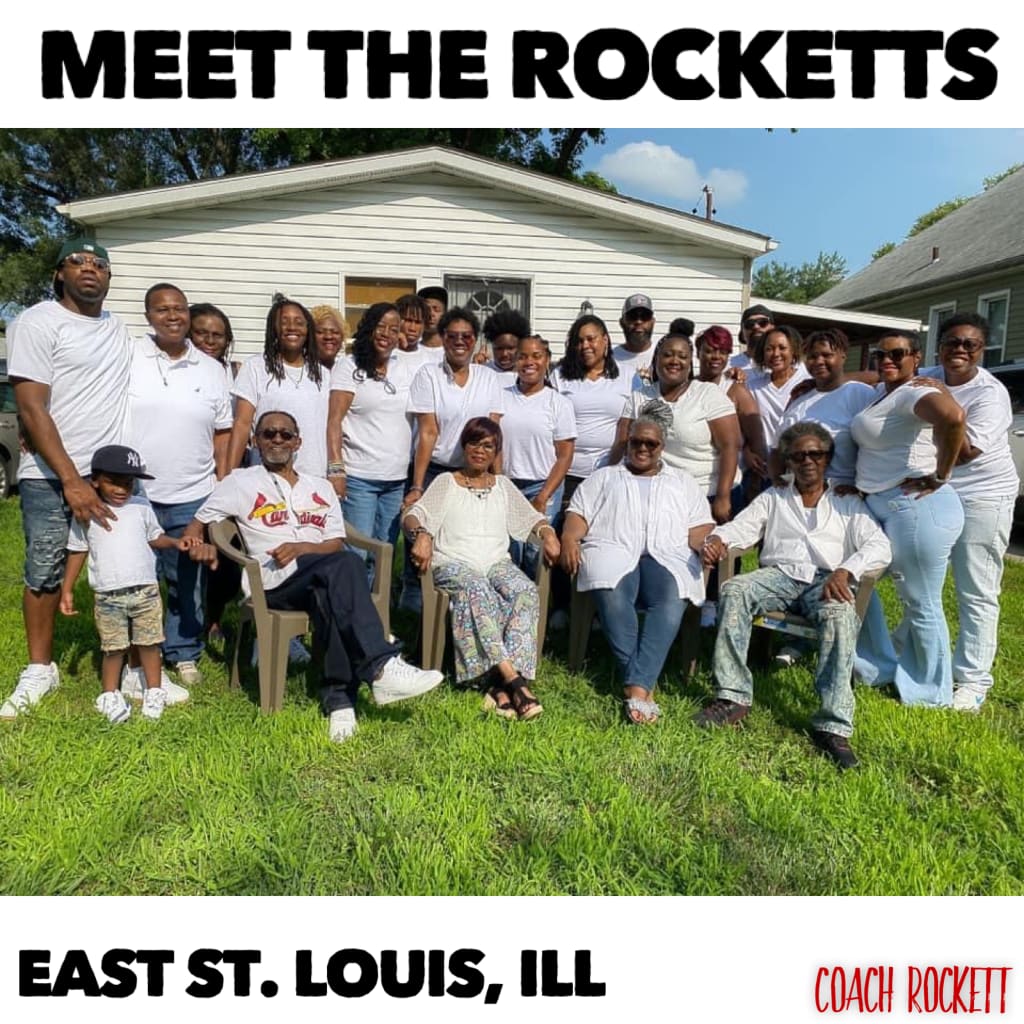 Beautiful Black Family
I looked over at my day in the porch, and he was jussa smiling. His face seemed light. No, really, I could see the joy in him. Then he said, "I remember when my mama bought this house." He was a lil poor black boy, but his mama, took him with her when she finalized the paperwork.
Now, my Dad is 67. My mom just turned 65 last Sunday, July 18, 1956. I'm just telling all their business. But it's for history sake, so you can think back what times my parents grew up in. Not just my parents, but my grandparents and they was coming from Mississippi and yes, they and their parents and their parents experienced slavery. That's crazy! But that's another story.
She wasn't that educated. Remember, Blacks didn't have the right to learn and when it was finally given, the learning was subpar and what they wanted them to know and in the worst conditions. Listen, I still cannot wrap my head around WHY Black Folk have had it some hard on this Earth. Like what is all the suffering for? Okay, my bad, I'm clearly going off on a tangent, but you can see ANYTHING can trigger a Black Person. There is so much doings in their life.
BOOM! Grandma Liz bought the house we sitting in front of. My Auntie Carolyn orchestrated a family pic while everyone was together because we was celebrating our cousin's marriage celebration that weekend, so everyone was in town. She sends the message out in group text: white shirts & jeans... On another note, our family really came together even more during th pandemic. We now have a family group chat and no one is yelling "Let me out of here!" Like group texts are prisons are something lol.
Anyhoo, I'm the family photographer. And we was on CP Time (colored people time) meaning running way behind. No, not really, the time was changed (thank God) to 12 something to like 4P. When it was all said and done and everybody made it, it was a blast! You know we had food, too.
The kicker was the out of state guest had the liquor in the house. Now Grandma's house is Auntie Carolyn's house. She the HNIC (don't say that N word) but that's what we would say. She took care my granny and took care the house. My 70 year-old Auntie Jackie ain't got the time. She too hot in the trot STILL lol! And my Uncle Juan just now getting his own place a few years ago so he damn shole' ain't getting reigns on the family home. My Daddy, well, he was living there with his family- now that's fa sure another story; however, he is second up in the siblings that is responsible. Him and my Auntie Carolyn are the responsible one's left. My Dad is the brother/father to his brothers. No, you don't see Uncle Randy in the pic. We got on him about that too.
Back to the liquor being in the house. We don't do that. It doesn't matter our age. That's a Christian home. Oh yeah! My Auntie will pray the ache out your bones, you hear me? They call my mama, The Prayer Warrior. This family was raised by sinners who became Christians and we honor this. But the Minnesota guest didn't know nothing about it and they had that big bottle with the handle on it of vodka on the table. Beers was in the fridge and freezer.
Old school jams was coming out the Block Rocker speaker and my Dad still outside reminiscing and feeling good. Outside of ALL the chips stacked against us, and that's putting it lightly, we, A Black Family, still find ways to be happy and filled with joy.
It is not easy being Black in America or Black In East St. Louis, but the Rocketts have managed to shift the paradigm. The my last Lil' take on the Rocketts.
When I graduated high school, we didn't have that porch. Out of those doors never walked a college graduate, a professional worker, career wise, a healthy marriage, an entrepreneur, a retiring Master Chief of the Navy, a teacher, a Master Degree recipient, a nurse, 20+ year marriage, barbers, comedians, but now...
In this pic, it contains all of that and some. There are several degree holders in this pic. None of our parents experienced college. As a matter of fact, I was the first college graduate and that happened because I escaped ESTL in 1992 and joined the Navy and got my first degree shortly thereafter. My cousin Trina followed me, got her degree, still in the Navy and is now one of the top enlisted black women currently in the Navy.
Meet The Rocketts... I have been hashtagging this every since I can imagine because I am truly proud of this family. We don't look like what we been through or going through now. Seriously, there has been much hurt due to drugs and alcohol addictions, but still we stand.