The Great Aunt Loes
And the closing of an age.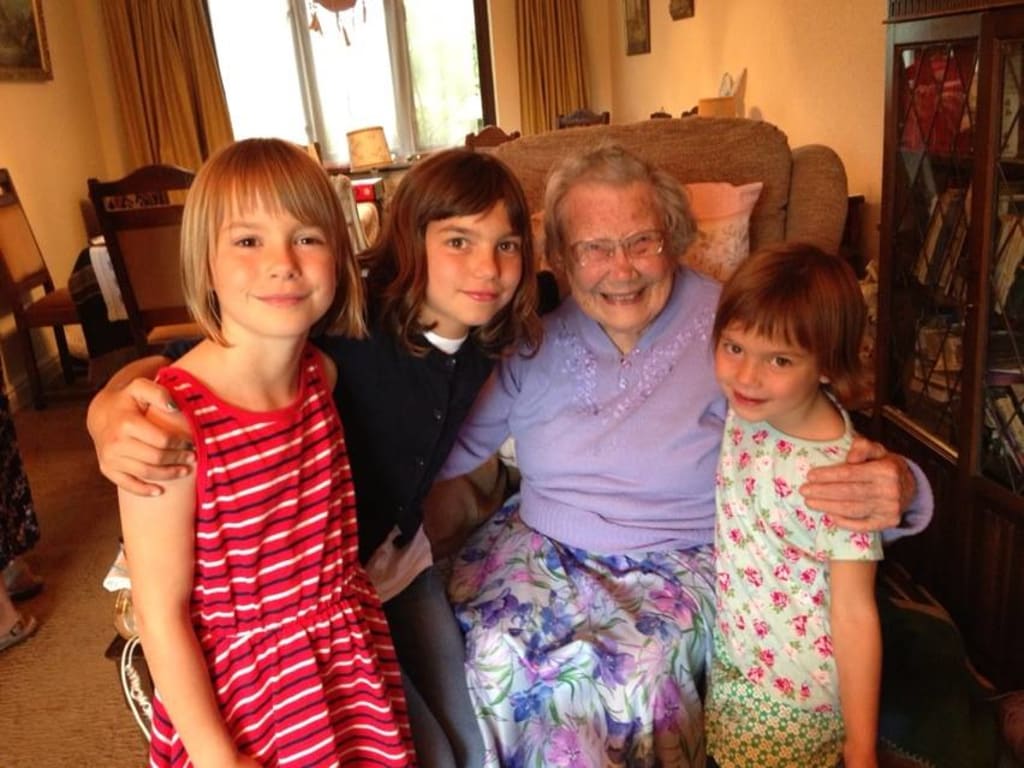 Great Aunt Loes with my three girls, Little Rodwell, Rowtown, UK (2014).
It was early March 2020, about one week into the CV-19 lockdown, when I heard the news of my Great Aunt's passing. She was indeed, at 104 years old, more than ready, and had lived her life to the fullest extent. She passed peacefully in her sleep, surrounded by those nearest and dearest. How apropos, for she was more than deserving to not suffer long. I cannot imagine a kinder, gentler spirit, which shone where ever she went. She herself had never married or had children of her own, but was a great aunt to over fifty, and a great great aunt to dozens more. For most of her life she lived with her sister, my Oma, Henriette, and brother-in-law, my Opa, Corniellius. A temporary visit to England from her native Holland at the start of the occupation, led to an unexpected, permanent stay. She was employed as a bookkeeper for Rodwell Nursery, my Opa's expansive horticulatural business. She also became a tremenoudous support for my Oma, who mothered eight children. Loes outlived both Cornelius, who passed in 1988, and Henriette, who passed in 1996. I once asked her what her secret to longevity was, and without hesitation declared "never getting married", with a smile.
Loes was a woman of faith, never missed a Sunday service, and always wore a hat, more to be fashionable than regulartory. Everyone has dirt, something to tarnish the shiniest of halo's, but in my mind, Loes was perfect. She sent birthday cards, to all her many inlaws and their numerous offspring. I have saved many of these cards, as they included verses of inspiration, and were always so beautiful to look at. She loved beautiful things, I recall her bedroom was all white, with crisp linens, and dainty dolies to underskirt elegant crystal and china ornaments. I was delighted when a cousin sent me a picture of a teapot, teacups, and table mats set aside for me to collect the next time I visit. The first time she met my then husband, he was taken aback when she reached out to feel the fabric of his suit, and noddingly gave her approval. She was a woman of fine taste.
I'll never forget her picking me up from Heathrow, at 80 years of age, and she owned the M4 al the way back to Little Rodwell. She had nerves of steel, and you always felt safe with her. She enjoyed travelling, and came to visit us after my family moved to Canada. Nothing bothered her, not even the cold and snow, when she came over for Christmas, or a winter wedding. She had a remarkable sense of humour and broad smile that would light up a room. My heart was heavy with the sense of loss, but there was something more. Her passing coupled with the beginning of CV-19 felt like the end of an era, the closing of an age. She carried with her those memories of wartime, the hiding under the large wooden dinning table as the bombers flew over London, the devastation, and then the triumph of D-day. Naturally, Loes was very concerned with her family left behind in Holland, as the population was on the brink of starvation before the Canadian forces finally broke through, and their liberation had begun.
I am sort of glad that my Great Aunt Loes was spared from the lockdown, the masks, the fear of a deadly disease that spreads kind of like a cancer, gripping unwares before taking hold. I wonder what she would think of it all, alas, she would have taken it all in stride. As for me, I try my best to follow her example, as steadfast and unafraid, I am not without concern for the future of humanity in a CV-19 culture. Great Aunt never had a cellphone, a Facebook page, or was involved in social media, but she still left her mark, on my heart. I loved her and am so grateful of the time we had, and that my children were able to meet her before we had to say farewell for the last time. Her legacy is one of valour and integrity. It is about taking life as it comes, without complaint. It is about acceptance and respect of life, as it is fleeting. We may not be blessed with 104 years, but we can make the time we do have, to be a blessing.