Snowflakes in the Desert
Making Do with What You've Got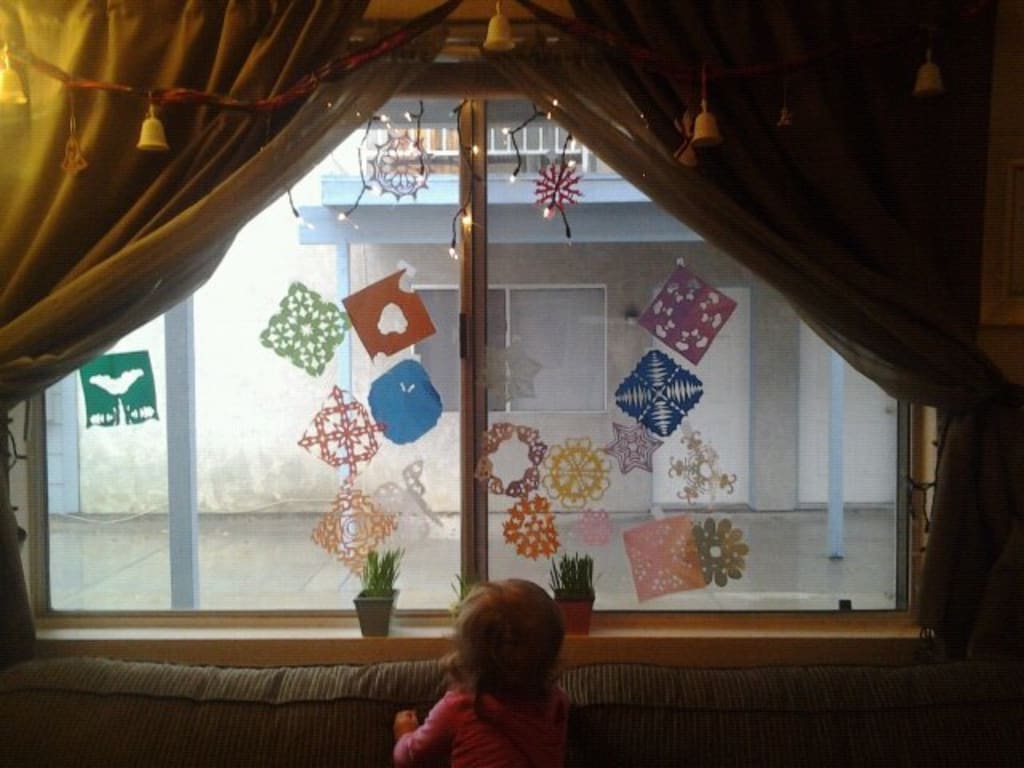 Quite a few years back, I was a stay-at-home mom of five kids, ages ten and under. We were on a very tight budget, trying to live in Southern California on one income, with really no money for anything beyond bills, food, and gas for our minivan. Christmas was approaching and we knew we couldn't even afford a tree. We had a handful of ornaments from my childhood, a string of lights that had belonged to my grandma, (and were somehow still working!) and a few other random decorations we'd picked up over the years, but not much.
When I was growing up, Christmas time always felt different and special because of the effort my mom made to maintain family traditions and because of the seasonal decorations we all helped pull out of boxes and find places for around the house. I tend to be a more practical Scrooge--albeit a broke Scrooge--and don't "go all out" for holidays. In fact, Christmas is the only holiday I actually try to decorate for! This particular year, I didn't want to spend money we didn't have on "stuff", but I wanted to find something to make the season special and memorable for our kids. I'm a firm believer in making do with what you have, and also that you can do almost anything with a pen or pencil, paper, and scissors. I remembered that the kids had some brightly colored origami paper stashed away. We could make snowflakes!
We lived near the Mojave Desert at the time, which means we rarely had snowy winters, but cutting paper snowflakes seemed like a Christmassy thing to do, and I loved the idea of covering our boring white walls or maybe even our windows, with brightly colored designs. The kids and I had so much fun folding and cutting, then unfolding to reveal our designs. We didn't really know what we were doing, as I hadn't made paper snowflakes since grade school. But as we went along, I realized it was better to focus on the designs left behind on the paper, rather than the shapes of what we were cutting out. This led to some more impressive snowflake designs than we had created before! I then started experimenting with bubble lettering, which I had perfected in junior high. I tried writing my name on my folded origami, cutting out the space around the letters with my tiny orange Fiskars, and unfolding carefully to reveal a unique and intricate design!
Although the kids lost interest after a few flakes, this paper-cutting hobby quickly became an obsession for me. I hunkered over my origami paper at the table, on the couch, and even in my bed at night. I snipped colorful confetti all over the floor. I experimented with long names and nicknames, cursive and block letters, lowercase and capital letters. We covered our window with the bright, cheerful snowflakes that year, and I gifted "nameflakes" to many friends and family members, reusing old picture frames to display them and help them last longer. I had visions of starting a business creating personalized, framed snowflakes, but decided I'd enjoy it more as a hobby than a business.
Every year in January we would carefully remove the tape holding the snowflakes to the window or wall, trying not to rip them. We placed them gently in an emerald green sparkly square gift box until the next December. Some years we cut more snowflakes to add to the collection and some years we just hung up what we already had. Eventually some would get so tattered that we'd have to throw them away.
It's been many years since I picked up my little orange Fiskars to create those unique snowflakes to spruce up our house for Christmas. But pulling out that sparkly green gift box and carefully untangling those colorful paper snowflakes each year reminds me yet again that you can create beauty with whatever you have available, you just have to get creative!