Snap, Crackle, Ho, Ho, Ho
Add A Simple Sweet Crunch To Your Holiday Cookie Baking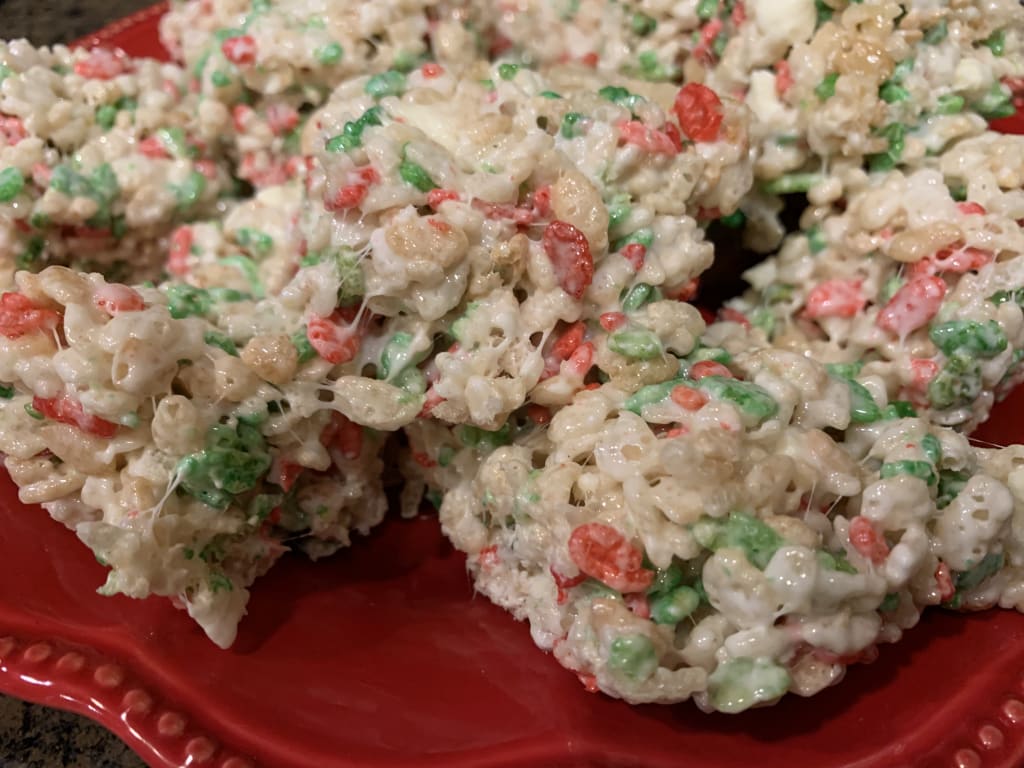 When it comes to holiday baking, I take the back seat in my family. My mom was the Michelangelo of holiday cookie baking. She and my sister Kay would engage in weekend-long baking marathons in early December, leading to trays and trays of holiday cookies. I remember:
• Gingerbread people and reindeers.
• Iced vanilla-butter sugar cookies.
• Thumbprint cookies.
• Buttery candy canes.
• Bourbon balls.
• Russian tea cakes.
And many, many more. They all looked beautiful. They all tasted great. Martha Stewart would weep. A few months before we married, Susan, my wife, joined the family cookie-baking tradition. And she carries it on now in our home. There's no way I can compete.
You see, I missed the baking gene. I think it has to do with my lack of precision and focus. Baking has always seemed as foreign to me as chemistry and I'm a C-minus student at best. Exact measurements and temperatures are not my strong suit. I much prefer the loose chaos of cooking (a handful of this, a pinch of that) to the precise measurements of baking.
This doesn't mean I've sat out holiday cookie making altogether. My specialty? Rice Krispies Treats(tm) in all their wonderfully gooey variations. Now, you may think of Rice Krispies Treats as an anytime sweet snack, something to serve at the church picnic or pack in a child's lunch. But I've found there are many holiday variations on this gooey, crunchy treat. And even the original recipe makes for a great addition to a plate of traditional holiday cookies.
Have you made Rice Krispies Treats before? It's fast and easy to whip up a batch. Here's the classic recipe:
• 3 tablespoons of butter
• 1 package (10 oz. or about 40) of marshmallows. For best results, use fresh marshmallows. You can also use marshmallow cream.
• 6 cups of Kellogg's® Rice Krispies® cereal
Melt the butter in a large saucepan over low heat. Add marshmallows and stir until they're completely melted. Then remove from heat. Now, add the Rice Krispies and stir until the cereal is well coated with the melted marshmallow.
Next, use a buttered spatula or wax paper to evenly press the mixture into a 13 x 9 x 2-inch pan coated with cooking spray. Allow the treats to cool. Then cut them into 2-inch squares. That's it!
Though I'm always looking for the kitchen short cut, I typically use the stovetop method for making my Rice Krispies treats. You can use a microwave if you're in a hurry or don't have a stovetop. Just heat your butter and marshmallows in a microwave-safe bowl on high for about 3 minutes. Stir after 2 minutes, until smooth. Then mix, spread, and cut the treats following the directions above.
The recipe states that Rice Krispies treats are best served the same day. That's true, but I've also enjoyed more than a few day-old batches if I've stored them in an air-tight container. You can even freeze the treats to enjoy later. Just stack them between layers of wax paper. Make sure you allow the treats to thaw for 15-20 minutes before you serve them, otherwise, they're a little hard to bite into.
What could be more simple? And there are equally easy holiday variations that appeal to my "a dash of this, a handful of that" nature:
• Substitute holiday-colored Rice Krispies, as I did with my recent batch.
• Toss in chocolate chips. White chocolate chips are my favorite for holiday Krispies treats. Butterscotch chips are also delicious. You can also melt your chocolate chips and spread them over the top of your treats before you cut them.
• Make festive shapes with your favorite holiday cookie cutters.
So, if you lack the baking gene like me or you're just looking to mix up your Christmas cookie platter, whip up a batch or holiday Rice Krispies treats to serve to your guests this season.
diy
About the author
Reader insights
Be the first to share your insights about this piece.
Add your insights