Sledding in the Berkshires
A Perfect Pair
It is the brink of the 2020 holiday season and unlike any, we have ever known. One way or another we will all try to do our best to salvage traditions in light of social distancing. Perhaps gift shopping is best done online which isn't terrible since most of us shop online already. Technology will provide virtual visits when travel and gatherings are not safe. I know it seems really impersonal maybe even lonely but these are the times we are currently living in. Even if things cannot be the same as years gone by we will all have to find a way to get into the holiday spirit and make the best of things. Personally I am excited for our first snowfall not a dusting but at least a couple of inches. Although this is something many would rather do without but for me it brings back some wonderful childhood memories.
I currently live in Albany, New York but I grew up in a small town called Hinsdale in the state of Massachusetts. A country setting, Hinsdale is nestled in the Berkshires and a good 3 hour drive from the state capital of Boston. The Berkshires is known for its glorious fall foliage and some pretty heavy winter snowfalls. I can remember being 7 years old when a coastal storm called the"Blizzard of 1978" hit. I believe over a foot of snow fell but it wasn't uncommon for the area to get several inches in any given storm. Despite the mess and huge cleanup involved for the ploughs it was breathtaking. I recall the days of being bundled up in my snowsuit trudging through snow on my way home from elementary school. Crossing the railroad tracks, I would always stop for a moment to indulge in the scenery. The snow weighing down branches on barren trees and the glistening steel of the rails was a perfect setting for an artist to paint a masterpiece. Hinsdale was a winter wonderland of snowball fights, building snowmen, skating and my very absolute favorite; sledding.
My fondest memories of winter were the days of sledding with my 2 younger sisters. Our family home set up on top of a hill with my grandparent's home at the bottom on connecting land. We were very fortunate to have several acres of property to explore all year long. As much as I loved my bright red swing set and riding my bike in the warmer months nothing compared to the brisk winter months and sledding on our land. As I said, we lived on top of a hill which is the best possible environment for long rides with twists and turns and maximizing speed. We had our collection of sleighs too from the classic wooden style that you would lay on your stomach and steer to a bright yellow flying saucer that would go round and round.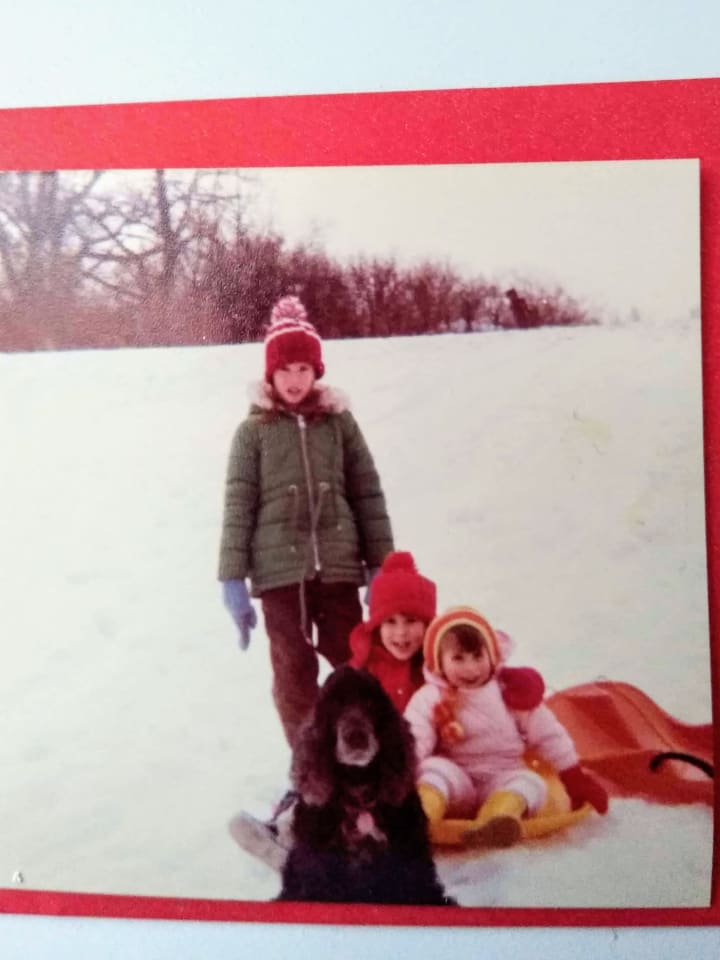 I am the oldest of 3 girls so it was my job to get our sledding trails up and going. Many times I would be knee deep climbing yet another hill (there was another one behind our house) all the way to the top of our plot. This was a sight in itself for we had the most amazing view of mountains and the lower valley from our home. Preparation took some time since the snow was so deep. I had to make several passes with my sleigh to pack the snow down to running condition. This meant getting on the sled and then sinking with a deep plunk into the thickly covered blanket. I would repeat the process going down the hill creating random twists and even jump off sections for a little air action. Often there would be other kids from the neighborhood over to play so I initiated teamwork to get our trails ready for take-off!
My perfect pairing of sledding and the Berkshires could not have been complete without my younger sisters. I loved the excitement on their rosy faces as they screamed with joy all the way down to the bottom which ended in our grandparent's yard. We would take turns going down and other times race. The tracks got slicker and slicker with each pass. I especially loved it when we rode on my bigger orange sled together. Even our family dog; Teddy a black cocker spaniel would chase behind us. Sometimes he would jump right in the front of my sleigh while I was holding my baby sister and take the adventure too. Teddy always ended up with a white snow beard but he thoroughly enjoyed himself. The best part would be my grandparents waiting at the bottom waving with big smiles on their faces.
Some years have passed by since I last visited Hinsdale and unfortunately I won't be able to go this year but the memories stay fresh in my mind. To visualize the crisp white snow and stillness of winter in the country is a revitalizing sensation. It is also an uplifting experience and a drastic difference to my current life in the city. I find it important to visit my childhood days and revel in a simpler time; a time of being carefree and without a worry in the world. With the state of our world and all of the stress that accompanies it I find comfort in recalling the good old days. This holiday season when I see the first snowfalls I will think about the Berkshire's and smile. I will reminisce about my winters of youth and sledding knowing that the two are the perfect pair.