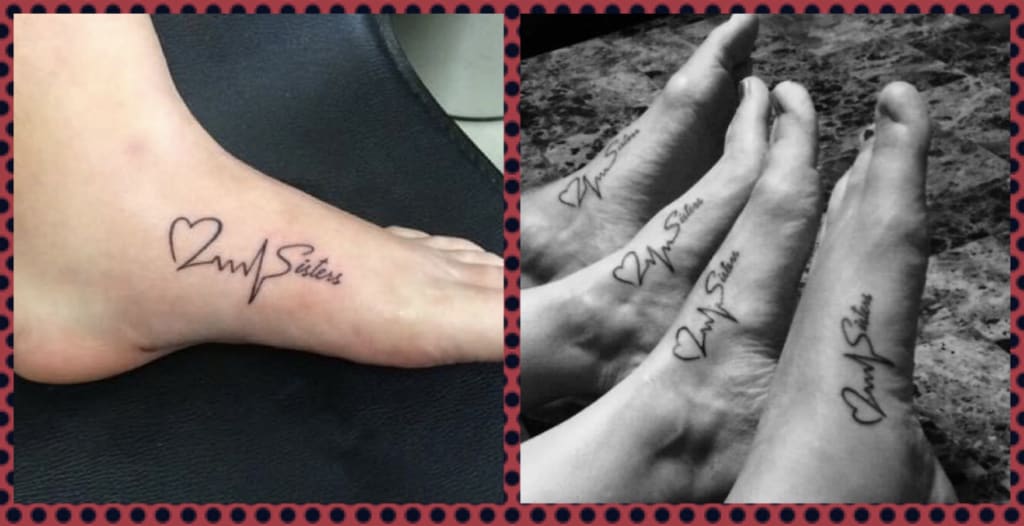 Sisterly Love!
I am the youngest of 4 girls in my family. Me and my three older sisters had decided we wanted to get a matching tattoo about 4 years ago!
Finding a design we all liked proved to be a little tricky at first. Considering our age gaps, ages 26, 31, 36 and 38 at the time of the tattoo, we sort of all had some different interests. One thing that never varied in our ideas was that we wanted something to represent our sisterly bond.
We finally came across a design we all could agree upon that included a heart with a lifeline after it that would turn into the word sisters! However we wanted to make this design "our own".
We contemplated different ideas on how to make this more personal to us, having a hard time once again not only coming up with an idea, but one all 4 of us agreed with.
We had thought once, having our tattoo be the colour of our birthstone, but then 2 of my sisters would have identical tattoos since even though they were 5 years apart in age, their birthdays were only one day apart and therefore they shared a birth stone. So back to the drawing board we went.
We tossed around a few different ideas but they either didn't work or we didn't all agree on it until finally we decided that for the peaks of the lifeline, before it would turn into the word sisters, we would get creative. We knew there was something we could do in there to personalize the tattoo.. and the idea we decided on still seems like the perfect solution!
On each of our individual tattoos the highest peak of the lifeline represents our placement in the family! Meaning my eldest sister has the tallest first peak continuing down to me, the youngest, where the last peak is the tallest. My other two sisters have the second and third tallest peak respectively!
Everything about this tattoo was a great experience! From us all agreeing on one design and figuring out the way to make the design our own, to reconnecting with a tattoo artist we all knew in childhood, and finally, in addition to being bonded as sister, this is another bond we will share for life!
We got this tattoo as a constant reminder that no matter what happens in life, or what we go through, we will always have each other! And every day when I see my tattoo, as I'm sure my sisters would agree, I am reminded of not only that fact but of day we got them done. The laughs we shared and the nerves we had since for some of them it had several years since their last tattoo! It was also a weekend trip where the four of us took our mom to the country music awards for her birthday so it was a great weekend getaway in general!
I currently have 17 tattoos, including a small fishing rod I got in memory of my father in law who had passed away of a sudden stroke in 2018, a few quotes / song lyrics (and even some song lyrics written in the singers hand writing), the logo of my favourite hockey team, the Boston Bruins, the lovely "Tinkerbell Fairy", some that just had designs I liked such as an anchor, flowers, stars etc and the first one I ever got - the one so many people have, the heart and wings.. but this is definitely one of the most special ones (followed closely by the fishing rod of course) and will remain that way I'm sure!