Paper & Pencil - A Holiday Tradition
There's nothing more meaningful than a handmade holiday card!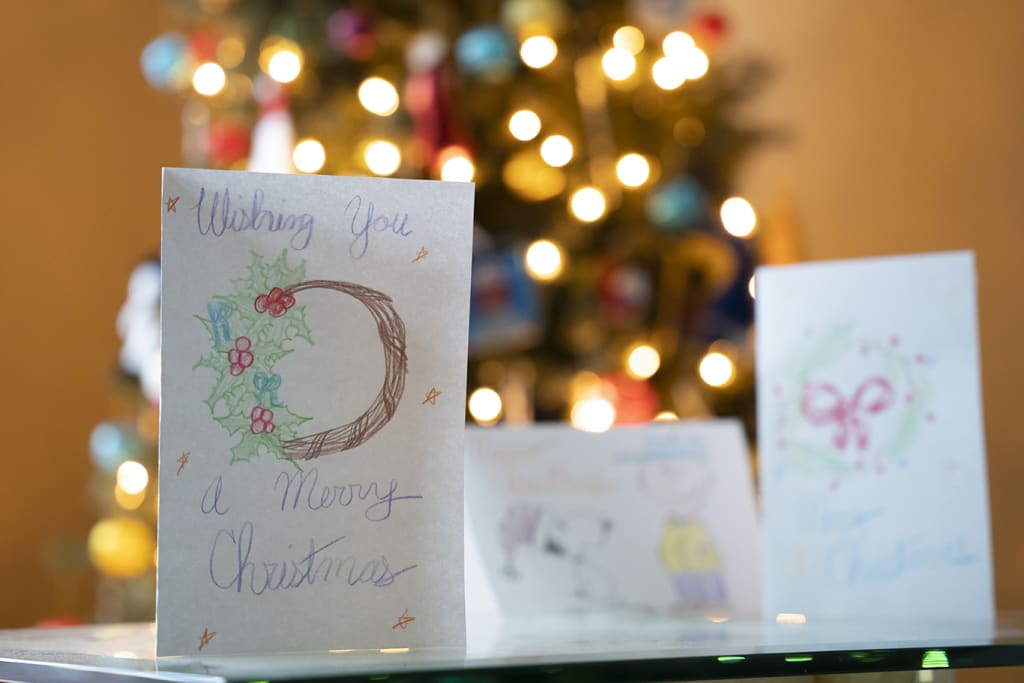 At a young age, my mother instilled in her children the practice of hand making cards and the sentimental value held within a simple, wispy piece of paper. Especially during the holidays, my mom's favorite part isn't the unwrapping of her gifts, but cracking open the cards made by her children.
Without fail, my oldest sister Christina would always have the funniest card. It wasn't her miraculous sense of humor, but rather her hilariously poor drawing talent. My family and I would all have a deep-belly-laugh as we tried to understand what on earth she drew (or tried to). Christina never mastered the art of the elbow in her figurines and anything involving the color brown was a bad idea to say the least.
Cards from Grace, my second oldest sister, could be identified at first glance in under a second. Grace's signature card style always involved Snoopy from The Peanuts. It doesn't matter what occasion or holiday the card was for, Snoopy would be holding a basket of Easter eggs, wearing a Christmas hat, or even holding birthday balloons. Over the years, she's mastered her own versatile version of the classic Snoopy.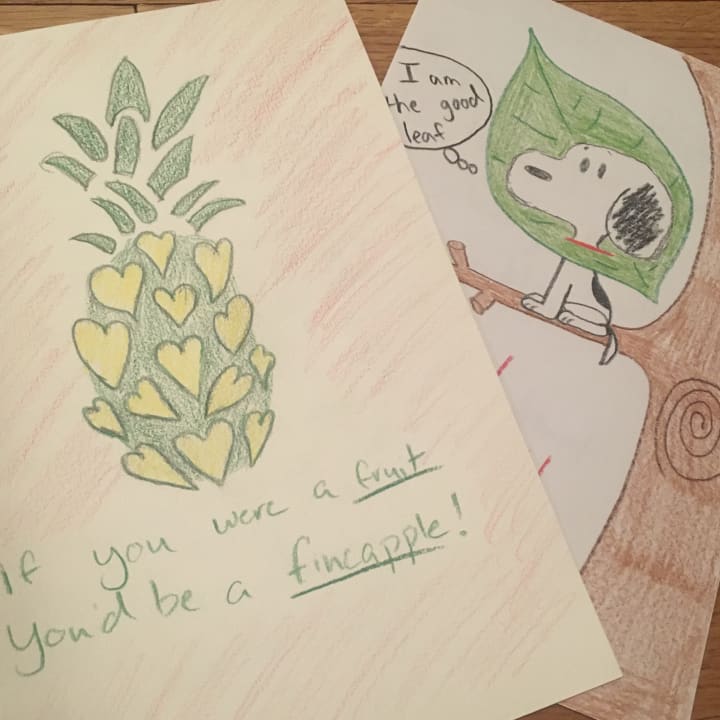 My brother, Richard, went with the humor route. His cards didn't quite beat Christina's masterpieces, but his always got the family face palming. It was the, "Pass that card around, I want to see!" type of card. Everyone wanted in on the joke and always got a good laugh.
Last, but not least, my signature was inside the card. On the outside, mine were always covered in poinsettias for the Christmas season. However, the real show-stopper was what hide behind the card flap. I'm a sentimental, emotional person. Every card was full with words of love, gratitude, appreciation, and tons of compliments. In all honesty, several times I've filled the back of the card with words of love as well. Words of affirmation have always been vital to me so I enjoy giving them to loved ones.
Not only are the cards special, but so is the process of making them. When my siblings and I all lived in the same home, we would gather in one bedroom and all draw together. I can recall passing around the color pencils, the room filled to the brim with decorations and lights, and only the noise of pencils brushing against paper. As someone makes a card, one is prompt to think about the intended receiver and how to create something from a blank canvas that reflects care for them. The process encourages creativity and quality time. As I drew the cards this year, I cherished the moments I put my phone away and just focused on drawing. When was the last time you put away all distractions and just got creative and handmade a physical gift for someone?
This year, I encourage you to make your cards for loved ones. It doesn't have to turn into a masterpiece, but I guarantee it will be a pleasant surprise and cherished a million times more than a store bought card. This is extra special if you have smaller children as you'll look back at their adorable creations for a long time. It will be the card that gets put up on the fridge, saved in a shoebox to be revisited every year, and the card that makes it into the family scrapbook.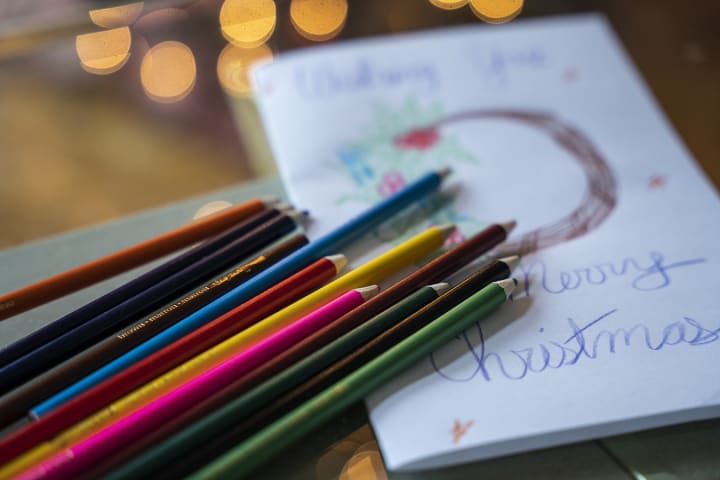 To this day, although we are all well grown adults, loved ones dear to us still get handmade cards. This has been a tradition so deeply rooted in my family for decades and is one I intend to continue to pass along. Happy holidays and happy drawing!

Angelica Pasquali
Hi there, I'm Angelica!
I'm a wedding/elopement photographer and climate activist based in New Jersey. By combing art and activism, I create powerful visuals that influence and educate people on global issues. IG: @dawnpointstudios
See all posts by Angelica Pasquali →
Staying at home each & every day to be there with your children as they learn and grow sounds absolutely amazing in hindsight, right? Absolutely! Who wouldn't think that it's just living the dream?! But what the world fails to disclose is the truth behind being a stay at home mom..

11/18/2020 So, grandma (81 this year) has been up my ass about keeping a journal of everything that is going on right now so here goes. Amelia is 9 and in 4th grade, Raynen is 5 and is in kindergarten and Rj is 3 and is home with me. We live in fort lee right now and my husband, Bobby (30 this year) has just had his 3rd spine surgery and now awaiting the promotion board (he is in the army) and finding out when we will be moving. I am 26 credits away from my BA in history. The coronavirus pandemic has been a pain in the ass and the 2020 presidential election was a complete dumpster fire. Yay 2020 and the best part was carol baskin and the memes from that world.

It was early October, and it was finally time for my long-awaited moose hunt. I had waited ever since I was a little girl for this opportunity, and it was finally here. So, my father, the one that looks after me, and I packed up our stuff and left our city in Alaska. We were heading to a place called Bethel, AK. After a six-hour long drive, we made it to our hunting unit. It did not feel like home to us but it was warm and cozy, like my bed at home.

As your parents age, you're probably spending more and more time caring for them. Even if they're still in good health, you may need to help them live a healthy lifestyle. Your parents may need help with everything from their health insurance to their diet. To avoid caregiver stress, taking care of yourself is also essential.

Staying home, reducing stress, and taking care of ourselves, both mind and body are more important than ever. That's why from beauty and personal care to everyday essentials and home cleaning – we've got you covered. "Avon"

Growing up, I loved the Wizard of Oz. There was something magical and timeless about the Yellow Brick Road and the passion of Dorothy to find her way home, Scarecrow to find his brain, Tin Man to find his heart, and the Lion to find his courage. All to find out that the man behind the curtain was just a man, whose hope and wisdom fulfilled all desires by encouraging everyone by exploring their own virtues.