Our Dining Table Made Us Save $6240.00 And Earned Us 52 Memorable Sundays In A Year
Homecooked meals and homebrewed coffee are the best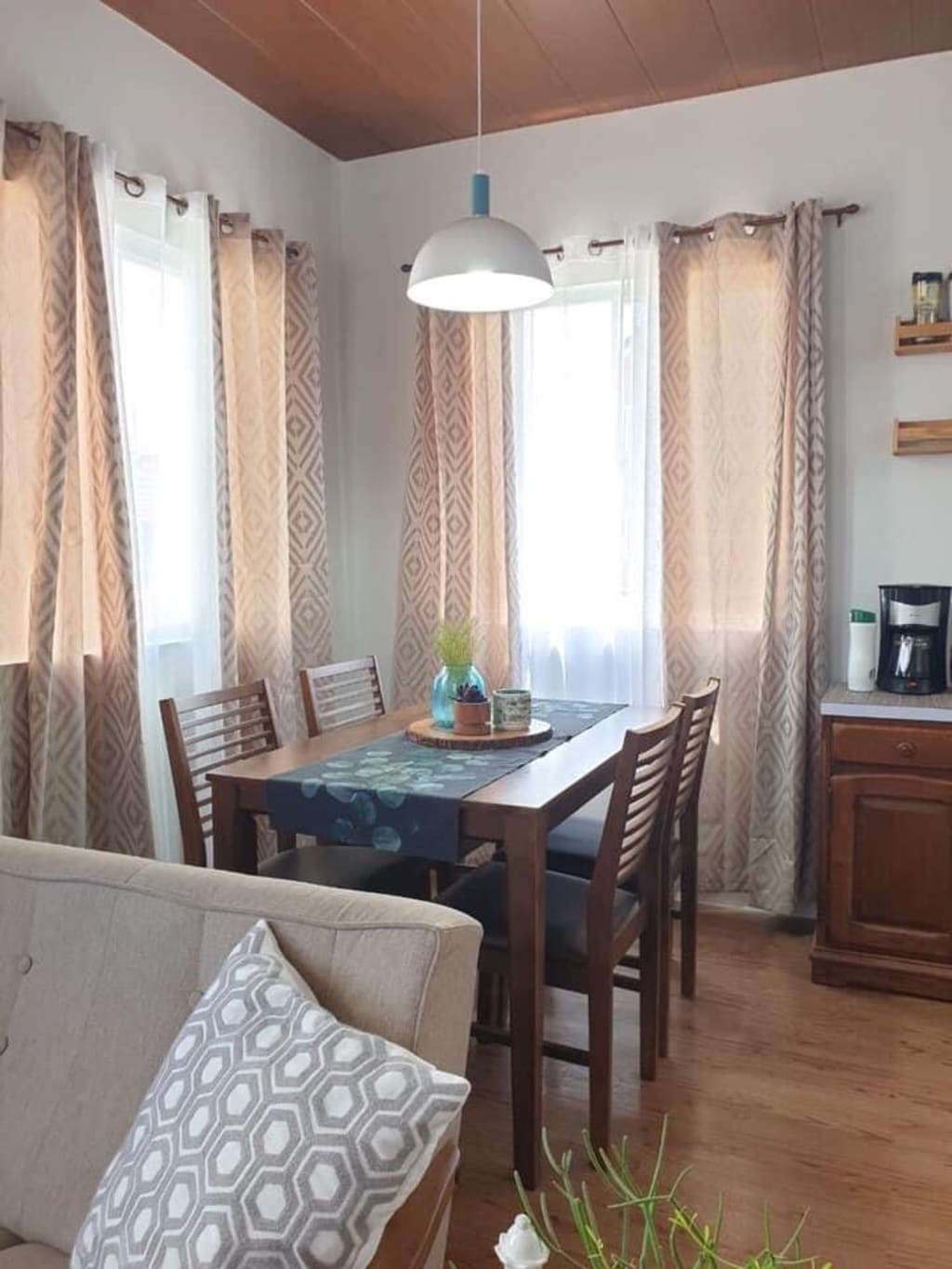 Our Simple Dining Table. Photo by Author
Dining Out Has Been Our Family Bonding
I am so lucky that my parents and siblings live within 4-km radius of where I live. We all have our families and jobs to tend to. But on Sundays [pre-Covid], we attend mass together in the morning followed by lunch in any chosen restaurant. Our food bonding is usually followed by having fancy coffee with cakes in Starbucks or any new cafe that we wanted to try.
The Cost of Our Weekly Dining Out Tradition
All 11 of us would cost an average of $100.00 for lunch and another $60.00 for coffee for a total of $160.00 weekly. Paying the bill comes in rotation among us 3 siblings. We have set it as part of our budget labeled as a "family bonding" fund.
We were used to that bonding routine. No money can equate to the happiness given by seeing our parents and us having laughter and chit chats weekly.
The Tradition Changed When Our Dining Area Has Been Upgraded
I bought a homey classic-looking dining table and upgraded my curtains in the dining area. I just wanted to show it to them. 
My dining area make-over coincided with my kitchen stocks challenge where I discovered that I have a lot of ground coffee received as gifts. I told them that instead of having coffee after our usual lunch out, we can go to our place and I will personally prepare a coffee for them
My suggestion clicked. My brother even labeled the coffee as "lovingly prepared by Aterny". [Ate means older sister in Filipino + "rny" which she got from my title "attorney"]
The Dining Table Became The Host of Sunday Lunches and Coffee Starting July 2019
The dining table obviously can't fit as all as it can only accommodate 6 at most. We have folding tables and stackable chairs that we add to the area to accommodate all 11 of us.
We have a potluck every Sunday. When each sibling lays on the table what they prepared, we always have so much. Add to that the yummy cooking of my mom who always brings a lot.
A New Tradition Was Created
Our activities don't usually stop at lunch. We watch movies together. The kids play scrabble with their grandparents. They go biking around the neighborhood. We girls usually take a walk in the afternoon with our mom.
The lunch extended to dinner with our coffee finale in the windy garden. At 8 PM, they pack their things and go home. We are left with an empty house but with our hearts full ready to go back to our work the Monday morning after.
The Tradition Prepared Us For Changes Brought By The Covid Outbreak
Long before the Covid restrictions in going out was imposed, we weren't going out anymore. We stopped seeing each other for a while but when the strict lockdown eased up, we started seeing each other again every Sunday.
We Haven't Realized The Savings Until A Year Later
Let's do the math:
$160 x 52 Sundays in a year = $8,320.00. The amount is enough for a car downpayment in the Philippines. It can also be more than enough to buy a year's worth of groceries.
But wait, I may be challenged by mathematicians out there. We may have stopped paying the restaurants and Starbucks but we also buy the food that we eat at home and it has costs, too. We determined that the cost of the food that we bring for the potluck is only 1/4 of what we usually pay during our dining outs.
Hence, it still leaves us $6240.00 savings in a year. Small amounts do add up. We thought our expenses are OK because the $160.00 payment comes in rotation. With the spouses even splitting the bill, it becomes way smaller. But with the big picture now in front of us, looks like we will never go back to weekly dining outs.
Lessons Learned:
- We can recreate experiences at home. If we want fancy coffee, we can study how it's made and we can make the coffee by ourselves. It can be an exciting and enriching experience;
- We can take the menu from our favorite restaurants and use them as a guide when we cook at home. We can have a theme for our get-togethers based on what restaurant menu we are imitating at that time;
- Family bonding need not be expensive
Final Thoughts:
It's not the place, it's not the fancy coffee, and food that mattered all along. It was the family fellowship that was important. Thanks to the simple dining table. It's now overused but it's everybody's favorite place.