My guardian angel
it's all about siblings love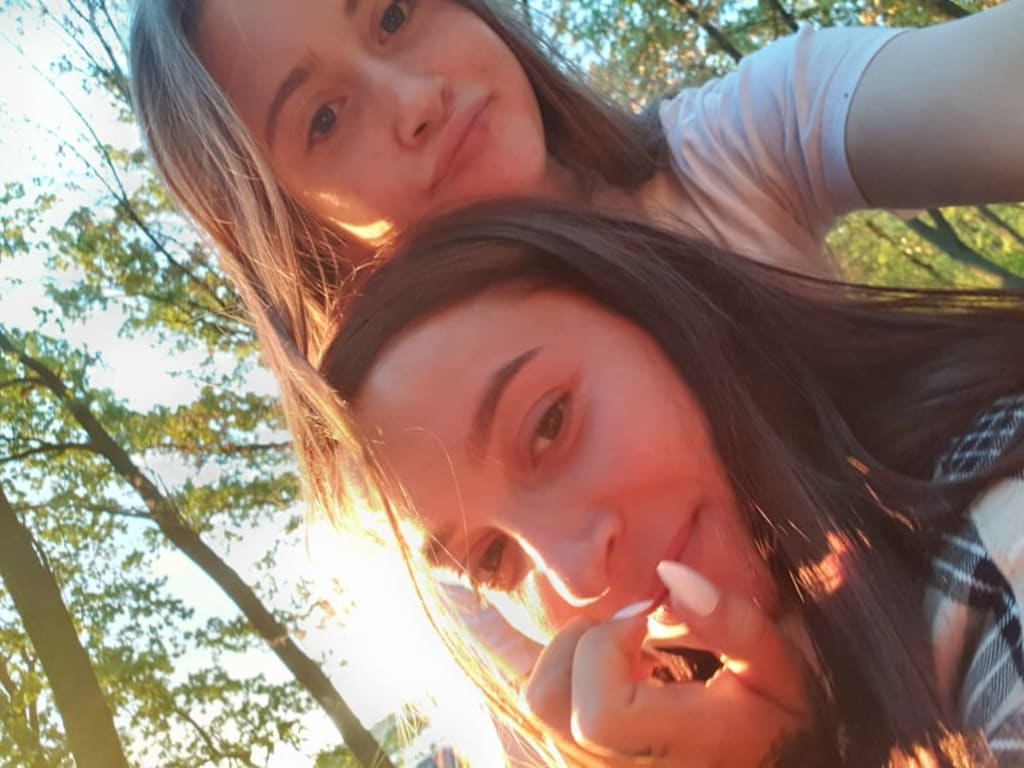 photo by me, on the 5th September 2020, after my weeding
I always felt protected by my sister, even though she is almost 2 years younger than me. Since childhood, she did not allow anyone to upset me. Even though we are sisters, our characters are totally different. I was the kind of shy child who never answered anyone with ugly words and could cry even if someone just looked at me badly. But my sister was a baddass little girl, used to fulfill any whim at once, just as when Aladdin rubs the lamp her whims and what is also important she was very nervous.
She loved to scream at everyone and for whatever reason, to annoy those around her and if she needed to, she could throw a glass even at our mother. My grandfather loved her very much, I don't deny it, he loved us both, but these two had a special connection, which we all admired. He never denied her anything, and probably for this reason our little princess grew up very authoritarian.
In the winter of 2014, I was already in the 8th grade, but that doesn't change the fact that I'm a kind of "potato milk". At that time, the winters were incredibly beautiful, with abundant snow everywhere. The streets were unbelievable, dressed in white, the trees covered all their branches with this white magic dust that makes us all happy with his presence. Every morning, the men went out to push paths through this place of story, so that the children could go to school. I loved winter very much, my cheeks like peonies, my artistic cold white eyelashes, all the snowmen I met on the way to the "house of wisdom and education."
All this could made from my winter to live a story in which I felt like the main character. My sister was 6th grade, already a big girl, sometimes more sensitive, sometimes omnipotent and in my eyes even "invincible".
Winter. I associate this season with snowballs.
And not without reason. In front of our school every winter there were even wars between students, in some cases, they ended up being completely buried, so it seemed that they would remain under the snow forever. I was at the music lesson, on the first floor, the very large windows offered a "wonderful" view of the school toilets.
Bored by the teacher's anecdotes, we notice many girls running away as if they were deer running away from lions. They were the girls in my sisters' class, all of them hid in the toilets so that the boys could not bury them in the snow like victims of patriarchy. It didn't last even 5 minutes, and we'll see how she decide not to hide anymore. Angry. In her eyes you could see the power and so much self-confidence that it could destroy the mountains. My sister. I don't know how it was possible, but the boys got scared and started running around , she caught one of them and stuck his head in the snow.
As a bonus, she also kicked him in the ass. That's how she ran after everyone around the toilets and gave everyone a good lesson. We were all shocked and I will never forget the words of the music teacher "You have to be very proud of this little girl, she can protect you from anything and everyone". I was very proud, the feminist in me is now screaming for happiness and I always hoped she could defend me the way she did for her colleagues.
And not in vain, because a few days later I really needed it. It was the beginning of the week, the huge flakes covered everything around and it was very difficult to walk on the roads. And I, I was in a new pair of boots with a small platform, and to my bad luck, they slipped very well. I was in class with a cousin, with whom we were very good friends, but who, like any boy, never missed an opportunity to wash the face of a girl with cold snow.I don't know why my tongue was itchy that day, but I bragged to him that no one had washed my face with snow this winter and I sincerely hoped it would stay that way.
After hours I went out without suspecting anything. I walked slowly home meditating on the existential problems that lived in my little pretty head.
I heard laughter and screams, and when I turned my head I realized I wasn't getting home safely. My dear cousin and two colleagues with whom we also got along wonderfully, were coming at me with lightning speed to show me how it is to make a bath in the snow.
As soon as I saw them i started running, I didn't wait another second to ask what they need. I ran at most 400 meters, until my boots slipped on the snow. I got up quickly, but it was too late. Those three child monsters, whom I was considering good friends, caught me and buried me completely in the snow.
Absolutely all my clothes were wet, even my socks, hair. My hat and scarf were buried beside me. I got home with my toes frozen, with a red nose, so cold you could say I came out of the freezer. As I wrote above, I was a sensitive person, and when my grandmother asked me what had happened, I immediately burst into tears. I cried dramatically, in pain, I sighed like a wounded little dog. I told them what had happened while I was drinking a cup of mulled wine that my grandmother cooked for me.
My sister hugged me carefully, kissed me on the forehead and just said, "They'll suffer someday" Let's be serious, she was in the 6th grade, and they was in the 8th grade, it never crossed my mind that she would want revenge. The next day I waited her an hour to finish, and we set off together for home.
She told my cousin to go home all three of us, because my grandmother cooked cakes( little liar) so he could come and eat with us, and he gladly accepted . We went home by rail, because it was a shorter road, even if it had snowier roads. She jokingly threw some snow at him to provoke.
After throwing snow in it, it didn't take long. She immediately grabbed and knocked him down and began to bury and kick him in the ass. She covered him with snow until nothing could be seen from him, and even put snow in his mouth. "Never touch my sister again," little one said, kicked him one more time and stood up. I was a statue, I was stuck when I saw what she was capable of. I don't know if it's right or not what I felt, or more, if like older sister should I have allow her to do such a thing, but damn, I was so happy. She grabbed my hand and we went home. I have never felt safer.
Probably, when I have children, I will tell them this story so that they understand how the siblings should behave and how they should take care of each other. It is not the only case in which she was protecting me, like a lioness who protects her baby, but in my soul this moment will remain the most important, the one that perfectly describes her love for me.
If you liked my story, please send me a tip or just a heart.
Thank you for reading!
About the Creator
Communication and public relations student, Moldova
Instagram profile: maria.ostasevici;
mother of two awesome Dobermans.
BEST VERSION OF YOURSELF- THAT'S TRULY EPIC
Reader insights
Be the first to share your insights about this piece.
Add your insights