My Daughter and Her Husbands' Holiday in Iceland
Reykjavik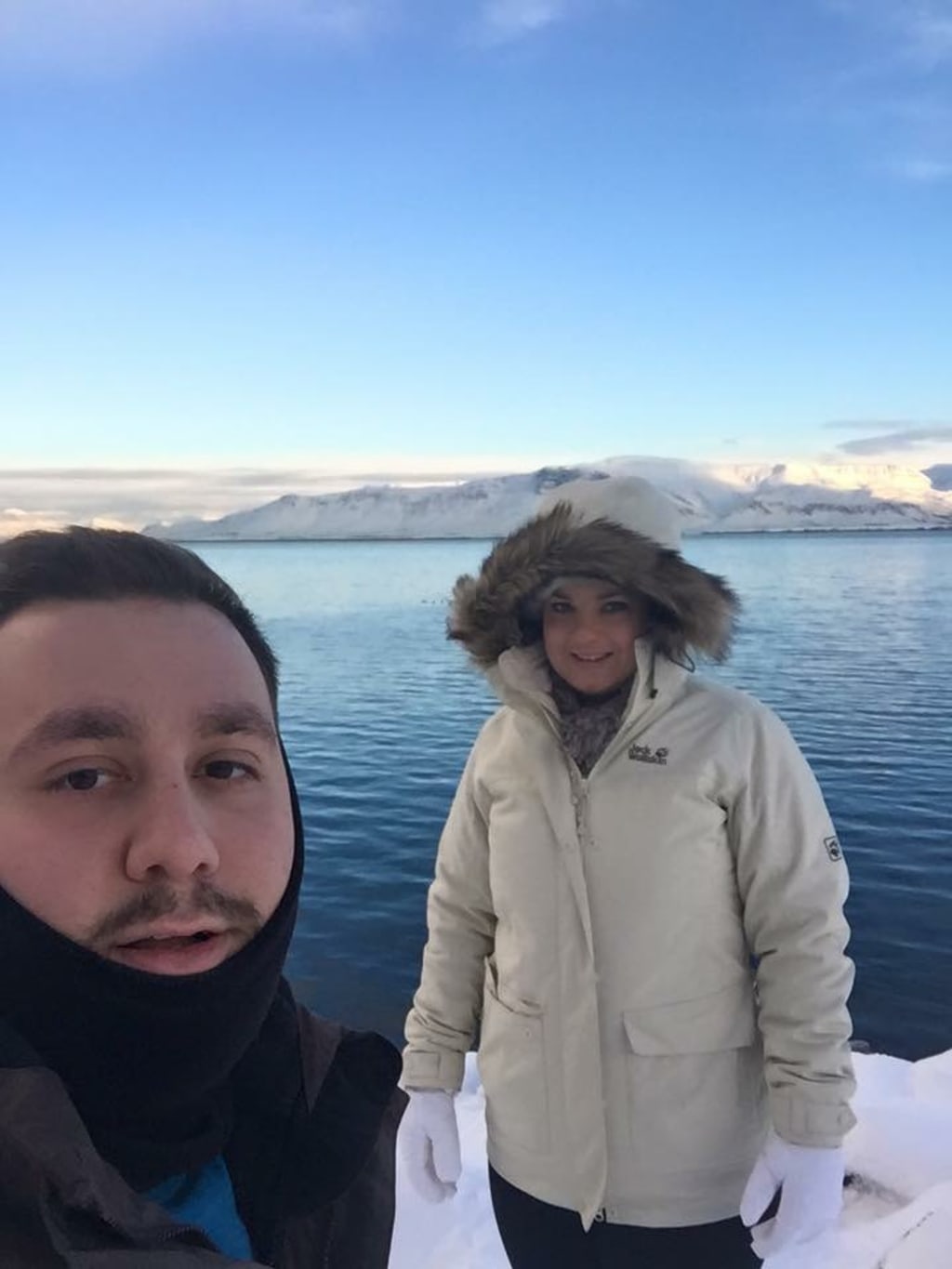 Charlotte and Connor near their hotel in Iceland.
We arrived at Keflavik International Airport in November, from England where it was 12 degrees. When we landed, it was -12 degrees and the 24 degree difference could be felt in every bone in your body. Suffice to say it was absolutely freezing!
We were staying for 6 days and had decided to hire a car to travel around whilst we were there. The drive to the hotel was about 40 minutes, we were surrounded by snow with a forecast of snow storms and in a car rental? I was petrified!
After we had been driving for a while, everywhere started to look the same. Completely white everywhere. It is really scary because you start to lose focus and lose sight of the road. The roads are banked up on either side with snow.
Fortunately, the drive wasn't too long and when we finally arrived safely, there was free parking at our hotel – Hotel Cabin. If you wish to follow in our footsteps, I would pre-warn you, that if your are claustrophobic, this would not be the hotel for you. It was tiny and our room had no windows! However, it had a very small ensuite but it was clean and at the end of the day, it was just somewhere to sleep after all.
Breakfast was also included in the price. It was a continental breakfast, so basically, fruit, yogurt and toast!
Whilst there, we ate in a lovely Indian restaurant and in an American type Diner and had a take away from Dominoes. Prior to coming to Iceland we had heard that the food was extremely expensive but actually it wasn't as expensive as people generally think. It was similar to London prices.
We had not pre-booked any tours or excursions because it is a lot cheaper to hire a car and even factoring in the petrol, we saved about £200 by doing this.
On day 1, we just went to the town. There was a lot of free car parking which was great. We had a walk around the place and had a lovely hot chocolate. The one trip we did book, was on a boat to go whale watching! I love whales and sea life in general.
When we got on the boat, we were given these lovely warm overalls because it was freezing. However, my husband, Connor started to feel like he was over heating. We sat down at a table while we headed out into the sea and all of a sudden, Connor jumped up and started stripping off his overalls. Then, to my utter disgust and embarrassment, he vomited everywhere and I mean everywhere. I thought, "trust me to have a husband who suffers from sea sickness!"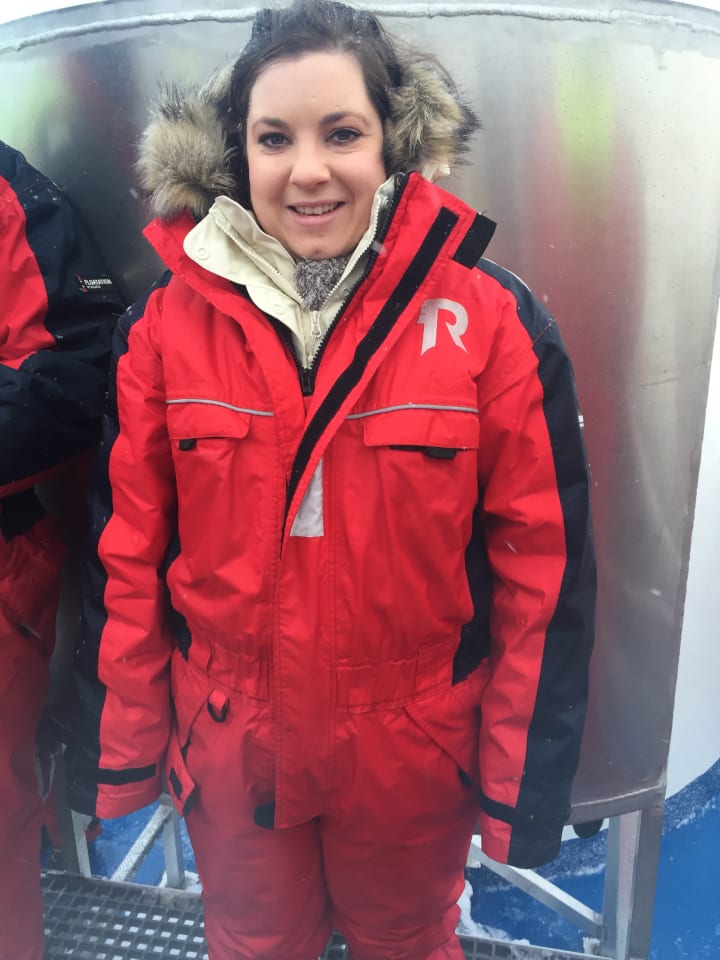 Being my sympathetic self, I got up and walked away from him! Poor man! We had four hours of this boat journey and Connor spent the whole time being sick and to make things worse, we didn't see a single whale! I was devastated and to make matters worse, we found out, there had been Orcas a couple of days prior to our trip, which was just the icing on the cake!
Later that day, we decided to go for a late night drive out of the city. We wanted to drive ourselves, rather than go on a tour because the less light pollution there is, the more chance we had of seeing the northern lights. If you book this as a tour, it is expensive and there is no guarantee that you will see the northern lights. So we just drove, leaving the city behind and about five minutes later, we parked up in a car park. We turned our lights off and were lucky that night, because we were able to see the northern lights. They were mild but visible and truly beautiful. We had got out of the car and then like pay back, Connor pushed me into five foot of snow. I couldn't do anything but laugh!
It was freezing. So we got back into the car and drove back to our hotel.
One of the trips we had planned to do ourselves, in the hire car, was to go and see the Geysirs, the Gullfoss falls and Pingvellir National Park. So we planned our route and went off in the car to the Golden circle.
If you ever go to see this, it is fantastic but you really need to dress up warm!
The Geysirs are amazing. You drive up and park, then walk across the snow to see several of the Geysirs. I never imagined I would see something so fantastic. Boiling water just shoots up and looks like a very tall cloud of smoke. I am guessing that the heat, hitting the freezing air, causes it to go into a massive cloud of steam. We stood in the snow, about a metre away, watching them shoot up high.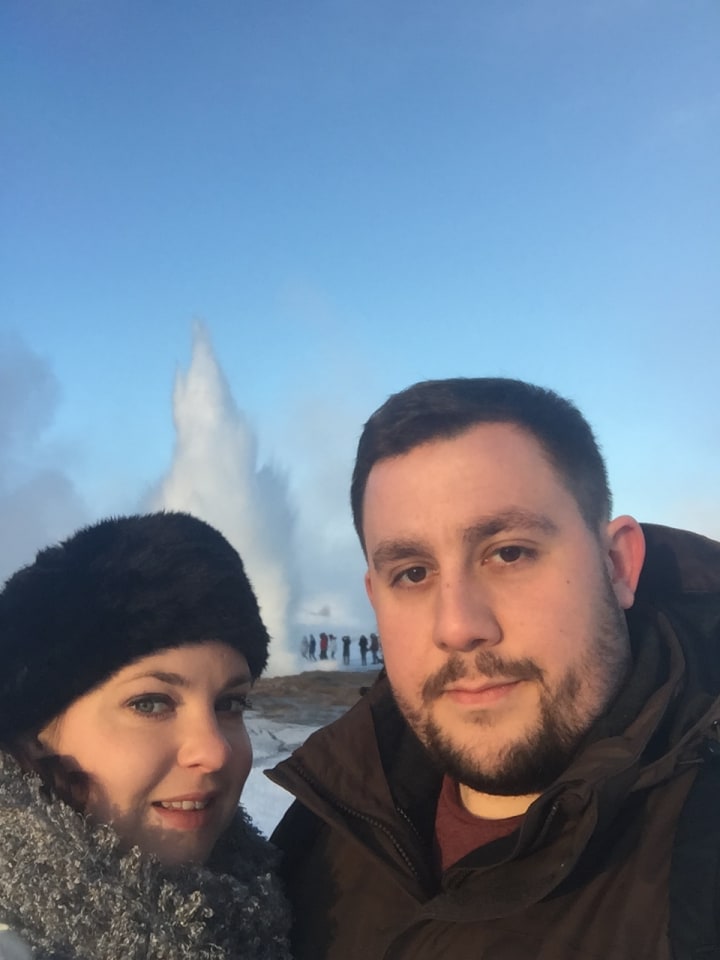 After the Geysirs, we went to the Gullfoss, which I think, is the most beautiful waterfall I have even seen to date. I have been to Niagra Falls, but for me, the Gullfoss was even better, because of its sheer beauty. However, we were absolutely freezing. The temperature was -13 and i have been in temperatures as low as -23 in Banff, Canada, but nothing prepared me for the pain I would experience at the Gullfoss.
Thinking back to this experience, I wonder if it was the dampness in the air but I will never forget how I felt. It felt like the blood in my legs was starting to freeze. I knew instinctively, that if I didn't start moving, I would never be able to move again. It was the most extreme pain I have ever experienced.
Lastly, I must tell you about the Blue Lagoon! We drove through a snow storm to get there! We drove for just over an hour in that snowstorm and it was terrifying. Everywhere we looked, there was endless snow and after a while you feel like you'll never see anything but snow again. It feels like you are in a white prison.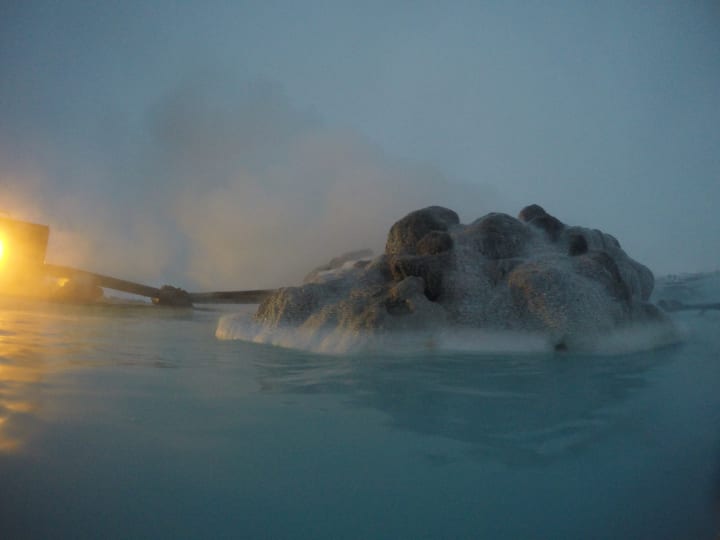 We did arrive safely and parked up at the car park. When we walked over to where we had to go, we were told we had to shower before going in the blue lagoon. However, I was shocked when I went in, as there were loads of other people in the showers. If you ever go there, be prepared, because there are no changing rooms, the men and women are separated, but being English, I wasn't prepared to see loads of women showering naked.
I thought there might be some privacy but no! None!
You have to have a shower with this special soap that removes all chemicals from your body, e.g deodorants, perfume etc. This is so that the purity and clearness of the water of the blue lagoon is maintained.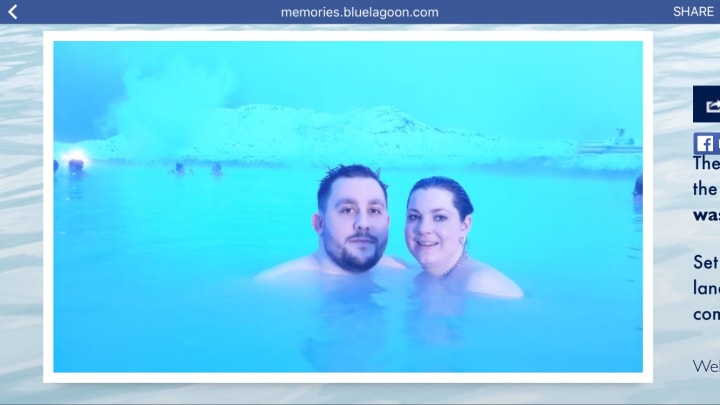 It was worth it though, because as soon as I stepped into the warm water of the Blue Lagoon, it was amazing. There was snow all around the edges of the Blue Lagoon. It is a milky blue and therefore, not see through. It is magically warm with hot spots in various places. You can see the boiling water all around you, although these are sectioned off so you can't burn yourself.
There is natural clay in the Blue Lagoon that you can use as a face mask and you can have your photo taken too. It was a lovely, relaxing experience.
I would definitely recommend going on holiday to Iceland and I would definitely go there again.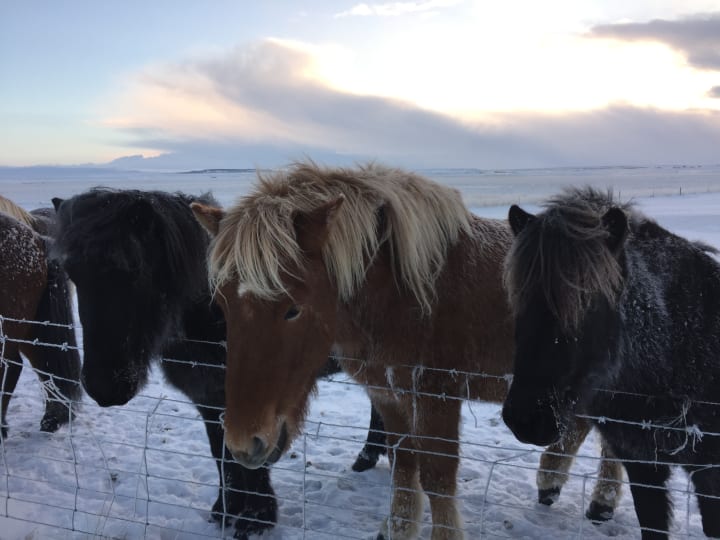 travel
About the author
I am a freelance writer for hire, writing on matters of health, mental health, herbal medicine and wellbeing. I love writing and creativity. I am a Medical Herbalist, Psychiatric Nurse, Writer and artist.
Reader insights
Be the first to share your insights about this piece.
Add your insights