Kids Say the Darndest Things
Multiple Kid Mayhem
Sometimes if you don't laugh, you might just cry.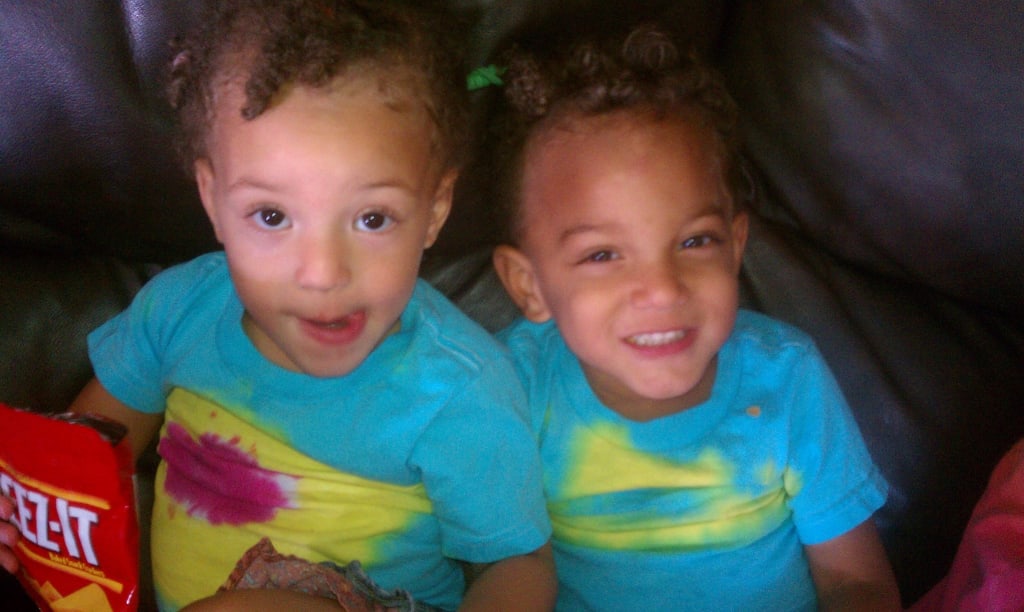 Ever have one of those moments where you are crying and laughing at the same time over something horrific and yet super funny? My husband had one of those moments on this particular day when he heard me frantically yelling for him. When he came running out to my calls for help, what he saw, he thought, was the funniest thing ever! I had been sharing cuddles with our two youngest daughters on my lap in my easy chair. When he entered the room, he found me frozen with disgust. One of our daughters had been coughing rather violently. She coughed so hard she threw-up all over herself, it also went down her sisters back, and into the V-neck of my shirt and onto my cleavage! Our son, only two years old at the time, must have seen I couldn't get up and took the opportunity to get completely undressed, tear off his diaper and run around the living room swinging it over his head. Now before you ask...yes...it was poopy. Our two youngest children are twins. They work together with their sister, who is only a year older, to do stuff like this. They are like a crew of professionals in a heist. One distracts while the other goes to do something, and you don't even realize the third one has your keys! But today was just jumping on an opportunity. There was a time (like a year ago) when I would have chuckled, too! 🙂
All the kids were put in the tub, Hubby cleaned the living room rug... and the ceiling fan! I decided that just this once...9 AM was not too early to drink. 😁
Before I call it a night tonight, I'd like tell another little story. I was on an outing to Walmart with my husband and our three little ones at the time. They were five, four, and four years old. Now, don't get me wrong... I love my children, but frankly, they are a sitcom waiting to happen. Case in point, every time we go anywhere, they all want to go to the restroom. As you can imagine, these random gas station and department store bathrooms are the stuff of nightmares a lot of the time. So, I do not get why they do it. I always take them into the bathroom (Hubby has refused from day one; he himself doesn't even use public restrooms). The large handicapped stall was in use, so I crammed the twins into one stall with me while our 5-year-old daughter used the last empty stall by herself. The woman in the handicapped stall was (to put it mildly) having a serious stomach issue. We could hear her and she sounded like she was firing a potato gun into a barrel! Seriously, I think she needed an ambulance! Anyway, after everyone was trapped in their respective stalls, it started. The first waft of stench hit our daughter's nose and she cried out, "It stinks in here!" I answered, "Shh!" Then our other two kids agreed loudly and added that the person stinking needed to stop. Then, our daughter (who has a sensory disorder which makes her very sensitive to smells) began crying and making gagging noises followed by her throwing up all over herself, her twin brothers' pants, and my boots. I started yelling in shock and horror like I was witnessing a murder, and then my daughter in the separate stall started making gagging noises. In their defense, this woman never let up (or flushed)! They all started crying, and our daughter could be heard over the pandemonium pleading, "I don't have to pee anymore...please let me out!" while continuing to throw up every two words. Then silence. A few seconds later, we all emerged at once from the bathroom and took a big gulp of air as if exiting a burning building. I somehow managed to clean them all up (at least enough to escape the horror) and my husband had tears of laughter streaming down his face (as did the other two Dads standing nearby). We had not shopped yet and I am sure my look of sheer horror is one he will never forget. That isn't even the funniest thing that happened that week.
Signed – the Zookeeper