MOM FOREVER
Cute And Cool Nicknames For Girls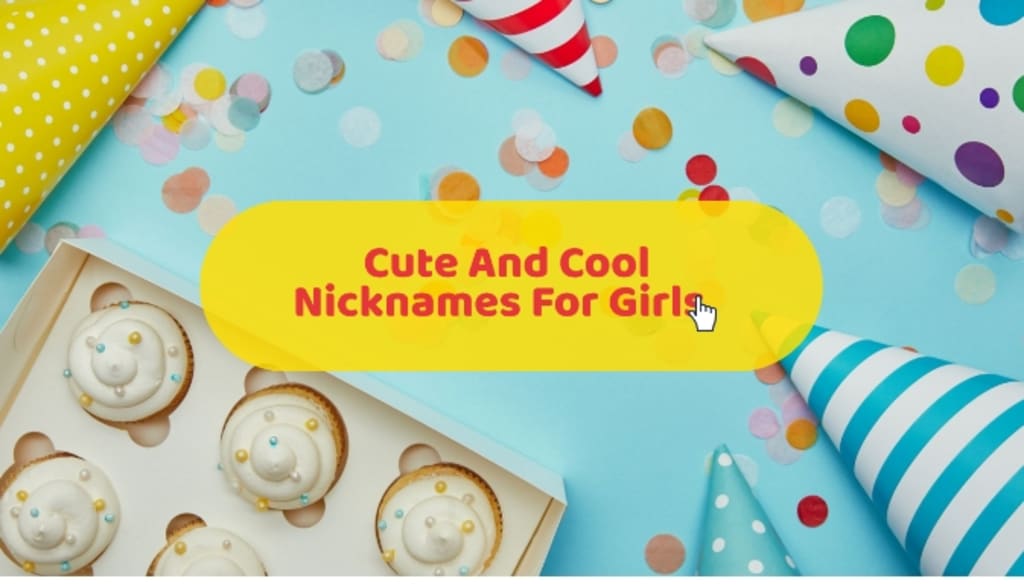 Nicknames are one of the best ways to show your love and affection for someone you love and adore. For the "female soul" in your family (daughter, mother, grandmother, cousin, aunt, etc.) or it could be an intimate connection with a woman (girlfriend, fiancé, wife, crush), there is always the perfect name for that woman that encapsulates her personality and looks.
"Babe" does not always cut in. Sure, it is extremely popular but you should look deeper and come up with a unique name. Use her regular name or her middle name as a central point and work from there. Or you can revisit the special memory you share and both keep close to your heart. This will help you in deciding the name.
Your Relationship With The Girl
Your relationship with the girl is a key-point in determining the right name for her. You can go with a cute, sweet, or funny alias that complements her looks, personality, or a dear memory that you both share.
Pro Tip: You can personalize a nickname to make her even more special or get closer to her. Make sure that you both are happy with a nickname. If one does not like it, the other one should abandon it.
Start with her real name and work up from there. You can use abbreviations or an initial to get a start. Choosing a nickname based on her looks and traits from a certain period of time can do the trick.
What Could Make A Sweet Nickname For A Girl
Sweet and beautiful things mostly inspire nicknames for girls. If a girl is ferocious and fierce in a positive way, that still exudes beauty and strength of character. Things like flowers, fruits, candies, and desserts could be helpful in choosing the perfect name. Whichever "pet" name you come with, make sure it suits her "self" and personality. Most importantly, she loves it!
Cute, Sweet, & Funny Nicknames For Girls
If you have not been able to come up on your own for a girl nickname, here is a list of some of the best and coolest nicknames for girls. They are wildly popular and works like a charm, all around the world.
• Ace
• Agent
• Alias
• Alpha
• Black Diamond
• Black Magic
• Black Pearl
• Black Widow
• Blade
• Blaze
• Bombshell
• Buckwild
• Butterfly
• Cadillac
• Captain Marvel
• Champ
• Charlie's Angel
• Claws
• Countess
• Cutlass
• Dollface
• Dragonfly
• Duchess
• Dynamo
• Eclipse
• Empress
• Energizer
• Fighter
• Firefly
• Firey
• Flawless
• Heat
• Hela
• Heroine
• Hoops
• Hottie
• Hurricane
• Jessica Rabbit
• Katniss
• Lady Luck
• Lava
• Lightning
• Lioness
• Marvel
• Mayhem
• Mighty
• Mother of Dragons
• Mustang
• Ninja
• Onyx
• Queen
• Radar
• Rebel
• Riot
• Shadow
• Slayer
• Sparrow
• Sphinx
• Spike
• Tailor Made
• The Evil Queen
• Thunder
• Tick Tock
• Tiger
• Trinity
• Twister
• Venus
• Vicious
• Warrior Princess
• Wonder Woman
• Xena
• Your Highness
• Zelda
Hilarious Nicknames For Girls
If both of you can take a joke, one of the best ways to get a nickname is by adding some humor or punch to it.
Here is a list of some funny nicknames for girls:
• Alfalfa
• Bambi
• Beanstalk
• Beefy
• BFG – For Big Friendly Giant
• Boots
• Butterfingers
• Catnip
• Cheeseball
• Chewbacca
• Chipmunk
• Chirp
• Class Clown
• Comedy Central
• Coo Coo
• Corny
• Crazy Queen
• Curly Q
• Dimples
• Doofy
• Duck
• Energizer Bunny
• Foodie
• Four Eyes
• Fun Size
• Funny Girl
• Fuzzy Wuzzy
• Giggles
• Goofball
• Gopher
• Hangry
• Hobbit
• Itty Bitty
• Joker
• Meatball
• Mittens
• Monkey
• Mother of Dragons
• Mouse
• Noodles
• Panda
• Paws
• Pigtails
• Pip Squeak
• Pork Chop
• Princess Peach
• Pumpkin
• Punk
• Quack
• Rabbit Ears
• Silly Goof
• Slim Thick
• Spaghetti
• Spanky
• Squints
• Squirrel
• Squishy
• Stinker
• String bean
• Sugar Mama
• Tater Tot
• Tea Cup
• Thick Thighs
• Tiny
• Troublemaker
• Turtle
• Unburnt
• Whiskers
Sweet Nicknames For Girls
If you are not cut out for fun or some sort of "serious" nicknames, we have got something special for you.
Here is a list of some cute and sweet nicknames for girls:
• Amor
• Angel Eyes
• Aphrodite
• Awesome Blossom
• Babe
• Baby Face
• Babyschka
• Bae-ritto
• Barbie
• Barbie Doll
• Bear
• Belle
• Blondie
• Boo Boo Bear
• Bright Light
• Brown eyes
• Bumble Bee
• Buttercup
• Buttons
• Care Bear
• Cookie
• Cutie
• Cutie Patootie
• Cutie Pie
• Doll Face
• Dream Girl
• Dumpling
• Firefly
• Flawless
• Genuine
• Goldie
• Heavenly
• Jasmine
• Kissy Face
• Kitten
• Ladybug
• Light of my life
• Living Angel
• Lotus
• Love bug
• Lovey Dovey
• Lovie
• Luscious
• Mon Cheri
• Mulan
• My All
• My Beloved
• Peachy Keen
• Perfect 10
• Pretty
• Rainbow
• Rolly Polly
• Sexy
• Shorty
• Shy
• Smiley
• Smitten Kitten
• Sparkles
Cute Nicknames That Will Suit Your Girl
If you are obsessed with the girl and the abilities she has, we suggest to take a look at this list of cool names:
• Almond Joy
• Apple
• Apple Pie
• Aqua
• Baby Cake
• Banana Bread
• Banana Muffin
• Banana Pie
• Banana Split
• Biscuit
• Blackberry
• Bloomer
• Blossom
• Blueberry
• Bonbon
• Bourbon
• Brandy
• Brown Sugar
• Brownie
• Bun Bun
• Buttercup
• Butterfingers
• Cake
• Cake Face
• Candy Cane
• Candy Corn
• Caramel
• Cattail
• Cayenne
• Champagne
• Chardonnay
• Charm
• Charming
• Cherry
• Cherry Pie
• Chocolate
• Chocolate Chip
• Chrysanthemum
• Cinnamon
• Cookie
• Cupcake
• Daffodil
• Dahlia
• Daisy
• Dandelion
• Delicious
• Delight
• Donut
• Dottie
• Doughnut
• Fennel
• Fresh
• Frosting
• Ginger
• Ginger Spice
• Gingersnap
• Good 'n Plenty
• Gummy Bear
• Hershey Kiss
• Honey
• Hot Cocoa
• Icee
• Ice Pop
• Iris
• Jelly Bean
• Jolly
• Juice
• Juicy
• Junior Mint
• Kit-Kat
• Leaf
• Lemon
• Lifesaver
• Lilac
Read more about Baby Names