Memories of Nan
A Grandmother and a magical tree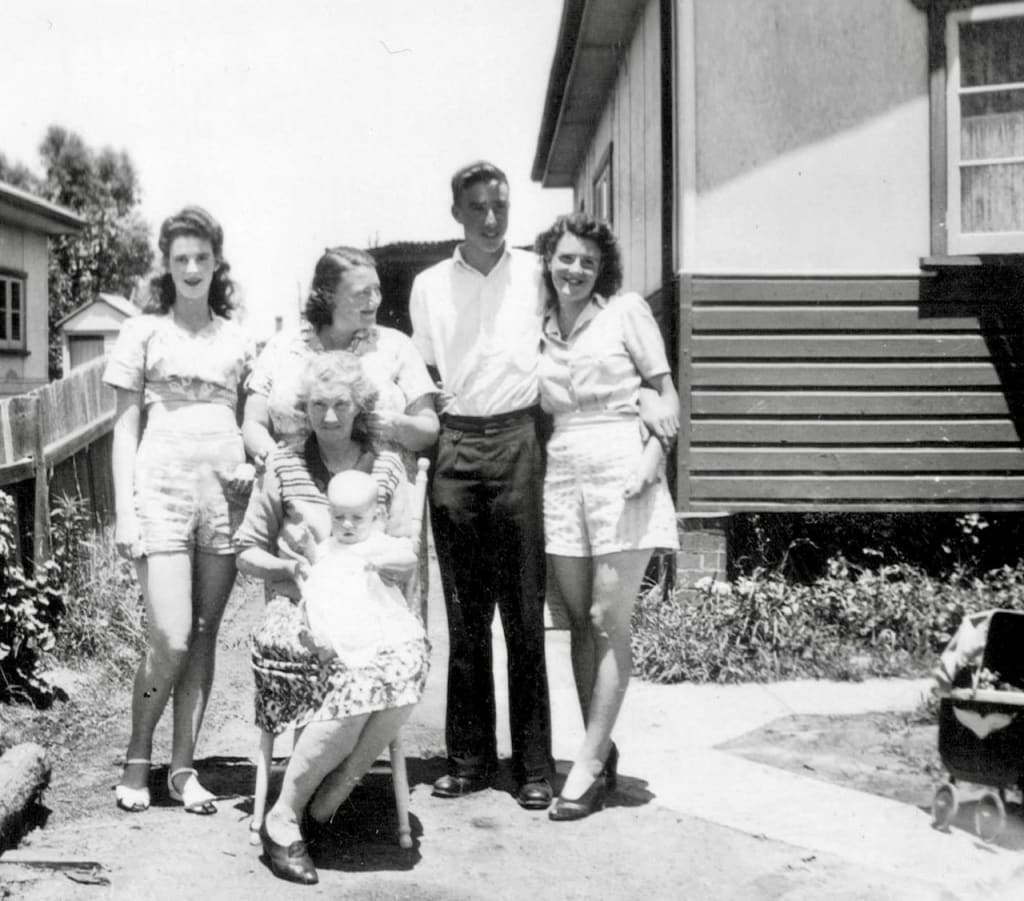 Memories of Nan
My Nan's place was a repository of so many memories, an unassuming home built of weatherboard and fibro sheeting, painted in two distinct shades of pink. A circular pathway surrounding a rose garden, led from the gate to the front door. I can still clearly picture Nan standing in that doorway. A small woman with snow white hair, the hem of her apron clasped in her hands.
She was the heart of our large extended family.
In my memory, the home was filled with the scent of flowers, a mix of sweet peas, roses and violets. Her small kitchen was the warmest spot to sit, the smell of baking in the air, a pot of tea constantly on the go. An African Violet, in a pot that seemed to be perpetually blooming, perched on the back edge of the table. Her gentle voice telling stories of long past events and her ear always listening for mine.
Nan's was a home that had its own stories to tell, over the years 8 children had grown within its walls. It had seen moments of blissful joy and others of heart wrenching sorrow. It was a place where family gathered, grown children, grandchildren and great grandchildren. And it was a place where the essence of family now gone remained warm and safely remembered.
The kitchen opened to the yard and a path that led to where the old thunderbox had been. A large trellis still stood, covered in climbing scented roses, an effort perhaps, to have concealed past unpleasant aromas.
Beyond the trellis was were the magic began, for there in the expanse of yard, was the mulberry tree. According to family folklore planted by my Grandfather on the day they moved in. There had been several fruit trees and a plentiful vegie garden, but only the mulberry remained and she was glorious.
Mrs Mulberry, a tree of childhood delights. Her branches strong and high, perfect for finding a comfy nook to sit and read or daydream. Her foliage so dense that when she was in full leaf we could climb up her inside branches and slide down the outside to the ground. Her fruit the sweetest, the juiciest and our fingers were constantly stained purple. Her branches over the years had formed a natural cave underneath and it served as a cubby house, pirate ship, spacecraft or spy den for varying children.
Nan and Mum would make mulberry jam, mulberry ice-cream, stewed mulberries, mulberry pies and the list could go on and on.
For over six decades Mrs Mulberry watched the children of this family grow; leave; and return with children of their own. I love that my Mother sat in amongst her branches to read, I slid down her outside foliage in summer and my son played in her embrace as a youngster.
For me, Mrs Mulberry was a connection not just to my beautiful Nan, but also to the grandfather everyone called 'Pop', whom I only knew from family stories and old grainy images.
There are only two of that original family of eight children left now, Nan and the tree long gone. Yet, a recent pop-up on Facebook prompted a surge of family banter and memories connected to the mulberry tree and Nan.
I was surprised by the number of family members who have a mulberry tree planted in their own yards, a testament to its lasting legacy.
That mulberry tree continues to hold legendary status within our extended family. She was enormous, as if she had tapped into some underground life force that constantly fed her roots. Three generations played in and around that tree, each of us with memories so entrenched that to this day, it is a constant point of mutual connection to each other, our parents and our grandparents.
Thank you Pop for planting her.
Reader insights
Be the first to share your insights about this piece.
Add your insights