Mema's Special Apple-Picking Trick
My grandmother was something else.
My grandmother was something else. Margaret was a well-bred, highly intelligent, independent woman. She was the matriarch over several sections of my family, spanning multiple states.
Everyone, no matter how young or old, sought her advice, I never once regretted taking it. She was a stock-market whiz as well. Once I got her set up on the computer in her back room, she made $150,000 "just playing around". But she wasn't afraid to get her hands dirty, either.
About ten years ago, I had a rare long weekend, so I decided to drive 335 miles across Texas to visit Margaret, Mema to my brother and me. I wanted spend some time together, just me and her. She'd lived by herself in Odessa, Texas for nearly 20 years, following the death of my Granddaddy Mac, and had adjusted to being a tiny woman with most things out of her reach.
Mema was no queen of the kitchen, but the things she did make, she made well. Every visit, we'd arrive at her house to find ham, canned green beans, and homemade applesauce waiting for us, no matter the hour. The applesauce came from the apples she grew in her backyard. They were intensely sour, and she compensated by adding a metic ton of sugar.
I was just learning to cook, and eager to learn as many recipes from her as I could. As luck would have it, she was clear out of applesauce. I got ready to scale her apple tree and pick as many as I could find, but it turned out my additional height was not required.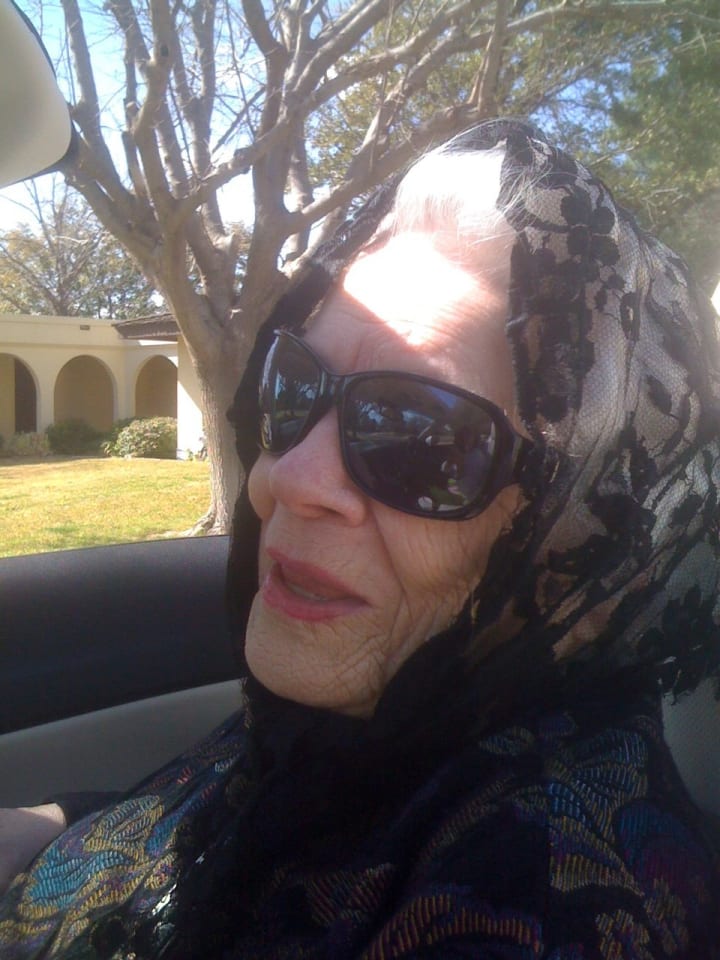 I was standing in her sunken living room, just by the door to her vast backyard. She rounded the corner from her bedroom sporting a yellow terrycloth house dress, bedroom slippers, and my brother's middle-school football helmet. She walked like she meant business, a brown paper grocery bag in hand.
"I've got my own special way of picking apples." she smirked.
I just stared as this 90 year-old woman stepped daintily past me, and out into her backyard. Mema walked past the pear trees, and the lemon and lime trees she kept on perpetual life-support; she walked up to the apple tree and grasped it in both hands. She proceeded to shake the ever-loving daylights out of it, and all the while apples rained from the sky, bouncing across the ground, bouncing off her shoulders, bouncing off my brother's football helmet.
Once she seemed satisfied with the havoc she'd caused, she calmly removed her helmet, fetched her bag, and began bending over to collect the spoils of her victory.
Able to stand it no longer, I grabbed a bag and rushed outside. I couldn't sit and watch my 90 year-old grandmother picking up dozens of tiny apples while I stood inside, where it was cool. Obviously.
I made some terrible joke about her doing all the hard work, so the least I could do was clean up. All the while, I was thinking, "This is not an isolated occurrence. She does this a lot."
Part of me wonders if she wasn't showing off for me a little. Margaret loved to keep people guessing, or to say things just to get a rise out of someone. Never in a cruel way, but always designed with her personal entertainment front and center.
I could, and may, fill a book with stories about that marvelous woman, but none of them truly compares to watching her in that football helmet, being pelted with apples, and realizing that this tableau set before me, this was the intended goal.
About the Creator
Nicholas McIntire has been writing fantasy his entire life. His debut novel, The Hunter's Gambit (Book 1 of the Archanium Codex) was released in 2019 to critical acclaim, and Book 2, A Wicked Wind, is coming September 20, 2021!
Reader insights
Be the first to share your insights about this piece.
Add your insights