Mary's Gold
Dia de los Muertos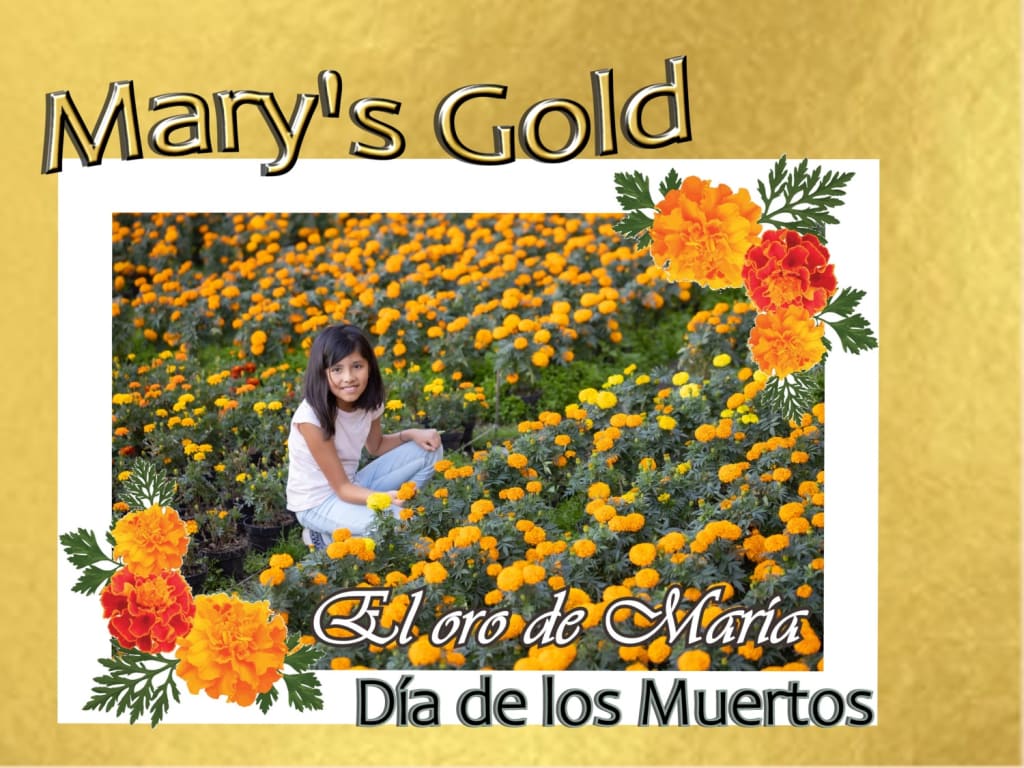 My name is Luna El oro de María Naiara but I go by Moon. I am a 5th grader at Panagia Parochial School. I really like school. My favorite class is Creative Writing. I love writing stories, especially about my family and the Holidays. I was excited when the teacher gave us an assignment to write about the upcoming Holiday, "Día de los Muertos." I am sort of named after that Holiday in a weird way. I can best explain it by sharing my writing assignment with you. Here it is.
##
What Día de los Muertos Means to Me
by: Luna Naiara
I come from a big family. I am the baby of 12. I have 11 older brothers. My mom says having me was like striking gold. That's why she named me El oro de María. In English that means Mary's Gold. Luna means moon in English. That was her sister's name.
My Aunt Luna died last year after a long battle with cancer. Mom says we will celebrate her on Día de los Muertos by putting marigolds on her grave.
My best friend, Patty, is kind of creeped out that my family named me after my aunt who is now passed on and after marigold flowers that are used as part of the celebration of The Day of the Dead. It doesn't bother me, because I know Luna and the rest of our family that have passed on are not dead. They just live in a different place. A place the rest of us can't get to until it is our appointed time.
It used to bother me to go to the cemetery until one of my teachers, Sister Martha, showed me a scripture in the Bible where Saint Paul says we are surrounded by a cloud of saints and witnesses. Sister Martha said that means when our loved ones die, they are still with us in spirit. She explained that passing on to the other side is like going on vacation, but you don't have to pack because everything you need is already there waiting for you. She said we don't even need our bodies anymore because they are like worn out clothes and we will be given new ones. At first, when she said that it's like vacation, I wanted to know why Aunt Luna can't come back. She told me it's like a vacation that is so amazing that you don't want to come back. Then she played a song for me that talks about Heaven being a long hello. I still miss Aunt Luna but knowing I will see her again makes it a lot easier.
This year, my family will celebrate my aunt on Día de los Muertos.
When I was younger, I didn't understand the Holiday. I thought it was weird that my family would go visit graves. I liked dressing up in costumes and helping making tamales, but the rest of it was weird to me.
Now that I understand it, I will be happy and not sad when we go to Aunt Luna's grave because I know she is not dead. She is alive and she is right here with me. I just can't see her.
I explained it all to Patty so she won't be so creeped out. She had always thought Día de los Muertos was a Hispanic Halloween but now, she gets that it really has nothing to do with Halloween.
This is Patty's first year in Catholic School. She is signed up to help with the Fall Festival and I am too. Sister Martha says there will be exhibits and lectures at the festival that will help us better understand the celebration. But for now, I think Patty understands that just because someone passes from this life, it doesn't mean we will never see them again. It just means they got to relocate before we did.
##
I made an A on that writing assignment, but the most important thing that came from writing about that is that I realized that I can use what I learn to help others and that's the greatest gift of all. Helping others. Thanks for listening to my story.
Dios los bendiga a todos,
Luna El oro de María Naiara