Making Christmas Special
How to make this Christmas special even when families can't be together
We all know how rough this year has been, but that doesn't mean Christmas isn't just as special. Families and friend won't be Ake to gather like we have in the past, but let's take this opportunity to be thankful for what we all have and not a grinch about what we don't get for Christmas this year.
Some of you might be thinking that Christmas is "ruined" but in fact this is amazing chance to make someone else's life feel special and cared for. Even though you can't see your family, friends, and loved ones, here are some ideas to help stay connected and experience a new way to celebrate without being "together".
My family is divided between Dayton and Cincinnati Ohio. The north group (Dayton) and the south group (Cincinnati) have decided to not gather because of a few family members who are exposed to the public more than other and those in my family who are seniors who shouldn't have second hand exporsure, just in case. However, that's not stopping us from having a Merry Christmas. Christmas Eve we're sending one person from each group to meet half way and exchange gifts, food, cookies and Merry Wishes as we then take those blessings and do a virtual gift opening via Zoom. Zoom has become so handy when we can't see our family in person and helps us share my special moments in a way that's safe and memorable.
For those in each group, we're making and decorating Christmas cookies. My job this year was to bake cut-out Christmas cookies; some to send to the north group for my youngest cousin and some to bring to my parents house to share with my other two cousins in the south group. "Together" we'll have the chance to decorate those cookies as a family and have fun watching each other make messes and sneak a cookie when no one is looking.
The morning of Christmas Eve began the baking. My boyfriend brought me breakfast and we set out making the best cut out sugar cookies we could find... (thanks Betty Crocker).
In their homes, my aunt and grandma began their journey to create the best packed Grandma Breakfast they could do. My great grandma used to make the best biscuits and gravy, and the tradition of having a grandma breakfast on Christmas morning hasn't ceased; 2020 isn't stopping that. Biscuits, gravy, eggs, bacon and so many more things are in the works. I received the below picture from my mom as well as she's also pitching in to make breakfast. I can smell the biscuits.... mmm delicious.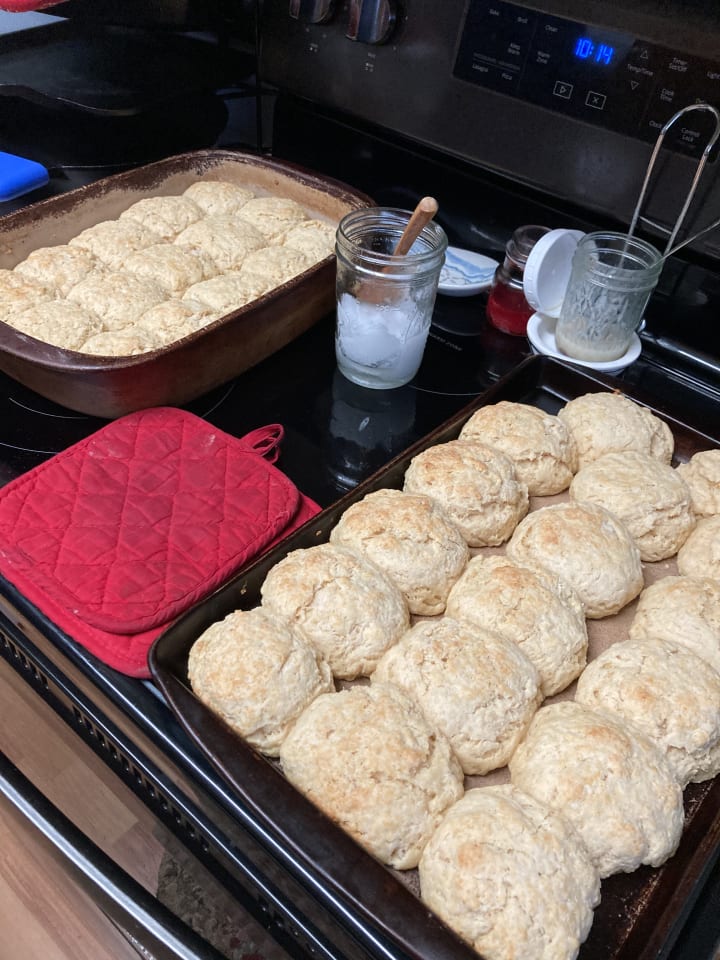 Christmas trees, oranaments, holly, oh my! So many cookies! What makes this special is the thought put into making it special for my cousins who couldn't all be together this year; also the aunts and uncles and grandparents who get to be a kid of a few minutes and help with the mess.
This Christmas, I ask those who come across this to think of something special to do for your family... friends... neighbors... coworkers to make this year feel less lonely and more cheerful. Jesus gave us the greatest gift of all and the least we can do is give selfless gifts in return because of it. Although we're apart there is still hope and joy and peace whether it feels like it or not. I wish everyone a Merry Christmas and a happy New Year. Peace to all, and to all a goodnight.

Staying at home each & every day to be there with your children as they learn and grow sounds absolutely amazing in hindsight, right? Absolutely! Who wouldn't think that it's just living the dream?! But what the world fails to disclose is the truth behind being a stay at home mom..

11/18/2020 So, grandma (81 this year) has been up my ass about keeping a journal of everything that is going on right now so here goes. Amelia is 9 and in 4th grade, Raynen is 5 and is in kindergarten and Rj is 3 and is home with me. We live in fort lee right now and my husband, Bobby (30 this year) has just had his 3rd spine surgery and now awaiting the promotion board (he is in the army) and finding out when we will be moving. I am 26 credits away from my BA in history. The coronavirus pandemic has been a pain in the ass and the 2020 presidential election was a complete dumpster fire. Yay 2020 and the best part was carol baskin and the memes from that world.

It was early October, and it was finally time for my long-awaited moose hunt. I had waited ever since I was a little girl for this opportunity, and it was finally here. So, my father, the one that looks after me, and I packed up our stuff and left our city in Alaska. We were heading to a place called Bethel, AK. After a six-hour long drive, we made it to our hunting unit. It did not feel like home to us but it was warm and cozy, like my bed at home.

As your parents age, you're probably spending more and more time caring for them. Even if they're still in good health, you may need to help them live a healthy lifestyle. Your parents may need help with everything from their health insurance to their diet. To avoid caregiver stress, taking care of yourself is also essential.

Staying home, reducing stress, and taking care of ourselves, both mind and body are more important than ever. That's why from beauty and personal care to everyday essentials and home cleaning – we've got you covered. "Avon"

Growing up, I loved the Wizard of Oz. There was something magical and timeless about the Yellow Brick Road and the passion of Dorothy to find her way home, Scarecrow to find his brain, Tin Man to find his heart, and the Lion to find his courage. All to find out that the man behind the curtain was just a man, whose hope and wisdom fulfilled all desires by encouraging everyone by exploring their own virtues.