Lurlyne and the Amazing Technicolor Quilt Coat
When fashion and family collide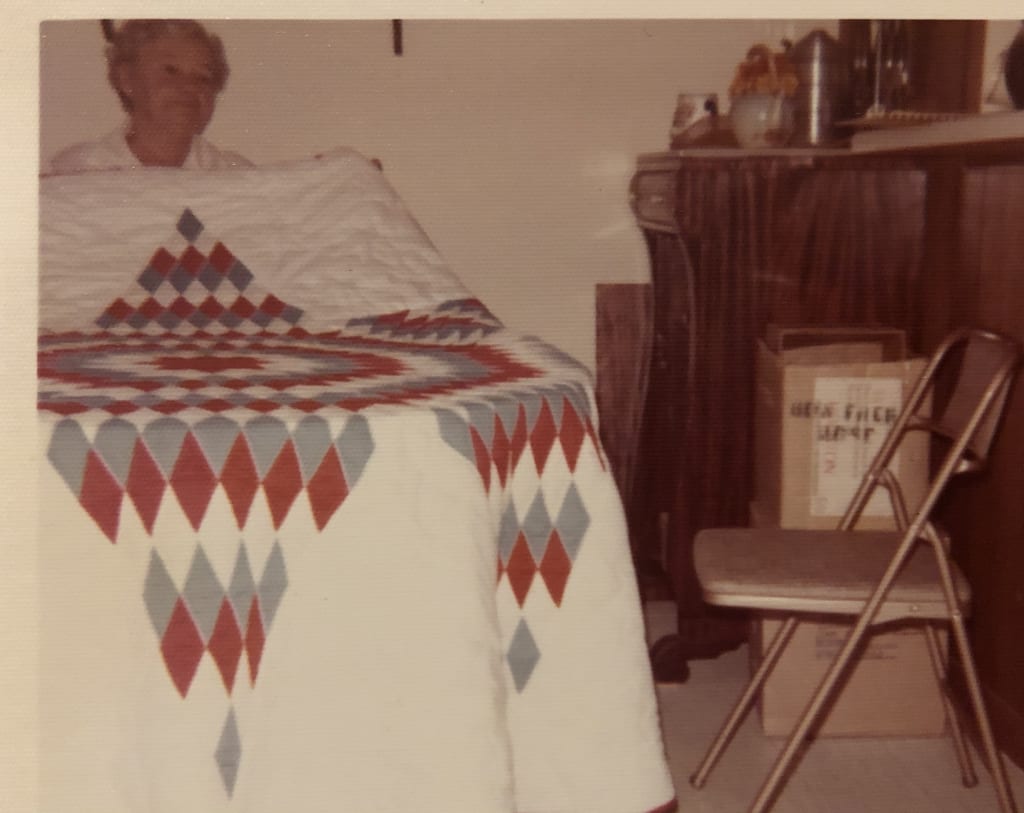 My Grandma, Lurlyne Bullock, with the quilt she made.
My jaw hit the floor the first time I saw a quilt coat. A friend, and fellow crafter, sent me a photo of a bright and beautiful patchwork quilt made into a knee length coat. I was enraputred. How cool! How retro! How could I have lived this long without my own?!
I called my mom that afternoon and asked her if we had any family quilts she would let me cut up (YIKES!) and make into a coat of my own? She told me my Grandmother, Lurlyne Bullock, made quilts all the time by hand. My mom saved one to give to myself and each of my sisters if we ever wanted one.
Grandma Bullock was well known in her small west Texas town for her quilt making skills, or so I'm told. I never met Grandma Bullock. She died two years before I was born and her husband, my Papa Bullock, followed shortly after.
The stories of Grandma Bullock are ledgendary among my older sisters. She would pretend to catch and eat grasshoppers until a neighborhood kid copied her and ran home crying! She wore a pair of panties over her rollers instead of a hairnet to save money and she didn't care who saw her! And she managed to make Papa Bullock smile when no one else in the world could.
These stories were all I ever had of Grandma Bullock until a package arrived from home with a red, white and blue lonestar pattern quilt inside. My mother said the quilt was easily more than forty years old. It was used as a table cloth which expalined many of the stains on the white fabric. I didn't pay any attention to them though, because I couldn't get over the bright colors and even stitches.
The quilt top was pieced together by hand which must have taken hours. The white part of the quilt top was stitched with eight point stars all over to mimic the star in the middle of the design.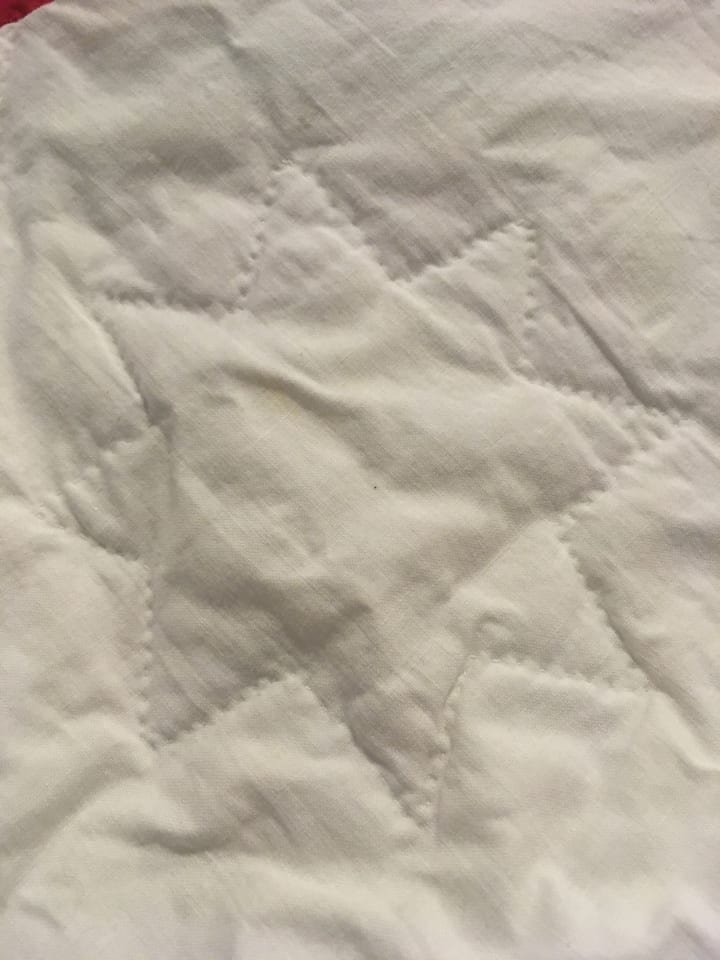 Choosing my coat pattern was easy. I had a vintage pattern, Simplicty 1284, with three quarter sleeves and a length that would hit right at my knee. A good coat in the spring when it's still chilly in New Jersey but not as cold as winter.
I laid out the quilt in my living room and then proceeded to stare it for two days.
I was terrified.
I would only have have one chance to cut the quilt. I spent hours moving my pattern pieces around to find the perfect layout for my coat. The back of my coat would be the middle of the star. The front and the sleeves were harder to place. The quilt wasn't evenly stained so I tried dozens of placement combos to find one I loved.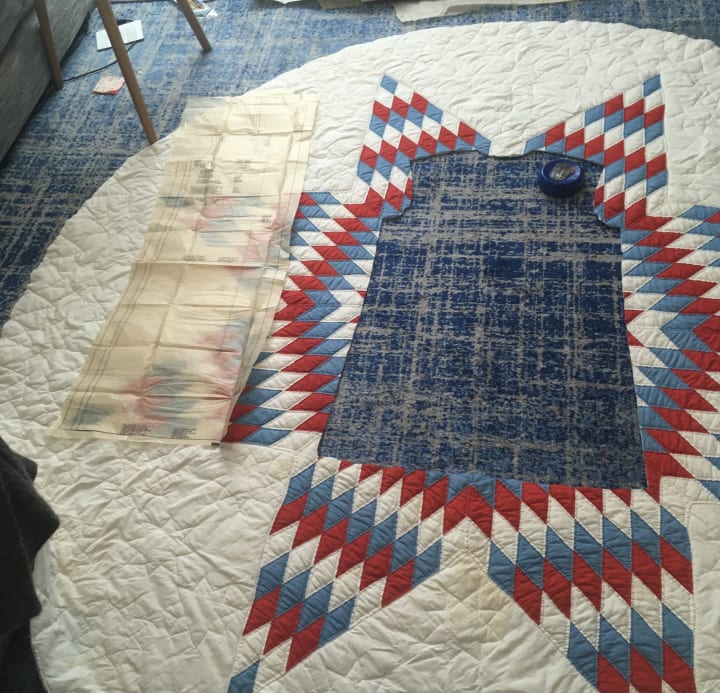 After I cut my pattern pieces it was time to add my stitches to Grandma Bullock's. Sewing each piece together gave me a closer look at her hand stitches. They were so uniform and small. I sew almost everyday and never manage to get tidy beautiful looking lines like she created.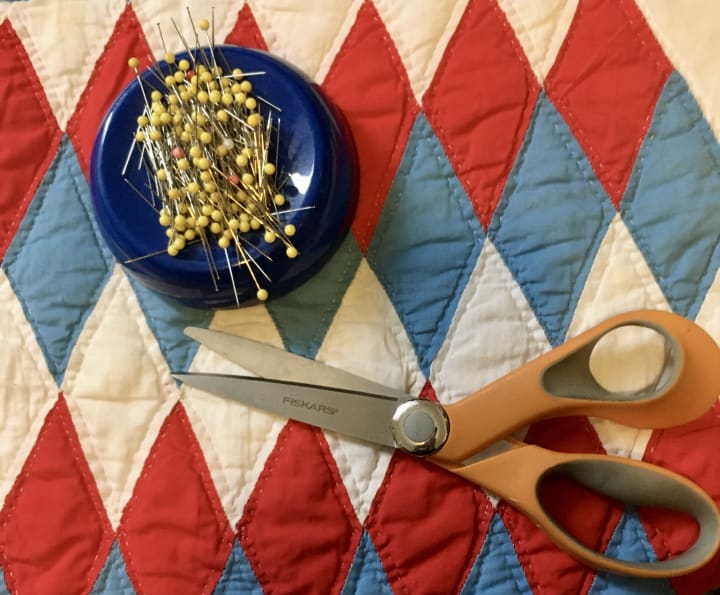 With each stitch I added to hers I wondered, did she like to listen to music while she sewed, like I do? Did she get a sore back when she bent over her work for too long, like I do? Would she get angry with herself if she had to seam rip something out and re-do it, like I do?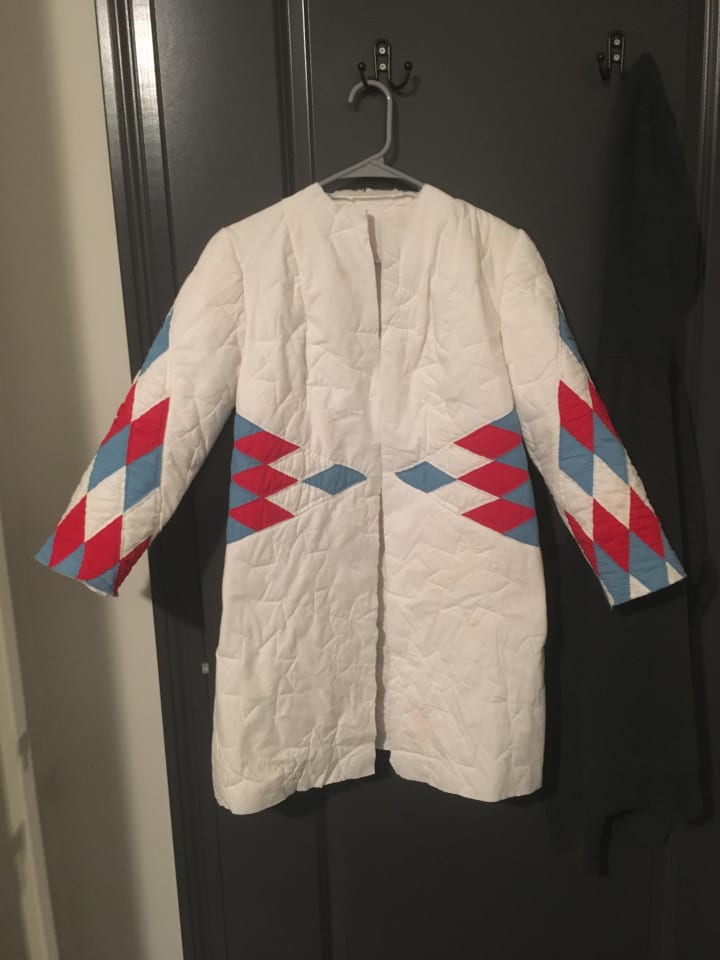 The final step was to add the red binding from the quilt edge to the coat. I sewed the first side by machine and then closed the binding by hand, as Grandma Bullock would have. Holding that same fabric in my hands that she once held. Adding my stitches to hers was powerful, almost like magic or time travel. I don't have memories with her so I stitched new ones together to make a connection to her I can keep for the rest of my life.

Pamela Bullock
I'm a crafter, writer, and goat lover, who works backstage as a dresser at The Lion King on Broadway. When I'm not backstage I love to sew, crossstitch, cook vegan food, write YA fiction, and volunteer at Goats of Anarchy animal sancuaty.
See all posts by Pamela Bullock →